Knowing that tomatoes are one of the most commonly used ingredients in various cuisines worldwide, a lot of cooks regularly use tomato knives in order to ensure optimal preparation.
The tomato knife is a small kitchen knife with a serrated blade whose main purpose is to ease the slicing and dicing of tomatoes. No matter your level of expertise in the kitchen, this knife will help you produce the ideal cuts for your summer salads or roasted specialties.
Knowing that tomatoes' skin is thin and that the flesh is delicate, using a dull or wrong blade will impede the cutting. You will need to put in a lot of pressure and thus, you can easily smash the tomato. Not good, right?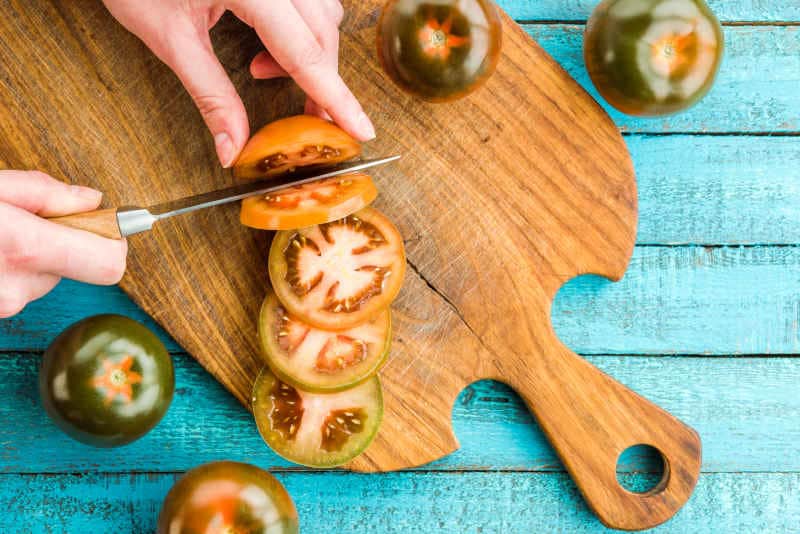 To learn more about the dos and don'ts of tomato knives and make an easier decision about the right model for you, check out our comprehensive guide below!
Why Do I Need a Tomato Knife?
Similar to other ingredients in the kitchen, there are also specific methods to help you cut tomatoes properly. Believe it or not, the way in which you slice or dice tomatoes directly influences the release of flavor, the food's texture, and the aesthetics of the plate.
Failing to use the right knife for your tomatoes can easily crush the flesh. The food will go to waste and you will need to do the task all over again.
Thanks to the serrated edge, the knife can effortlessly penetrate the skin of the tomato without any need for additional pressure. A lot of tomato knives also come with forked tips that allow the lifting and movement of the tomato slices after cutting.
Interestingly, tomato knives are rather versatile, despite their quite specific name. Besides using them for tomatoes, you can also use them to slice and cut other produce like grapefruits, lemons, oranges, pineapples, etc.
Moreover, it can also help you with cheese and sausage cutting or some smaller pastries. And, since it is a smaller type of knife, it is easily manageable and ensures precise maneuvers.
Though you can use any other knife with a serrated blade or another sharp knife to slice your tomatoes, the best tool for the job remains a quality tomato knife.
How to Use a Tomato Knife & Produce Best Cuts?
It is important to note that a tomato knife can only help you finish the cutting, dicing or slicing task optimally if you know how to use it correctly. The right tool in the right hands, especially in the world of cooking, can do wonders.
To this extent, you need to learn the right ways to slice different types of tomatoes. Once you learn the tricks of the trade, slicing tomatoes will become your favorite kitchen task, believe us!
For the perfect tomato slices to fill your burgers or sandwiches, you need to use the tomato knife by cutting against the core to make sure every slice contains the spokes of the flesh and everything stays in place. Avoid too thin and too thick slices.
For the ideal tomato wedges for your get-together salads, use the tomato knife to cut the tomato in half, straight through from the stem to the bottom. Then, cut the halves into several equally sized pieces.
For flawless wedges of cherry and grape tomatoes, cut them with the knife through the stem to the bottom.
What to Look for in a Tomato Knife?
In order to ensure the best purchase for you, you need to pay attention to the properties of the tomato knife you are planning on buying. Even though it all comes down to personal preference, there are key factors that play a role in the knife's quality and efficiency.
This being said, make sure you choose only after you have considered the following properties in your tomato knife:
Serrated or straight blade– the finely serrated and short and narrow blade of tomato knives enables effective and fast penetration of the tomato's skin, without putting too much pressure on the soft meat. Even though the preferred type for tomato knives is a serrated blade, there are also options with straight blades.
Forked tip or pointy and sharp tip- the sharp tip we see on tomato and cheese knives allows for the knife to make cleaner and precise cuts. The fork-like design on the top of the blade is great for picking up the slices or wedges and transferring them where needed once they are cut.
The handle's material and design– in order for a knife to feel good in your hand and to get a good grip, it requires a non-slippery and quality material and ergonomic design that will not tire your hand and that is suitable for both left- and right-handed users. They can be made from natural or synthetic materials or from metals.
Tomato Cutting Knives You Can Buy
1. Rada Cutlery Tomato Knife
Highlighted Features
Inexpensive
Help make thinner or thicker slices or wedges
Dual-serrated
High-quality stainless steel blade
Classic, stainless steel resin handle
Made for active use in the mind
Indeed, this is one of the best and most inexpensive tomato knives today. Made to last, this knife will help you create delicious tomato slices. Regardless of whether you are aiming to produce thinner or thicker slices or wedges, this knife has your back.
The blade is designed from premium quality high-carbon stainless steel and it is razor-sharp. As it is a dual-serrated blade, it is great for cooks of any skill level. It helps you to produce clean and straightforward cuts.
The classic black handle made of stainless steel resin is dishwasher-safe; however, to best preserve fine cutlery, manufacturers suggest hand washing. The ideal thickness of the handle allows optimal comfort and perfect maneuvers.
What is great about this tomato knife is that it is created with frequent use in mind so you can use it actively for years without worrying about it losing its edge and sharpness.
2. Wusthof Classic Tomato Knife
Highlighted Features
Premium craftsmanship
Razor-sharp blade
Forked tip for easy penetration
German quality
Triple-riveted & ergonomic handle
Suitable for left- and right-handed users
This superb tomato knife is adorned by both avid home cooks and professional chefs. Though a more expensive gadget than the other models in our list, we are talking about top craftsmanship by one of the most reputable cutlery companies.
Sharper than any other blade out there and enriched with a forked tip, this tomato knife will penetrate and glide through tomatoes like no other knife. Forged in Germany, the high-carbon stainless steel is hand-honed for optimal durability and sharpness.
The edge retention is amazing; however, to maintain the blade in great condition, slide it a couple of times on your sharpening steel before use.
The classic black and the ergonomically designed and triple-riveted handle is a chef's dream in terms of longevity, strength, and comfort. As it adds to the knife's full weight, it will feel effortless in your hand, regardless if you are a left- or right-handed user.
The only downside maybe its rather high price.
3. Rada MFG Tomato Slicer
Highlighted Features
Suitable for left- and right-handed users
Extremely sharp, dual-serrated blade
Made from high-carbon stainless steel
Aluminum gray handle
You get a collection of 6 knives
This specially-crafted tomato knife will help you make even cuts with every use. Suitable for both left- and right-handed users, the knives by Rada are extra sharp and made in the US.
Thanks to the dual-serrated blade, slicing the ideal tomato slices will be the easiest task ever.
The cutlery by Rada is made of premium high-carbon stainless steel while the aluminum gray handle comfortably sets the knife in your hand and offers superior balance. Moreover, as they are hollow-ground, the blades optimize edge retention and sharpness.
In this set, you get 6 tomato knives- definitely a smart and long-term investment.
You can have one in your indoor kitchen and another one in your outdoor kitchen. You can store the others for later use or give them as a gift to a dear friend or a relative. They will certainly appreciate it!
4. Wusthof Gourmet 5-Inch Tomato Knife
Highlighted Features
Amazing value for money
Serrated and sharp laser-cut blade
Durable synthetic polypropylene handle
Full tang for a great balance
V-ground edge
Lifetime warranty
This is certainly a knife with an amazing value for money. Backed up by proven Wusthof's superb quality, this tomato knife is an excellent addition to every kitchen knife collection.
The sharp and serrated blade is laser-cut stamped from a single steel piece while its synthetic polypropylene handle is connected with the blade through secure triple rivets. The full tang also ensures the optimal balance of the knife during use.
Finished with a V-ground edge for easy picking up and transferring of the tomato slices and cuts, this knife is one of Wusthof's most praised models. The company offers a limited lifetime warranty for it, so you can purchase it without having second thoughts.
Crafted meticulously in Germany, this tomato knife is made by the strictest standards for quality and is praised for its high durability and precision.
5. MSC International Joie Red Tomato Knife
Highlighted Features
Two-piece set (knife + slicer)
Suitable for potatoes and onions
Made from BPA-free, durable plastic
Practical and lightweight gadgets
This great two-piece set is comprised of a tomato slicer and a tomato knife for easy and enjoyable tomato preparation. And, it is also suitable for the preparation of onions, potatoes, etc.
Though it is made of plastic, it is a durable one that is BPA-free.
And, the use of the slicer is very simple- you just fit it over the tomato and place it over a flat and sturdy surface. Start making smooth and guided slices with the knife. You will get unanimous and beautiful slices of tomatoes, but of potatoes and onions too.
Because of how the slots are set, you will get thin slices; however, this does not mean you cannot produce thicker ones. Just cut every second or third slot and create the best slices for the occasion.
What you will love about the slicer is that it also protects your fingers and prevents injuries.
This practical and lightweight gadget is something every kitchen needs, whether you are a home cook or a professional one.
6. Messermeister Handcrafted Tomato Knife
Highlighted Features
Stainless steel blade
Made in Portugal
Comes with protective sheath
Versatile
Comfortable on the hands
This wonderful, red-colored tomato knife and its innovative sheath are designed to be the ideal size and weight and help users tackle tasks like chopping, dicing, and slicing of tomatoes, and other foods too.
The beautiful, ergonomic handle ensures your hand feels comfy while you hold it, but still secure enough to complete the task with ease. The razor-sharp blade helps you make precise cuts and slices and speeds up the maneuvering and thus, helps you save on time.
This is an excellent choice for penetration through foods with a tough exterior and a softer interior like tomatoes and salami.
Last but not least, you also get a plastic sheath with a modern design to prevent the knife from getting damaged and you and your closest ones from injuries.
7. Kai Pure Komachi Tomato Knife
Highlighted Features
Multi-point tip
High-carbon stainless steel blade
Food-safe, FDA-approved resin coating
Resistant to corrosion
Easy-to-clean blade
Lightweight & contoured handle
Easy on the hands
Indeed, one can't stay immune to the beautiful monochromatic colors of this knife. But, the eye-catchy design isn't everything it offers- the quality, high carbon stainless steel will glide through veggies, cheese, and meats.
The strong red color is accomplished by a combination of food-safe FDA-approved resin and stainless steel.
The non-stick resin coating prevents corrosion and ensures the knife remains durable and beautiful for a long period of time. Plus, it makes cleaning effortless.
When maneuvering with it, there's no worry about tiredness and pressure in the hands- the lightweight handle is properly contoured to 'fall' into your hands.
8. Mercer Culinary Renaissance Forged Tomato Knife
Highlighted Features
Limited lifetime warranty
Easy sharpening thanks to shortened bolster
Full tang
Rounded spine for excellent comfort
Made from high-carbon German steel
Prone to corrosion, rust, and discoloration
If there's an NSF-certified, triple-riveted tomato knife you need in your drawer, it's definitely this one. The blade is made from high-carbon German steel which won't rust, corrode or lose its color.
Being a one-piece construction and having a rounded spine, it offers extreme strength and longevity. Thanks to the taper-ground edge, the honing is very easy, the stability is optimal, and the sharpness is long-lasting.
And, let's not forget the amazing Delrin handle which is highly comfortable and durable enough to withstand both cold and hot temperatures. The shorter bolster makes the sharpening easy as it exposes the blade's full edge.
Plus, it makes the knife stronger and durable and adds to the balance during use.
9. Cestari 6-Inch Tomato Knife
Highlighted Features
Exceptionally-sharp blade
Rust-prone blade
Serrated blade ideal for tomatoes, meat, and cheese
Rubberized, comfy, non-slippery handle
Lightweight
This utility knife's blade is very sharp and made from zirconium oxide, a premium ceramic that holds its edge longer than steel does. It's non-porous and non-reactive, which means that there will be no rust and no unpleasant odor absorption.
Since it's created with premium comfort in mind, the lightweight tomato knife is ideally balanced and enables easy sliding through fresh produce and other foods. In addition to the knife, you also get a sheath that will prevent knife damage and possible injuries.
The injection-molded resin handle has no joints and thus, no germs and bacteria can pile up. Being a serrated knife, it's great for veggies and fruits, but for bread and hard and soft cheese too.
10. Victorinox Tomato Knife
Highlighted Features
Ultra-sharp stainless steel blade
Serrated blade & rounded tip ideal for veggies, fruits, bread, cheese
Ergonomic, nylon and soft handle made from quality plastic
Made in Switzerland
This affordable and lightweight tomato knife boasts excellent sharpness and a serrated blade with a rounded tip that simplifies the slicing of veggies, fruits, cheese, and bread.
The high-carbon stainless steel blade is ice-tempered so its sharpness and strength are prolonged.
If you opt for this tomato knife, you save time and prevent mess. What's more, you'll feel no tiredness or pressure in the hands even when you use it for a prolonged time.
This is enabled by the ergonomic and quality nylon handle that also has a pleasant green color and you can't miss it in the kitchen.
Final Thoughts
To ensure optimal results, especially in cooking, we need the right tools, right? Therefore, we cannot expect to slice the perfect tomato (and other fruit and veggie) cuts if we do not have the best tomato knife by our side.
Optimized by a serrated blade and strong handle, a tomato knife is a smaller type of knife with a lot of advantages. It will not just help you make great salads that are aesthetically pleasing, but it will also ensure they taste great.
In our review, we talked about 10 amazing tomato knives from three recognized cutlery brands and each of them is an excellent choice.
If you want to enjoy premium craftsmanship, our top choice is the stainless steel tomato knife by Rada Cutlery.
If you prefer a ceramic option rather than stainless steel and a tomato knife that's excellent value for money, you won't go wrong with the Cestari one.