Everyone wants to do away with cherry pits, everyone! Now, you may have seen tutorial videos on how to get rid of cherry pits without using a pitter, but why not use the cherry pitter tool that was designed specifically for this?
This tool is useful in removing the pit or stone from the center of the cherry without compromising the physical quality of the fruit. If you enjoy homemade pies or jams then you definitely need to get the cherry pitter.
Also, since olives and cherries are about the same size you can use a cherry pitter for olives too! How great is that? – It saves you money and space.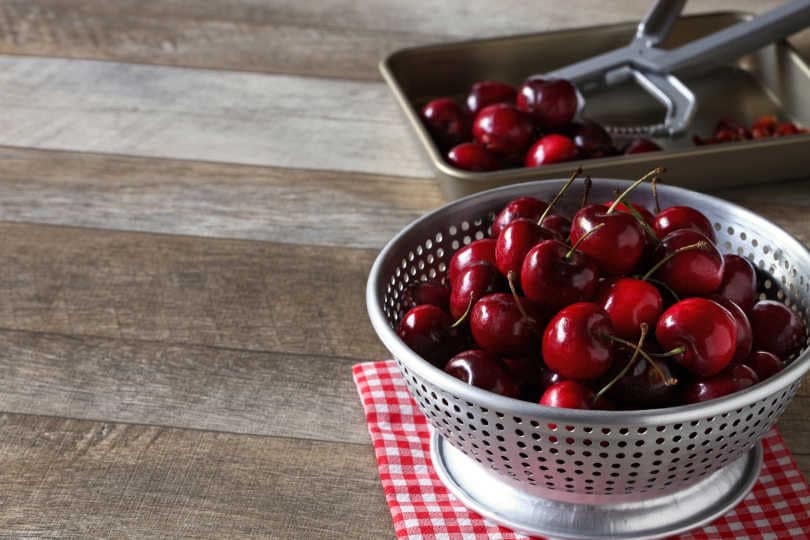 Whether you're trying to enjoy the sweet flavor of cherries or you want to bake some cherry pie, this tool will come in handy.
They come in different designs and sizes, so let's walk you through some of the cherry pitters we have put together just for you.
What is a Cherry Pitter?
Cherry pitters are devices used to remove the center pit or stone of a cherry without damaging the fruit itself. There are several designs available from compact handheld designs to home crank-operated designs, and industrial designs.
This review, however, is mostly restricted to compact handheld designs. The capacity of handheld cherry pitter tools varies. Some make use of multiple plungers and can pit up to 6 cherries at once while others remove pit or stone one cherry at a time.
There's usually a cherry holder that holds the cherry in place as the prong plunges through and then there's a receiver to collect the pit or stone. There are handles that control the plungers and depending on the manufacturer, the plunger mechanism may be manual or spring-retracted with the plunger path being either linear or curved.
Some cherry pitters can also be used on olives.
Why do I need a Cherry Pitter?
Did you know that without a pitter it takes about 4 minutes to pit a cup filled with cherries? While a cherry pitter gets the job done in roughly 2 minutes! See, that right there, is why you need a cherry pitter!
Cherry pitters offer a fast, efficient, and convenient way of pitting your cherries especially when you have loads of them. If you're into making cherry-filled desserts, then cherry pitters should have a spot on your countertop.
They are also less messy when compared to other methods of removing cherry pits. Some designs come with a splatter shield that protects your hands and work area from splattered cherry juice.
Which Factors to Consider Before Buying a Cherry Pitter?
Whenever you're looking to add a new product to your kitchen tools collection, there are important qualities you should always consider. If you're interested in purchasing a cherry pitter tool, you should look out for these factors.
Construction of the Cherry Pitter
The product you're considering buying should be of solid construction and what other way to determine that than the construction material.
Generally, cherry pitters are either made from steel/metal alloys or plastic. The steel or metal alloy ones are strong and durable. They are also resistant to corrosion and abrasion especially when they are finished with coatings.
Some great materials are cast aluminum, die-cast zinc, or chrome-plated steel.
On the other hand, the plastic ones are more lightweight compared to steel or metal alloy ones. This makes them easier to use especially if the product is handheld. Some plastic products have fun designs and safety features which make them kid-friendly.
Silicone is a great plastic material choice, but make sure it's BPA-free and FDA approved.
Handheld or Countertop, Which One to Select?
Whichever you're going to pick will depend on your kitchen space, purpose, and ease of use.
Handheld cherry pitters are smaller than countertop products and would be a good fit for those who don't have much kitchen space. Their compact design makes them convenient to store – you can keep them in your drawers. They are easy to use and perfect when you don't have many cherries to pit and can be washed easily since they don't have a lot of components.
Countertop products are a little too big and you'd actually need to have enough space before considering buying them. However, they have one advantage; they can pit a large volume of cherries. Since they are bigger and have more parts, they are a little cumbersome to maintain.
Capacity of the Pitter
Most of the products we reviewed are handheld but they don't have the same capacity. The capacity you'd go for largely depends on how serious you're about getting your cherries pitted.
What do we mean by that? If you want to pit a small number of cherries, no special occasion, then a handheld product that pits one cherry at a time will be okay.
If you're a little more motivated, say you need to pit lots of cherries to make a cherry pie, then you should consider products that can pit up to 6 cherries at once.
Cleanliness
You don't want splattered juice on your hands or work area, so to avoid that ensure you get a product with a splatter shield. What's a splatter shield? A splatter shield is like the protection that retains the pit and juice, preventing them from spilling and staining your hands or countertop.
Also, ensure they are dishwasher-safe for a quick and hassle-free clean up especially if you're using a countertop type of product, there are large and washing manually will be stressful.
How to Use a Cherry Pitter?
Cherry pitters are very easy to use all you have to do is place your cherry or cherries in the cherry holder.
Then gently press the handle to close the pitter or prongs in which effectively removes the pit or stone from your cherry or cherries.
How to Pit Cherries Without a Cherry Pitter?
Yes, you can pit cherries without a cherry pitter and we'll show you how. So you're going to need a bottle and a chopstick for this.
You start by stemming your cherry and then place it upright on top of your bottle which should be empty by the way.
Hold the cherry while you place your chopstick where the stem was before you removed it. Then push the stick down till you can feel you hit the pit. Keep pushing till the pit goes right down to the bottom of the bottle.
How to Make a Cherry Pitter with a Fork?
To make a cherry pitter using a fork, you'll need a plier and a fork. All you have to do is use the pliers to bend the first and last fork tines and voila, your very own homemade cherry pitter.
To use, simply hook the fork tip into the top of the cherry and use your thumb to press against the cherry, and remove the pit out with your homemade cherry pitter.
Cherry Pitter Tool Review
1. Leifheit Cherry Pitter
Highlighted Features
Large capacity
Stainless steel plunger
Dishwasher-safe
Easy to use
This is the first product on our list and it features the pitter at the top with a large receiving box attached below. It's a "place on the table or countertop" kind of product and is operated manually.
It comes with a stainless steel plunger that you just have to press and voila, the seeds are removed from each cherry and go down into the receiving container which is dishwasher-safe for quick and easy maintenance.
This cherry pitter does the job efficiently without any splatter, keeping your product and countertop clean.
The top housing the plunger can be washed manually by rinsing with water since the plunger is made from stainless steel and won't rust.
If you have a bulk of cherries to remove their pits, you don't have to do that one by one anymore, let this cherry pitter product handle it for you!
The design makes it look aesthetically appealing and would match your kitchen setup.
2. OXO Good Grips Cherry Pitter
Highlighted Features
Ergonomic design
Durable
Splatter shield
Non-slip handle
Convenient storage
If you prefer a portable, handheld pitter, this product from OXO would be perfect for you. It's not news OXO makes good products, so let's find out what they have in store for us this time.
First, it's a high-quality product with non-slip handles for firm holds with a plunger made from die-cast zinc. This product is one of the easiest cherry pitters to use; its ergonomic design enables you to operate with just one hand.
There's a removable splatter shield attached to the cherry holder that prevents juice from spilling on your table or workspace. Speaking of the holder, it was designed to hold large cherries like Rainer and Bing cherries but can be adjusted to fit smaller sizes.
Got lots of cherries to pit? Don't worry, the non-slip handles were designed to absorb pressure. When you're done using, you can lock the tool for more compact and convenient storage.
3. VANTIYAUS Cherry Pitter
Highlighted Features
Innovative design
Pits 6 cherries at once
Removable container
Dishwasher-safe
Easy storage
Yes, you read that right – six cherries at once! This product features a brilliant and stunning design that's hard not to fall in love with.
The container already has six built-in holes to hold the cherries, so all you have to do is place them in and close the cherry pitter. The upper part houses six strong pitters made of zinc which does the work effortlessly.
The pits and spilled juice are collected in a red base below. The base is designed to be non-slip so it stays sturdy on your countertop.
This product is the perfect choice if you're looking at getting a lot of work done in the shortest time possible. The parts can be disassembled for easy and thorough cleaning and the product locks well for convenient storage.
Oh, one more thing, you don't have to wash manually – it's dishwasher-safe.
4. Ordekcity Cherry Pitter Tool
Highlighted Features
Food-grade silicone construction
Can pit up to 6 cherries at once
Easy to use and efficient
Dishwasher-safe
Easy storage
This product is similar in design to VANTIYAUS Cherry Pitter. It can also pit 6 cherries at once and further analysis shows it can pit 100 cherries in just 5 minutes – can you believe that? Awesome!
The cherries are placed in the removable cherry container and each cherry sits in 6 of the 1.1″ cups. The pitter removes the cherry pits neatly and efficiently and was made using stainless steel to resist rust and corrosion.
When the pits are removed, they fall through adjustable 0.47″ holes into the pit collector below. On the base is a non-skid rubber ring that ensures the product stays intact on the work surface.
On top of this tool, around the handle, is a sliding lock for easy and compact storage. This cherry pitter is dishwasher-safe.
5. ProTensils Premium Cherry Pitter Tool
Highlighted Features
Durable
Efficient
Dishwasher-safe
Lock system
Easy to use
If you're in no hurry to pit your cherries, this product would be an excellent pick. It's a quality product that will last long thanks to its zinc alloy construction coupled with the glossy non-corrosive finish.
It's very easy to use, providing you with your desired results in three simple steps. The pitter is strong and efficient all it needs is a gentle squeeze, unlike some products that you have to squeeze so hard.
The firm grip handles allow you to pit conveniently without developing fatigue on your hands.
The cherry holder design makes it compatible with large cherries like Rainer and Bing, and also works well with small-sized cherries.
When you're done using, it features a lock system for compact storage and maintenance; simply place in the dishwasher for quick and hassle-free cleaning.
6. Westmark Cherry Stoner
Highlighted Features
Cast aluminum construction
Efficient
Compact and lightweight
Dishwasher-safe
This product answers the question "how easier could the cherry pitter get?" It features a stapler-like design with the cherry holder and pitter of course.
Be rest assured that this is a highly durable product because it's made from cast aluminum and coated with powder for a perfect finish and to prevent corrosion.
The compact and lightweight features make this cherry pitter easy to store and use or carry around respectively. Since it's lightweight, you can operate using one hand only.
The handle allows soft, comfortable grips while working so your hands don't feel any pressure.
It removes pits from cherries one at a time but its efficiency is something you can rely on. You can also use it on frozen fruits.
Also, you can conveniently wash this product using soap and water or simply place it in your dishwasher.
7. Obecome Cherry Pitter
Highlighted Features
Pits 6 cherries at once
Compact design
Removable pit receiver
Dishwasher-safe
As you descend our list, you'd have seen one or two products that look like this. Obecome Cherry Pitter is another product that helps you remove pits from your cherries faster, pitting up to 6 cherries at once.
It's hard to miss the red and transparent design. The cherry holder has six built-in slots that you place the cherries in and there's a receiver below that collects the pit and juice.
The pitters, made from zinc are strong and efficient. There's a non-skid base just under the pit receiver to ensure your cherry pitter stays sturdy on any work surface.
This product can be disassembled for easier cleaning and there's a sliding lock that helps keep it compact so you can store your cherry pitter in one place instead of separately.
It's dishwasher-safe so you don't waste your time washing manually.
8. Talisman Designs Chomper Cherry Pitter
Highlighted Features
Innovative design
BPA-free plastic
Finger protection
Dishwasher-safe
If you like to have fun while working or need a simple product that's kid-friendly; here's the best cherry pitter for that. This product offers a very simple method of pitting your cherries.
It does that making use of the plunger-kind action that forces the pit and juice down to the belly of the cherry chopper without causing any mess.
The front tooth serves as a protective feature for your fingers and hands and this is what actually makes it kids-friendly.
This cherry pitter is safe to use as the plastic used in construction is BPA-free and FDA approved. You can separate the parts and for manual cleaning and it's also dishwasher-safe for a quick clean up.
It's just 6″ tall and can be stored conveniently anywhere in your kitchen, preferably in drawers.
9. Kebley Cherry Pitter Tool
Highlighted Features
Silicone body
Non-slip handles
Dishwasher-safe
Splatter shield
The Kebley Cherry Pitter is a handheld product that can get the job done one cherry at a time.
Its design features a silicone body and handles with a long pitter rod. The pitter rod does an excellent job pushing the pits through your cherries into the pitted cherry holder which is in the shape of a spoon.
This product works with large cherries and the silicone cup can adjust to hold small cherries using its flexible fins.
The handles are firm and comfortable to hold and use. Not to forget the splatter shield – this does a great job of keeping your hands and work surface clean by retaining splattered juices.
Storage has been made more convenient because you can lock this cherry pitter by pushing the lock latch. It is dishwasher-safe for a quick clean up.
This product comes with a warranty on natural damages with a 6-month replacement option.
10. PCTC Cherry Pitter Tool
Highlighted Features
Quality stainless steel pitter
Splatter shield
Easy to use
Dishwasher-safe
This is yet another durable product to pick from. It features a stapler-like design with a spoon-like cherry holder to provide you with the perfect handheld cherry pitter tool.
The holder has a silicone ring inserted in it to ensure the cherries sit upright and don't tilt. The compact design helps you save space.
The auto-rebound makes the handles respond to control well and more comfortable to use. Like many other cherry pitters, it comes with a splatter shield which is lengthened to prevent splatter of juice on your countertop. The pits and juice go directly into the container to keep your countertop clean.
Besides cherries, it works well with olives and can be cleaned conveniently by just making use of the dishwasher.
There's also a lock latch so you can lock or unlock the pitter after and before use respectively.
Final Thoughts
A cherry pitter is a great kitchen tool that will come in handy whenever you want to make cherry-filled desserts. Shopping for the cherry pitter tool sounds like fun but it has its challenges and that's why we're here – to give you our expert opinion.
Above are reviews of the 10 cherry pitters and to select which suits your style or meets your needs the most, you'll have to make a clear decision considering the factors we stated in our buying guide.
If you want the best cherry pitter, we recommend the Leifheit Cherry Pitter. It's a durable product and you can rely on it to efficiently pit a bulk of cherries using its stainless steel plunger.
Moreover, you can get a good product without breaking the bank, and that product is Kebley Cherry Pitter. It's easy to use, dishwasher-safe and does an incredible job removing the pit from cherries.