If you are active in the kitchen or a professional chef, you probably know how important it is to have the right knife for the task in question to be successful. That is, the best bread knife to slice bread or the best knife for cutting meat.
Using the appropriate meat knife does not just help you finish the task perfectly, but it also saves you time, effort, and money. With the right meat knife by your side, you will glide through steaks like butter and trim fine briskets with minimal effort.
Moreover, with a good meat knife, you will no longer get lost in the meat of the large game, but it will feel natural and easy.
Thanks to meat knives, you will create amazing slices and cuts from different types of meats, including turkey, ham, roast, salmon, brisket, and pork loin.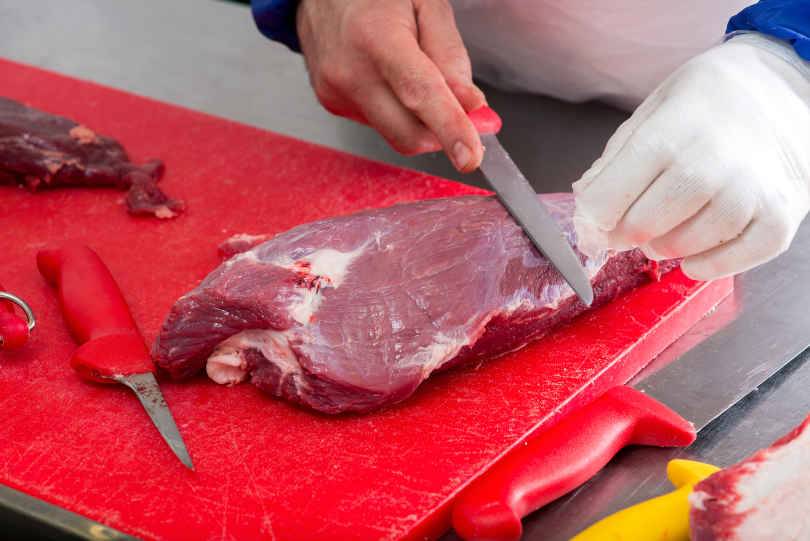 However, if we take into account that meat knives come in different forms and with all kinds of properties, one can easily get confused when trying to find the perfect knife for them.
So, how to make the best decision and purchase the ideal meat-cutting knife for you? Check out our review to find out!
Why Do I Need a Cutting-Meat Knife?
For a lot of people, meat is their main source of protein, and therefore, it is a regular part of their diets. And, according to a lot of professional chefs, but home cooks too, the preparation and cooking of meat is an art in itself.
However, in order for the meat to be cooked tastier and to be served correctly, it needs to be cut and sliced properly. Luckily, today, there is an abundance of meat-cutting knives to choose from that can help you achieve this.
When it comes to knives for meat, it is essential to mention that the type of meat knife you should use in a given moment also depends on whether you are prepping cooked or raw meat.
What's more, in order to have the best meat cutting experience, you need to understand the major distinctions between carving and slicing meat knives. You can learn more about this in the following section.
Slicing vs. Carving Meat Knives
A slicing knife helps us cut meats into smaller and thinner pieces and it is considered the ideal option for slicing venison, roast, pork, barbecued beef, and fish. They are longer in length and narrower than the carving ones.
Their blades can be straight or serrated with a blunt or rounded tip. This type of knife is also useful for slicing veggies and fruits as well. However, it cannot be used for cleaving meat bones.
On the other hand, carving knives are designed to help us cut meat like a roast, ham, and poultry, and in a lot of cases; they are used together with a fork. They are wider and shorter than the slicing ones. Their blades are long and narrow and the top of the blade is sharper.
With this knife in your knife collection, you will carve Thanksgiving turkey easily and maneuver through the bones and cartilage of the game effortlessly.
The blade's thickness depends on the cutting purpose and its length may range anywhere from 6 to 12 inches.
What to Look for in a Meat-Cutting Knife?
Regardless of the type of knife, you are looking into, the two most important factors are its thinness and sharpness.
And, the same goes for meat-cutting knives. A blade that is too fat or too dull can make it hard to move the knife through the meat.
Another essential factor is the blade's flexibility- the blade needs to be flexible enough (but not too much!) so that you can easily follow the contour of a prime rib bone or a turkey carcass without getting stuck.
What's more, a good meat-cutting knife should feel comfortable in your hand, even after using it for a while.
It needs to be ergonomically designed to fit any hand size and to be made of low-slip materials. If searching for a meat knife, remember to take into account the length of the blade too.
Opt for a minimum of 9 inches or more for a carving knife and 10 inches or more for a slicing knife. Anything less can be too short.
Knife for Cutting Meat Reviews
1. Victorinox Swiss Army Fibrox Meat Slicing Knife
Product Information
| | |
| --- | --- |
| Package Dimensions | 17.38 x 1.75 x 0.75 inches |
| Item Weight | 1 pound |
| Manufacturer | Victorinox Swiss Army |
| Price | $42.78 |
Highlighted Features
Round tip
Features air pockets for low friction & better meat division
Long and razor-sharp edge
Made with high-carbon stainless steel
Ergonomic & non-slip handle
This is, without a doubt, a trusted favorite of both home and professional cooks due to its ability to handle almost every slicing and cutting task in the kitchen.
This essential tool is made with a beautiful and ergonomic, comfy handle and offers excellent balance and a razor-sharp quality stainless steel blade that will rarely need re-sharpening.
It's an excellent choice for slicing and cutting softer and firmer types of meat thanks to the specialized long and straight blade.
Being a Granton blade, the friction is brought to a minimum and there's no food sticking on the knife.
For optimal durability, wash the knife by hand and hone the blade after several uses.
2. Dalstrong Butcher Breaking Cimitar Knife
Product Information
| | |
| --- | --- |
| Package Dimensions | 18 x 4 x 3 inches |
| Item Weight | 15.8 ounces |
| Manufacturer | Dalstrong Inc. |
| Price | $90.00 |
Highlighted Features
Suitable for smaller and larger meats
Curvy blade
Low blade friction
Ergonomic Pakkawood handle
Comes with a knife guard
This professional-level knife is a real gladiator in the world of meat sectioning and portioning.
With minimal effort, it allows you to glide through steaks and briskets and break down larger games.
Thanks to the curvy blade, it provides sufficient leverage and fine and complete cuts with a single movement without any sawing.
Meticulously crafted and designed, the blade helps slice through cartilage and flesh and remove fat from fish, poultry, or any other type of meat.
The rock-hollow divots are there to lower adhesion and avert the meat from sticking onto the blade. Also, they decrease friction for a comfortable cutting experience.
Avid knife users will appreciate the beautiful and ergonomic triple-riveted black Pakkawood handle from Spain with a full tang.
With this handle and with this blade, you will always do precise meat cutting.
And, the surprises do not end here- you also get a BPA-free PerfectFit knife guard with it.
Appreciated by both professional chefs and home cooks, this hard and flexible knife will never disappoint you!
3. Mairico Ultra Sharp Carving Knife for Meat
Product Information
| | |
| --- | --- |
| Package Dimensions | 17.9 x 5.1 x 1.8 inches |
| Item Weight | 14.5 ounces |
| Manufacturer | MAIRICO |
| Price | $25.95 |
Highlighted Features
Long & sharp
Stainless steel blade
Versatile
Affordable
This knife is a great option for slicing meat, but fruits and veggies too.
Delivering impeccable performance, the long and sharp blade is designed for precise cuts with low human effort. The razor-sharp and stainless steel blade will help you make excellent cuts, regardless of the size of the meat.
Created to last, this knife is ergonomically designed to provide a balanced distribution of weight and a secure and safe grip for ideal movements.
The 11-inch blade is long enough to be your go-to knife for brisket, pork, salmon, ham, and roast, but for a variety of veggies and fruits too.
Whenever you feel the blade has reduced its sharpness, use a whetstone, ceramic sticks or diamond steel and you will have it sharp and ready in no time. To touch up already sharp edges, use honing steel.
Though dishwasher-safe, the best way to optimize the duration of this knife (and other knives!) is to wash it by hand with gentle soap and warm water.
4. Jerky Professional Meat-Cutting Knife
Product Information
| | |
| --- | --- |
| Package Dimensions | 15.25 x 1 x 0.5 inches |
| Item Weight | 1 ounce |
| Manufacturer | Jerky.com |
| Price | $29.99 |
Highlighted Features
Long stainless steel blade
Low blade friction
Suitable for meats, but veggies and fruits too
Great for homemade beef jerky
This affordable and superb slicing knife will help you slice meat as professionals do.
The dimpled and 12-inch razor-sharp stainless steel blade allows you to finish the slicing fast without any food sticking onto the blade.
It is suitable for any type of meat, as well as for slicing veggies and fruits. Moreover, if you enjoy making your own beef jerky, this is the ultimate jerky slicing knife.
Your jerky will be soft and tender and you will break down the fibers prior to marinating the meat. This will enhance the jerky's flavor and aroma.
Providing consistent and effortless cuts, this strong and durable knife always delivers. Made from high-grade steel, it is dishwasher safe; however, it is best to wash it by hand to preserve its optimal quality!
Once you have it in your kitchen drawer, it will soon become the kitchen tool you cannot be without.
5. TUO Cutlery Meat Cutting Knife
Product Information
| | |
| --- | --- |
| Package Dimensions | 1 x 1 x 1 inches |
| Item Weight | 1.05 pounds |
| Manufacturer | TUO Cutlery |
| Price | $44.95 |
Highlighted Features
Flexible blade
Made with high-carbon German stainless steel
Non-stick blade
Ergonomic, Pakkawood handle
Money-back guarantee
This full-tang knife is part of TUO's Fiery Series and boasts a flexible and strong blade excellent for filleting, skinning, trimming, de-boning, and butterflying different meats.
Whether you need it for turkey, roast, ham, or some veggies and fruits, the extra-long 12-inch blade has your back. You can also use it for bread slicing and cake layering.
We really love the use of premium quality German stainless steel which offers excellent rust-and-wear- resistance as well as long-term performance.
You needn't worry about food sticking onto the blade- the slicing resistance is brought to a minimum thanks to the indentations on the blade.
Comfort and balance are also well-thought-out- you get a quality Pakkawood handle that is strong and comfy, enabling longer use without tiredness in the hands and joints.
6. Icel Granton Edge Meat Slicing Knife
Product Information
| | |
| --- | --- |
| Package Dimensions | 20.91 x 4.02 x 0.39 inches |
| Item Weight | 0.16 ounces |
| Manufacturer | ICEL |
| Price | $59.99 |
Highlighted Features
Granton blade
Low blade friction
Ice-tempered for prolonged sharpness
Rust & stain resistance
NSF-certified
This knife is made in Portugal and it comes with a rounded and safe tip and a long and straight edge that optimizes the cutting surface.
Thanks to the Granton edge, there will be no food sticking onto the knife and therefore, every usage will be enjoyable.
This is the best choice for slicing seafood, poultry, and other types of meat. With the help of the high-carbon stainless steel blade, you will make precise and effortless slices with each use.
It also comes with a conical ground for a wider breakpoint and it is also ice-tempered to prolong the sharpness.
The knife's blade shape is stamped out of cold-rolled steel and it is prone to rust and staining. The elegant black handle is made to ensure optimal comfort and a strong grip.
Since it is an NSF-certified brand, the company has high sanitary standards for a super quality knife suitable for both home cooks and professional chefs.
7. Victorinox Fibrox Curved Breaking Knife
Product Information
| | |
| --- | --- |
| Package Dimensions | 17 x 3.75 x 1.5 inches |
| Item Weight | 5.6 ounces |
| Manufacturer | Victorinox |
| Price | $33.00 |
Highlighted Features
Excellent for butchering meat
Premium stainless steel
Ice-tempered
Conical ground
Comfy Fibrox Pro handle
This 8-inch blade knife is the ideal option for those who're regularly butchering meat, but also those who need to break down any meats into a smaller size.
Thanks to the added weight enabled by the wider blade, the uniform slicing is enhanced. Also, the meat won't be torn and it won't fall apart.
Featuring high carbon stainless steel, the knife also has a conical ground and it's ice-tempered to prolong the sharpness and durability.
And, whenever you hold it in your hands, there will be no discomfort- even if you do it for some time. Plus, it's lightweight, so no strain on the joints.
This is achieved with the Fibrox Pro handle which is also non-slippery. So, even when your hands are wet or moist, you'll still have a good grip.
The Swiss premium brand Victorinox offers a lifetime guarantee for defects in material and workmanship.
8. Kessaku Slicing Carving Knife
Product Information
| | |
| --- | --- |
| Package Dimensions | 18 x 1.15 x 1.15 inches |
| Item Weight | 9.9 ounces |
| Manufacturer | Kessaku |
| Price | Price not available |
Highlighted Features
Handcrafted by trained technicians
Made with premium tech
Japanese quality
High-carbon stainless steel
Smooth and mirror-polished Pakkawood handle
If there's a knife that is made to help you tackle so many different slicing and carving tasks in the kitchen, it's this one. Crafted by hand by the company's trained technicians, this knife offers innovative technology and quality materials.
This is the full tang go-to knife for many professional and home cooks because it has so many different benefits to offer. Thanks to the high-carbon stainless steel, this knife is highly resistant to corrosion and rust.
What's more, the Pakkawood handle is known for its excellent strength and comfort. Plus, it doesn't collect any debris or dirt and it's resistant to moisture, cold, and heat.
We really appreciate the company's dedication to high comfort and great design. The knives are properly balanced to lower aches and tiredness in the hands, but still, feel strong and effortless when you work with them.
Since it comes with a beautiful gift box, it can be an excellent gift for friends or family too!
9. Rada Cutlery Meat Slicer
Product Information
| | |
| --- | --- |
| Package Dimensions | 16.25 x 2.75 x 0.56 inches |
| Item Weight | 3.2 ounces |
| Manufacturer | Rada Cutlery |
| Price | Price not available |
Highlighted Features
Inexpensive
Generous length
Perfect for ham, loin, and roasts
T420 high-carbon stainless steel
Whether you need to prep some ham or cut through a roast or slice a cake or a melon for a weekend party, this knife is what you need! Featuring a 9- ½-inch long and serrated blade from high-carbon stainless steel, it offers high sharpness and precise cuts.
The handle is made with black stainless steel resin and it's dishwasher-safe even though it's best to wash your cutlery by hand to prevent damage.
The knife is manufactured in Waverly, Iowa by a company that's been on the market since the 50s. Their ongoing mission is to provide the best value for customers' money.
However, if you want to handle meat with bark that's less tender, it may be best to choose a heavier and sharper knife than this one.
10. Victorinox Wood Cimeter Knife
Product Information
| | |
| --- | --- |
| Package Dimensions | 17 x 3.75 x 1.5 inches |
| Item Weight | 9.6 ounces |
| Manufacturer | Victorinox Swiss Army |
| Price | Price not available |
Highlighted Features
Great for deboning
High-quality stainless steel
Ice-tempered
Rosewood, non-slip handle
Triple-riveted
This could be your ultimate choice to butcher larger chunks of meat, but to slice your Sunday roast and Thanksgiving turkey too.
The curvy blade enables easy one-pass cuts and deboning.
And, the premium quality high-carbon stainless steel blade is made to last and retain its edge for a longer period of time.
Constructed by a reputable brand that is considered the best in the world of cutlery production, this knife is the preferred choice of experienced cooks.
With this knife, you need not worry about the blade going dull- the premium high-carbon stainless steel blade which has been ice-tampered ensures high sharpness.
Plus, it is easy to keep it in optimal shape- it requires only warm water and gentle soap to be squeaky clean and ready for your next task.
The beautiful rosewood handle is comfortable and non-slippery and triple-riveted for durability.
Made by craftsmen in Switzerland, this meat-cutting knife is definitely a smart investment.
Final Thoughts
A knife set isn't complete if it does not have a meat cutting knife. This knife is designed to ease the preparation and cooking of meat and game and ensure a quality culinary experience.
Using the wrong type of knife to carve a turkey or slice beef for jerky won't bring the desired results.
But, choosing the knife for cutting meat can be complex, especially if we take into account the wide array of knives available today. This is why it is important to learn the uses of different types of meat-cutting knives and then make an informed decision.
To that extent, we explored 10 beautiful and popular knife models which can be purchased for reasonable prices, yet offer premium quality and longevity.
Our best pick is undoubtedly the 12-inch one by Victorinox because of its top-end materials, beautiful design, and user satisfaction.
For those shopping on a budget, the Rada Cutlery's option is a great choice- it's low-cost, yet features awesome blade length, high-carbon stainless steel, and stainless steel resin handle.
* Affiliate links/Images/Price from Amazon Product Advertising API