Though pocket knives are underrated by some, a lot of people have been realizing their usefulness and potential. Carrying your own pocket knife is no longer considered "odd" and shows that in the right hands, it is actually the ideal tool.
However, the blades will not remain sharp forever, especially if you frequently use the knife. With this in mind, it is a reasonable decision to have a pocket knife sharpener by your side. It will help you maintain the sharpness and optimize the longevity of your to-go knife and you can carry it anywhere you go.
As there are a lot of different pocket knife sharpeners available, finding the best pocket knife sharpener does not happen easily. So, how can we make the best purchase for us?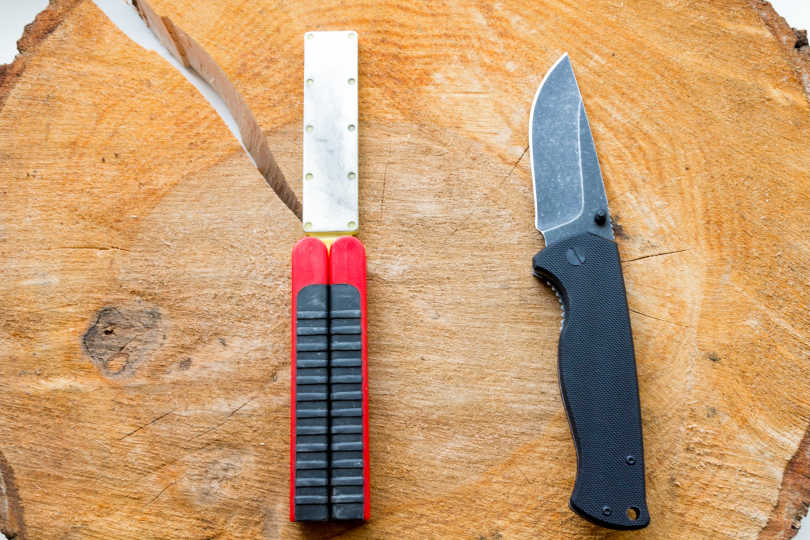 With this in mind, we made a collection of 10 quality portable sharpeners to help you ease your search, as well as some important information you should know prior to purchasing this tool.
Why do I Need a Pocket Knife Sharpener?
If you are an avid user of pocket knives, then you know how essential is to have a quality pocket sharpener by your side. But, it is not just active users of pocket knives who can benefit from these compact tools, but any other knife user!
A pocket sharpener is not just vital for sharpening your pocket knives, but for all other knives, you carry outdoors with you, including hunting, fishing, or cooking knives. It will help you maintain the sharpness on the go in a couple of easy glides.
A sharp knife while filleting a fish on your fishing trip or opening up a box during camping is a must for optimal enjoyment, but also for a low risk of injuries, slippage, and unfinished tasks.
Why Opt for a Pocket Knife Sharpener?
Having a quality compact sharpener in your drawer enables you to keep your knives razor-sharp regardless of where you are. Sharpening knives is a beneficial method to address the natural dulling of blades and to prolong their efficiency.
By using the knife properly and doing your sharpening regularly, you will have a knife that always delivers the best results regardless of the task in question.
Of course, having fixed sharpeners and paper wheels in your home can be a great way to take care of the sharpening; however, you may also need to consider a portable sharpener that you can carry with you.
This is important if we take into account that we often use different types of knives on camping, hiking or on numerous other enjoyable outdoor activities.
Pros of Having a Portable Knife Sharpener
It's cheaper
In the long run, investing in a portable knife sharpener is less expensive than professional sharpening services.
Reduces risk of damage
When you sharpen your knives, you learn more about their blade condition, edges, and handle. You become more committed to its maintenance and preservation. Consequently, this lowers the chances of damage and prolongs your knives' life spans.
You'll always have sharp knives
Professional sharpening of your knives requires effort, time, and delayed food prep. On the other hand, having a sharpening tool in your kitchen or outdoors enables sharp knives anytime and anywhere and fast.
Cooking will be safer and easier
Working with dull knives doesn't just increase the risk of injuries, but also prevents even cuts and can lead to spoilage. With a sharp knife, food prep and presentation is fast and simple.
Improves your cooking skills
In addition to prepping and serving tasty meals, a good chef should have sharpening skills- sharpening your own knives makes you the 'king' and 'queen' of your kitchen. Plus, working with sharp knives will make cooking more fulfilling.
What to Look for in a Pocket Knife Sharpener?
Before you start your search for the perfect pocket knife sharpener that will meet all your needs, preferences, and budget, remember to stay away from the cheaper options.
They may provide the needed results, but this is often a short-term thing. Plus, they can damage your knife, which is never a pleasant experience!
On the other hand, more quality sharpeners are usually a bit more expensive, but this is because they are made from durable materials and by reputable manufacturers. Hence, you will spend a bit more, but the sharpener will serve you long-term and optimally.
Below, check out what to look for in a pocket knife sharpener before you consider it for purchase.
Adjustable angles- when you have this type of sharpener, you can sharpen your blade at the same angle it was designed without having to change the edge geometry and the knife's primary purpose.
Hard surface-

when searching for the most suitable pocket knife sharpener, go with the one which has an abrasive hard surface. This surface is measured in grit- the higher it is, the finer the surface is.
Sharpening stages

– a quality pocket knife sharpener should come with several sharpening stages, for example, one to restore the shape of the blade and another one to polish it.
Safety first- a quality sharpener for your pocket knives should offer safety features, for example, a barrier between the blade and fingers to prevent injuries
Pocket Knife Sharpener Reviews
1. Lansky BladeMedic Pocket Knife Sharpener
Highlighted Features
4 distinct sharpening stones
Made with quality metal
Sturdy & versatile
Comes with a lanyard hole
This is the perfect blend of versatility and sturdiness and one of the most reliable sharpeners today. Covered in metal housing, this sharpener offers 4 different sharpening stones.
Two of them are designed in a V-shape and are carbide and ceramic. The other one is a ceramic stage for serrated blades and you also get a diamond tapered rod.
Thanks to the usage of metal rather than plastic, this sharpener looks and feels solid, and therefore, breaking or damaging it is not easy. This being said, it is the perfect tool for those who spend a lot of time outdoors.
Whether you take it with you on camping or hunting, this pocket knife sharpener will ensure your knives never fail you.
In less than five strokes, you will get amazing performance and sharpness without any stress or pressure.
This model also comes with a lanyard hole for easy carrying. Though it is not the lightest of pocket knife sharpeners, it is definitely a smart choice that will satisfy even the pickiest of users.
2. Smith Pocket Multifunction Sharpener
Highlighted Features
Diamond-coated rod
Suitable for standard & serrated blades
Easy maintenance
Lightweight
This sharpener in grey color has a tapered round diamond-coated rod. It's the best knife sharpener for serrated and standard blades.
Its ceramic and carbide stones are replaceable to ensure long-term effective sharpening life. The preset with carbide blades help restore dull edges while the ceramic stones ensure a razor-sharp final touch.
The carbide stage is designed for straight edge blades only while the ceramic one helps smoothen already sharp knives and it is meant for serrated and standard blades.
The sharpener is also easy for maintenance- you only need to wipe it gently with a damp cloth after use and then clean it with a dry cloth. Remember to not rinse the gadget with water!
Thanks to the lanyard hole and its lightweight, this sharpener is easy to carry with you when you're on the go.
3. Victorinox Fixed Blade Knife Sharpener
Highlighted Features
German quality
Compact form, great for traveling
Can be used for fishing hook sharpening
Sturdy
Victorinox Fixed Blade Knife Sharpener is made by one of the world's most renowned brands for pocket knives. Made in Germany, this is definitely one of the sturdiest compact and minimalistic pocket knife sharpeners.
When you have it by your side, you will no longer have to deal with dull blades and unfinished tasks.
This elegant sharpener comes with a ceramic notch and a grinding stoned all neatly packed in a compact pen-like form. It can fit in your pocket or bag so it makes the ideal sharpener for traveling.
It provides the best results with straight-edge blades. This sharpener comes with a ceramic V-groove and an oval rod placed in plastic housing. The ceramic section will sharpen the blade and the stone for grinding will sharpen worn-out knives.
Fishing enthusiasts will particularly appreciate the notch for fishing hook sharpening. The bottom end of the pen sharpener serves as a drainage hole which enables quick drying after cleaning and rinsing.
4. AccuSharp Knife Sharpener
Highlighted Features
Inexpensive
Diamond-honed sharpening stones
Ergonomic handle
Non-slippery bottom
Suitable for left- and right-handed users
AccuSharp is a user-friendly and versatile sharpener that will keep your blades sharp and bring the dull ones back to life.
It's a combination of reliability and award-winning technology. For a decent price, you get diamond-honed carbide sharpening stones with fine ceramic rods.
This meticulously designed and eye-appealing sharpener has an ergonomic handle for easy and effortless maneuvers. You can place the device on almost any type of platform without worrying about slippage thanks to the rubbery layers.
It is made to fit in the hands of both right- and left-handed users. Feel free to use this device without any chance for injuries- the full-length guard will keep your fingers and hands protected during the sharpening.
Your only task is to hold the knife and slowly slide it across the desired groove. 3 to 4 strokes will usually suffice for optimal sharpness.
With this sharpener, you have mess-free sharpening within minutes and the ideal addition to both professional and personal kitchens. And, many passionate hunters, fishermen, craftspeople, and gardeners swear by this easy-to-use gadget.
5. Work Sharp Guided Field Sharpener
Highlighted Features
Angle-guided sharpener
5 distinct stages
Robust & compact
Diamond plates
Ceramic rods
This innovative sharpener is made 100 percent in the US and it offers amazing 5 stages of sharpening and honing. It's also distinctive for its specialized built-in angle guide for an ongoing bevel throughout the whole blade.
It boasts two diamond plates; one is coarse for shaping and fixing and one is fine and it's intended for sharpening.
There are also 2 ceramic rods (coarse, fine, and fish hook honing grits) and a leather strop that's conditioned with a micro-abrasive finish for razor-sharp edges of your knives.
The sharpener is made with durability and compactness in mind- it will preserve the knives' edge long-term. Take it with you on your camping and fishing trips and whenever you're on the go- place it in your gear bag and you're ready!
6. Sharpal Knife Sharpener & Survival Tool
Highlighted Features
Ceramic blades
Tapered diamond rod
High pitch emergency whistle
Includes a fire starter
Tungsten carbide blades
This sharpener is such a multifunctional tool and the favorite of hunters, hikers, campers, and fishermen. Believe it or not, it has 6 functions, including tungsten carbide blades, ceramic blades, tapered diamond rod, fire starter, high-pitched whistle, and special groove for sharpening fish hooks.
The quality abrasive material has been tested 1000 times and you also have a lanyard hole that will help you attach it to your keychain. It offers a beautiful soft grip which is enabled by the rubber coating.
The fire starter function is very easy to use- you have step-by-step instructions included.
Together with the emergency whistle, it makes an excellent companion during trips in the mountain and forests. Plus, it's very affordable- you needn't spend a small fortune to have this highly versatile tool in your pocket.
7. Lansky QuadSharp Knife Sharpener
Highlighted Features
Excellent for serrated & straight blades
Carbide V-groove
4 different angles
Can be used for fine polishing
Although it's a quite small and lightweight sharpener, it's indeed one of the most versatile tools today with high sturdiness. It's ideal for reviving your serrated and straight blades. The sharpening is additionally simplified by the carbide V-groove.
It comes with the 4 angles like the legendary controlled-angle system, i.e. 17, 20, 25, and 30-degree angles. In only 3 to 4 strokes, your knife will be perfectly sharpened and aligned.
Plus, you can fine polish your serrated blades using the ceramic bench stone. It's intended to be used like butcher steel- it's harder than steel and it won't wear out. Use it as often as the primary sharpeners without worrying about the reduction in performance!
Thanks to its compact size, you can take it with you on your camping, hiking, and fishing trips.
8. Smith Jiffy-Pro Handheld Sharpener
Highlighted Features
Durable
Made from high-quality materials
Inexpensive
Soft-grip handle
Versatile (you can use it to sharpen scissors, game shears, etc.)
Simple, yet highly versatile, this is a fast, safe, and easy-to-use pocket knife sharpener.
It's ideal for use in your home or in the field or while camping.
You can also attach it to your pack or belt using the finger guard that's open on one end. It's very beneficial for sharpening fillet knives and scissors.
Thanks to the patented 'floating' carbide rod which's been especially enlarged, you can use it with game shears.
Using the carbide stage, you can set the blade's edge while the ceramic ones are for honing. The fixed abrasive components have a preset sharpening angle for excellent results with each use.
We really appreciate the beautiful design of the handle- it's rubberized for a soft and firm grip and allows enough space to hold it with your whole hand. It's made of quality and durable plastics.
9. Alpha Tek Pocket Knife Sharpener
Highlighted Features
Easy to use
Sharpens really fast
Low cost
Compact size
Excellent for inexperienced users (beginners)
This pocket knife sharpener offers ceramic rods, carbide cutting heads, and non-slippery rubber feet. The 2 Tungsten carbide heads come with preset angles and ensure you get the best edge of the blade at all times.
It helps you restore your blades in only 3 to 4 strokes. The 2 crossed ceramic rods also feature preset angles and enable your already sharp knives to be smoothly finished. Even though it's great for all knives, it gives amazing results with fillet knives.
Thanks to its design, you can hang it in your pocket or backpack and always have it nearby. We also like the option to choose between three different colors, including dark green, orange, and black. Since the colors are quite discernible, you can't miss it- even if you store it in a drawer with other tools.
10. Wusthof 2-Stage Pocket Knife Sharpener
Highlighted Features
Affordable
Sharpens & hones
Each slot is labeled
Non-slippery inserts
Lightweight
This is a portable pocket-size sharpener which is a cheap, yet one of the best portable sharpeners today. It is easy and simple to use and great in setting the edges of dull blades with its coarse carbide blades.
If you need to hone edges of already sharp knives, this is the right sharpener to do that- just use the two fine rods made from ceramics.
You don't need to worry about getting confused about where to sharpen or hone your knife because each slot is labeled accordingly. You'll also appreciate the non-slippery inserts placed on the gadget's top and bottom which allows you to comfortably flip it and access the needed sharpening slot.
Lightweight and small, this is a convenient tool that comes with a keychain so that you can carry it with you on the go. However, as it's quite small, it may be unstable if you intend to use it with longer blades.
Final Thoughts
Without a doubt, having a pocket knife sharpener has a lot of advantages, especially if you are an active user of knives outdoors. Whether it is fishing trips or camping, a knife is an indispensable tool and so it is a quality sharpener.
However, as you cannot carry your home sharpening system with you, you need a portable, compact, and convenient pocket-size sharpener.
These sharpeners are lightweight, minimalistic, and simple-to-use. You can put them in your pocket or bag and dull knives will be part of the past.
But, as there is a wide array of pocket knives on the market, making a purchase is not always straightforward. This is where our comprehensive review of 10 best pocket knife sharpeners can lead you in the right direction.
It will help you learn more about the dos and don'ts of pocket knife sharpeners and assist you in making the most suitable decision according to your budget and preferences.
If you want a pocket knife that is inexpensive, yet one which will always deliver good results, our budget pick by AccuSharp is an excellent choice- it's an ergonomically thought-out gadget with optimal performance.
If you do not mind spending a bit more, we warmly recommend Lansky's pocket sharpener. This is one of the sturdiest and most versatile metal sharpeners that will never fail you and can last for a lifetime.
If you prefer elegant and catchy designs of pocket knife sharpeners, you'll definitely "fall in love" with Victorinox's pen-shaped model.