If you've experienced cutting hard cheese manually, you would know it's a real hustle! But, why waste your time, energy, and effort cutting your cheese manually when you can enjoy having perfect cuts using a cheese slicer?
Using the cheese slicer for hard cheese will save you all the cutting hustle and bustle. Without mincing words, a cheese slicer is a great tool to have in your kitchen.
Nowadays, there are lots of different nice cheese slicers you can use in your home. You can go for a hard cheese slicer, soft cheese slicer, cheese slicer with a wooden handle, or an adjustable wire cheese slicer.
In fact, you may even go for a fanciful handheld cheese slicer instead.
But, what often seems to be the problem is that, sometimes, the options tend to be very overwhelming. And, this is one of the reasons why we're creating this article to give you a deep insight into what you should look out for when purchasing a cheese slicer on the market.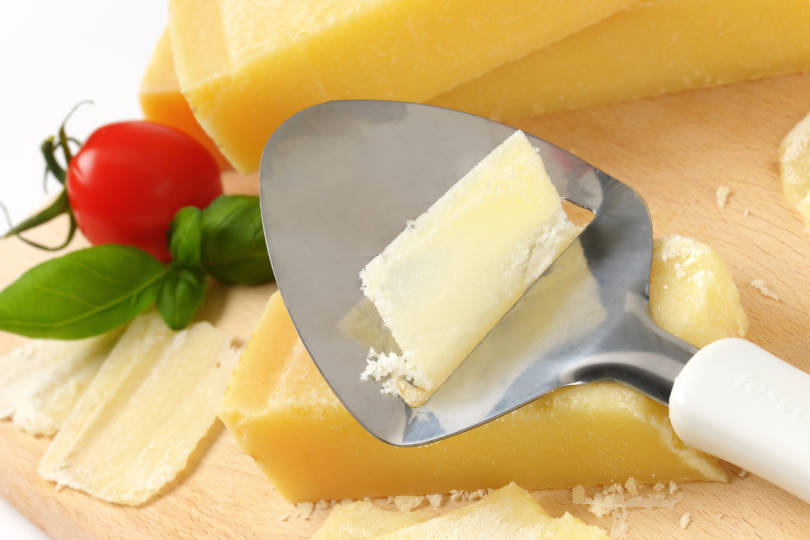 Apart from that, we'll be furnishing you with the list of the top 10 quality cheese slicers for hard cheese. In our compiled list of these high-quality cheese slicers, we considered selecting different varieties.
So, whether you want a soft, fanciful, cheap, or a hard variety, you'll surely get to find that particular cheese slicer that pleases you. Enjoy the ride.
Things to Consider Before Buying Cheese Slicer
There are some things you should look into before you procure your cheese slicer. No matter how good your knifing skills are, you still need a cheese slicer to achieve cutting some nice thin slices. And, before you make your final purchase, check out these four important things:
Safety
Slice Quality
Ergonomics
Warranty & Durability
Safety
Before you buy a cheese slicer for hard cheese, it's important for you to check how safe it is. And how can you achieve that? Foremost, always check if the slicer has a rubber stand or a rubber handle.
If you prefer to go for a handheld slicer, endeavor to confirm that it has a non-slip handle so that it doesn't drop unexpectedly when you're busy slicing a thick cheese. Looking beyond safety, having a cheese slicer that has a quality handle will positively affect your overall slicing process and results.
Secondly, if you're using a slicer with a base, endeavor that you go for one that comes with rubber feet. The importance of it is that these rubber feet will give you steady control during usage to prevent the slicer from slipping off.
Slice Quality
How do we determine the value of a hard cheese slicer if not by the quality of the slices it makes? In fact, the first thing you should consider before getting a cheese slicer is its capacity. Don't be deceived by versatility or structure.
There are some slicers that cannot handle soft cheese and there are some that will bend or break while cutting hard cheese. So, it's better you go for high-quality cheese slicers that can slice both soft and hard cheese conveniently.
Ergonomics
You should experience no difficulty while using a cheese slicer for a very long time. Normally, you should not spend too much time on a slicer but this tends to happen sometimes if you have a large quantity of cheese to slice.
In such cases, you will have no worry if you go for a cheese slicer that is user-friendly because you won't hurt your palms. In fact, there are some slicers that always get loose after a few slicing. But, a quality handheld cheese slicer with nice ergonomics will not give you such a problem.
Warranty & Durability
These are the other important things you should consider if you want to purchase a valuable cheese slicer. Go for sturdy and durable slicers. Or perhaps, you may consider buying from a reliable brand.
Most of them are more concerned about their reputation and this is why they can't afford to put low-quality cheese slicers on sale. More so, buy a cheese slicer that has a warranty so that you can replace your wires once they get broken.
Types of Cheese Slicers
There are two major types of cheese slicers:
Tabletop slicers
Handheld slicers
The most popular one is the handheld slicers but a lot of people prefer to buy tabletop versions because it's believed that they have more durability than handheld slicers.
However, handled slicers have a portable advantage over their other counterparts. The portability of these handheld slicers is one of the reasons why they are the most demanded on the market. And apart from that, they are also very easy to store.
Nevertheless, tabletop slicers can handle a lot of cheese than its mate. And, this is because they have a more accommodating base. Some people prefer to go for tabletop cheese slicers because they handle both hard and soft cheese well and the slicers tend to be easy to control.
Anyways, those are the few pros and cons of buying handheld slicers or tabletop slicers.
Why Should I Have a Cheese Slicer for Hard Cheese?
There are enjoyable benefits to buying a cheese slicer. These benefits are best summarized in these three key points:
Presentability
Nice, consistent cuts
Time-Saving
Using a hard cheese slicer will help you have great and consistent cuts. You have the choice to set your preferred thickness or thinness and then all the produced slices will be well uniformed. Great consistency!
More so, using a hard cheese slicer makes your cheese look very appealing and presentable. When you serve them, they look so fresh, organized, and neat. And if you have a cheese slicer with a cutting board, serving would be a fun thing to do.
In addition, you save a lot of time and effort when you use a cheese slicer.
Cheese Slicer for Hard Cheese Reviews
1. Bellemain Cheese Slicer for Hard Cheese
Highlighted Features
Rugged stainless steel wire that cuts perfectly
Heavy duty
Slices up to ¼" thick
Full 1-year warranty
You can enjoy making your beautiful slices with this cheese slicer for hard cheese because of its rugged stainless steel wire. You decide whichever way you want your slices to be. Whether you want them in paper-thin, thin or thick, this slicer gives you the freedom to express your slices just as you desire.
Purchasing pre-sliced cheese should be a thing of the past because this cheese slicer has made slicing your own cheese very easy and comfortable.
To include, it's very strong and heavy duty because it's made of zinc alloy. You won't have to bother about getting another one because it will last you for many years.
With the slicer being adjustable, you can make up to ¼" thick slices. Just do the adjustment and you get what you want! It's as easy as that. Even if your cheese is the thickest on market, this cheese slicer will cut it without stress.
Another interesting thing about this cheese slicer is that it comes with a replacement cutting wire. Apart from that, it has a full 1-year warranty which means that, if you are displeased with its service, you can have your money back.
So, will you still keep waiting or get your own cheese slicer today? The choice is yours.
2. Oxo Hard Cheese Slicer With Replaceable Wires
Highlighted Features
Made in China
Comes with replaceable wires
Sturdy and high-quality
Comfortable, soft handle
This hard cheese slicer gives you the chance to handle your cheese cutting in a very comfortable and stress-free manner. With its soft handle, you'll have no problem getting the perfect slices you desire.
Whether you want thin or thick slices, it has the capacity to give you whichever size you want. And, it comes with replaceable wires which make everything just easy. If accidentally you have an issue with the pre-installed wire, you can just make use of the extra stainless steel wire.
More so, it has a tension wheel that helps you tighten your wire in case it gets loose. Speaking of quality, this cheese slicer scores high because it's made of die-cast zinc. And with this, you will enjoy using it to cut your cheese for a very long period of time.
This cheese slicer is very easy to use and it adds great value to your kitchen because it offers a very pleasing and unique service. It is made in China and you know China does have great steel.
3. Westmark Germany Heavy Duty Cheese Slicer
Highlighted Features
Made in Germany
High quality cast aluminum handle
5 years warranty
Easy to use
High-quality is the main feature of this cheese slicer and, it's not debatable that it's indeed one of the high-quality cheese slicers you'll ever come across. Just take a look at its handle, it's made from a cast aluminum that's of very high quality.
And the stainless steel wire? Very high in quality too. This shouldn't even be surprising because this hard cheese slicer is made in Germany and it's sold by KITCHENWARE brand which is known to be one of the best worldwide.
This cheese slicer is very easy to use. You can use it to cut your hard cheeses and produce the perfect kind of slices you want. You can even adjust how thick you want your slices to be. To do that, you just have to modify the angle at which you're holding the cheese slicer.
To include, cleaning it up after use is not stressful. Use soap and water on it and it's just fine. No-fuss, no worries. Another interesting thing about this cheese slicer is the 5 years warranty it has which is just so cool.
4. Prodyne Bamboo Cheese Slicer for Hard Cheese
Highlighted Features
Lifetime warranty against wire breakage
Board measures 12-Inch by 6-Inch
Non-slip rubber feet
Board is a combination of dark and light bamboo
This bamboo cheese slicer for hard cheese has the full capacity to handle all your cheese cutting because it has a beautiful sleek large board that accommodates your slicing blissfully. And with its handle grip and bright chrome slicing arm, cutting your cheese can never be a herculean task to carry out.
Whether you want to cut a hard cheese, this efficient cheese slicer has a stainless steel cutting wire that can sink into any kind. And with this, you can enjoy creating your perfect slices. Be it thin or thick.
You will really enjoy using this cheese slicer because it has a replaceable wire. And, there's a lifetime warranty against wire breakage. This means that, whenever your wire breaks, you get a new one without paying a dime! Isn't that actually nice?
5. Mueller Austria Premium Quality Slicer
Highlighted Features
Nontoxic, food-safe, FDA and LFGB standard approved
Germany-engineered
Comes with 5 interchangeable blades
Thickness can be adjusted from 1-9 mm
Great design!
Ultra-sharp 420-grade stainless steel blades.
Just as the name suggests "V-Pro", you should know you're getting more than what a regular cheese slicer has to offer. Amongst other peers of cheese slicers, this cheese slicer is unmatched and peerless!
It's Germany-engineered and comes with sharp 420-grade stainless steel blades. It poses no risk to your health and meal because it's BPA Free, non-toxic, FDA and LFGB standard approved.
It comes with five interchangeable blades that are dedicated to handling all your grating, julienne, and slicing needs. It has unlimited thickness settings which are just so very easy to use because of its adjustable slicer that is knob-controlled.
Unlike other regular cheese slicers, this one stands out because it has a great design and offers unlimited choices and possibilities. It's highly versatile! You can use it to chop your garlic, peel your vegetable, or employ it as an onion chopper cutter. Very easy to prep and easy to clean.
If you make a purchase and you didn't like what you get, you can get a replacement or a full refund. The only downside is that it's quite expensive.
6. Westmark Cheese Slicer for Hard Cheese
Highlighted Features
Perfect for making thinly sliced cheese for snacks or recipes
Sharp blade
Durable and sturdy
This product is a perfect choice if you are looking for a cheese slicer you can creatively use to make thinly sliced cheese for recipes or snacks. All your slicing problems have hit a dead-end because this cheese slicer has a very sharp blade that can pierce through soft and hard cheese and make great slices.
It also has a very nice black polymer handle that's user-friendly. And, cleaning it up is not such a big deal. Soap and water will do justice and it's dishwater safe.
Sturdiness? Check! It's very much sturdy and it will last you for a very long period of time. If you fancy cheese like Colby and cheddar, you'll enjoy the service of this cheese slicer. And, it won't be surprising if you eventually recommend your friend to get one too.
7. BOSKA Copenhagen Cheese Slicer for Hard Cheese
Highlighted Features
Lightweight
10 Year Warranty
Perfect for semi-hard and hard cheeses
Sleek design and very stable
Easy to clean
This cheese slicer offers a very comfortable cutting. It's hollow on the inside and has an ergonomic handle. The durability and quality of its stainless steel wire are also not questionable.
Due to its durability and sturdiness, you can cut your semi-hard, and hard cheese with it and it won't bend or break. In the long run, you'll keep getting those straight and clean slices you planned for.
You will keep creating the perfect slices and sizes you want with this cheese slicer because it is very lightweight and it stays sharp even after long use. Its sleek design even makes it more appealing and the fact that it comes with a 10-year guarantee makes it a good choice to reckon with.
8. N&D Heavy Duty Cheese Slicer for Hard Cheese
Highlighted Features
Food grade 304
Lifetime warranty
Pierce into soft, semi-hard and hard cheese perfectly
Comfortable handle
This cheese slicer is one of the best healthy cheese slicers you'll get to find on the market. It has a stainless steel body of a food grade 304. It's a healthy choice to make and asides from that, it's very much durable and sturdy.
You'll use it for a very long period of time. And, you'll keep getting your slices of healthy cheese with it at all times. It also has a very sharp blade that will neither break nor bend when cutting hard, semi-hard or soft cheese.
More so, it has a very comfortable handle which makes it very easy to operate. You will have no problem purchasing this cheese slicer because it has a lifetime warranty.
If you experience any quality problems during usage, you can return it anytime. All you just have to do is to make a contact and you're all set for a refund or replacement!
9. Westmark Germany Multipurpose Cheese Slicer
Highlighted Features
Made in Germany
5-year warranty
Comes with a polypropylene adjustable scale
ABS base
Ergonomic aluminum handle
Starting, this product is one of the best cheese slicers for hard cheese. And, it's sold by one of the most widely recognized brands in the world. This further assures you that its quality and effectiveness cannot be distorted.
Made in Germany, this cheese slicer is composed of a very high-quality stainless steel blade. Its ergonomic handle speaks of another credibility as it is made of high quality cast aluminum.
It has an adjustable thickness scale and a very reliable board base that's manufactured from ABS. Worry no more about the possibility of it breaking because it can slice both hard and soft cheeses without hassle.
It's an efficient cheese slicer and it's stress-free to use. It's also very easy to clean after use. Once you apply soap and water, you're done. No-fuss. No stress.
And if you feel you do not enjoy the service of this cheese slicer, you can count on its 5-year warranty to ask for a refund or request for another.
10. Barmix Cheese Slicer for Hard Cheese
Highlighted Features
Dishwasher safe
Easy storage
Convenient rubberized handle
Works well with frozen butter and chocolate too
Any day, anytime, you can enjoy using this cheese slicer to slice your hard cheeses in even or thin pieces because it has a sturdy and durable professional-grade stainless steel that makes it very easy. It has a user-friendly rubberized handle and an angled blade as well.
Wherefore, cutting your cheese has been made fun with this cheese slicer. It's not only cheese you can cut and slice with this product, but you can also use it on your frozen butter and chocolate.
To include this cheese slicer is very easy to store because it has a convenient hang hole that gives room for easy and convenient access. More so, it's easy to clean, dishwasher safe, and non-stick. It's an efficient and convenient cheese slicer. Very reliable too.
Final Thoughts
Choosing the perfect hard cheese slicer for your home and kitchen use can sometimes appear challenging but with all that we've listed here, you should have no difficulty in selecting the right cheese slicer that will serve you well. Be that as it may, don't settle for just any kind.
Whether you prefer a cheese slicer with a blade or a cheese slicer with a cutting board, go for one that has all the essential features we've enlisted that a quality cheese slicer should possess.
If you're having a conflict of choice, we strongly recommend that you go for our top choice; Bellemain. It's long-lasting, safe to use, durable, dishwasher-safe, and easy to clean. That's not all. It comes with a full-year warranty and an adjustable slicer.
So perfect! If you don't want to spend too much on procuring a cheese slicer, then go for our budget pick; Barmix Cheese Slicer. It cuts hard or soft cheeses evenly, it's durable, easy to clean, and use.
Now, the choice is yours to make. We hope you make a good one though.
* Affiliate links/Images/Price from Amazon Product Advertising API