Can you slice tomatoes in a food processor?-Oh, yes you can! Especially if you have plenty of tomatoes to dice and slice and the clock is ticking!
Doing this with a knife ensures the smoothest results; however, it can be a consuming and tiring process. Therefore, a food processor will come in handy and help you dice them up in a minute or so.
The best way to dice tomatoes in a food processor is to use the pulse option; otherwise, the processor will end up making a sauce from the tomatoes, so be careful.
If you have a food processor and looking to dice a batch of tomatoes in it, but you're not sure how to do it, we encourage you to try it out following our tips.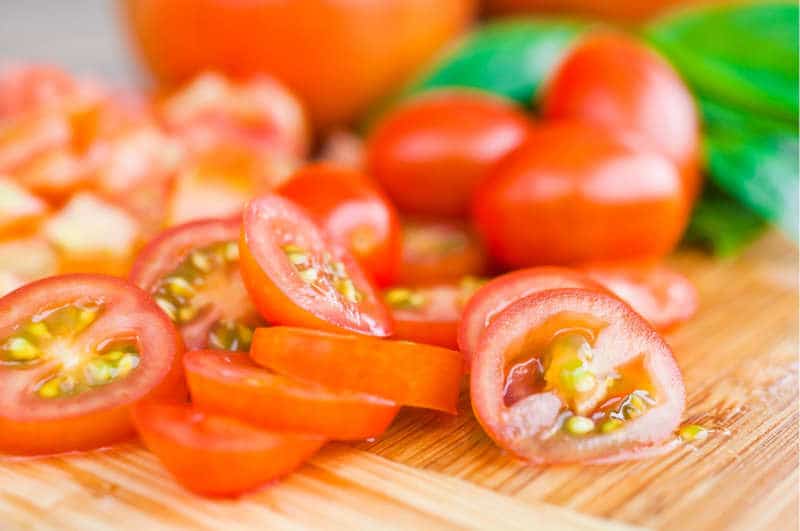 You'll see how easy it actually is and you will wonder why you didn't know this before!
Can You Slice Tomatoes in a Food Processor & When Is It a Good Idea?
Food processors are compact electric appliances that help in the preparation of various foods in different ways. Whether it's chopping, shredding, or dough mixing, a food processor is an appliance that enables all of these things.
It's also praised for its time-saving properties since it finishes the job much faster than you would finish it manually.
In addition to being time-saving, food processors are also praised for their versatility, speed, promotion of healthier eating, reducing the stress of cooking, and encouraging users to try out new recipes.
Another awesome benefit is definitely the ability to dice and slice tomatoes in it, particularly when you need a larger batch, and doing it with a knife would last forever.
Diced tomatoes are one of the most versatile pantry items.
They're great in soups, salads, chili, various sauces, etc. They're also yummy in one-pot meals and casseroles. When you need a bigger batch, your food processor can help you do the dicing faster.
However, you need to remember to use the pulse feature when you want to do this. Otherwise, the processor will over-process the tomatoes and the texture will be sauce-like!
Also, make sure you cut the tomatoes into pieces so that they can fit the shoot of the processor.
How to Use a Food Processor to Slice Tomatoes?
Slicing tomatoes in food processors is possible, easy, and quick. However, there are several steps you should follow to ensure a smooth end result.
Here are the steps:
Wash the tomatoes and clean the processor. Remove the rotating blade attachment and put the disc attachment for slicing and put on the protective cover.
Place the tomatoes in the feeding tube
Smaller tomato variants can go whole and you can even put several of them.
If you have bigger varieties, one is enough or even better, cut them in halves or quarters in advance. The tomatoes should be snug in the chute, but not too tight. This will enable quality slices.
The pusher closes the chute and also pushes the food to the disc where they're being sliced/diced.
Turn the processor on (pulse button)
When you hear the whirr, push the tomatoes down to the disc and you'll get thinly-sliced tomatoes. Hold the pulse button longer if you want diced cubes, but don't overhold it. Turn off the machine once the batch is ready.
Open the food processor and take out the sliced/diced tomatoes and transfer them to a plate. Close the machine and put a new batch and repeat the whole process, depending on how many tomatoes you need.
Once the tomatoes are ready, it's time to clean your food processor.
Remove any removable parts carefully and clean them with warm water and dish soap and dry them before storing the appliance away. Your food processor is ready for your next use!
What Should You Know If You Use the Food Processor to Slice Tomatoes?
If you decide to use the food processor for slicing and dicing tomatoes, there are several things you should take into account to ensure a smooth process.
Namely, before you do the slicing/dicing, if you don't need/want the tomato juice, don't forget to strain the veggies into a colander.
When you press the Pulse button and hold it longer, it will help you get finer tomato cubes. But, it's important not to overdo it because it will eventually make the tomatoes a puree.
Avoid using very soft tomatoes for the food processor; it's best to use firmer tomatoes.
If you're not sure how to use sliced tomatoes, here are some excellent ideas:
This Mexican dish is yummy and the recipe calls for diced tomatoes, jalapenos, onions, and lime juice.
Tacos
Tacos with beef or grilled shrimp are delicious, especially when paired with avocados, diced tomatoes, lime juice, and cream.
Nachos
Combine tortilla chips with ground beef, shredded cheese, diced tomatoes, jalapenos, avocados, and cream for the tastiest get-together meal for you and your friends.
Top your pizza with diced tomatoes, mozzarella, basil leaves, and sprinkle some olive oil.
This is such a delicious salad. Combine diced tomatoes, onions, cucumbers, olive oil, and red wine vinegar and enjoy it with your favorite meal.
Final Thoughts
Slicing or dicing tomatoes in a food processor are possible, easily done, and offers smooth results.
It's best to opt for it when you have plenty of tomatoes to tackle and it would take forever to prep them with a knife or another tool like a mandolin.
Food processors have a pulse option which you press to get the prettiest cubes of tomatoes which you can use for a variety of dishes, from salads to stews.
Food processors are one of the most versatile kitchen appliances that aren't just practical for tomato preparation, but also for many other tasks in the kitchen.
Thanks to this device, you'll no longer need more than several minutes to make lovely tomato slices or cubes and present your dishes in a wonderful way.