Sharpening serrated knives might seem like it is an impossible task. For many people, serrated knife ownership is a bit frustrating because these knives cannot be sharpened in the same fashion as blades that are not serrated.
Some people even replace all of their serrated knives regularly to deal with this issue!
If you want to avoid having to replace your serrated knives every time they start to get worn out, you will not have to struggle to do this.
There are some tips and tricks that you need to know before you sharpen your serrated knives. But once you get the hang of this process, you will be so glad that you can keep your serrated knives sharp and useful for years to come!
For more information about how to sharpen your serrated knives, read on!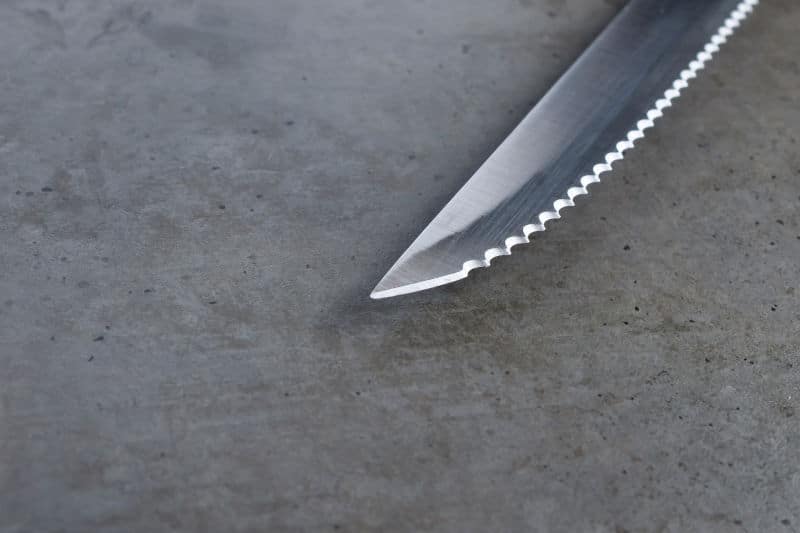 Benefits of Serrated Knives
Serrated knives offer some unique benefits that their un-serrated companions do not. They are great for cutting things with a soft inside like bread or items with a tough or slippery skin like tomatoes, veggies, and other foods with this texture.
You will have far more trouble getting a good grip with your knife blade on these items without a serrated knife. Having a few good serrated knives in your arsenal of cooking tools can be a big help to anyone who likes to cook.
How to Sharpen a Serrated Knife With an Electric Sharpener
Electric sharpeners are the best option for sharpening serrated knives due to the speed with which they can sharpen edges and the control that you will have over the amount of sharpening that is done with one stroke.
They also contain the blade so that it will not skitter or become dented or dinged during sharpening.
1. Make Sure Your Knife is Clean
You will always need to clean your knife thoroughly before you sharpen it to prevent build-up around sharpening discs and damage to the blade.
A dirty knife is hard on the sharpener as well as the blade itself. Electric sharpeners are a bit spendy, so you will want to take care of them just like you take care of your knives.
2. Make Sure Your Hands Are Dry
Never sharpen a blade with wet or oily hands as the knife might slip through your fingers and injure you. It is ideal to wear gloves when you are doing these kinds of tasks just to be extra safe.
3. Check the Blade For Damage
Always make sure that you look for dings or divots in the blade that might cause it to flex or break when you are sharpening it.
These dents can also catch on the sharpener and throw the blade off-center as it is being sharpened.
4. Make Sure You Use the Right Settings
You will want to check your handbook for your knife sharpener to make sure that you know all of the stages that you can use to sharpen the blades.
You will want to start with the right stage and work your way to finer stages in the correct order. This will make sure that the blade is sharpened the right way.
Fine stages are considered honing stages while the first stages are considered sharpening stages.
5. Use the Fine Stage for the Serrated Side
The serrated side of the blade needs the least attention and you will need to be sure that you do not sharpen this part of the blade incorrectly.
Make sure that you are just using the finer stages for this process and that you are not pressing too hard as you sharpen these surfaces.
6. Insert the Blade From the Front
Make sure that you insert the blade from the front of the device and pull it quickly toward you. Apply slight pressure and allow the weight of the knife to do most of the work. This is particularly true with the serrated side.
Make sure that you are not sharpening too much as well. Your sharpener will have a recommended amount of passes annotated in it for each kind of sharpening process that you can use it for.
What Kind of Sharpener Do I Need to Get?
Many electric knife sharpeners on the market will take care of your serrated knives with ease, but you should make sure that you look into each one to see if it says that it can sharpen serrated knives.
Some electric sharpeners are not made for this process and you do not want to buy one by mistake and damage your serrated knives using it.
Always make sure that you check out some videos and tutorials about the methods that work best when sharpening these kinds of knives as well.
It can be very helpful to see the sharpener in action and to make sure that you are using the right technique as you sharpen your knives. There is more feel involved in sharpening serrated knives that have regular blades, and being well-prepared never hurts!
Sharpening Serrated Knives Does Not Have to be Hard
Sharpening your serrated knife can be an easy process with the right tools and a little practice. Make sure that you feel prepared to handle this task before you start sharpening your knives.
You can always watch some videos or go to a kitchen good store or a knife store and ask for some help and guidance for sharpening your knives. An ounce of preparation can go a very long way when you are caring for your knife blades.
Sharpening your knives can add years to their usable life and make it much more enjoyable to work in the kitchen.
Make sure that you are always inspecting your knives for damage and wear that might be making them less effective at their tasks.
There is no trade for a sharp knife when you are working in the kitchen!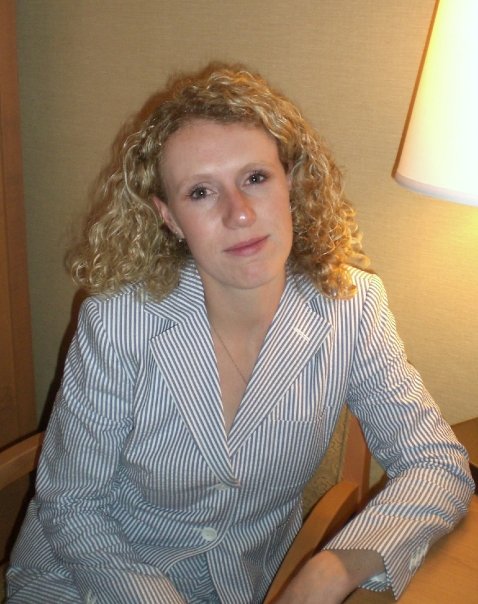 Brianna is a self-published author with a passion for sharing her knowledge and expertise on a variety of topics with people who are looking to find the perfect items for their needs. She loves making sure that the right kind of informative content is available to people looking for quality products of all kinds. She is an avid horseback rider and reader when she is not writing.
Follow her on Facebook or Personal Blog.