When kitchen knives or other cutting tools like scissors are losing their edge and shine, having the knife sharpening stone by your side will make all the difference.
Keeping cutting tools sharp isn't just essential for efficient cuts, but for your safety as well.
Did you know that dull blades are dangerous and can cause messy and unpleasant injuries and accidents?
So, having the knife sharpening stone in your kitchen cabinet won't just help you maintain the blade sharp, but it will hone and polish it too.
Convenient and efficient, sharpening stones are definitely becoming one of the favorite sharpening tools today. But, as there are different types of stones available and a lot of brands, it can be quite overwhelming when deciding on a purchase.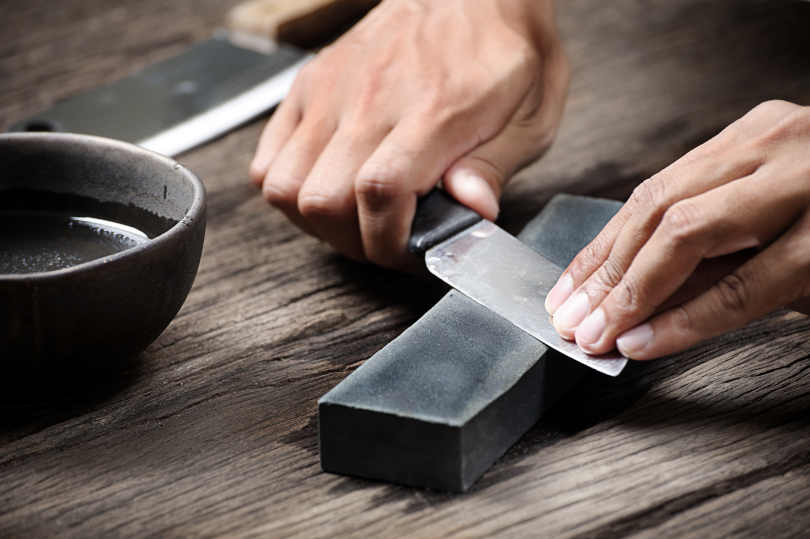 What should you do to navigate easier?
Learn how these devices work and what the 10 best models currently are with our detailed guide!
Why do I Need a Sharpening Stone?
Nowadays, even though there are numerous gadgets for sharpening blades available, many agree that sharpening stones (also known as whetstones) are among the top choices.
In addition to providing excellent sharpness, these devices will keep the blades safe at all times- the risk of damage with a sharpening stone is much lower than with an electric or manual knife sharpener.
Hence, sharpening stones are steadily becoming indispensable sharpening devices.
Why is this so? Because they are easy to take care of (you just need some soap and water), easy to use, and provide fast and long-lasting results.
Why Choose a Sharpening Stone over another Sharpening Tool?
Once you learn the most important skills in order to use a sharpening stone properly, you will achieve amazing results.
The blades will be razor-sharp thanks to the adequate sharpening stone for every sharpening phase. With the help of this device, you prolong the blade's life span and sharpness durability.
It's also beneficial for regrinding dull blades and maintaining the sharpness of already sharp blades. Users particularly appreciate the ability to sharpen stones to help with knife thinning.
When thinning out blades, surplus material is removed from the sides of the blade and the blade becomes thinner.
This is a beneficial process for blades that are frequently sharpened and for preserving the blade's full cutting capacity.
What do I Need to Know Before Deciding on a Sharpening Stone?
A sharpening stone works on the process of abrasion and it's made of small rough-edged particles. When they come into contact with material and motion and force are being applied, they begin to rub away the material.
Even though abrasives can be made from different types of materials, in most cases, sharpening stones are made from synthetic stones or hard minerals.
As the blade is being pulled along the surface of the stone, the abrasive particles wear away the metal and help you shape, smoothen, and sharpen the blade.
The stones can be of several types, including ceramic, diamond, oil, and water. The ceramic ones can be used dry and are available in finer grits for polished and very sharp edges. The diamond ones are also dry and best for honing carbide tools.
The oil and water options require the usage of premade oils or water to work and are two more affordable options than the previously-mentioned ones.
How to Sharpen Properly with my Whetstone?
Sharpening dull blades with a sharpening stone remains one of the best methods- it doesn't just provide the best edge, but also eliminates the least material.
And, it's one of the most effective ways to revive blades.
But, in order to do it well, you need to know some things beforehand. When choosing a whetstone, know that the lower the number of the grit, the coarser it is and the more material it will take away from the blade.
With a higher grit, a sharper edge will be achieved; however, you'll need more strokes for this to happen.
The first step is submerging them in water prior to usage in order for the porous stones to get fully saturated and to prevent nicks and dings.
Put the stone on a non-slippery surface like a towel and make sure you have a bowl of water nearby to keep the stone regularly moist.
Start with the lower grit by putting the knife's heel on the end edge of the stone. Hold the blade gently, but strong, with both hands at a 15 to 20-degree angle.
If you're not sure about the angle, use an angle guide. Then, using even pressure, begin to drag the knife over the stone toward you down the stone's length while moving it so that the contact point moves towards the blade's tip.
Keep the angle throughout and finish the stroke with the tip of the blade touching the bottom of the stone. Lift the blade up, wait for a while, and then repeat at the heel of the top of the stone.
Remove burr that forms on the other side of the blade. Repeat the sharpening on the other side of the blade.
For this side, put the blade's heel near the stone's base and keep the same angle. Gently begin to push the blade away from you while pulling across the stone towards the tip.
End the stroke with the tip of the blade against the stone's top edge and keep the angle throughout. Repeat as many times as necessary until a burr has formed on the first side.
How to Take Care of my Whetstones?
To ensure your sharpening stone is in top form so that it can help you sharpen your knives, you need to clean it regularly, i.e. after every use.
This investment in time will help in the long run-the stone will keep its shape for longer which means your knives will do too.
If you notice gray streaks on the stone, it means there's a buildup of debris- you can use honing oil to clean and lubricate the stone and to lower the friction and prevent the metallic particles from penetrating the stone deeper.
Apply a small amount of it onto the surface and rub circularly down its length. When you notice the flecks coming out of the pores, wipe the stone with a paper towel or a cloth.
Afterward, rinse it with water and towel-dry it.
Knife Sharpening Stone Reviews
1. KnifePlanet Sharpening Stone Set with Stone & Bamboo Base
Highlighted Features
Two stones
Durable
Great packaging
A bamboo holder
Free online learning material
Works with very dull blades
This is an essential set for those who want to sharpen their entire knife collection. You get two water stones (400/1000 and 3000/8000), a flattening stone, a bamboo holder, 2 rubber bases, and access to KnifePlanet's online learning material.
With this set, you can take care of the dullest knives with minimal effort. The starting point is the 400/1000 stone which raises the burr by sharpening the sides of the blade.
The 300/8000 grit refines and polishes the edges while the flattening stone maintains the water stones flat at all times.
The beautifully designed baseboard from bamboo will ensure steady sharpening without slippage and injuries.
Access to the company's learning resources is a collection of useful videos and articles to help you improve your sharpening skills.
Use only tap water for watering the stones!
2. Sharp Pebble Whetstone Knife Sharpening Stone
Highlighted Features
Durable
Good value for money
Easy to use
Excellent for beginners
This sharpening set offers a double-sided high-quality sharpening stone, a bamboo base that holds the device, an angle guide, and a detailed e-book with tips and tricks.
As it's a user-friendly whetstone sharpener, it requires only water to work perfectly and you needn't spend additional funds on oils.
Durable and lasting, this sharpener can be used for any type of blade, including that of hunting knives, pocket knives, scissors, razors, and even axes!
Thanks to the premium bamboo base with a catchy design, the stone will stay firm in place without any need for cloths or towels.
With the help of the angle guide, you can optimize the sharpening angle. This award-winning tool is suitable for amateurs and professionals.
3. Meterk Premium Whetstone Knife Sharpening Stone
Highlighted Features
Inexpensive
Suitable for beginners
Compact
Has a bamboo base
Doesn't slip
Durable
Made from quality material
This affordable whetstone with two grits (one1000 and the other is 6000) is made of professional-grade white corundum that's sturdy and long-lasting.
The 1000 coarse side is for refining dull edges and the finer one to polish the blade for a mirror-like finish.
The silicone base helps fix the stone in the bamboo base firm while you're working. Thanks to the sharpening angle guide included, you'll always keep the needed angle to sharpen optimally.
The stone is very easy to use and it requires so little- only water. It's durable, resistant to corrosion, and resistant to heat.
4. Lansky Dual Grit Multipurpose Sharpener
Highlighted Features
Portable
Easy to use
Inexpensive
Suitable for various blades
Coarse & medium grit
This simple, yet potent blade sharpener is known as the Puck is simple to use and works well with all kinds of blades.
It's a pocket-size blade sharpener with two grits and it's the best choice to sharpen axe blades, shovels, spades, machetes, and more.
Thanks to its easy-to-grip shape, it allows you to easily maneuver it. Plus, you can take it with you on camping or fishing trips.
One side is coarse for the sharpening and the other medium grit is for the finishing touch.
To ensure the best results, keep a consistent angle. What's more, it comes with a one-year warranty against defects in workmanship and material.
Customers praised it the most for its portability, easy holding, and good value for money.
5. Smith's TRI-6 Arkansas Sharpening System
Highlighted Features
3 stones
Durable
Suitable for beginners
Easy to maintain
Value for money
This sharpening system has 3 stones- fine, medium, and coarse synthetic 6-inch stones.
The device is built uniquely- the stones are mounted on a rotating molded plastic triangle and you choose your needed stone with the handles on the end.
To ensure optimal safety and stability, the molded plastic base has non-skid rubber feet. It also has a 'V' through which it catches oil easily.
Thanks to the sharpening angle guide included, you'll always sharpen properly. To use it, you just put it at the end of the stone and it will show you the right angle.
Then, put the blade flat on the angle guide at the end of the stone.
If you decide to buy this manual sharpener, you'll also get a bottle of premium honing solution. If you don't have a honing solution, you can use water.
6. Cwindy Knife Sharpening Stone
Highlighted Features
Budget-friendly
Two grits
Made from premium aluminum oxide
Sharpens, polishes & refines
Stable
Full refund option
This budget-friendly whetstone is constructed with high-quality aluminum oxide from Japan and it has two sides (1000 vs 3000) – one is a low grit that refines dull edges and the other high grit is used for sharpening and polishing.
The bottom black part is the base-it's non-slippery and ensures balance during usage.
You can use it with almost all types of knife blades, precision tools, chisels, and more.
Amazingly, the stone is constructed through 17 processes and goes through 3 inspections for optimal performance. With this stone, you needn't spend money on expensive oils- you can use water-it works just fine.
In case of dissatisfaction, you can get a full refund. Customers loved it the most for feeling comfortable, easy usage, and durability.
7. King Store Whetstone with Plastic Base
Highlighted Features
Sturdy
Durable
Giftable
Non-slip base
Two grits
This sharpening stone comes with two sharpening grits- 1000 and 6000.
It's made by a reputable brand that's known for its quality and affordability. Its base is made from strong plastic and it offers great stability.
To use it, you just need to soak it in water and keep it wet while using it.
You only soak the 1000 grit (the darker one) whereas you just splash the fine grit with water. Otherwise, it can lead to cracks and the stones may fall apart!
Feel free to use it with stainless and carbon knives. Most customers loved the product for offering excellent value for the money, being packaged great, and its simplicity of usage.
It's suitable for beginners, as well as people who're more experienced in sharpening. With this sharpener, your kitchen and knives will thank you!
8. Kota Japan's Dual Sided Diamond Knife Sharpener
Highlighted Features
Value for money
Easy use
Comes with e-book & angle guide
Has a bamboo base
Two grits
30-day money-back guarantee
This is a double-sided knife sharpener with one 1000 grit and another 4000 grit.
It has a sturdy bamboo holder that has a protective and safe rubber base. You also get an angle guide and instructive e-book for free.
This whetstone is fast and easy and suitable for all types of blades, both knives and tools.
The 400 grit is used for making the blade smooth before giving it a fine finish with the other.
Before usage, you just immerse it in water for 5 minutes and sprinkle additional water if necessary.
When you're done with the sharpening, just wash the knife to remove debris. It's great to hear that if you choose this Japanese quality sharpener, you get 30-day money-back guarantee in case of dissatisfaction.
9. Professional Knife Sharpening Stones by MIKARTO
Highlighted Features
Detailed design
2 grits-sharpening & polishing
Made from aluminum
Strong base support
Cleaning stone included
The MIKARTO multipurpose dual-sharpening whetstone is a carefully designed tool that is an awesome solution for dull blades.
Its lower grit is for sharpening and the one on top for final polishing. It works precisely and it's intuitive, making it great for beginners.
Made from aluminum, it makes sure your dull knives are back to their former glory. We love the fact that the product is neatly packed in a slick, strong, and aerated box at the bottom to ensure stability and avert moisture-caused cracks or warps.
It also comes with a cleaning stone to help you keep the stone's surface optimally, as well as an angle guide to perfect your sharpening.
Customers praised it the most for its packaging, simple use, and for being beginner-friendly.
10. Finew Professional Whetstone Sharpener Set
Highlighted Features
Value for money
Simple to use
Versatile
Sturdy & durable set
Strong bamboo base
For all experience levels
This is the ultimate sharpening set- it has all the tools you need, including a 400/1000 whetstone for sharpening, 3000/8000 stone for refining edges, a coarse flattening stone to maintain the stones, and a beautiful, non-slippery bamboo base.
That's not all this set offers- you also get an angle guide and a leather strap for knife polishing and burr removal.
You can use the stones to sharpen both cheaper and more expensive blades of various knives and tools.
The grits are made of professional grade corundum, i.e. aluminum oxide, and each of the pieces was hand stuck, not by a machine.
Moreover, it's suitable for amateurs and professionals. To use it, you needn't spend money on expensive oils-you just soak it in water prior to use and that's it.
Final Thoughts
Even though they require a bit of practice to provide best results, stone sharpeners are one of the most commonly used sharpening tool.
A lot of professional chefs and home cooks choose them over manual and electric sharpeners because they're convenient, quick, and have a much lower risk of damaging the blade.
By having this type of sharpener in your kitchen, you will never have to deal with blunt blades again!
In our top 10 list of best sharpening stones, we presented the most popular sharpening stones on the market.
These are water stones, i.e. they require only some water to start doing their thing. Your task is to just keep the blade at the right angle and sweep from left to the right.
If you're not restricted in terms of budget, we warmly recommend our best pick.
For novices in stone sharpening who are still in the phase of exploration, a good starting point would be our budget pick -you needn't spend a small fortune, yet you'll get excellent results with each use.