Nowadays, a lot of people decide to have a pocket knife for multiple purposes rather than several different knives. And, it is this versatility that attracts users of pocket knives.
Whether a camper, hunter, or fisherman, pocket knives have become their essential gear.
However, as is the case with almost every other product out there, pocket knives with premium features are not easily affordable.
Even though there are definitely expensive pocket knives that are really worth the investment, we cannot say that there are no quality pocket knives you can purchase for less than $50.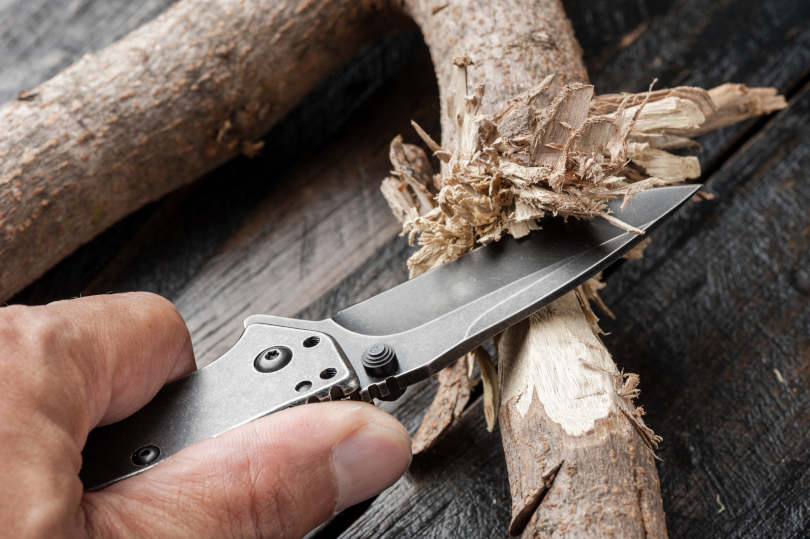 But, how to know which is the best pocket knife under 50 dollars for you?
Maybe our review can help!
Why Do I Need a Pocket Knife?
Whether you will use it to open up boxes or to cut fish, you will never be disappointed by a good pocket knife. Believe it or not, these versatile tools have more than 25 different uses that will ease your life.
What is great about the oldest companion of man, i.e. pocket knife is its sturdiness and practicality. You can use it for numerous tasks both outdoors and indoors.
When it comes to the price, you need not worry- there is a budget, yet quality pocket knives that can be yours for less than $50.
Knowing that you have a sharp and safe blade at all times can be a lifesaver! But, before you get your own pocket knife, make sure you get the needed information about the local and state laws about pocket knives.
Why Purchase a Pocket Knife?
Carrying your own pocket knife with you will certainly get you going through the day and make you more comfortable and confident during the task. You can use it to cut paper when you have no scissors or open up your envelopes right away.
Plus, it is ideal for peeling and cutting all kinds of veggies and fruits and you can even fillet fish on fishing trips.
Many avid users of pocket knives particularly appreciate its lifesaving property, that is, it can be of aid in potentially dangerous situations. You can break a glass to escape or cut through some clothing to cover a wound.
And, when you head for a long walk in nature or on a trip where you have only a few or no utensils, a pocket knife is decisive. It can be your cutting tool, but your spoon and fork too!
It will help you skin the animal you have caught or slice through the fillet when it is cooked. This is a three-in-one tool- it cuts, chops, and dices.
What to Look for in a Pocket Knife?
Before you start your "quest" for a pocket knife under $50, you need to take into account the most important characteristics so that you know what you are looking for.
With this in mind, we have prepared a list of the things you should consider before you decide on a pocket knife.
Number of blades
Pocket knife blades may be of three types, that is, single-bladed, multi-bladed, and multi-tools. The single-blade pocket knives are simple and ideal for those who need a strong and all-purpose knife.
However, they are not as varied as the multi-blade ones that include several blade models in one pocket knife that enable you to finish numerous different tasks.
If you need more tools than just a knife, you may benefit from a multi-tool which may include blades, but tweezers, scissors, or can openers too.
Types of blades
A pocket knife's edge may be fully serrated, partially serrated, or plain. The fully serrated are best for cutting and sawing through tougher materials.
The partially-serrated ones allow using one part of the knife for push cuts and the other for cutting.
The plain blades help finish push cuts and provide clean cuts and better control. This is the best option for shaving or skinning animals.
Handle material
The grip of the pocket knife is highly dependent on the material of the handle. Some of the most common materials are aluminum, wood, G10, titanium, stainless steel, and rubber.
Each of them has its own pros and cons. Research them well.
Fixed or folding blades
Despite our focus being folding pocket knives, not everyone wants to have to unfold the blade whenever they need their carry-on knife.
But, folding blades have so many practical benefits to offer over fixed ones.
It protects you, takes up less space, protects the edge, and isn't as intimidating as carrying around a knife with a fixed blade can be.
Ergonomics
The way in which a knife is made to be held in the hand is vital as it can impact the grip and the usage of the knife on a regular basis without tiredness.
Ergonomics is the science of designing stuff in a way that is the most useful. It varies from person to person.
For example, for a smaller person with smaller hands, a lightweight knife with a smaller handle will be better whereas a larger person with a bigger hand may need a more robust option.
Blade locks
Some people claim there's no need for locks and that it's better to learn to handle the knife and prevent accidents in this way.
However, unexpected turns and imperfections are common as we're humans and in such situations, you'd wish you had a knife with a lock.
Ideally, this would be a robust locking mechanism- the blade deploys fast yet smoothly and closes quickly.
Price & brand
Even though it's ultimately up to you how much you want to pay for a pocket knife, remember that you get what you pay for in most cases.
But, this doesn't mean you have to spend a fortune if you're not an avid user- there are affordable, quality models available.
In other situations, if this is an important tool for you, there's no sense of cutting corners in the effort to save up.
In general, it's always better to stick with established manufacturers, but this doesn't mean you shouldn't research other less known or newer brands that may have amazing products to offer.
Pocket Knife Under 50 Dollars Review
1. Palmetto TAC-FORCE Engraved Pocket Knife
Highlighted Features
Razor-sharp stainless steel blade
Lightweight
Assisted opening feature
Burlwood handle
This knife offers a quirky design and personalization option for engraving, making it the ideal gift for birthdays or Father's Day.
The engraved text goes deep into the wood on one side of the handle. You can choose your own fond.
It features a razor-sharp 3.25 inches long and 3 mm thick blade. The overall length of the knife is 4.5 inches with the blade closed. It weighs only 5 oz. so it will fit your pocket or bag easily.
Moreover, it has an assisted opening feature that enables you to deploy the blade by pressing the thumb stud using one hand. This is great for easy access and when you have one hand busy.
You also get a partially serrated and stainless steel blade that will always deliver the best results. We love the burl wood handle with a belt or pocket clip for practical access.
2. Victorinox Swiss Army Evolution
Highlighted Features
Multi-tool pocket tool
Rounded tip blade
Locking blade
A nail file, double-cut wood saw & a screwdriver included
Lifetime guarantee
If you're searching for a pocket multi-tool knife, this one is an awesome choice. It offers 8 functions that are ideal for your everyday and weekend adventures.
For a symbolic price, you get a pocket multi-tool from a reputable company. It has a 2.5 inch rounded tip locking blade, a double-cut wood saw, a Philips screwdriver, and a nail file.
Constructed with premium stainless steel, the 7 implements are enclosed in ergonomic ABS scales.
The tool is durable and comfy. It's Swiss-made and the company gives a lifetime guarantee against workmanship and material defects.
Thanks to the ergonomic handle, you won't feel tired when using it, even for a prolonged time. Affordable, practical, and aesthetically pleasing, it appears that this multi-tool has it all!
3. Kershaw Sandvik Pocket Knife
Highlighted Features
Two-color options
Sandvik steel blade
Corrosion-resistant blade
Increased nitrogen formula
Comfy stainless steel handle
This is a high-performing, strong, and an ergonomically designed pocket knife that can meet all your needs. There are two colors you can choose from, i.e. silver or special edition.
The 3.5 inches versatile blade is made with Sandvik steel which is considered to be one of the best steels in the world.
It ensures your knife is resistant to corrosion and retains its edge for a long period of time. This is a result of the increased nitrogen in the formula.
What's more, this budget best folding knife has a comfy handle made from 410 stainless steel alloy. It won't corrode and it's also strong and robust. The assisted opening is also an awesome feature.
You can easily open it up with minimal effort. Whether in your pocket or in your traveling bag, this pocket knife is practically unnoticeable!
4. Grand Way Spring Assisted Folding Pocket Knife
Highlighted Features
440C stainless steel blade
Hard & corrosion-resistant blade
Razor-sharp
Spring-assisted opening
Comfy handle from premium aluminum
The 440C black-coated plain stainless steel blade is the perfect blend of hardness and resistance to corrosion. You can use it for prolonged periods of time without worrying about the blade going dull.
Thanks to its razor-sharpness, you will optimize your cutting tasks.
Another great feature of this all-black pocket knife with a modern exterior is the spring-assisted deployment of the blade. You just need a slight pressure on the blade's finlet to disclose it.
The ergonomic handle is easy to hold for both direct and reverse grips.
It's made from aircraft-grade aluminum while the liner lock is equipped with a mechanical fuse and it's also dirt-resistant.
So, if you like military-style and appreciate detailed designs, this model is an excellent choice.
5. Gerber Lite Pocket Knife
Highlighted Features
Reliable design
Practical pocket knife
Lightweight
Replaceable blade
Stainless steel handle
Finger indentations
This budget pocket knife has a reliable design and high practicality.
A combination of comfort and excellent performance, it's a suitable ally for numerous outdoor outings, from hunting to fishing.
Lightweight and easy to hold, the 1.5-inch utility blade is replaceable if needed with a 2 ¼-inch contractor grade or standard size utility blade.
This is the pocket-size cutter you want with you if you need to open up boxes or slice ropes.
The beautifully designed stainless steel handle comes in a tapered shape with round edges and deep finger indentations for a secure and strong grip.
For its trusting customers, Gerber gives a limited lifetime warranty because their products are 'made for real life and to withstand the test of time'.
6. CRKT Squid Folding Pocket Knife
Highlighted Features
Thick blade
Balanced tip strength
Friction grooves for extra comfort
Silver or black stonewash finish
Frame lock
Though it has a small size, this pocket knife has all the best features.
It's based on a concept of a compact pistol and it's designed by Lucas Burnley. There's a frame lock for optimal safety, friction grooves for good grip, and a balanced tip.
To open it up, use the thumb stud. Though it has a 2.25-inch blade, it will take on the largest cutting challenges with ease.
It's well balanced in tip strength and point geometry so it's recommendable for utility tasks. It's functional, compact, and easy to carry.
The stonewash finish makes it elegant and comfy. The blade holds its edge amazingly and you may not need to sharpen it for some time.
The handle is available in silver or black stonewash and it offers a low-profile pocket clip. It also has a lanyard hole to attach this pistol-like knife to your keychain.
7. Mtech USA Ballistic Series Pocket Knife
Highlighted Features
Spring-assisted opening
One-hand opening
Stainless steel blade
Aluminum handle
Contemporary design
When you first see this pocket knife, you'll think it's an otherworldly device, but it's not. It's quite the practical, daily tool we all need!
It's part of the Ballistic Line of Mtech that's comprised of spring-assisted knives. Ergonomic and well-crafted, it's a good value for money.
It allows for easy one-hand deployment. When you open it up, the blade will lock securely into place using the liner lock.
If you decide to get this knife, you'll get a 3mm thick blade made from quality stainless steel. The handle is made from premium aluminum and it has a bottle opener too.
The silver stainless steel pocket clip is there to ensure easy and safe carrying.
Detail enthusiasts will love the wide range of color combinations available, from gold and black to yellow and black, there's plenty to choose from.
8. Grand Way Tactical Pocket Knife
Highlighted Features
Good-looking
Ergonomic handle with wood grooves
Right & left opening thumb indentations
Folding drop point blade
Titanium-coated stainless steel blade
This pocket folding knife isn't just affordable and good-looking but offers some pretty amazing properties.
The ergonomic handle features wood inlays and grooves making sure the grip is comfy and sturdy.
It has thumb indentations for right and left openings and it's the ideal option for camping, hunting, fishing, and hiking. It has a folding drop point blade and the pocket clip offers a liner lock resistant to dirt.
The amazing titanium-coated stainless steel blade makes it highly sharp. This material is extremely hard and betters the surface characteristics and keeps the cutting and sliding edges safe.
The opening is very easy- you just slightly pressure the metal piece that's against the blade.
9. Femme Fatale's Ladies Pocket Knife Rainbow
Highlighted Features
All-stainless steel construction
Titanium rainbow finish
Blade pocket included
Lightweight, yet sturdy
Razor-sharp blade
Inexpensive
This colorful pocket knife is all-stainless steel construction and features a titanium rainbow finish.
To ensure it stays undamaged and to prevent potential injuries, the knife comes with a blade pocket that's made from the same material.
It's lightweight, yet feels good in the hands. The blade is highly sharp and the knife is also aesthetically pleasing.
Be careful with the closing mechanism as you have to push the lever to the side to close it. The opening and closing are effortless and not overly demanding in terms of pressure.
Thanks to the quality materials used in its making, the knife will preserve its edge for a long period of time.
For a very affordable price, you get a pocket knife with a unique design and optimal performance.
10. CRKT Folding Pocket Knife
Highlighted Features
Superior design
Low profile
Reduced friction
Instant opening
Satin finish high-carbon stainless steel blade
At first glance, you may mistake this pocket knife with a pen tucked into a shirt pocket. And, you're not entirely wrong- it was designed with this in mind.
It features a low profile and high ergonomic comfort and it helps you carry the working spirit with you on a daily.
It has lubed ball bearings in the pivot to lower friction and a slim thumb stud and it opens up instantly, yet smoothly, and then you see the glowing satin-like stainless steel blade.
Thanks to the locking liner, it stays firmly in place between the strong glass-reinforced handle from nylon. It also ensures you have a comfy and secure grip at all times.
The high carbon stainless steel of the blade ensures it retains its edge for long.
This is indeed a formidable pocket knife designed by Richard Rogers who's known for his clean, highly usable, and simple designs.
Final Thoughts
When talking about pocket knife sharpeners, they are more than the essential tool for outdoor enthusiasts, but for the ordinary man as well.
From helping you cut through envelopes and boxes in one streak to opening cans and cutting wires, this lightweight, practical, and simple-to-use knife will certainly ease your everyday life.
However, since we often see that more quality knives are more expensive, we may be set back from buying something due to buying on a budget.
But, this does not have to be the case with pocket knives! Surely, there are expensive and high-quality models out there, but there are affordable pocket knives also.
This is a great option for avid pocket knife users- you will not damage your budget, yet you will have a premium pocket knife.
In our review, we showcased the 10 pocket knives under 50 dollars from recognized brands.
If you want a pocket knife that will be your companion in every task that requires a knife, Palmetto Wood's one is a stunning fusion of practicality and quality of materials.
If you're low on budget, but in need of a good pocket knife that won't let you down, the Grand Way EDC one is a smart investment.