When it lacks the right requisites, no kitchen is whole. A fillet knife is one of these important elements. It is necessary for home cooks, people who love eating and preparing fish, and outdoor enthusiasts.
A fish fillet knife's thin and sharp blade enables optimal filleting with clean and clear cuts that won't result in torn flesh or broken bones.
The fish fillet knife is crucial for low waste and damage, as well as to prevent injuries.
Using another type of knife, for example, a chef's knife, to fillet will only give you a hard time.
Fillets are an important ingredient in different cuisines and there is a long list of dishes that include them as an ingredient.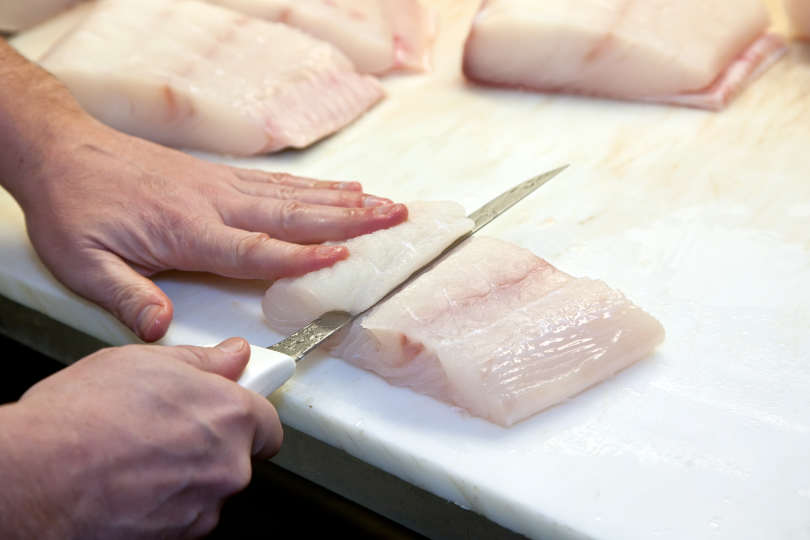 The most common meats used for filleting are beef tenderloin, chicken, and fish. Taking into account the uniqueness of the task, it certainly requires the right tool- a fillet knife.
And, luckily for you, we're here to help you check out 10 amazing fish fillet knives available on Amazon.
How Does a Fish Fillet Knife Look?
The shape of a fillet knife is very similar to that of boning knives; however, the main difference is that it is much thinner and the blade is more flexible.
When on the hunt for a fillet knife, go with one that is easy and comfortable enough for you to hold and handle and make the right maneuvers.
In addition to fish, you can use a fillet knife for some other meats and vegetables too.
How to Use a Fish Fillet Knife?
Fillet knives have so many benefits to offer thanks to their flexible, sharp, and thin blade. They're a great choice for filleting fish, i.e. removing meat from the bones and cartilage.
You can also use them to skin fish- they will minimize wastage of meat or debone fish efficiently, especially the smaller bones, but larger bones or the spine too.
What to Look for in a Fish Fillet Knife?
Here are some useful factors to consider when buying a fillet knife:
A fillet knife needs to have a flexible blade to help you maintain tight angles during the filleting
Opt for a blade that is made from a non-corrosive durable metal blade. The most recommendable material is stainless steel due to its longevity, as well as titanium and carbon steel
Regarding the knife's size, it depends on the size of the meat. For example, if you need to fillet a bigger fish with strong ribs, a serrated blade with a size of 6 to 7 inches or longer will do the job. For smaller fish, blade size between 6 and 7 inches or smaller will suffice
The handle of a fillet knife needs to be durable, made from the right material, and not to slip away from your hand while using it. It is also important for the blade to feel comfortable in your hand
Opt for more flexible and thinner blades for quality cuts
Factors to Consider Before Buying a Fillet Knife?
Choose knives from reputable companies with excellent reviews from customers
Choosing a fillet knife from unknown sellers may not be the best choice if you happen to experience problems with the knife- they may not be there to uphold the guarantee
If a fillet knife has a weak handle made from poor materials and if it is rather slippery-leave it! Go for rubber or plastic handles (avoid the wooden ones; they may be harder to hold and absorb smells quickly)
A quality fillet knife with an optimal blade and handle is a long-term investment- helps you save money in the long run because there will be less need for replacements
Which Length to Choose?
When checking out fish fillet knives, you'll often encounter models with varying blade lengths.
This can become confusing if you don't know much about blades and filleting, but we're here to help.
A shorter blade is a good choice for smaller fish because of its higher flexibility. The longer ones would be better suited for larger fish.
A medium-sized fillet knife that has a blade between 7 and 8 inches is a good choice for a 'one size that fits all' fillet knife. This means it will accommodate well to different sizes of fish and help you fillet successfully.
Why is Blade Flexibility so Important?
When talking about fish fillet knives, a flexible blade is one of the major factors to consider. This property is decisive for its cutting and slicing and it's what eases the filleting.
The flexibility depends on the blade's thickness- the thicker it is, the less flexibility it can hold, and vice versa.
Shorter blades are often made more flexible because of the smaller fish they're designed for demand sharper cuts and tighter angles.
Longer ones should still have a certain amount of flexibility, but it's not as vital as in the shorter blades.
What about the Handle?
Even though when choosing a knife, including a fillet knife, the blade plays the most important role, a good handle makes all the difference.
A good handle is a combination of good grip, comfort, and performance and should help you fillet easily and safely at all times.
Even though wood was the preferred choice in the past; today, plastic and rubber are the dominant options.
Both are a good choice- however, rubber has a bit better grip as you can squeeze it slightly. They're also known for their good traction and are easy to maintain.
They're also resistant to corrosion and will ensure the tool lasts for a long period of time.
A beveled area for the index finger to rest is also important- it's the area where the blade and the handle meet.
This finger protection reduces slippage and betters the balance.
Boning vs. Fillet Knife
Boning and filleting knives may be similar and thus people may think they're one and the same; but, they're two different things.
A boning knife usually has a narrow blade, a sharp tip, and a straight spine and it's intended to remove meat from bones.
The fillet knives have narrower and more flexible blades with a sharp point that's usually arched.
The former is mostly used for deboning or removing meat from bones whereas the latter is designed mostly for the removal of bones from fish.
The 10 Best Fish Fillet Knife Reviews
1. Shun Classic Fillet Knife
Product Information
| | |
| --- | --- |
| Package Dimensions | 11 x 0.88 x 1.75 inches |
| Item Weight | 7 ounces |
| Manufacturer | Kai |
| Price | $139.95 |
Highlighted Features
Japanese blade
Damascus look
Pakkawood handle
Premium quality
Steel end-cap
This knife is forged in Japan by the well-known blade manufacturer KAI. Its blade comes with 33 stainless steel layers that make it rust-free.
It has a Damascus look, but without the rusting, that may happen to Damascus steel. The highly sharp blade is known for its edge retention and ease of sharpening.
It's the ideal option for boning and filleting and it maintains optimal sturdiness while holding its D-shaped ebony Pakkawood handle. This classic model is functional and aesthetically pleasing.
The handle is a blend of hardwood veneers and resin for excellent longevity and stain resistance, but a touch of finesse too.
The steel end-cap is a great detail as well. The company offers a limited lifetime warranty.
2. Mercer Culinary Millennia Narrow Fillet Knife
Product Information
| | |
| --- | --- |
| Package Dimensions | 13 x 4 x 1 inches |
| Item Weight | 4.6 ounces |
| Manufacturer | Mercer Culinary |
| Price | $22.97 |
Highlighted Features
High-carbon Japanese steel blade
Thin & flexible blade
Ergonomic handle
Finger guard design
Lifetime warranty
The blade of this knife features quality high-carbon Japanese steel blade which is easy to maintain, sharpens fast, and it's prone to stains.
Being a fillet knife, its blade boasts the right thinness and flexibility.
The ergonomic handle is a mixture of Santoprene for comfort and polypropylene for longevity. You can pick your favorite blade color, ranging from classic black to modern white.
Thanks to the finger guard on the handle, there's a lower risk of slipping, injuries, and discomfort.
The company gives a limited lifetime warranty and recommends hand washing the knife with mild soap and warm water and storing it properly for longevity.
3. KastKing 9-Inch Fillet Knife
Product Information
| | |
| --- | --- |
| Handle Material | Bone |
| Blade Material | Stainless Steel |
| Manufacturer | KastKing |
| Price | $29.99 |
Highlighted Features
German stainless steel blade
Durable
Curvy & flexible
Non-slip ergonomic polymer handle
This knife has a stainless steel blade that's razor-sharp and made in Germany. It has a nice black finish and it will keep its edge for a long time.
Whether you use it to fillet fish or steak large game, this is the knife to choose. The curviness of the blade has the best flexibility to ensure it follows the natural contouring for optimal filleting.
We definitely love the non-slip polymer handle that's comfy and safe. It fits well in the hands and the grip is amazing.
It also cleans easily and will keep its look for a long period of time. The knife comes with a protective lightweight and durable sheath to keep you safe and protect the blade.
4. Rapala Fish 'N Fillet Knife
Product Information
| | |
| --- | --- |
| Package Dimensions | 15 x 5.5 x 1.8 inches |
| Item Weight | 0.4 Pounds |
| Manufacturer | Rapala |
| Price | $22.99 |
Highlighted Features
Full-tang
Swedish stainless steel blade
Leather sheath included
Ceramic sharpener included
Great for smaller fish
This fillet knife is designed full-tang and has a flexible and sharp blade from Swedish stainless steel.
It comes with a leather sheath for optimal safety and protection, for both the knife and its users.
It has a single-stage ceramic sharpener which will help you keep the blade sharp at all times.
Though it's a smaller model of the fillet knife, its performance and wooden handle are great.
This knife is an ideal tool for filleting smaller fish like trout or panfish and you needn't worry about the longevity of the sharpness- it will keep its edge for long.
5. Buck Silver Creek Folding Fillet Knife
Product Information
| | |
| --- | --- |
| Package Dimensions | 0.39 x 0.39 x 0.39 inches |
| Item Weight | 6 Ounces |
| Manufacturer | Buck Knives |
| Price | $33.99 |
Highlighted Features
Excellent design
Inexpensive
Highly flexible & long blade
Rubberized handle
Comfy grip
This knife has a superb design and optimal quality, yet it's not expensive. Its steel blade is coated with titanium and it's highly flexible, durable, long, and thin.
Thanks to the blade's high folding capacity, it can be easily packed for a fishing trip or a picnic.
The rubber on the handle enables you to feel in control, yet comfortable and safe, no matter if your hands are wet or not.
For a price lower than $30, you will get an excellent fillet knife with a lifetime warranty. Satisfied customers described it as a reliable, rigid, and razor-sharp fillet knife.
However, you may not find this fillet knife a good pick for you if you need to fillet smaller fish.
6. Morakniv Fish Fillet Knife with Sandvik Blade
Product Information
| | |
| --- | --- |
| Package Dimensions | 14 x 5 x 1 inches |
| Item Weight | 3.5 oz. (99g) |
| Manufacturer | Morakniv |
| Price | $34.49 |
Highlighted Features
Patterned & high-friction rubber handle
Two blade length options
Blade from Swedish Sandvik steel
Dishwasher-safe
This knife boasts a Sandvik stainless steel blade- a material known for its extreme sharpness, hardness, strength, and corrosion resistance.
Its 6-inch blade length is suitable for most sizes of fish and it won't absorb any unpleasant odors.
If you want a smaller blade, there's an option to choose a 3.5-inch one too. The TPE rubber handle is amazing- it's patterned and high-friction.
The friction optimizes the grip and allows easy maneuvers, which is very important during filleting.
It's also good to know that the knife is dishwasher-safe. It's definitely the best option for fishing when you need to work efficiently and safely in a damp environment.
7. Dalstrong Gladiator Series Fillet Knife
Product Information
| | |
| --- | --- |
| Package Dimensions | 13.9 x 4.09 x 1.42 inches |
| Item Weight | 1.19 pounds |
| Manufacturer | Dalstrong |
| Price | $75.00 |
Highlighted Features
German steel blade
Versatile
Protective sheath included
Narrow & curvy blade
Pakkawood handle
This fillet knife comes with a protective sheath and has a blade from German steel.
Its design will help you de-scale, de-bone, fillet, skin, trim, and butterflyfish, poultry, and other meats easily and quickly.
The blade is narrow and curvy for a moderate flex and maneuvers around the joints, skin, and bone. It also contains chromium which makes it stain-free.
Along the blade, there are rock-hollow divots that enable an easy release of the food and friction-free cuts.
The award-winning design of the knife is a result of the top-quality materials and excellent heft.
The Pakkawood luxurious and tripe-riveted handle contributes to the knife's great flexibility and comfort.
8. Victorinox 8-Inch Straight Fish Fillet Knife
Product Information
| | |
| --- | --- |
| Package Dimensions | 17 x 3.75 x 1.5 inches |
| Item Weight | 3.2 Ounces |
| Manufacturer | Victorinox |
| Price | $39.50 |
Highlighted Features
Swiss quality
High-carbon stainless steel
Fibrox ergonomic handle
Lifetime warranty
This Swiss-made knife is a good choice to make beautiful fillets from meat, whether poultry or fish and dividing it from the bones effortlessly.
Thanks to the high-carbon stainless steel blade, it has maximum sharpness and long-edge retention.
The blade has been ice-tempered to prolong its sharpness and the Fibrox handle is amazing- it's textured, slip-resistant, and ergonomically designed for high comfort and balance.
The knife is NSF-approved and it's recommended to be washed by hand. If you decide to buy it, you get a lifetime warranty against manufacturing defects.
9. Bubba 12-Inch Flexed Fillet Knife
Product Information
| | |
| --- | --- |
| Package Dimensions | 22 x 6 x 1 inches |
| Item Weight | 15.2 Ounces |
| Manufacturer | Bubba Blade Knives by BTI Tool |
| Price | $83.99 |
Highlighted Features
Highly flexible blade
Non-slip handle with finger pads & protection
High-carbon stainless steel blade
Resistant to rust
This knife with a 12-inch blade is easy to use thanks to the beautiful non-slip handle. It also has an excellent grip and helps you keep good control over the knife during usage.
Thanks to the safety guards for the thumbs and finger pads, you're protected and you can be more precise while filleting fish or poultry.
The super-thin high-carbon stainless steel blade is Ti-Nitride-coated and made to be resistant to rust. It has an extra sharp tip that will help you start your cut easily and effortlessly.
It's made ultra-flexible to ensure you pluck out bones from meat effortlessly.
10. ZWILLING J.A. Henckels 7-Inch Fillet Knife
Product Information
| | |
| --- | --- |
| Package Dimensions | 16.5 x 2.75 x 1.5 inches |
| Item Weight | 5.4 ounces |
| Manufacturer | ZWILLING J.A. HENCKELS |
| Price | $89.95 |
Highlighted Features
German quality
High-carbon stainless steel blade
Slim & flexible blade
Ergonomic polypropylene handle
If you're looking for a German quality fillet knife, this is another great choice. It's hand-finished by skilled artisans and it's described as comfy and safe.
The blade is made with a special proprietary formula of high-carbon stainless steel.
It's forged from a single piece of strong steel and the blade is ice-hardened to prolong its sharpness and make it superiorly resistant.
The 7-inch blade is also honed to precision and the laser-controlled edge makes sure you always have the best cutting angle.
The slim, flexible, and long blade have a slight curvature near the bolster while its cutting edge is straight.
The handle is ergonomic and designed from polypropylene. It's smooth, yet comfortable.
Final Thoughts
Whichever of the above-shown fish fillet knives you choose; you will definitely make an excellent purchase.
They're all made by reputable companies, consist of top-quality materials, and have ergonomic designs.
A good fillet knife can make all the difference in the kitchen-it's often a versatile knife that you can use to fillet, debone, slice, and much more.
This knife is a great choice for people who enjoy eating meat and fish and want nothing less than the perfect slices.
The great thing about these knives that we learned during our research is that you can find quality models according to your budget and you can be sure that these companies offer quality products.
If you're limited in terms of budget but still want to reap the advantages of a fillet knife, our budget pick would be an awesome decision.
If budget isn't the decisive factor for you, we highly recommend our best pick- Japanese quality, full-tang, and made from amazing materials, it's definitely a knife you shouldn't be missing out on!
* Affiliate links/Images/Price from Amazon Product Advertising API