In the world of knives, every experienced user knows that a dull knife equals a dangerous knife. But, there is also another thing which makes the knife dangerous, i.e. lack of cleanliness.
For example, the knife's function may be impeded because of pocket lint, which mostly collects in the pivot and locking parts. This makes the work slower and to becomes more difficult to open and close.
Unfortunately, with folding knives, this could result in an injury or premature wear. This being said, it is essential to take good care of our knives and maintain them on a regular basis, not just with water and soap, but with lubrication as well.
You should use the best oil for folding knives once per month or so to help the moving parts work flawlessly.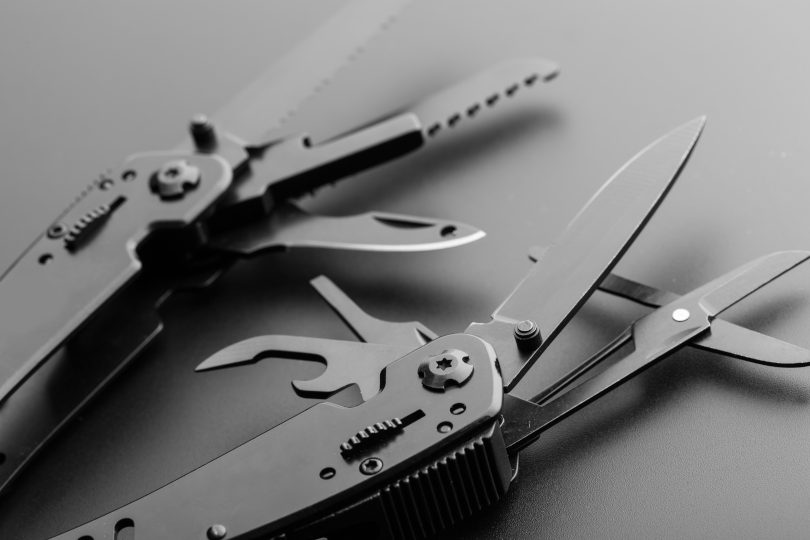 However, nowadays, we have a lot of different lubricants for folding knives to choose from, so we can easily get confused.
This is where our review on knife lubricants can help! We will show you the best 10 options on the market currently, but also some of the most important things you should know about knife lubricants.
Our Top 10 Picks
Affiliate links / Images from Amazon Product Advertising API
Why Do I Need to Lubricate my Folding Knives?
Without any doubt, if we want to keep our folding knives in ideal working shape, as well as our fixed knives, it is crucial to clean them on a regular basis and to lube them with the proper oil.
You just need a drop or two of the lube in the knife's pivot to fight off grit and other friction-causing substances. What is great about these lubricants is that you can also apply them to the blade and thus, help avert rust and corrosion.
It is crucial to note that even in small amounts, the chemicals present in lubricants can come into contact with the food you are preparing and thus, enter your body. When ingested, they may cause numerous health issues.
With this in mind, it may be the best approach to use safe oils like mineral oil if you frequently use a specific knife for food preparation.
There are also manufacturers that produce lubricating oils from bio-based and food-safe ingredients.
From time to time, you should wipe the blades, joints, and springs of the knife with a cloth moistened with oil to lower the risk of corrosion and rust, especially if you live in a damper climate or close to water.
When your knife comes into contact with saltwater or other substances that you are not sure about, rinse it right away and apply a thin oil coat and you are good to go!
What Kinds of Knife Lubricants Are there?
The most frequently used oils for folding knives are the wet petroleum-based ones. These are the same as gun lubricants or oils for sewing machines.
Then, there are dry lubricants or Teflon-based ones and they usually attract less pocket lint. You can find them in an aerosol can for spraying application or in a grease tube. Either way, they dry on the surface and leave a lubricating and protective layer.
Last but not least, we also have food-safe lubricants which are best for knives that are regularly used for food preparation. Though you can use vegetable oil too, a much safer option is food-safe mineral oils.
You can find them in local pharmacies or specialized stores or order them online.
How Should I Use a Knife Lubricant?
Before you learn how to properly oil your folding and other types of knives, it is important to know that a little does a lot in this case. To lubricate your folding knife, first, you need to open it.
Apply one or two drops or lightly spray the pivot and begin to rotate the blade, i.e. open and close it repeatedly. This helps work in the oil. After you have applied the oil to the pivot and/or locking surfaces, make sure you remove any surplus lubricant.
This is important because too much of it may attract lint and other material and consequently, you will need to clean the knife more frequently.
If your knife's blade is made from high-carbon stainless or true carbon steel, you can apply a preventive layer of oil, particularly if you use it around water or live in areas with high humidity.
Best Oil for Folding Knives Review
1. Yoshihiro Tsubaki Japanese Knife Oil
Affiliate links / Images from Amazon Product Advertising API
Highlighted Features
Prevents corrosion, rust, and discoloration
Optimized texture
Comes with Sabitori rust eraser & cleaning cloth
Suitable for high-carbon steel knives
Without a doubt, this knife oil is a must for proper maintenance of high-carbon steel knives. This 3-piece set includes a 3.4-oz bottle of Tsubaki oil made from camellia oil that is safe for use on any knives, including kitchen ones used in food preparation.
You also get a complimentary cloth and a rust eraser for easy and smooth application.
With only a couple of drops, you can prevent corrosion, discoloration, and the rust of your folding and other knives. The tools will be shinier and work faster than ever before.
The Sabitori rust eraser will ease the removal of stains and rust from the knife. Just follow the knife's grain and gently move the eraser back and forth. Use it on stain and rust spots only.
Moreover, the oil is viscous enough to remain on the blade and small enough to be spread easily. You can use a finger or the eraser to meticulously cover the whole surface. Nothing complex about lubrication with this set, believe us!
2. Smith Honing Solution
Affiliate links / Images from Amazon Product Advertising API
Highlighted Features
Enriched with rust/corrosion inhibitors & cleaning agents
Non-petroleum
Removes clogged pores from sharpeners
Suitable for Arkansas and diamond stones & other cutting tools
This HON1 oil by Smith is petroleum-free and comes with built-in cleaning agents and inhibitors of corrosion and rust.
Whether you need to lubricate your Arkansas or diamond stones or any other cutting tool like your knives, this is a great option.
What we really appreciate about this oil it's the easier cleanup than oil or water. Plus, it's very economical- a little of the solution goes a long way.
So, feel free to sharpen your entire knife collection without wasting the entire bottle! Thanks to this oil, you will get good lubrication, low mess, and sharp and clean stones and knives.
3. Lansky Nathan Natural Honing Oil
Affiliate links / Images from Amazon Product Advertising API
Highlighted Features
Affordable
Suitable for Lansky sharpeners
Great for Arkansas stones
Natural and food-safe
This specially-formulated lubricant is designed for use with sharpeners by Lansky and stones by Natural Arkansas. You just need a few drops of the oil to the stone's surface prior to sharpening them.
If you want to use it on standard hones, clean the pores of the stone by applying a few drops of the oil. The oil will work its magic and lift the metal shavings off the surface of the stone.
Then, you can easily wipe them off with a cloth. We also appreciate the very low odor and how it's safe to use with kitchen tools.
However, this oil isn't suitable for diamond sharpeners as it's petroleum-based. For best results, clean them with water and a rag and to be completely dried off prior to usage.
4. Sentry Solutions Tuf Glide CDLP Oil
Affiliate links / Images from Amazon Product Advertising API
Highlighted Features
Lubricates, cleans & protects knives
Pen-like or needle-like applicators available
Dry non-oily formula
Doesn't attract dust and dirt
Sentry Solution's lubricant formula allows you to lubricate, clean, and protect your knives in a stroke or two.
What is great about it is that you can choose between two practical options, that is, the oil with a needle-type applicator or the one with a pen-like applicator.
If you intend to use it for folding knives with smaller parts, opt for the former while the latter is more recommendable for bigger knives or other tools.
The dry non-oil formula helps protect, but also clean your folding knives. The layer which the oil creates does not attract dirt, debris, and dust and you can use it in any type of environment and temperature.
If you purchase it, you are improving your knife's reliability, performance, and accuracy. The products of Sentry Solutions do not solidify in the cold or thin out in high temperatures so you can use it in the harshest of environments.
5. Thirteen Chefs Knife and Honing Oil
Affiliate links / Images from Amazon Product Advertising API
Highlighted Features
Food-safe
Helps avert rust on blades
Suitable for sharpening stones
Enhanced with vitamin E to prolong shelf-life
With the help of this quality, light oil, you can protect, strengthen, and maintain your kitchen and work knives. The oil is made with certified food-safe ingredients so it can come into contact with food and cooking gear.
When properly and regularly applied to your knives, this oil will decrease the chance of rust. Rust is a major problem with non-stainless steel metals and carbon steel knives that are exposed to humid surroundings.
The oil is really versatile- you can also use it on your whetstones and minimize the clogging of its pores and ease the sharpening.
Make sure to dry the blade fully prior to using the oil. Drop a couple of drops onto both sides and then wipe the oil through the whole surface with a soft cloth.
6. Knife Pivot Lube Oil
Affiliate links / Images from Amazon Product Advertising API
Highlighted Features
Excellent for folding knives
Inexpensive
Prolongs knife durability
Lowers corrosion and wear
This is an excellent lubricator specifically designed for the pivot and locking mechanisms of folding knives.
It effortlessly penetrates into low tolerance parts, metal-on-metal, and ceramic-on-metal interfaces while protecting the blades, detents, and bearings.
It is the ideal choice for fall-shut frame locks and buttery bronze washer pivots. If you want to take proper care of your cutting tools, this affordable lubricator is what you need.
It will optimize the knife's function and ensure its longevity. This synthetic oil will also minimize the risk of pitting, corrosion, wear, and galling.
Thanks to its quality, your folding knives will deploy faster and more efficiently. If you want exceptional smoothness and a folding knife that opens up and closes with the speed of light, you definitely need this oil!
7. Citadel Black Food Grade Knife Oil
Affiliate links / Images from Amazon Product Advertising API
Highlighted Features
Food-safe
Low viscosity and odour-free
Helps avert wear and rust
Doesn't solidify
This food-safe lubricant is the ideal mixture of white mineral oil and Tsubaki oil. The lubricant can be used on steel and carbon steel kitchen cutlery to prevent premature wear and rust.
Made in the US, this odorless and low viscosity oil spreads equally and will never solidify, but it will keep its smoothness and texture long-term.
As it is food-grade oil, you can use it on knives you regularly use to prepare food. Whether it is steel, stainless steel or carbon steel, this oil has your back.
Thanks to the pipette-style dropper design of the bottle, the application of the oil is easy and clean.
Before lubrication, remember to clean the knife with warm water and mild detergent. Apply one or two drops of the oil on one side of the blade and gently rub it with a clean cloth from left to right.
Repeat the same with the other side. Move on to the pivot and locking parts if you are cleaning a folding knife.
8. Liquid Bearings Synthetic Oil
Affiliate links / Images from Amazon Product Advertising API
Highlighted Features
Contains uniform molecules
Odorless
Safe for plastics and painted surfaces
Comes with two different size applicators
Did you know that this oil is often described by users as'superior oil for lubrication and corrosion prevention'? It definitely outperforms other synthetic lubricants with its superior performance and excellent results.
Unlike conventional oils that may contain waxes, unstable hydrocarbons, sulfur, and other impurities, synthetic oils are made through a process of structure rearrangement. Hence, all of the molecules are uniform in weight, size, and shape.
This oil is also odorless so it will not leave a foul smell on the hands and clothes after use.
Once you start using it, you will notice that the blades will fold effortlessly, particularly if you have used petroleum lubricants for a prolonged period of time.
The oil is also plastic-safe so it will not damage any painted surfaces. Thanks to the two different size replaceable needles, the drop-by-drop application will happen effortlessly, without any needless loss of oil.
9. Quick Release Oil
Affiliate links / Images from Amazon Product Advertising API
Highlighted Features
Extends the life of sharpeners and knives
Removes dirt and moisture
Forms a protective layer
Suitable for folding knives, automatic switchblades, locks
This oil isn't just excellent for your folding knives, but also for other tools, locks, fishing reels, and bicycle gears.
Featuring a special formula, it penetrates, lubricates, and protects the tools you use on a regular basis, whether this is your folding knife or switchblade.
Moreover, when applied, it creates a self-renewing surface and a lubrication film to reduce friction.
When you use it on a regular basis, it will successfully remove all moisture, corrosion, and dirt that lower the device's functionality and performance.
In addition to the generous 1-ounce bottle, you also get a needle-like applicator for easy and smooth application even into the tiniest of knife parts.
10. Synthetic Liberty Oil
Affiliate links / Images from Amazon Product Advertising API
Highlighted Features
3-in-1 oil
Has a needle-like applicator on top of the bottle
Safe for plastics and painted surfaces
This oil is 100 percent synthetic and it comes with a needle-like dispenser from stainless steel.
It consists of two friction modifiers that connect and protect the metal. They also act like small ball bearings to avert wear and friction.
Its application is so easy because of the new LDPE plastic used in the bottle production- this soft plastic allows easy squeezing. And, there's an integrated thin needle-like applicator on the top.
This prevents waste of the oil and allows for more precise application.
It will help you lubricate your folding knives with only a couple of drops and improve their performance instantly.
However, it's not food-safe and shouldn't be used around food and on tools you use in food prep.
Final Thoughts
When we invest in quality knives, we expect them to perform optimally long-term. However, we cannot expect to get the most of our knives if we do not properly maintain them.
This being said, in addition to cleaning and sharpening your knives, you also need to lubricate them, especially if you have several folding knives in your collection. This is because they have locking mechanisms that need to be lubricated to work optimally.
By regularly oiling your folding knives, you do not just help improve their functioning, but also avert premature wear, corrosion, and rust.
Our review today presented the 10 best oils for folding knives from different brands and we love them all! Affordable and effective, they are certainly a smart investment.
If you are searching for a food-safe lubricant that can last indefinitely and can opt to maintain high-carbon steel knives we warmly recommend the Yoshihiro lubricant.
With this oil, you also get a complimentary cloth and an eraser for an even smoother lubricating action.
Those who appreciate a quality lubricant which can lubricate, clean, and protect at once, go with the Sentry Solutions oil.
When it comes to synthetic knife lubricants with superior performance and quality ingredients, the Liquid Bearings one will always deliver the best results.
Last but not least, Knife Pivot's oil is an excellent lubricant for folding knives and their pivots and locking mechanisms. It penetrates deeply into them and does its magic! With this oil, knife deployment will be smoother than ever.