The single blade pocket knife can be your best companion on the daily.
It will help you cut a long list of things- from getting a delicious fruit from a tree to cutting an Amazon package, it's there for you.
The traditional single blade models are praised for their practicality and longevity, as well as sharpness which helps you finish tasks whenever and wherever with ease.
Plus, as they're pocket knives, they're suitable for carrying around safely.
If you're amongst those who believe that we need nothing more than a single blade on a pocket knife to get on with our day, this is the perfect guide for you!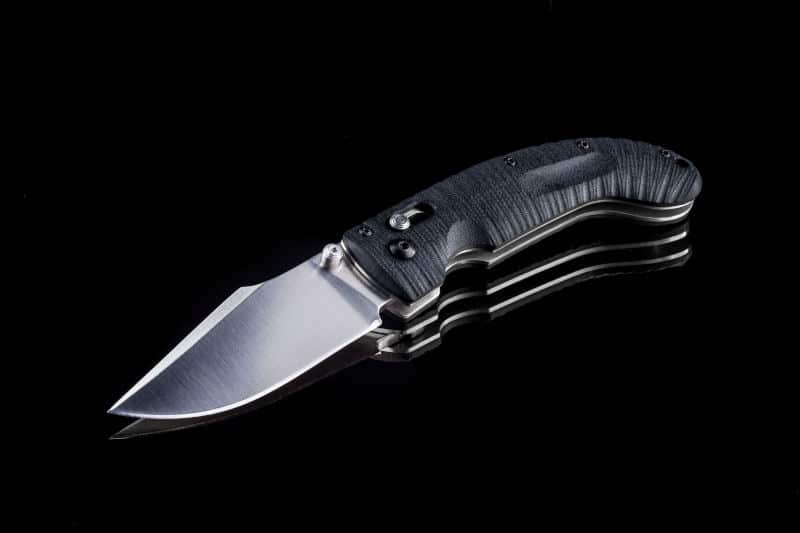 We'll show you the trending models currently and why a single blade pocket knife will never go out of fashion!
Stay tuned…
Why Choose A Pocket Knife With A Single Blade?
Although many people consider the multi-blade pocket knives to be the smarter option, for many people, a standard pocket knife with a single versatile blade is a comfier choice.
Namely, since it has only one blade, the handle is much comfier and the opening/closing is easier and the maintenance isn't demanding.
If you believe one blade is enough for your cutting tasks, it's a great economical choice.
In fact, the price of multi-tools is higher than those with a single blade. Though this may not be an issue for some people, for others considering a pocket knife, it may be decisive.
With this in mind, if it will meet all your daily cutting needs, investing in the single blade pocket knife is awesome!
Which Factors to Consider Before Buying?
As with any other knife, before buying it, there are factors we should consider in order to make the best choice.
If you're considering a single blade pocket knife, make sure you've checked out these things:
Its design
Pocket knives are loved by people worldwide for their compactness and smart design. That is, they're easy to carry in pockets or bags, without worrying about injuries or damaging the blades.
In the best case scenario, you would opt for a foldable model since it's the safest and easiest for carrying with you.
Moreover, it should be a functional design that will enable you to use it for long, without worrying it will crack or fail you when applying force.
The materials
Both the blade and handle material of the pocket knife will play a role in its longevity and comfort.
When it comes to the handle, natural materials do look good; however, they're more susceptible to tear and wear than man-made composites.
The latter are praised for their strength and longevity and a lower risk of cracks, chips, and splits. And, they don't decompose since they're made not to absorb moisture, unlike the natural choices.
Padded handles may be ideal for those looking for extra comfort while working. Moreover, when deciding on a blade, the choice usually comes down to the two most common types, that is, stainless steel or high-carbon stainless steel.
Both are strong and durable; however, the former is less prone to corrosion than the latter.
When deciding on the type of steel, consider the premium options like 440C, 420HC, AUS-8, and 420J2.
Blade's edge
Pocket knives with single blades can have a straight or serrated edge or a combo of both.
The former ones are better for push cuts, offer better control, and allow for cleaner and more accurate cuts. Plus, they're easier for sharpening.
However, when it comes to pulling cuts, they're not the best out there.
This is where the serrated ones do better and are also recommendable for cutting toughing materials. They enable easier pressure thanks to the tiny serrations.
Despite their efficiency, they tend to be less effective in cleaner cuts and may be harder to sharpen.
There are also blades that are a combination of the two and are rising in popularity because of their versatility. However, the sharpening may be more challenging with these models.
The Handle
When choosing a pocket knife, it matters that the handle is ergonomic, comfy, and offers good grip, without slipping.
These factors are decisive, considering that the knife's handle enables us to do the necessary maneuvers and control the blade, but also prevents unwanted accidents and optimal comfort.
Sometimes, a smaller handle may do fine, especially if you have smaller hands. But, in other instances, a larger one may be more suitable.
And, some may even consider a padded material, especially if they're using it for a prolonged time and want to keep things comfy.
Size & Weight
Considering it's a knife intended for carrying, it's essential we choose the right size and weight.
Although the length of the blade will ultimately depend on what you need and the state laws, the smaller ones are usually legal everywhere and may be better for you if you want to carry it in the smallest front pocket, without feeling it's there.
Still, sometimes, a larger, medium blade is necessary, especially if you plan to use it with more complex cutting or carving tasks or looking for higher versatility.
The larger ones aren't that common, considering they're not suitable for daily carrying and maybe heavier and not allowed in some states.
When it comes to the weight of the pocket knife, it's conditioned by several factors, including the materials, design, and the blade's length.
Some models may be great because of their lightweight; however, they can't be considered a go-to for heavy-duty tasks!
Opening Mechanism
In the past, opening folding knives usually required both hands.
Both, nowadays, thanks to more advanced mechanisms; they're designed to be deployed with one hand only. In most cases, this is done through a thumb stud or a hole in the blade's back that allows you to open up the knife without looking at it.
But, many people also choose pocket knives with assisted opening mechanisms when they need to deploy the blade quickly, usually in tactical situations.
All pocket knives made with this mechanism are safely kept locked to ensure optimal safety; otherwise, they could open up while in the pocket, which isn't desirable in any way!
Locking Mechanism
Same as the opening mechanism of a pocket knife matters, so does its closing one. Namely, when the 110 Folding Hunter was developed by Al Buck with the Lockback locking mechanism to ensure the blade remains open while used; these locking mechanisms became the standard, especially for the larger tactical folding knives.
Although you have ones with traditional locking mechanisms like Liner locks or Frame locks, many have also designed their own types of locking mechanisms. Although the decision will ultimately depend on your preference, whichever locking mechanism you choose will work just fine.
How to Use a Single Blade Pocket Knife?
Pretty easy actually; a pocket knife isn't very demanding when it comes to learning how to use it.
After unlocking it, i.e. deploying the blade, you can use it for the task in question, whether to fillet fish or to cut some tomatoes while out camping.
Then, you rinse it off or wipe it and close it and store it.
When to Clean My Single Blade Pocket Knife?
Cleaning your single-blade pocket knife ensures its longevity and performance.
And, it's best to clean it after every use; either by a gentle rinse with warm water and soap and then drying it before storing.
Moreover, don't forget about occasional oiling and regular sharpening. Properly maintaining your blades in optimal shape doesn't just better their longevity, but ensures you stay safe.
As we constantly emphasize here at Knife Verge, a dull knife always brings trouble!
Single Blade Pocket Knife
1. Smith & Wesson Single Blade Folding Pocket Knife
Highlighted Features
Beautiful design
Made of long-lasting materials
Ergonomic
Safe locking mechanism
Easy to carry
This foldable pocket knife doesn't just look amazing in an all-black color, but it also has to offer great features.
The blade, which is half serrated and half straight with a pointed tip, is made of strong, long-lasting, and sharp carbon steel. It won't rust or corrode any time soon.
The convenient pocket clip is also amazing-allows fast and easy access (you can attach it to your pants or backpack!).
The knife can be easily flipped over using one finger. Plus, it's ambidextrous, making it a perfect choice for both lefties and righties.
It's ideal for everyday use and carrying, with optimal comfort. And, the safety is optimized and you needn't worry about the blade slipping out of the liner lock!
2. Old Timer Mighty Mite Single Blade Folding Pocket Knife
Highlighted Features
Lightweight
Compact
Tough design
Optimized locking mechanism
With an overall length of 4.7 inches when opened, this pocket knife boasts a high-carbon stainless steel blade and triple-riveted ergonomic handle.
The forged blade won't rust or corrode and it will maintain its sharpness for long.
This is a classic and tough single-blade knife that's sharp enough to help you tackle daily cutting needs.
It's perfect for daily use and carrying because it's foldable and easy to open and close.
Thanks to the safety locking mechanism, you needn't worry about accidental blade slips.
Moreover, it's perfect for those who want lightweight models- you won't even feel it in your pocket since it weighs only an ounce. The brass pins are there to fasten the handle securely.
It's indeed built with longevity in mind.
3. Kershaw's Scallion Single Blade Pocket Knife
Highlighted Features
Secure locking mechanism
Coated blade
Deploys fast
Durable
Made in the US by skilled knife makers, this pocket knife with a classic black glass-filled nylon handle and a high-carbon 420HC stainless steel is definitely worth considering.
Thanks to the blade's use of materials and design, its edge retention is optimized and the bead-blasted finish ensures a smooth, matte-like appearance.
The opening is easy thanks to flipper-you just press it with your thumb and the blade comes out and also keeps it safe in its place.
To close it, you press the liner lock and move the blade towards the handle and press the tip lock on the back of the handle.
Thanks to its lightweight and compact design, storing it is effortless; it fits in the smallest of pockets.
The handle features a lanyard and a pocket clip for the easiest carrying ever!
4. Grand Way Pocket Folding Knife with Single Blade
Highlighted Features
Easy to use
Made from quality materials
Very comfy padded handle
Versatile
This classic folding knife is the ideal companion for everything from cutting packages to prepping meat for barbecues. The straight and pointed blade is tough and long-lasting, forged from 420C stainless steel.
Don't worry about it corroding or losing its sharpness-its performance is optimized as well as its longevity.
There aren't any unexpected closures thanks to the lock on the back. It can be used by both left- and right-handed individuals.
The ergonomic black metal handle is covered with textured plastic to ensure the grip is comfy, yet strong.
The opening and closing are easy and safe. Customers who bought it gave it the most kudos for offering good value for money, its sturdiness, and craftsmanship.
5. Edc Fans Single Blade Folding Knife
Highlighted Features
Looks awesome
Versatile
Very strong
Easy to carry
If you thought a single-blade pocket knife couldn't be versatile, meet this model.
Whether to fillet a fish on a camping trip or break glass in an emergency, this knife is there for you. It boasts amazing strength and high sharpness!
What's more, you can deploy it easily using one hand by pressing the flipper. Interestingly, the blade features one false and one sharp edge.
This forms a strong spear point ideal for fine slicing.
Although it's not the lightest model in terms of weight, it's still light enough for you to carry it easily. We have to mention the ergonomic, tough handle with a clip for easy carrying.
Customers who purchased it praised it the most for its sheerness, thickness, and great value for money.
6. Victorinox Swiss Army Single Blade Pocket Knife
Highlighted Features
Lightweight
Simple & functional
Tough construction
Versatile
This pocket knife with a single blade is compact, agile, and versatile.
Made by one of the most renowned brands, it boasts Swiss-quality stainless steel construction. It's encased in a tough and slim construction.
Highly resistant and compact, this knife is your daily go-to, without taking too much space.
In fact, it fits perfectly in the pocket. It's awesome for so many tasks, from opening packages to carving out wood.
The blade is strong and sharp as it's made from durable stainless steel.
It's ultra-lightweight and thus, the ideal pocket or bag knife. You can lock and unlock it effortlessly using one hand only.
Robust and with a clean and simple, yet effective design, it's a very smart investment!
7. Imperial Schrade Single Blade Folding Pocket Knife
Highlighted Features
High-carbon, strong blade
Unique & comfy handle
Lightweight
Easy deployment
Another amazing pocket knife with a single blade that shows they can be very practical! It comes with a highly sharp and long-lasting blade forged from high-carbon steel.
It deploys easily and the black handle from celluloid and brass pins has been heat-treated for additional longevity. It's ergonomically designed and easy to hold, without causing any discomfort in your hands.
And, we love the fact that every folding knife by this company has an intricate and impressive glossed and blended pattern.
When opened, the overall length is 6.4 inches.
Closed, it's quite compact and lightweight, further easing its transportation and carrying.
Customers were the most satisfied with this pocket knife's sturdiness, craftsmanship, and value for money.
8. Sog's Flash II Single Blade Pocket Knife
Highlighted Features
Sturdy
Lightweight
Long-lasting
Fast release
This pocket knife with an assisted opening is versatile and made to last. When closed, it measures 4.5 inches in length, making it superb for carrying it everywhere with you.
It boasts a reliable and fast release mechanism (S.A.T.) that you can perform with one hand.
The handle doesn't just look cool, but it's also glass-reinforced nylon to ensure a steady and comfy grip at all times.
The partially-serrated AUS-8 premium stainless steel blade and satin-finished are sharp, durable, and sturdy. Versatile and designed with longevity in mind, it's definitely a great investment.
And, carrying it with you when you're on the go is effortless thanks to the reversible bayonet-mounted clip on the back of the handle.
With this product, shop without a worry on your mind thanks to the limited lifetime warranty!
9. Uncle Henry Roadie Single Blade Pocket Knife
Highlighted Features
Durable
Trustworthy
Ergonomic handle
Compact
Crafted from the finest materials to age-old standards, this knife from their signature collection brings to mind the legendary quality, beauty, and performance of this brand.
This folding knife which weighs less than an ounce is designed to travel with you on the go. Its sturdy and sharp 2.2-inch blade with a fine edge will help you tackle all of those cutting tasks that pop out of nowhere.
The high-carbon steel blade will preserve its edge and its pointed tip is great for piercing and poking. Compact, yet offering significant cutting power, it's an awesome investment.
The opening is easy as a breeze and the heat-treated back springs ensure the blade stays open while using it.
The classic Staglon handle is iconic with its nickel silver bolsters. You can easily attach the knife by the shackle on its base.
10. Gerber Gear Compact Single Blade Pocket Knife
Highlighted Features
Sturdy
Great locking mechanism
Ergonomic design
Craftsmanship
If you want a capable knife that you can carry in a deep or a fifth pocket, this one is perfect for you.
Thanks to the slip joint mechanism the opening and closing are pretty easy. The compact frame is concealable and lightweight, ideal for daily carrying.
It comes with a 2.5-inch fine stainless steel edge and a drop point blade that has been mirror-polished to perfection.
It's versatile, long-lasting, and sharp. The handle is really amazing-it's anodized aluminum scales and in both color options, i.e. grey or green.
What's more, it has a lanyard hole that allows you to hang it onto your keychain and have it with you always.
It's comfy and offers a good grip. Timeless and functional, it's a great foldable pocket knife.
Final Thoughts
Whether you need to open up your mail or fillet a delicious fish while you're out camping, a pocket knife has your back.
A single blade pocket knife is compact and lightweight, yet sharp and sturdy. They ensure no cutting task is a challenge.
Although multi-tool pocket knives are very popular today, the ones with a single blade will never go out of fashion.
Their blade can do so much that the question is whether you really need all of those additional tools.
Our budget pick is amazing if you don't want to spend a small fortune, yet want something that lasts.
We warmly recommend our best pick if you want a premium pocket knife that performs optimally and looks beautiful.