Regardless of whether you are a home cook who cooks for pleasure or an experienced professional working in a restaurant, having a quality knife by your side is an essential kitchen gadget.
Understanding the importance and value of different types of knives makes all the difference in the kitchen.
When you have the proper and sharp enough knife, you will feel confident and safe when you are preparing a more challenging dish or trying out a new recipe.
How will a sharp knife keep you safe? By reducing the chance of injuring yourself, which is a more common occurrence when using dull knives or the wrong type of knife for the kitchen activity in question.
For example, instead of a bread knife, you are using a butcher knife to slice bread.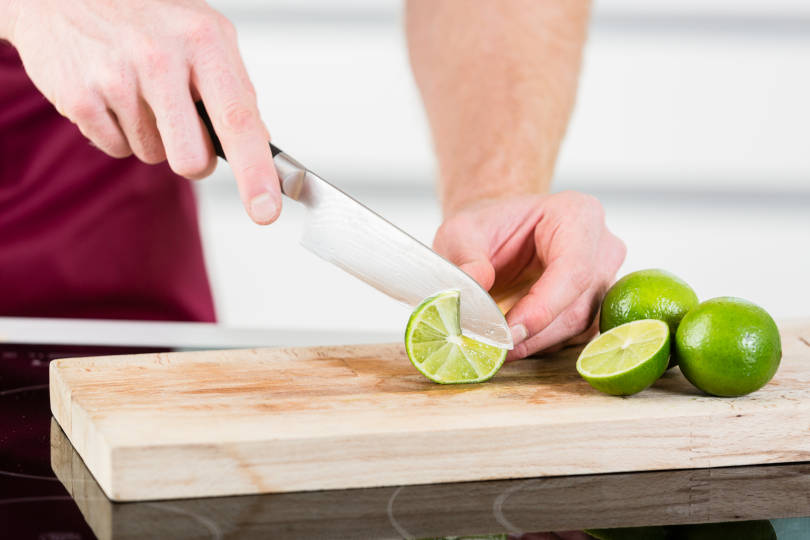 Before purchasing a knife, it is good to know what characteristics to look for so that you ensure an optimal experience in the kitchen.
Choose knives that are made from quality steel, either of Japanese or German origin because of their proven longevity.
The Japanese steel differs from the German one in being harder and thus, a bit more challenging to sharpen; however, it will maintain its sharpness longer.
On the other hand, German steel is quite softer and therefore, easily sharpened, but, it will not maintain its sharpness as long as Japanese steel.
Taking into account that having a collection of the right knives in the kitchen is a smart and long-term investment, this article will be focused on exploring the main characteristics of paring knives.
We'll share a list of paring knives for fruits and vegetables currently trending on Amazon and help you make an easier purchase according to your budget and preferences.
What Is a Paring Knife?
A paring knife is a small type of knife and a specialty one, i.e. it is used for particular tasks. Some chefs consider it to be the second most important knife after a chef's knife.
Why Do I Need Paring Knife for Fruits & Vegetables?
Paring is an activity of cutting away external surfaces or eliminating ends of fruits and veggies.
This small and delicate knife can be your best friend in tasks like pitting, zesting, peeling, and paring.
With the help of this knife, you can easily peel off the outer layers of fruits and veggies and further prepare and cut them.
Some of you may think that a peeler will do the job and therefore, you won't need this knife; however, imagine using it for tomatoes or oranges? Not a good option, right?
A paring knife gives you so many different opportunities, from removing fruit cores to hulling strawberries.
This is enabled thanks to its smaller size which boosts the control and the working on curves and odd shapes common in veggies and fruits.
With its pointy tip, you can also easily get rid of pits and pips and not lose the flesh.
How to Use a Paring Knife?
To get the most of your paring knife and to have an enjoyable experience, there are several things you should take into account.
Here are some of the best tips that will come in handy when working with a paring knife:
Don't use it on your cutting boards- use it in the hand; hold the knife in one hand and the food in the other
First, make an incision with the sharp edge and then slide the blade over the produce using the needed pressure to take out the skin only without damaging the interior flesh
Pierce the outer layer using the pointy tip of the blade
Forged (full-tang) vs. Stamped Blade Paring Knife
When reading and learning more about knives, including paring ones, you'll often see the property 'forged' or 'stamped'.
These refer to how the knives were made.
The former stands for knives with blades made from one piece of steel which has been heated and pounded into shape.
After this, the blade is heated once more, cooled down, and tempered. The end phase is polishing and sharpening.
The pros of forged blades are higher thickness, heavier construction, come with a bolster, and maybe better in quality. However, taking into account the numerous processes included in this knife's making, it's usually more expensive.
The latter is made in a machine- the blade is acquired from a piece of steel often with a hydraulic press and then treated with heat. The blanks are then ground, polished, and sharpened.
This blade has its advantages like lightweight, thinner blade, and less expensive. However, it's usually made without a bolster and it may be less strong than the forged one.
So, which one is the best choice for you? If you're into all the hype for forged knives, you surely think it's the only good solution. But, this is no longer the best-case scenario today, especially if we take into account how far technology has come.
This has resulted in high quality stamped blades that may be as durable and as strong as the forged ones.
Even though the reputation of the forged ones may be a decisive factor, this doesn't mean you shouldn't consider a paring knife with a stamped one too.
The Main Properties of Paring Knives
A typical knife for paring has a robust and short blade and its length may vary between 2 to 4 inches. The cutting edge may be curved or straight.
This is a light knife that easily fits in the hand and it is ideal for tasks requiring a smaller knife.
For example, cutting near the core of an avocado or a peach because the chance of cutting yourself is smaller than if you use a heavier and larger knife.
When it comes to the length of a paring knife's blade, they come in two different sizes, i.e. 3 to 4 inches or 2 to 3 inches.
Even though having the two sizes is great, if you want to go with one of the two, opt for a larger blade so that you can also use it on a cutting board (in addition to holding it aloft), remove fat from meat, and cut veggies.
Don't choose paring knives with overly rounded blades (opt for straighter blades) and with overly sharp tips because this will make hulling and coring more challenging.
Beneficial Uses of a Paring Knife
Having a quality paring knife by your side will ease so many different tasks in the kitchen and enable you to be precise, especially when it comes to the following ones:
Cutting the kernels off of cobs
Eliminating potato eyes without removing too much of its skin
Slicing cured sausages and cheeses
Removing membranes and seeds from the chili
Deveining shrimp and prawn
Scraping vanilla beans
Best Paring Knife for Fruits & Vegetables Review
1. Victorinox Black 4-Inch Swiss Paring Knife
Product Information
| | |
| --- | --- |
| Package Dimensions | 11.5 x 2.5 x 0.66 inches |
| Item Weight | 0.704 ounces |
| Manufacturer | Victorinox Swiss Army |
Highlighted Features
Lifetime warranty
Multipurpose knife
Ergonomic handle
Precise 4-inch blade
Serrated blade
This paring multipurpose knife will be your best friend in the kitchen.
From helping you mince and peel to ensuring you're dicing and slicing optimally, this knife is a great investment.
The ergonomic Swiss Classic black handle is inspired by the company's patented Fibrox Pro line. It has an amazing grip and ensures easy and comfy handling, even when your hands are wet or moist.
The 4-inch short blade enhances the precision and it's an ideal choice for situations when maximum control and precision is needed.
Its serrated edge will ease the slicing through delicate and soft-skin veggies and fruits, for example, kiwis or tomatoes.
It won't smash their interiors. The knife is made in Switzerland as of 1884 and is a great option for professionals and passionate home cooks.
2. Mercer Culinary Genesis Forged Paring Knife
Product Information
| | |
| --- | --- |
| Package Dimensions | B000IBVD0W |
| Item Weight | 3.17 ounces |
| Manufacturer | Mercer Tool Corp. |
| Price | $26.65 |
Highlighted Features
Full-tang balance
Santoprene quality handle
Comfy handle grip
High carbon stainless German steel
Prone to discoloration, rust & discoloration
This NSF-certified full tang paring knife offers superior balance and great stability.
This is achieved thanks to its Santoprene handle for an optimal and safe grip and its high carbon forged German steel blade.
The blade is rust-, corrosion-, and discoloration-prone. The tapered ground edge maximizes the stability while using it and eases the honing.
With this knife, you get long-lasting sharpness and high efficiency in cutting, mincing, chopping, slicing, and dicing.
You'll love this knife because the manufacturer offers a lifetime warranty! To preserve its quality and edge, wash it by hand.
3. Victorinox 3.25-Inch Paring Knife
Product Information
| | |
| --- | --- |
| Package Dimensions | 15 x 3.75 x 1 inches |
| Item Weight | 0.64 ounces |
| Manufacturer | Victorinox |
| Price | $10.98 |
Highlighted Features
Inexpensive
Great for produce with soft skin
Ergonomic & non-slippery handle
Dishwasher-safe
Lifetime warranty
Crafted in Switzerland in 1884 by the eminent company Victorinox, this knife with a serrated edge enables effortless slicing of produce with soft skin without smashing their meat.
The handle is amazing-it's ergonomic, non-slippery, and dishwasher-safe.
It is highly recommendable for professionals who use knives daily. Moreover, the company offers a lifetime warranty for material and workmanship defects.
This lightweight paring knife (only 0.64 oz.) comes with a black handle color which is sturdy, yet flexible and maneuverable.
It's a viable choice for cooks who need a go-to tool for precise tasks because it enables consistent and smooth cuts that will help you prepare nutritious and beautiful dishes.
But, since it is rather feathery, it may not be suitable for cutting through harder veggies such as carrots or artichokes.
4. J.A. Henckels Classic Paring 4-Inch Knife
Product Information
| | |
| --- | --- |
| Package Dimensions | 11 x 3.75 x 1 inches |
| Item Weight | 2.89 ounces |
| Manufacturer | J.A. Henckels International |
| Price | $27.14 |
Highlighted Features
Premium German stainless steel
Optimal durability
Long-lasting sharpness
Satin-finished blade
Versatile
This knife is created with high-quality German stainless steel and made in Spain. It's beaten into shape and ensures optimal durability and an easy transition from blade to handle.
Even though it's a bit pricier, the company does guarantee long-lasting sharpness and optimal cutting precision enabled by the satin-finished blade.
If you're looking for a highly balanced and comfortable paring knife, this one is an excellent choice. The ergonomic black handle comes with a classic triple-rivet design for optimal comfort and balance while holding the knife.
The 4-inch blade enables effortless peeling, shaping, and cutting of various fruits and vegetables.
Although the company says that the knife is safe for the dishwasher, they still recommend hand washing it.
5. Wusthof Classic High Carbon Steel Paring Knife
Product Information
| | |
| --- | --- |
| Package Dimensions | 3.54 x 0.51 x 0.51 inches |
| Item Weight | 2.08 ounces |
| Manufacturer | Wusthof |
| Price | $95.00 |
Highlighted Features
Full-tang
Hand-forged
High-carbon stainless steel
Maintains edge for a long time
Ergonomic handle
This full-tang knife is hand-forged by experienced craftsmen with new edge technology. So, it ensures each side is sharper by 14 degrees which further doubles the retention of sharpness.
The blade is high carbon stainless steel which maximizes the durability the sharpness. It's stain-resistant thanks to the chromium present in the steel.
You needn't worry about repeated use once the knife is sharpened- it will hold its edge for a long period of time.
Since this steel is prone to rust, it's advisable to scour it occasionally with stainless steel pads to keep it clean and shiny.
The ergonomic triple-rivet handle ensures ideal balance and confidence in the user during all tasks.
6. Kuhn Rikon Colori Set of Three Paring Knives
Product Information
| | |
| --- | --- |
| Package Dimensions | 11 x 6.75 x 0.5 inches |
| Item Weight | 6.4 ounces |
| Manufacturer | Kuhn Rikon |
| Price | $29.07 |
Highlighted Features
Set of 3 knives
Non-stick Japanese stainless steel blades
Durable
Comes with protective sheaths
This beautiful set comes with yellow, red, and blue 4-inch paring knives and matching sheaths for optimal protection.
If you're not into classic black or gray knife models, this colorful and vibrant set is ideal for you.
But, do not be fooled by their playfulness- these are powerful paring knives with top performance, no matter if you're in need of some thin cheese slices or finely-chopped veggies.
The blade is non-stick Japanese stainless steel that provides high sharpness and durability. Being non-sticky, the food won't remain on it but slowly release from it as you cut.
This set is a great option for camping or other adventures because of the convenient sheaths that keep you safe. These three paring knives are versatile, safe, and fun to use.
7. Zelite Infinity Alpha Royal Series Paring Knife
Product Information
| | |
| --- | --- |
| Package Dimensions | 7.87 x 0.63 x 0.49 inches |
| Item Weight | 2 ounces |
| Manufacturer | Zelite Infinity |
| Price | $49.99 |
Highlighted Features
Excellent edge retention
Resistant to corrosion and stain
Visually stunning
Full-tang construction
This knife boasts superb edge retention and it's resistant to stain and corrosion. The 4-inch one is visually stunning, offers top performance, and ensures minimal slicing resistance.
Moreover, it has a modern design and its full tang construction optimizes its balance and longevity. It's constructed of premium Japanese materials.
Even though you may not be a professional chef, this knife will make you feel like one.
The ergonomic and triple-rivet rounded handle is impact-, moisture-, and heat-resistant and durable and robust.
For optimal user experience, the company offers a 100 percent satisfaction or money-back guarantee and a lifetime warranty for manufacturing defects.
You can use it for skinning, trimming, mincing, shaping, and peeling various fruits and vegetables for yummy meals.
8. Rada Cutlery Everyday Paring Knife
Product Information
| | |
| --- | --- |
| Package Dimensions | 9.38 x 2.13 x 0.44 inches |
| Item Weight | 1.5 ounces |
| Manufacturer | Rada Cutlery |
| Price | $12.35 |
Highlighted Features
Multipurpose
High-carbon stainless steel blade
Razor-sharp edge
Finger guard
Comfy & durable black resin stainless steel handle
This paring knife has the ideal size for a variety of cutting tasks.
It's a knife that's a blend of precision and comfort. The blade is amazing- hand-sharpened from surgical grade T420 high-carbon stainless steel. The edge is razor-sharp.
The hollow ground blade optimizes the sharpening whereas the finger guards will keep your fingers safe.
The handle is dishwasher-safe; however, hand washing is recommendable. It's made of black stainless steel resin. It's made with the right thickness for easy comfort and maneuvering.
With this product, you can shop without a worry on your mind- the company offers a lifetime guarantee for this paring knife and offers replacement options.
9. Dalstrong Gladiator Series Paring Knife
Product Information
| | |
| --- | --- |
| Package Dimensions | 3.54 x 0.08 x 0.94 inches |
| Item Weight | 3.7 ounces |
| Manufacturer | Dalstrong Inc. |
| Price | Price not available |
Highlighted Features
Impressive design
Pakkawood handle
Triple-riveted
Flexible & durable
Minimal slicing resistance
This paring knife is a blend of great craftsmanship, premium tech, impressive design, and excellent materials.
The knife is amazingly sharp and boasts a full-tang construction. The blade is made with high-carbon German stainless steel and its edge is hand polished.
The knife's precisely tempered and it's resistant to stains. The knife has won awards for its design. It feels amazing in the hands, even after prolonged usage.
This is achieved thanks to the luxurious black Pakkawood handle which is triple-riveted and ensures comfy maneuvers at all times.
It's also been laminated and polished to boost its sanitary properties. Flexible, hard, and with minimal resistance during slicing, this is a knife that's the no.1 of thousands of professional chefs and avid home cooks.
Last but not least, they offer a money-back guarantee if you're not 100 percent satisfied with the product.
10. Global 3.5-Inch Paring Knife
Product Information
| | |
| --- | --- |
| Package Dimensions | 9 x 6 x 3 inches |
| Item Weight | 4.2 ounces |
| Manufacturer | Yoshikin |
| Price | $47.47 |
Highlighted Features
Unique dimple pattern handle
Ideally balanced
Versatile
Razor-sharp edge
This paring knife has a beautiful ergonomic handle with a unique dimple pattern for maximum comfort and non-slippery maneuvering.
It's a great choice for your peeling, coring, and peeling kitchen tasks. Thanks to the hollow handle filled with sand, the knife is perfectly balanced and ensures a great slicing experience.
Even when your hands are wet (which is a common situation in the kitchen), the indentations ensure your knife stays in place and doesn't slip.
Although it's on the high end in terms of price, it can be an awesome long-term investment. It's made to last and to perform optimally with each use. With proper care, it can last for a lifetime. The blade is super sharp and will keep its edge for long. Customers love it mostly for its lightweight and great value for money.
Final Thoughts
With certainty, you won't make a mistake choosing any of our top paring knives for fruits and vegetables.
Paring knives aren't just recommendable for professional cooks who spent a lot of hours in the kitchen, but for home cooks who want to have a trusty knife by their side too.
Paring knives can be your to-go knives, knives that you'll use to slice, chop, mince, dice, etc. without any worries about getting poor food quality or injuring yourself.
These knives feature amazing razor-sharp blades and comfy handles that protect you and ensure you feel comfy during the maneuvers.
They're all highly praised by customers and made by companies that have long been a part of the knife industry.
If you can spend more on a paring knife and if you want a stunning design, you'll love our best pick.
If you don't want to spend much, yet still want a quality paring knife, our budget pick can be a great solution for you!
* Affiliate links/Images/Price from Amazon Product Advertising API