For cooking enthusiasts, nothing is more vital than a complete kitchen knife set. Whether you're preparing daily meals or snacks or a BBQ roast, you need the right knives to get the job done quickly and neatly.
A professional knife set can make food preparation work easier and safer while improving the taste of homemade dishes.
Though you can easily invest hundreds of dollars on one single kitchen knife, there are also several impressive budget-friendly knives set out there that will be a good partner for your kitchen.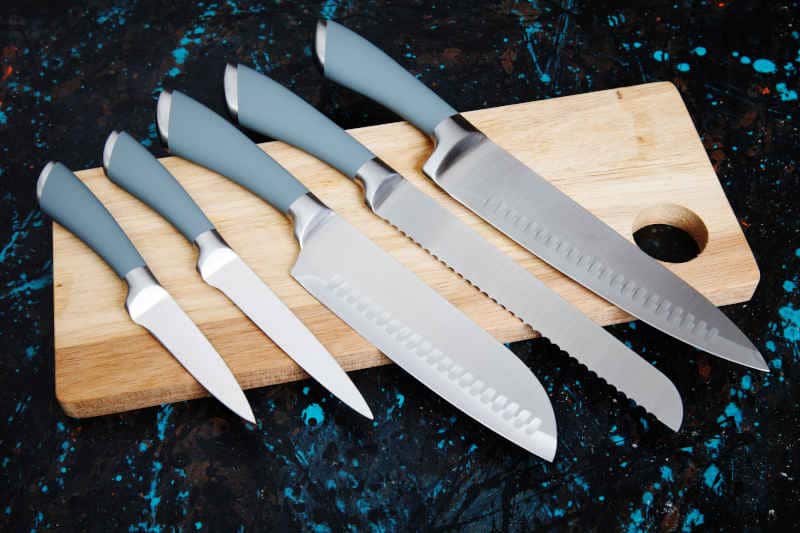 We list some budget-friendly knives set, Hope they can let your kitchen life better and more enjoyable. Let's see the details first.
Best Budget Kitchen Knife Sets at a Glance
1. Best Value for Money: Letcase 10 Pieces Professional Kitchen Knives Set ($168)
2. Best Unique Color: 8 Pieces Blue Resin Handle Knife Set ($176)
3. Best Women Only: 6 Pieces Black Knife Set with Block ($97.99)
4. Best with Block Choice: 6 Pieces Kitchen Knife Set with Holder ($129)
5. Best Pro's Choice: 6 Pieces Damascus Kitchen Knife Set ($299)
6. Best for Apprentice: 9 Pieces Professional Chef Knife Set with Carrying Case ($89)
7. Best Damascus Pattern: 4 Pieces Damascus Japanese Knife Set ($259)
Best Budget Kitchen Knife Set Reviews
ThisLetcase 10 Pieces Professional Kitchen Knives Set includes an 8-inch Chef knife, 8-inch Kiritsuke knife, 8-inch Slicing knife,8 inch Bread knife, 7-inch Santoku knife, 7-inch Nakiri knife,6 inch Boning Knife, 5-inch Utility Knife, 5-inch Santoku knife, 3.5-inch Paring knife, and 10 pieces knife edge guards.
Over 4,000 reviewers were impressed with the quality and price of this10-piece kitchen knife set from Letcase. They appreciate its complete knife types and affordable price.
One reviewer said, "I bought it as a housewarming gift for my younger brother, he absolutely loves it." Another reviewer commented that this knife set is well-made with a sharp blade and didn't rust with proper care.
And some reviewers said, "It set of knives looks beautiful on my counter and then it can cut through everything I've used them on so far effortlessly."
All knives are made of high-carbon stainless steel, the sharpness is guaranteed. It is a precision-stamped knife, going through the ice-hardened process to strengthen strength and edge retention. The color wood handle has been fine sanded for comfortable grip.
Pros:
Includes 10 types of the knife to meet any cutting tasks in your kitchen
Affordable price
Well-balanced
Cons:
Some people don't like so many knives
You'd better hand wash it to avoid wood handle discoloration
This Blue resin handle knife set contains an 8-inch Chef knife, 8-inch Slicing knife,8 inch Bread knife, 7-inch Santoku knife, 7-inch Nakiri knife,6 inch Boning Knife, 5-inch Santoku knife, 3.5-inch Paring knife.
This 8-pcs chef knife set is favored by people due to its sleek design, unique blue color."This set is amazing, they are sharp, well-balanced, and the handle is sturdy enough to offer complete control while I cut vegetables or meats" said one reviewer. Another says " I really love its blue resin handle, so special and looks very beautiful when I display it on the counter.
These knives are full-tang knives, easy to hold and control, fit your hands well. They are right out of the box, sharp enough to slice ripe tomatoes rather than squishing them while they can cut a whole chicken into quarters.
The knife handle is made of resin, specially processed to feel smooth in your grip. While it adds a visually elegant factor to the knife.
Pros
Great starter set
Comfortable to hold and easy to control
Sharp
Stylish design
Cons:
No steak knife
No knife block
This black knife set contains a 7″ meat cleaver,7″ Nakiri Knife, 7″ chef knife,5″ utility knife, a scissor, a knife holder.
The black shadow knife features new technology-Titanium Nitride non-reflective coating, which improves robustness, corrosion resistance and enhances non-stick properties of the knife blade. What's more, it never rusts with its coating on the blade.
The lightweight body makes it suitable for women. Unforgettable design, sophistication, and features, sure to get the job done well in the kitchen.
Pros:
Food doesn't stick
Rust-resistant
Lightweight
Includes meat cleaver and scissors
Comes with a knife block to save space
Cons:
Hand-wash only to avoid damaging coating
This kitchen knife set with holder includes an 8″ chef knife, 7″ Santoku knife, 8″ bread knife, 6″ boning knife, 3.5″ paring knife, knife holder. It's a basic configuration package,including 5 must-have kitchen knives in the kitchen.
The quality and craftsmanship of this knife are the same as the first 10 pieces professional kitchen knife set, the difference is in its numbers of knives.
If you don't like owning so many knives, you can choose this simple set to meet your daily need, what's more, you don't need to spend extra money on the extra knives that you won't use in the future.
Pros:
Full Tang
Very sharp right out of the box
Includes a knife block to save space
Includes 5 must-have kitchen knives
Cost-effective
Cons:
No steak knife
Requires sharpening
This Letcase Damascus kitchen knife set contains 6 pieces of the kitchen knife, is an 8″ chef knife, 7″ cleaver knife,7″ Santoku knife,6″ boning knife,5″ utility knife,3.5″ paring knife.
This Damascus chef knife set, as one reviewer writes, is the most professional and quality kitchen knives, they are super-sharp and can hold their edge longer, and they are extremely durable."
Another reviewer praised that "I was looking for forged high-quality knives, they are. These knives are well-balanced and razor-sharp, and the handles are ergonomically designed for comfort to reduce fatigue when you do plenty of prep-cutting work."
One of the newly emerging Japanese knife brands, Letcase Damascus knives are definitely high quality. They are forged of Damascus steel-layered steel, resulting in a beautiful wavy pattern on the blades and also gives blade durability and keeps the blade sharp.
The blades are highly polished to release the food items such as carrots and potatoes off the blade easily.
Pros:
Super-sharp blade
Attractive Damascus layered steel
Long edge retention
Complete professional knives set
Full Tang
Forged not stamped
ergonomic triple-rivet G10 handles
Well-balanced
Cons
Expensive
No serrated knife included
If you are looking for a more portable knife set than a knife holder, this professional chef knife set with a carrying case could be your choice. If you are learning cooking in a training school, you'll be impressed by how much this roll set holds and how portable it is.
This set comes with a knife bag, with individual pockets for protecting each knife. You can keep knives organized in the bag after each use while saving space because you can throw them over to a drawer or other place. The price of this set is also friendly and affordable.
Pros:
Good selection of knives for apprentice
Lightweight
Portable and avoid kitchen mess
Affordable
Cons:
While $259 may not sound like a reduced-cost choice in the strictest sense, when it comes to 4 pieces Damascus Japanese knife set, it certainly is.
This chef knife set is hand-forged high-end kitchen knives, crafted out of 67 layers of superior Damascus steel-VG10 steel. You can notice the unique Damascus pattern on the blade and its blue handle, they add aesthetic to your kitchen.
The hardness is up to 62HRC, thus it is super-sharp for cutting everything.
Pros:
Made of VG10 steel
Beautifully fishbone Damascus pattern
Durable G10 handle
Super-sharp
Stylish
Cons:
Final Thought
Whether you are a pro chef or an amateur chef, owning the right knife set will make the difference in how much you enjoy cooking.
We hope you liked this article and can find the right knife set for yourself. We wish you and your new knife set all the best.