Even though it's not the favorite task of chefs, with the right tools in your hand, shrimp preparation can be effortless and not overly consuming.
Although you may love eating shrimp, their preparation can be complex. There's the peeling, deveining, and butterflying. Then, there's the cooking.
All of these additional steps may set you back from having them for lunch or dinner.
Luckily for shrimp lovers, there's a beneficial tool to help you make the task easier.
This tool is a shrimp deveiner- an exceptional gadget that helps you peel, devein, and butterfly shrimp in one stroke.
The best shrimp deveiner tool creates beautiful shrimp in several seconds. After you try it out, believe us, you'll never go back to traditional shrimp preparation with a paring knife!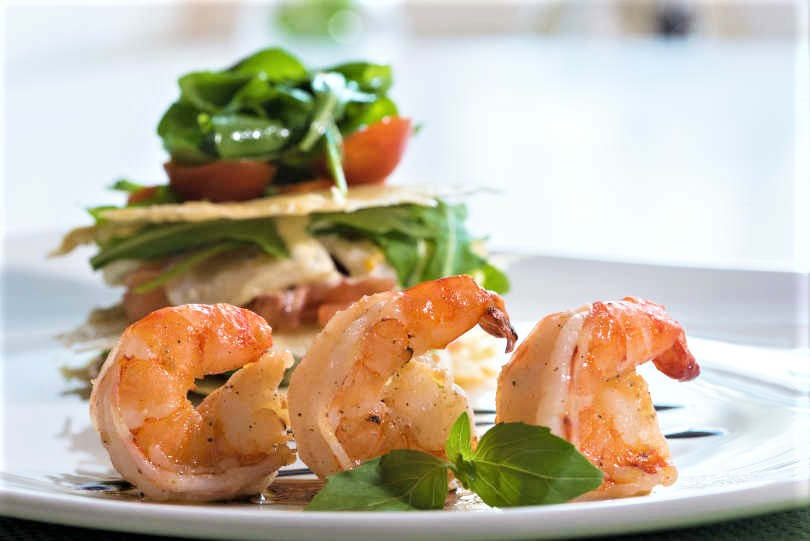 This tool won't just help you excel in its pre and improve its taste, but it will also save you precious time and effort.
Nonetheless, with a variety of shrimp deveiners available on the market, you can easily get confused about which one to pick. But, don't allow this to prevent you from reaping its benefits!
Check out our review below and learn more about our favorite and currently most loved-by-customers shrimp deveiners.
Also, we'll be sharing some essentials about this practical tool that all users should know.
Stay tuned!
What is a Shrimp Deveiner?
Who doesn't love eating shrimp, right? They say that it's the fruit of the sea; however, peeling and deveining them is a demanding chore, especially when you're prepping a larger amount.
Although you can purchase shelled and deveined shrimp, their price is higher than that of frozen shrimp.
But, you needn't waste too much of your energy and time to prepare shrimp and other seafood. In fact, when you have the proper gadget in your hands, it will all become much easier.
You'll save up on money and enjoy tastier shrimp- great, right?
Shrimp shelling and deveining don't need to be difficult if you have the best shrimp deveiner tool. These tools are designed to divide the shell and remove the veins in a stroke or two.
Therefore, they're a quite smart investment, particularly for people who love prepping shrimp and for restaurants where shrimp is mostly prepared in larger amounts.
How to Peel Shrimp?
When you're buying shrimp with the shell on, you save up a lot, unlike when you go with pre-peeled options.
If you've purchased frozen shrimp, before you peel, devein, and cook them, it's pivotal to defrost them the night before.
Place them in a colander and a bowl underneath in the fridge and leave them overnight.
The shells and heads don't need to be thrown away- you can use them to prepare delicious shrimp stock or shrimp bisque. They will deepen the flavor of paella and seafood gumbo too!
To peel shrimp, first, you need to pull or cut off the head and the legs. Then, slide your thumb or your tool under the shell from the bottom and pull it off.
If you're making appetizers like coconut shrimp, keep the tail. For other meals, pull it off.
How to Devein Shrimp?
Did you know that peeling and cleaning shrimp prior to cooking it makes it tastier and improves its presentation?
When you have raw shrimp and you want to peel it, you need the right tool in your hands and begin underneath where the shrimp's legs are attached.
You start by making a shallow cut down the middle of its back and expose the black intestine. If you want to butterfly it, deepen the cut!
Then, you lift out the vein with the point of the tool you're using and wipe it off on a paper or rinse the tool underwater.
Is Deveining Obligatory?
Deveining your shrimp isn't obligatory and when you're lacking time, it's okay to skip this step. This is not a health concern, but it does have some disadvantages.
Namely, the vein we're talking about is the digestive tract of the shrimp- so, anything that it's in this vein is mostly digested food or fecal matter.
Therefore, it can change the taste of the shrimp and the waste from the vein may cause the shrimp to feel grainy white eating it.
Which One is Better: Fresh or Frozen Shrimp?
Most of the shrimp you buy was frozen before it actually left the boat.
Therefore, when you see writings like 'fresh unfrozen shrimp', it means that it's already been thawed for the presentation.
With this in mind, a safer move is to purchase frozen shrimp and to thaw it yourself.
Further on, if you have the chance to choose a frozen block of shrimp or individually frozen shrimp, go for the latter as it allows you to thaw solely the needed amount for the recipe you're making.
They're also aesthetically more pleasing when they're individually separated rather than in a block.
If you do buy fresh and non-frozen shrimp, use the sniff test to check out their quality. Shrimp tends to go bad fast and if it's gone bad, it will release an odd smell.
A shrimp is also past its prime if they're slimmer than the firm.
What to know before Deciding on a Shrimp Deveiner?
Prior to choosing a shrimp deveiner tool, make sure you've taken into account some important criteria.
When you know the factors that play vital roles, your shopping will be much easier and you'll make a good investment.
Below, we've shown several things you should know before choosing the shrimp tool for you.
Material
Sometimes, shrimp tackling requires exerting force.
Knowing this, you should go for sturdy and quality materials.
Avoid plastic ones as although this may be quality plastic, as time goes by, they will eventually crack or diminish in performance.
This may be particularly the case with the models that are entirely made of plastic.
Instead, choose blades from stainless steel. The handle can be one from quality plastic, preferably, one that doesn't slip.
Choose a handle that's ergonomic and comfortable so you feel well even if you've been tacking with a pile of shrimp.
Type
Shrimp knives and knife-like gadgets
Shrimp knives and shrimp deveining tools that are similar to the knives in terms of design usually feature a specialized curve and serrated sections that enhance the penetration into the shell.
However, unlike scissors for seafood that are easier to control, these knives and tools require more skills and better balancing deliver the best results and prevent food wastage and possible injuries.
They may be a more suitable variant for people with some experience in seafood preparation; however, inexperienced users can quickly learn the procedure by someone explaining it to them or watching an instructional video.
Shrimp scissors
Scissors for seafood are similar to the knives in terms of the blade, which is also usually curvy and indented.
However, seafood scissors offer more control because of the two sections where you put in your fingers.
Consequently, the maneuvering may be more precise and you'll feel more secure while using them.
They may be a good choice for beginners in seafood prep, but professionals too.
Price
Price is one of the most important aspects we need to consider when buying a shrimp deveiner.
Just because some tool boasts a high price and the manufacturer claims it can do the impossible, be careful- a high price isn't necessarily an indicator of quality.
Rather, learn other essential factors about the product you want to buy- check out the company, find the materials they used, and last but not least, read reviews from customers.
Sometimes, a shrimp deveiner may be available in less than $10, yet boast excellent performance and great materials.
In a different scenario, there may be a deveiner that's quite pricey, yet it won't be the best shrimp deveiner tool for you.
The 10 Best Shrimp Deveiners on Amazon
1. Toadfish Shrimp Deveiner Tool
Highlighted Features
Eco-friendly
Quality stainless steel
3-in-1 tool
Full-tang
Made from responsibly-sourced materials
With this shrimp deveiner, shrimp pre will become your favorite task. It's the ideal choice for professional chefs, but for the home cooks too.
You don't need a knife to tackle shrimp if you have it by your side- it helps you peel, devein, and butterfly shrimp in one single and smooth movement.
The design is beautiful and it's definitely a multifunctional tool that always delivers. The blade has a patented tip and it's constructed of premium stainless steel.
Thanks to the full tang construction, the tool is durable and sturdy. Its handle is ergonomically-designed and an eco-friendly choice. It's made from recycled plastic.
The company is dedicated to responsible material sourcing and use recycled materials whenever and wherever possible.
Plus, when you're shopping from this company, you're giving back- for every product they sell, they plant 10 square feet of habitat for oyster relief.
2. Nopro Shrimp Deveiner & Peeler
Highlighted Features
Inexpensive
Ergonomic handles
Curvy blades for easy penetration
Suitable for shrimp, prawn & lobster
Faster than knives
This affordable, scissors-like deveiner will help you deal with shrimp and prawns in only a couple of easy moves.
The scissors cut right through the shells effortlessly thanks to the quality stainless steel blade used for their construction.
The handles have sufficient space for your fingers to feel comfortable while maneuvering and won't cause any pressure.
Their arch fits inside shrimp, whether large, medium or small and it splays open the meat. You then can successfully pluck out the whole vein using one tug.
Scissors for seafood are also much faster than knives-therefore, you save up on time and can speed up the process, especially if you need to prep a bunch of shrimp or other seafood with shells.
3. Lamson Shrimp Walnut Deveiner
Highlighted Features
Walnut & riveted handle
Curvy blade
Tip 'teeth' which grab the veins
Stainless steel blade
With this amazing deveiner knife, you will be able to shell and devein shrimp in a stroke or two.
This is enabled by the 3-inch curvy blade which follows the shrimp's contours whereas the teeth on its tip will perfectly grab the vein.
The blade is sturdy and durable- it's hardened and tempered with high-carbon stainless steel.
We appreciate the riveted handles which are exceptionally hard. The natural color may differ from handle to handle, but it's always a beautiful nuance.
To preserve its quality and prolong its lifespan, make sure you hand wash it and dry it before storing it. When the wood appears dry and faded, just treat it with mineral oil and it will be like new!
Indeed, Lamson's designs are diverse and always stylish, high-performing, and innovative. They're one of the oldest cutlery manufacturers in the US and offer some of the finest cutlery.
4. CuteHom's Shrimp Deveiner Set
Highlighted Features
Set of 2 shears and 1shell cracker
Quality stainless steel
Curvy blade
Minimizes food wastage
Multifunctional tools
This seafood cleaning set comes with two scissors and a shell cracker. It's the ideal option for crabs, shrimp, and lobsters.
This seafood kit is simple to use and it's amazingly comfortable. It allows you to get the most meat from your seafood without making an additional mess.
Made from durable stainless steel, it can last for a long time with proper care. Plus, it's dishwasher safe.
The tip of the shears is curvy to ensure maximum maneuvering and effortless deveining. The shell cracker is comfy to hold and potent enough to crack shells not just of seafood, but of nuts, pecans, walnuts, etc. too.
To use the shears with shrimp, just snip through the shell along the top to open it up and pull off the shell.
5. Good Cook Shrimp Deveiner
Highlighted Features
Lightweight
Cleans, deveins, and removes shells
Dishwasher-safe
Curvy shape
Comfy to hold
With this shrimp tool in your drawer, shrimp preparation will be much easier and faster. This is a multifunctional gadget that will clean, devein, and remove shells all at once.
It's dishwasher safe and features a curvy pencil-like shape and a beautiful red color. Since it has an ergonomic design, it's very easy to hold and safely tackle seafood.
It's an excellent value for money and it's described by most customers as 'easy to use' and 'sturdy'.
Peeled and deveined shrimp can be quite pricey, so a lot of people purchase frozen shrimp and prepare it on their own.
But, this isn't the easiest task in the kitchen, and using knives can be messy and risky, particularly for inexperienced cooks.
6. Better Houseware Shrimp Deveiner & Sheller
Highlighted Features
Stainless steel blade
Lightweight
Thumb indentation
Non-slippery handle
This shrimp deveiner is simple to use and time-saving. In one move, it will shell and devein all of your shrimp.
The 4-inch rigid blade made from premium stainless steel features the ideal length for shrimp of all sizes.
The curvy blade and its upper indentation are specifically designed to ensure shrimp gets shelled and deveined with minimal human effort.
While you hold it, you won't feel any pressure or discomfort in your hands- the quality plastic used for its construction guarantees this. There's a thumb indentation on the upper part of the handle to ensure maximum comfort, which we love!
Lightweight, affordable, and loved by customers, this is an awesome seafood tool that both professional and home cooks need!
7. Shrimp Deveiner Shrimp Tool Set
Highlighted Features
Low cost
Made of food-safe & sturdy plastic
Secure grip
Great for beginners
Dishwasher-safe
For less than 10 dollars, you get two extraordinary shrimp deveiner tools. They simplify cleaning and deveining shrimp and help you speed up the prep.
Both are made with food-safe plastics and are strong and durable. The handle allows you to enjoy a steady and secure grip at all times, even when your hands are wet.
You can clean shrimp within seconds- you just slip the tool's tapered end under the shell and push it along its back and then put it upward to eliminate the shell and the vein.
If you don't have time to wash it by hand, no worries- it's top-rack dishwasher safe.
We love it because it's so simple to use and suitable for beginners, but also for being a great value for money.
8. Nantucket Seafood Shrimp Deveiner
Highlighted Features
Made from premium aluminum
One-piece
Great sturdiness
Sharpened tip for easy penetration
This sleek and lightweight shrimp deveiner tool is made from aluminum and eases the splitting of shells and deveining of shrimp.
Being a one-piece tool, there's a low risk of it to break. Its surface is easy to clean and it's recommendable to wash it by hand to preserve its optimal quality.
Plus, it's so simple to use- you just insert the bottom between the meat and the shell and push forward. The tip will divide the shell and devein in one move.
With this tool in your hands, you'll have more time to focus on the shrimp recipe, rather than to spend too much of it on cracking and deveining it.
It's inexpensive, sturdy, and multifunctional which is definitely worth your attention.
9. Eleductmon Shrimp Deveiner Tool
Highlighted Features
Made with premium stainless steel
Flexible rotation
Dishwasher safe
Ergonomic design
Suitable for raw and cooked shrimp
This great seafood deveiner is constructed of 304-stainless steel which makes it durable and prone to rust.
Thanks to its easy-to-grip handles and ergonomic design, it's the ideal choice to save time on shrimp peeling and deveining.
The rivet connection allows for a flexible rotation and the tool is compact enough to fit in regular drawers. If you want to wash it in the dishwasher, make sure you place it on the top rack.
The polishing process during manufacturing makes the tool shiny and easy to clean.
To use it with shrimp, hold the handle and insert the tip into the body slowly from the top to the tail. Then, press the handle and divide the shell from the meat.
We're in love with this deveiner because it can be used with both raw and cooked shrimp.
10. OXO Good Grips Shrimp Cleaner
Highlighted Features
Made from sturdy plastics
Rubbery handle
Non-slippery handle
Lightweight
Perfect for small & medium shrimp
This black classic shrimp deveiner looks and feels slick. It's the best assistant for shell splitting and deveining that will fit in any drawer or in your bag when you're on a camping trip or having a get-together in nature.
The sturdy and quality plastic ensures the deveiner performs optimally.
Thanks to its soft handle cushions, your hand will feel comfy and in control. Plus, it won't slip or fall off even if your hands are wet.
Being dishwasher safe, it definitely eases the maintenance and cleaning process. To use it, just insert the ridged top into the end of the shrimp to divide it and devein it.
This shrimp deveining gadget is lightweight, easy to use and leaves shells in one piece.
Whether you have some medium or small shrimps to prepare, this tool is a great choice- it's an awesome and cost-friendly option sold by a reputable company.
Final Thoughts
Indeed, shrimp is a delicious and versatile ingredient for lunches, main courses, and appetizers.
Therefore, in addition to learning more about its anatomy, it's also beneficial to learn about the best tools for its preparation.
If you're more inclined towards deveining your shrimp, it may be a good decision to invest in a shrimp tool.
Very often, these tools are multifunctional- they help you crack, peel, and devein shrimp, but lobster and prawn too.
Luckily with shrimp tools, there are a lot of different models, materials, and prices to choose from.
If you're a newbie in the world of shrimp preparation, we warmly recommend the shrimp scissors that are easier to maneuver and require less experience on your side to achieve good results.
On the other hand, shrimp knives and knife-like contemporary tools are ideal for those with a bit more experience.
But, don't get immediately disappointed if you want to use them but you're lacking experience- with several tries and a couple of YouTube tutorials, you'll quickly get the gist of it.