These days, electric knives have become an essential part of kitchen cutlery.
Thanks to their versatility, speed, and efficiency, they are the preferred choice for many professional and home cooks.
Whether we use it to slice and chop veggies and fruits, prepare fish or easily carve and cut different types of meat, an electric knife is there to help us. And, they do most of the job for us, we just need to maneuver them in the right way, and voila- the food is READY!
Users particularly appreciate the option to choose a knife that runs on batteries or a corded one.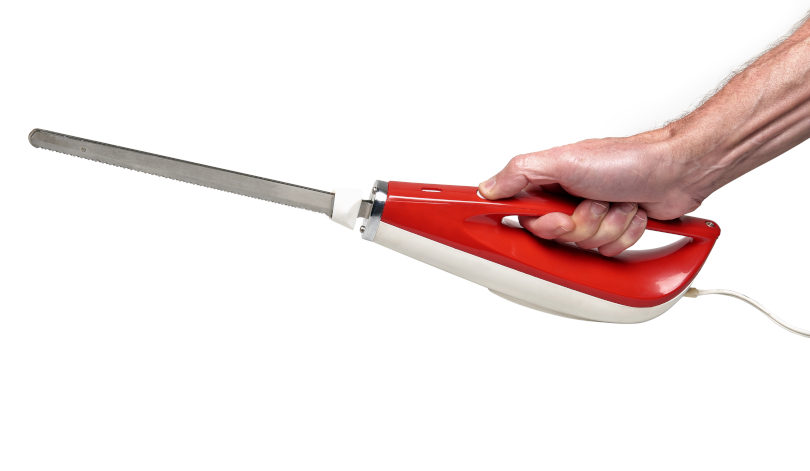 However, because of the numerous options available today, people considering the best electric knife may easily become overwhelmed.
So, how to know which electric knife is a suitable choice for us?
If you like the idea of having a convenient knife that delivers every time, check out our 10 top suggestions below.
Happy Slicing!
Our Top 10 Picks
Affiliate links / Images from Amazon Product Advertising API
Should I Invest in an Electric Knife?
If you prefer easy-to-use and efficient knives that can help you save up a lot of time, an electric knife is a good option for you.
It requires no prior usage training or experience to produce amazing carving, slicing, and filleting results.
The best electric knives today have a sophisticated design and an affordable price. Their handiness and versatility is warmly welcomed in today's world of busy kitchens, do not you agree?
With the continuous development of technology, these knives are being improved with each passing year.
And it is not just cooks who are using it, but avid fisherman too. They often rely on fillet electric knives to peel and slice fish and to produce beautiful cuts.
According to Rob Verger from Popular Science, the two best advantages of electric knives are the zero waste and clean cuts.
If you are not sure about all the ways in which you can use an electric knife, find out in the list below:
Carving meat like turkey and poultry
Filleting fish
Slicing soft bread
Chopping and cutting veggies and fruits
Advantages of an Electric Knife over a Traditional One?
An electric knife is a smart and long-term cutlery investment.
Its most preferred advantage is the low human force needed for the cutting process; namely, the blades are doing the slicing for you. You are only "in charge" of the movements.
Moreover, this knife will definitely speed things up, believe us!
On average, it may take around 10 minutes to carve a turkey with a traditional knife; however, with the speed of electric knife blades, you just need a minute or two.
Last but not least, uneven meat slices and torn meat will be part of the past once you begin using an electric knife, it cuts the perfect slice of meat or fruit with every use.
Factors I Should Take into Account before Deciding?
The type of electric knife
There are 2 types of electric knives, i.e. with a cord and without a cord.
The one without a cord works with batteries and it's beneficial when you need to use it at the dining table or at outdoor parties and camping.
The cord ones need an electrical outlet; still, they do allow you to cut through bigger amounts of meat without worrying about the battery power diminishing.
The type of handle
For the best cutting experience, a knife has to have comfy handles. It's always best to look for the model that will allow you to stay comfortable with regular use.
A handle of an electric knife should give you the chance to make easy maneuvers and be in full control of the knife.
The models with cords tend to be a bit bulky; whereas the cordless ones are better in terms of accessibility.
The type of blade
Most of the electric knives available have serrated and stainless steel blades which offer sturdiness and strength.
And, most of them are removable-making them easy for maintenance. The ideal length is somewhere between 8 and 9 inches for the optimal cutting to be achieved.
The even longer ones can be of aid for larger meat and bone chunks.
The length of the cord
If you do decide to invest in a cord model, make sure you check out the flexibility and length of the cord.
Opt for a one that's neither too short to diminish your cutting or too long that it will impede it.
The more stretchable the cord is, the better. It should be a cord that you needn't pull or remove constantly from the outlet to the carving area in the kitchen.
The longevity of the battery
If you choose a cordless model, you need to check out the battery life. If possible, go with rechargeable ones as they'll help you save in the long run.
The motor
For both cord and cordless models, it's wise to check out the motor specs- choose ones that have at least 100 W that will enable easy penetration through meat, even harder one.
How to Keep My Electric Knife Clean & Safe?
Without doubt, proper maintenance and storage are vital for ensuring that the electric knife you have purchased serves you for a long period of time.
But, a lot of users are often confused about how to store their electric knives and how to maintain their cleanliness.
Here are several tips that you should follow if you want to ensure your electric knife works optimally:
unplug its cord or remove its batteries when you want to clean the removable blades
clean the blades by hand with warm water and soap
dry the blades well prior to placing them in their protective cover
clean other parts of the knife, as well as the cord, with a damp cloth (dry well before using)
Best Electric Knife Reviews
1. Cuisinart Cek-40 Electric Knife
Affiliate links / Images from Amazon Product Advertising API
Highlighted Features
Not overly expensive
BPA-free
Made from premium stainless steel
Has 2 different blades (for bread & for carving)
Ergonomic
This top electric knife is efficient and aesthetically pleasing. Its blade is BPA-free and made from quality stainless steel.
With it, you receive two different blades, i.e. one for bread and one for carving, as well as a wooden holding tray that takes up minimal space on your counter and fits in perfectly.
The ergonomically-designed and classic black blade will fit in your hand right away and prevent fatigue. The knife is very simple to use- you just need to press the on/off switch.
Its potent motor will help you "tackle" a large turkey for Thanksgiving or speed up breakfast preparation when you need to slice dozen of bread slices for your little ones.
The 4-foot cord optimizes the flexibility and the safety button is a well-thought out addition.
2. Black & Decker Electric Knife
Affiliate links / Images from Amazon Product Advertising API
Highlighted Features
Versatile (food & craft projects)
Adjustable design
Easy to clean
Safety first
Lightweight
This knife guarantees an enjoyable experience every time you use it for slicing meat or some veggies and fruits. You can also use it for craft projects, for example, cut foam with it!
The 9-inch stainless steel blades securely go back into their place when you turn it off.
The adjustable design makes it a great fit in both smaller and bigger hands and minimizes wrist or finger fatigue.
And, no worries about the cleaning- just click the button for the release of the blades and clean and dry them and put them back on- the knife is ready for your next task!
Thanks to the locking feature, you will be always safe around this knife. Lightweight and a feel-good knife, it makes a good cutlery addition.
3. Rapala Heavy Duty Electric Knife
Affiliate links / Images from Amazon Product Advertising API
Highlighted Features
Favorite among professionals
Makes filleting effortless
Versatile
Optimal cord flexibility
1-year warranty
This electric knife will make filleting of even the toughest of fish smooth and "painless".
The favorite option of many experienced cooks, it's not just great for slicing through fish, but beef, chicken or lamb too, even if you have to deal with partially frozen parts.
This corded electric knife comes with an 8-foot cord for optimal flexibility and a 7.5-inch reciprocating blade.
With a 110 Volts power and a 12-month warranty, this may well be the best choice for you. Rapala uses only top-quality materials and always incorporates a heavy-duty motor.
If you purchase it, you get twice the speed and three times the capacity of a standard electric knife.
If you're considering an electric knife for your fishing trips, you may find a cordless option more suitable for you.
4. Hamilton Beach Electric Knife
Affiliate links / Images from Amazon Product Advertising API
Highlighted Features
Packed in strong case
Cordless model (easy to carry around)
Carving fork included
Versatile
This model is well packed in a compact case suitable for safe storing. The blades are constructed from stainless steel. A carving fork is also included.
With the help of this practical knife, slicing and carving meat will no longer be the "dreaded" activity in the kitchen, but on the contrary, it will become your favorite!
With it, holiday roasts will be impressively cut and served. But, you can use it for so many other tasks too, including slicing and cutting cheeses and bread.
You will particularly appreciate the longevity of the stainless steel blade. And, the stainless steel fork will ease both the carving and serving.
This is an inexpensive and solid electric knife manufactured by a reputable company with an ongoing dedication to ease the lives of customers.
5. Nutrichef Electric Knife Set
Affiliate links / Images from Amazon Product Advertising API
Highlighted Features
Mid-price range
2 heavy-duty stainless steel blades
Elegant and sturdy butcher block included
Ergonomic handle
Good for tougher meat
This is a suitable mid-price range choice for you if consistent and clean cuts are on your mind. It offers 2 heavy-duty stainless steel blades- one for cheese, meat, bread, and cake and another one for carving.
Thanks to the elegant and handcrafted hardwood butcher block, you can store your blades and handle inside a cabinet or on your countertop easily.
We really appreciate the effortless movements it enables thanks to the ergonomic handle.
It has a 120 V power supply and definitely has the power to be your best ally for carving or slicing tougher meats, as well as for butternut , acorn, and spaghetti squash.
Satisfied customers often describe it as "easy to clean" and that it "works well". With this knife, even if you have wrist problems, you will still enjoy the food prep.
6. Proctor Silex Easy Slice Electric Knife
Affiliate links / Images from Amazon Product Advertising API
Highlighted Features
Versatile
Easy to clean
Affordable
Ergonomic design
Sturdy & sharp steel blades
This is an awesome inexpensive electric knife option suitable for meats and breads. But, you can also use it for DIY projects, for example, to cut foam.
The blades are made from quality stainless steel and they're reciprocating and serrated. They're precise, easy to assemble, and allow you to be in control when slicing and carving.
When doing this, you'll feel very comfortable thanks to the ergonomic and lightweight handle which is suitable for left- and right-handed individuals.
With it, maneuvers are always precise and accurate.
Another great feature is the intuitive easy-touch button.
Gently press it to trigger it and your knife is ready to work. Time-saving, low-cost, and satisfactory, it's definitely an electric knife you shouldn't be missing out on.
7. Chefman Electric Knife With Fork & Storage Case
Affiliate links / Images from Amazon Product Advertising API
Highlighted Features
Dual serrated blades
Carving fork & sturdy case included
Ergonomic handle
Versatile
Removable blade
Dishwasher-safe blade
Cut, slice, and carve effortlessly with this inexpensive electric knife by Chefman. It comes with reciprocating dual serrated blades and a carving fork. The ergonomic rubberized handle is suitable for left and right handed users.
The knife is very versatile- it's not just great for meat, but for cheeses, breads, veggies, etc. too.
Users will definitely love the on/off trigger touch with an integrated safety button that locks the knife when it's not being used.
This averts accidental blade activation and potential injuries. The storage case is a really useful and smart addition- it's strong, sturdy, and will keep your knife safe and sound.
Just press the blade release button to remove the blade and clean it.
Plus, with every Chefman product you buy, you get a pass in the Club Chefman where you get access to recipes, video tutorials, and more.
8. Mighty Carver Mighty Carving Knife
Affiliate links / Images from Amazon Product Advertising API
Highlighted Features
Good value for money
Ergonomic design
Very easy to hold
Manoeuvrable
Lightweight
Removable blade
This chainsaw-inspired design carving electric knife is a smart choice for all those families where meat is regularly on the table. It offers serrated stainless blade and an ergonomic, comfy blade.
The ergonomic design makes the holding very easy and the cuts efficient and precise.
The manoeuvres are optimal and although it looks big and maybe intimidating, it's actually lightweight and very ergonomic. It has 110 volt power and a button for blade release to ease the cleaning and maintenance of the blade.
With it, carving turkey and other meats will be easy and super fun. Moreover, it's a great value for money-functional, intuitive, and durable.
9. Mister Twister 120 V Electric Knife
Affiliate links / Images from Amazon Product Advertising API
Highlighted Features
Safety lock included
Convenient blade release
Inexpensive
Extendable cord
Ergonomic handle
If you want the legendary full action by Mister Twister, this green and yellow electric knife is the best option for you.
It features 120 V power and a convenient and easy blade release for maintenance. The safety lock is another awesome addition.
Although it's a cord option, it's a flexible cord model which gives you enough room for movement. The intuitive and ergonomic design makes it comfy and suitable for left and right hand usage.
What's more, it boasts a 50 percent higher cutting torque and strong and sharp reciprocating blades. Fish, turkey, ham, bread, etc. – it will be your go-to electric knife.
With this affordable tool, you'll make excellent carvings and the ideal slices. The model comes with a 1-year warranty.
10. Toastmaster Electric Knife
Affiliate links / Images from Amazon Product Advertising API
Highlighted Features
Comfy handle
Serrated and sharp blades
Versatile
Blade eject button
Durable
This cord model of an electric knife by Toastmaster comes with serrated and sharp stainless steel blades with a drip guard for easy meat, bread, and veggie carving.
The mixer-like handle is very comfy and convenient and allows you to be in control while carving or slicing. Thanks to the blade eject button, you can easily remove the blades when it's cleaning time.
The blade is 7 ½ inches long and the cord is a standard length. Durable, low-cost, and comfortable, it's certainly not a bad addition to your knife tool collection.
Final Thoughts
In the past, electric knives were not always popular as they're today because they weren't made comfortable enough and were rather loud.
Nevertheless, thanks to the advancement in technology and science, they're gradually becoming the staple in kitchens worldwide.
Today's electric knives meticulously slice meat without leaving behind waste and the work noise is brought to a minimum.
Nowadays, there is a myriad of electric knives to choose from depending on a brand, type, price, and so on. But, this does not mean all of the electric knives out there are a viable option!
This is where our comprehensive review can be of aid. If you are a first-time electric knife user, we warmly recommend our budget pick as the best electric knife for you- you get an awesome electric knife without having to spend a small fortune.
If you are a conscious shopper and you want a BPA-free electric knife with optimal performance and an enjoyable aesthetic design, Cuisinart's knife, our top pick, will meet all your needs.
Happy carving!