Burger lovers know that it's important to grind your meat if you want optimal taste and texture. One of the most efficient ways to prep larger batches is to invest in the best electric meat grinder!
This exciting appliance is amazing and a god's gift for meat lovers. Thanks to it, you can prep meat for different dishes, including burger patties, sausages, meatballs, etc.
Those who're reading this would probably wonder 'why do I need to bother grinding my meat when it's readily available?'
Sure, you can buy ground meat from the store, but, do you know what you're missing out on?
A lot! Grinding your meat has so many advantages like more control over what's put in it, no usage of fillers, higher hygiene, and lower costs in the long run.
And, optimal taste! -Fresh meat is much tastier than meat that has been exposed to the air for some time.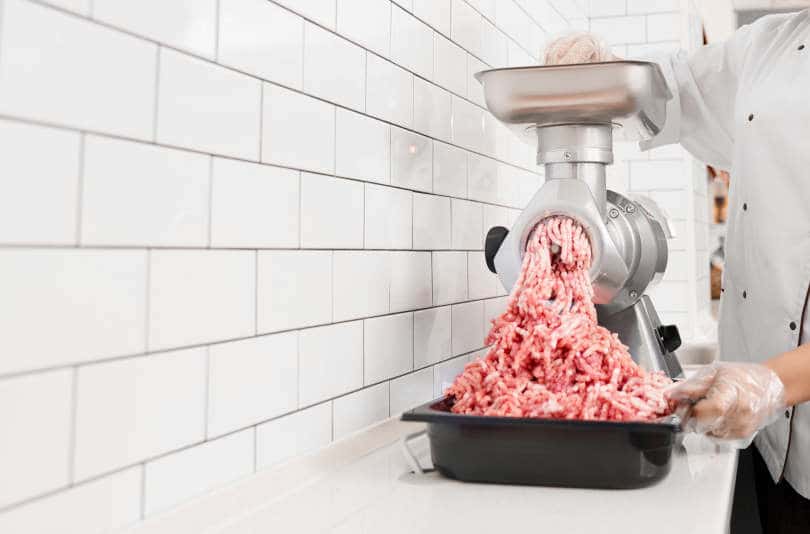 Hence, if you don't want to compromise on taste and quality, consider investing in an electric meat grinder.
Below, check out the 10 best models currently, as well as some important info you should consider before buying.
Our Top 10 Picks
Affiliate links / Images from Amazon Product Advertising API
What Is An Electric Meat Grinder?
Generally speaking, there are two types of meat grinders available, i.e. manual and electric ones.
The former ones are intended for smaller quantities of meat and are usually designed to be clamped to a table or a counter and there's a hand lever which you move in order to do the cutting.
On the other hand, although similar in function, the electric ones are more complex in terms of functions and features and enable you to grind higher amounts of food while you give minimal effort.
It comes with a variety of attachments that increase the ability to add versatility in texture and attachments for sausage and kibbe making.
Although models differ one from another, some of their main features are common.
For example, they usually have 2 to 3 sized cutting plates, a food pushing tool, several tubes for sausages, a large plate, an on/off/reverse button, etc.
Why Do I Need An Electric Meat Grinder?
If you enjoy prepping and cooking your food, electric meat grinders are something you want to consider.
When you invest in this appliance, you can enjoy a better quality of meat by being able to control the ingredients placed in it, as well as the additives, salts, and fats.
This is especially useful for people on a diet or a special regime.
The list of meats you can prep with this machine is pretty long, ranging from savory appetizers and homemade sausage to minced meat for hearty soups and other delicious dishes.
Meat lovers are aware that there's quite a big difference between burger patties with store-bought minced meat and ones you've prepped with your grinder.
The taste is much richer and the flavor and aroma are delightful.
Which Factors to Consider Before a Purchase?
Although versatile, practical, and all that, how can you choose the best model for you knowing the abundance of products available?
To ease things, you need to determine what you're looking for from the best meat grinder. The first question is the meat amount you intend to grind so that you can decide between a smaller vs. larger grinder.
Usually, those who've chosen an electric grinder do it because of their need to tackle larger amounts. But, there's another possible reason-a for mobility obstacle.
Also, frequent hunters and people who're usually catering to a larger number of people will benefit from this appliance.
The bigger ones differ from the smaller ones in the way their motors are constructed-that of the former are designed for tougher cuts and to tackle larger batches without excessive heating, clogging, etc.
Then, consider the motor's performance & capacity. The smaller models usually have a smaller tube and less power than the bigger ones.
Take into account that tougher meat can stress out the motor so higher wattage means a stronger grinder.
And, a bigger motor allows processing more at a higher speed.
What's more, don't forget the materials and longevity of the appliance.
Although the stainless steel blades and discs are more costly than the carbon ones, they are stronger and will remain sharp three times longer. Also, their risk of corrosion or rust is minimal.
There are meat grinders with plastic gears; however, they do tend to strip over time.
Don't forget about the stability– the smaller ones or with a plastic or aluminum construction may be lighter in weight so they'll need proper securing. This is why you always check if the bottom is non-slippery.
The larger ones shouldn't be a problem as they're already more stable because of their weight.
How to Clean Electric Meat Grinder?
Before you invest in this appliance, make sure you've chosen one that cleans well because proper maintenance is essential for its durability.
Look for the machines that are easy to assemble and disassemble and that all of them can be washed with mild soap and water.
Make sure you also dry them right away and store them for the next use. Investing in a cover is also smart because you ought to protect your investment.
Unless it's supplied with a long-term lubrication system, the motor will need to be oiled from time to time. Make sure you learn whether you can do it at home by yourself or you'll need a specialist.
How to Use Electric Meat Grinder?
The first step is to assemble it properly. The key is to set all of the elements securely. Make sure the parts have been cleaned and dried and that the cord is disconnected.
Then, you place the T-link and the screw before you add the desired blade and round knife. Next, you attach the handle cap and put the plate or pan on top.
You're now ready to turn it on and begin using it. Ensure you've prepped the meat properly.
This means removing bones, skin, and silver skins and cutting them into smaller pieces to fit into the neck of the device.
You can push the pusher to encourage it to move faster. Put a pan beneath the blades so that the meat can be collected.
Once you're done using it, you turn off the cord, wash and dry the parts, and clean the machine with a towel.
What Are The Benefits Of Grinding Meat?
You can control the ingredients, hygiene, and quality
When we're buying ground meat, we don't really know 100 percent what we're getting and we often buy it prepackaged.
On the other hand, prepping your ground meat increases your control over the ingredients used, the hygiene during the process, as well as the quality of the meat itself.
Hygiene is a very important benefit, especially if we take into account that meat at home has less risk of coming into contact with E. coli bacteria.
Plus, the gluten-intolerant individuals can exclude the usage of triggers in the meat and enjoy it freely.
You save money
By grinding your meat, you needn't spend a small fortune when organizing backyard cookouts.
This is because there's no need to pay anyone to do it. After all, you'll be doing it yourself, and thus, you remove any hidden costs like transport, packaging, and store markups.
You'll enjoy higher quality meat
The ground meat you buy has probably been processed a lot of miles away in a factory and maybe quite old before it arrived at the store.
Plus, it may have been frozen or full of preservatives to ensure it stays bright red for longer.
The oxidation of meat causes changes in its safety, but also in the flavor.
On the other hand, fresh meat is always tastier and freshness is a pivotal factor for some ground meats like fish and poultry.
The 10 Best Electric Meat Grinders Review
1. STX International Turboforce Classic Electric Meat Grinder
Affiliate links / Images from Amazon Product Advertising API
Highlighted Features
High capacity tray
Versatile
Sausage, burger patties & kubbe maker
Easy to use
Durable
This potent grinder features a locked motor wattage of 3000 Watts. While grinding, it uses around 800 and 1200 Watts.
It can help you tackle between 180 and 240 lbs of meat per 60 minutes when the meat has been prepped properly.
It comes with a size 12 polished aluminum grinding head and meat hopper, three 304 stainless steel blades for cutting, three grinding plates, one sausage stuffing plate, three tubes for sausages, and an attachment for kibbe plus a meat pusher.
The manufacturer has also included 2 meat shredder claws and a burger slider/press maker. Its speed system contains a high, low, and reverse option.
Thanks to the meat AVI tech and hopper opening, you can grind bigger portions effortlessly.
2. LEM Stainless Steel Big Bite Electric Meat Grinder
Affiliate links / Images from Amazon Product Advertising API
Highlighted Features
Sturdy
Easy to set, clean & use
Awesome for frequent use
Silent operation
If frequent use is on your mind, this meat grinder is the best choice for you.
Thanks to its Big Bite tech, its auger withstands bigger meat portions faster and efficiently moves it into the head with reduced risk of clogging.
It can help you grind 11 pounds of meat per minute and it's very silent.
Its motor housing is entirely stainless steel whereas the gears are all metal. It also features a built-in circuit breaker.
If you decide to purchase it, you'll get a big meat pan, fine and coarse plates, three tubes for stuffing, and one meat stomper. Moreover, you get a convenient tray at the bottom for the storing.
LEM gives a 5-year warranty for this grinder, as well as lifetime customer support.
3. Cuisinart Electric Meat Grinder
Affiliate links / Images from Amazon Product Advertising API
Highlighted Features
Easy to operate
Easy to clean
Releases clogged foods easily
Suitable for various meats
Durable housing
This stainless steel meat grinder will help you handle pretty much any type of meat. Plus, it has the power for frequent use.
If you tend to buy meat in bulk, if you're a hunter or if your favorite hobby is sausage making, this is an awesome pick.
It offers a 300-watt motor which can grind up to 3 pounds of meat per minute-this is why big projects aren't a challenge for it.
The brushed stainless steel housing is quality and long-lasting. You also get 2 cutting plates for coarse and medium thickness, as well as 2 sausage attachments. Its reverse feature enables easy release of clogged meat.
4. AAOBOSI's Electric Meat Grinder 3-in-1
Affiliate links / Images from Amazon Product Advertising API
Highlighted Features
Great value for money
Easy to set & use
Easy maintenance
Made of durable materials
Versatile
This electric grinder boasts a 1200W copper motor which makes the grinding fast, convenient, and effortless.
It features an easy on/off switch and if you notice the meat is clogging, you can press the reverse button and it releases it fast.
The housing and the blades are made of strong and food-safe stainless steel.
It will be your go-to grinder for sausages, burger patties, and kubbe. It has 3 cutting blades (fine, medium, and coarse, a sausage kit, and an attachment for kubbe).
Thanks to the circuit breaker feature, the temperature is balanced. The reinforced chassis allows more stability while grinding. It's easy to assemble it, which makes it easy for thorough cleaning too.
The company gives a lifetime customer support, a 30-day money-back guarantee, as well as 12-month replacement warranty.
5. Kitchener Heavy Duty Electric Meat Grinder
Affiliate links / Images from Amazon Product Advertising API
Highlighted Features
Easy to set & use
Easy to maintain
Good value for money
Non-slippery
3 modes
This electric meat grinder is constructed using long-lasting metal gears and it has stainless steel blades and an aluminum meat pan.
Its design boosts the capacity of the grinder while the 500-watt motor enables you to ground up to 330 lbs of meat per hour.
We really love the removable and large meat pan-it helps you gather everything, it's easy to clean, and easy to maintain and set.
Thanks to the waterproof switch, you're safe and you can easily turn it off and on.
It offers 3 sizes of stuffing tubes as well as a meat stomper. The non-slippery bottom feet will ensure the grinder stays firm, without moving around.
You have 3 different speeds, i.e. sausage slow stuffing mode, full power forward one, and reverse.
6. Altra Potent Electric Meat Grinder
Affiliate links / Images from Amazon Product Advertising API
Highlighted Features
Easy to start
Easily unclogs meat
Easy to clean
Reinforced with stainless steel
Versatile
This potent electric grinder has 2000W of maximum power so it can help you tackle 2 pounds of meat per minute. It boasts 3 reinforced layers of stainless steel and a thick aluminum and premium ABS plastic.
It grinds meat for patties or sausages fast and efficiently while you're having fun and without putting in too much effort.
It features 3 different mesh diameters so you can grind in three modes, that is, coarse medium, and fine.
Interestingly, you can use it to ground garlic, ginger, chili, and more. Thanks to the special design of the spiral circles on the spiral rod, meat is squeezed out without its fiber being destroyed.
The machine is safe, durable, and food-grade safe.
7. Home Easy Electric Meat Grinder & Chopper
Affiliate links / Images from Amazon Product Advertising API
Highlighted Features
Good value for money
Easy to clean & use
Sturdy
Stainless steel bowl
Easy to set
This affordable and multifunctional food chopper and grinder has 4 stainless steel blades and 2 operating modes.
You can use it for so many things-from grinding ham and garlic to chopping small herbs and garlic and onion.
Its 350 w motor enables it to work fast and efficiently. The 4D design of the blades ensures the blades chop the food evenly at 360 degrees.
Although a mini chopper, its bowl capacity is 2 liters! It's strong, shock-proof, and durable. The connective joint between the main body and the blade is stainless steel and lasts long.
The user-friendly design ensures easy use and easy cleaning. Its non-slip bottom ensures the device stays in place while operating for a carefree experience.
8. Cheffano Electric Meat Grinder
Affiliate links / Images from Amazon Product Advertising API
Highlighted Features
3 different plate sizes
Non-slip design
Reverse function
Easy to use & clean
This electric grinder for meat is durable and features a potent motor from copper. It's fast and efficient and the noise is brought to a minimum.
It can help you ground 3 pounds of meat per minute. You get 3 different size stainless steel grinding plates for fine, medium, and coarse cuts.
Plus, it comes with attachments for kubbe and sausage making.
Its housing is made of strong and reinforced stainless steel and thick aluminum alloy and premium ABS.
It doesn't corrode and it will last for a lifetime with proper care. Proper care means adequate washing of the parts and not grounding nuts, animal bones, and other hard things!
And, even if you're a newbie in the world of meat grinding, this machine has your back. You have 3 buttons, i.e. on, off, and reverse.
9. Sunmile Electric Meat Grinder
Affiliate links / Images from Amazon Product Advertising API
Highlighted Features
Thick
Inexpensive
Easy to use & clean
Easy to assemble
This high power 250W electric meat grinder can help you tackle up to 150 pounds of meat per hour. It's potent long-lasting motor and gear optimizes and prolongs the usage.
The motor and the body are wrapped in sturdy and attractive plastic. Its big and high capacity tray and head are constructed of polished cast aluminum.
All of the materials are food-safe and ETL-certificated.
It boasts 3 distinct cutting plates and all are machine-washable. You also get 1 cutting blade from stainless steel, a plastic food pusher, and a sausage stuffer.
The big on/off buttons ensure easy use and it also has a circuit breaker to ensure the motor doesn't burn out. For this awesome grinder, you get a 1-year warranty.
10. Twinzee Electric Meat Grinder & Sausage Stuffer
Affiliate links / Images from Amazon Product Advertising API
Highlighted Features
Easy to install
Wide platter
Reverse button
BPA-free
Non-slippery bottom
Elegance, efficiency, and power perfectly describe this grinder and sausage stuffer. It's a heavy-duty machine that works fast thanks to its 1500W motor.
Its trapezoid shape ensures higher stability while the leather case style body maximizes its stylishness.
When you buy it, you get some awesome attachments, including 3 meat plates, 3 sausage attachments (thin, medium, and large), and a pusher.
The large tray can collect bigger amounts while the reverse buttons will resolve unpleasant clogging right away.
When you're done using it, disassemble the parts and wash them by hand-never in the dishwasher and towel-dry them.
The company gives a 12-month warranty as well as a 30-day money-back guarantee.
Final Thoughts
Enjoying a quality diet isn't hard, especially when you have the right equipment in your home to prep it. This is especially true for meat.
Same as you need a proper knife to cut it or the right pan to fry it in, you also need to right machine to grind it for burger patties or to make sausages.
Although we can buy it in the store, grinding your meat has so many perks that cannot even begin to compare with the store-bought options.
This is why investing in the best electric meat grinder is a good idea. Meat lovers and those who prep their own meat like hunters will definitely appreciate it.
Fresh meat has a much better aroma and flavor and it will be an enjoyment for all your family.
With this in mind, those who don't mind spending a bit more will love our best pick because it will never fail them.
But, those who're on a limited budget can still get a good product like our budget pick!
Happy grinding!