Have you ever considered making your meat slices instead of buying them?
They honestly won't take much of your food prep time as long as you're using the frozen meat slicer. You can now enjoy your favorite meals without thinking of the extra cost of pre-sliced meats. Just eat, no guilt.
We know how difficult it can be to find that one perfect product that feels like it was made just for you. It's even harder now that there is a market full of different products.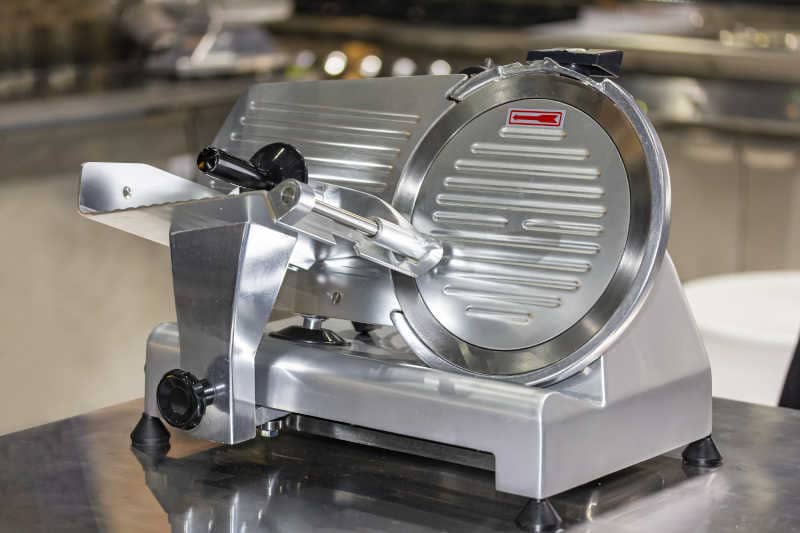 That's why we have reviewed a good number of products and have handpicked the best meat slicers for frozen meat.
What to Consider Before Buying a Frozen Meat Slicer
A frozen meat slicer will quickly become one of the most used tools in your kitchen especially if you like to make a hot pot, Carpaccio, or any other meal that requires sliced meat.
Chances are you already spend a lot buying pre-sliced meat or you find yourself struggling to slice meat with a knife. Now that you've decided to end that chapter of over-spending and unevenly sliced meat, here are some of the factors you should consider.
What Material is it Made of?
The material a frozen meat slicer is made of determines how efficient it will be, how long it will last, and how easy it will be to clean. The most common material used to make meat slicers is stainless steel.
This is because it is sturdy, durable, and can guarantee a high level of hygiene.
Can It Cut Meat into Slices of Varying Thickness?
For various food preparations, you need your meat slices to have a certain thickness. Not all frozen meat slicers allow for thickness adjusting and you need to have that option available.
Before purchasing a slicer, make sure to confirm that it allows you to adjust the thickness you want. That way, you can enjoy deli-thin and thick slices right from your kitchen.
Is It Manual or Electric?
It can be either a manual slicer or an electric one. A manual meat slicer requires you to control the blade with your hand. It's a good choice if you don't have to produce a lot of slices. An electric meat slicer on the other hand is powered electronically.
With an electric frozen meat slicer, you need to pay attention to the motor power. The higher the motor power, the faster and more efficient slicing would be. It's the better choice if you need to produce a high quantity of meat slices.
Does It Have A Strong Suction Base?
You will most likely work on your countertop and it is not unusual that the frozen meat slicer can slide on it. This is a possibility except it has a strong suction base.
The slicer staying firmly on your countertop ensures a safe and stable cutting operation for you.
Why do I Need the Best Meat Slicer for Frozen Meat?
Frozen meat can be hard to slice with a knife before thawing and once the meat is thawed, it becomes hard to get nice clean cuts. This is where the best meat slicer for frozen meat comes in. It helps you get the job done easily and quickly.
This means you get to save money you would have otherwise spent on overpriced beef slices. You also save yourself the stress of struggling to get uniformly thin slices with a knife. You can now look forward to a delicious and aesthetic meal.
How to Use a Frozen Meat Slicer
In using a frozen meat slicer, one thing you should note is that you have to make the meat as frozen as possible. This makes the meat firm and easier for the blade to cut through it nicely.
Place the meat in the food carriage and ensure the plate holding it there is firmly placed. If it is a manual meat slicer, you will have to move the carriage back and forth but for an automatic slicer, you simply need to switch on the machine.
After cutting your first slice, check to see that it is the exact thickness you want. If it is, you can continue cutting but if not, you need to make an adjustment.
How to Maintain a Frozen Meat Slicer
Many frozen meat slicers are made of stainless steel. As with any other stainless steel device, you have to ensure that there is minimal contact with moisture. After each use, make sure to clean with water and then wipe dry completely with a cloth. You can also clean up thoroughly by separating the parts that can be disassembled.
Proper maintenance also involves using the slicer according to the manufacturer's instructions. An example is if there are clear instructions to debone mean before attempting to slice.
How to Sharpen the Blade of Frozen Meat Slicer
Before proceeding to sharpen the blade of a slicer, ensure that it has been properly cleaned. If your frozen meat slicer has a built-in sharpener, you should refer to the manual and follow the instructions given.
For a slicer without a built-in sharpener, you will need to purchase a sharpening stone to sharpen the blade. This should be done every couple of weeks, depending on how often you use the slicer.
Will It Slice Vegetables and Cheese?
Some frozen meat slicers will cut vegetables and cheese that are hard. Do check the manufacturer's instructions to know whether it is designed to cut other food products.
Can I Use A Frozen Meat Slicer to Slice Hot Meat?
Frozen meat Slicers are used to slice frozen meat and they can produce nice cuts because the meat to be sliced is firm.
Sometimes, they can also slice other firm food products like bread, cheese, and carrots. Do check the manufacturer's instructions concerning hot food products.
How to Adjust the Thickness on Slicer?
Slicers have different procedures for adjusting the thickness of the slices produced. Check the manual provided at purchase. It is important to note that not all slicers have this feature.
Frozen Meat Slicer Reviews
1. KWS Commercial 320W Electric Meat Slicer
Highlighted Features
10″ stainless steel blade
320 watts motor power
Aluminum alloy base
Waterproof switch
Built-in sharpener
If you need the best meat slicer that does not require you to exert so much effort while cutting, this is a great choice. It is powered electronically and can be used to produce large quantities of slices. You get to cut frozen meat and other food products as thick as 4″ easily. You can also produce thin slices using the thickness adjuster. The blade of the slicer is made of stainless steel while the body is made of aluminum alloy, both of which are durable materials.
It has a built-in sharpener which means you can sharpen your knife blade with just a push of a button, with no extra stress. Your blade will always be sharp and ready to cut. With health concerns at the forefront, this slicer is designed in a way to keep it at bay. With its removable product tray, you can clean thoroughly after use, leaving no room for bacteria growth or cross-contamination.
The KWS meat slicer is the slicer you never knew you needed. It is the best meat slicer for frozen meat. You should consider purchasing one.
2. Befen Frozen Meat Slicer
Highlighted Features
Stainless steel blade
Suction cups
Replaceable blade
Meat bags and holder
Cooking can be time-consuming and sometimes you end up too tired to eat. This doesn't have to happen again. With a meat slicer doing most of the work, food preparation like slicing your meat, vegetable, or cheese can be done in less time. You also save a few bucks when compared to buying pre-sliced meat. If your meat is not perfectly shaped, you can place it in a meat bag and then cut it. The slicer is made of aluminum steel which is both easy to clean and durable.
The meat has to be frozen before cutting to ensure you get a clean cut. You can adjust the slicer to your preferred thickness. The blade can be sharpened easily and when you purchase the slicer, it comes with a replacement blade. The package also comes with 10 meat bags and one meat holder. This slicer comes with suction cups attached at the base to prevent it from sliding on an otherwise slippery surface. This slicer would be a great addition to your kitchen as it is the best manual frozen meat slicer.
3. OSTBA Meat Slicer
Highlighted Features
Adjustable thickness
Non-slip suction cup
Child safety lock
Removable feeder
150W motor power
Get yourself an OSTBA meat slicer and you'll never have to purchase pre-sliced meat again. This slicer works for not just meat but also bread, and cheese. You can adjust how thick you want the slices. The parts of the slicer that come in contact with the food material are mostly removable allowing for thorough cleaning. These include the blade, food carriage, slide-rod extension, ring guard cover, and food pusher.
This slicer is electronic and the stainless steel blade is driven by 150W of power. While it is not advisable to keep any type of slicer around children, this slicer has a safety lock feature that helps to avoid accidents in the event of such.
4. Garne T Manual Frozen Meat Slicer
Highlighted Features
Replaceable blade
Stainless steel blade
Adjustable thickness
Meat bags
Slicing is one activity during food prep that can take a long time. With a frozen meat slicer, you can get things done easily and faster. This slicer allows you to slice meat, bread, cheese, and hard vegetables. For your meat, you don't need to make it thaw before you can cut as it is better to cut it when frozen. Do not try to cut raw and squishy meat. The slice can be cut from thick slices to thin slices. You will love the uniform look of your slices.
The stainless blade is durable and easy to clean. Its durability is tested and trusted so it is a good investment. Alongside the slicer, it comes with a replaceable steel blade, bags for rolling meat, a knife sharpener, and an Allen wrench. It also comes along with a manual that will guide you on how to operate it.
5. Aingycy Frozen Meat Slicer
Highlighted Features
Stainless steel
Alloy blade
Suction cup
Meat holder with silicone handle
This manual frozen meat slicer works with frozen meat because of its firmness. It cannot work with fresh meat. The meat to be sliced must be properly deboned first. It can also be used to slice potatoes, cucumber, and carrots. The meat holder used to hold the meat in place while slicing also has a silicone handle for convenience. Most parts of the slicer are made from high-end stainless steel and are strong and reliable.
The suction located at the base of the slicer makes it stable while you're cutting. To ensure your unit lasts long, do not put it in water or let it come in contact with salt. It comes along with a manual that should be read carefully before attempting to handle it.
6. BAOSHISHAN Manual Frozen Meat Slicer
Highlighted Features
Replacement blade
Ergonomic handle
Alloy steel blade
Made of food-grade stainless steel
We all appreciate whatever can help reduce our cooking time. This is what a manual meat slicer can help you achieve and even help you reduce cost while at it. It does not produce any noise while in operation and can be easily cleaned after use. All you need to do is rinse with water, ensure you wipe with a dry cloth and then apply a bit of oil to avoid rust.
The blade attached to the slicer is sharp and efficient. It works great for frozen meat. Besides meat, instead of using a cheese grater, this works well for cheese too. In the case of the blade getting blunt, there's a replacement added to the package. Their customer service is responsive so if you have questions, you will be attended to.
7. Chef's Choice Electric Meat Slicer
Highlighted Features
Stainless steel
Adjustable thickness
Safety lock
Tilted food carriage
It's your choice to make when picking a frozen meat slicer but you can't go wrong with picking one manufactured by Chef's choice. This electric frozen meat slicer is made up of stainless steel material, making it durable and easy to clean. Cleaning is also easy because some parts like the blade, food carriage, and food pusher are removable
When it comes to slicing and cutting, safety is always a priority. This is put into consideration and is evident in the design of this product. It has a safety lock feature that prevents the food carriage from being out of place. It also features an adjustable thickness dial that helps you determine whether you want your slices deli-thin or thick.
8. Coloured Peas Manual Meat Slicer
Highlighted Features
Food grade stainless steel
Suction cup
Adjustable thickness
Blade is 17cm
This is a great manual frozen meat slicer. You can get your meat slices easily even without electricity. The slicer has sections at the bottom that allows it to stay firmly on the table. The meat you want to slice must be frozen.
It is also suitable for smoked meat. You may prefer a certain thickness for your slices and with the adjustable thickness feature, it is achievable.
The blade attached to the slicer is very sharp so it requires you to be careful. If it gets blunt as a result of use, it can be sharpened. To keep it in proper shape for a long time, ensure to always clean and keep it dry after use.
9. Super Deal Commercial Stainless Steel Semi-Auto Meat Slicer
Highlighted Features
Built-in sharpener
Spacious slicing tray
Thickness adjustment
Fixed ring guard
Can a meat slicer cut frozen meat? This one can. This slicer works for both frozen and unfrozen meat. Whether you're a professional chef or not, you'll find this slicer very handy. It is after all a commercial semi-auto slicer that makes it convenient for slicing a large quantity of meat. It is not only suitable for meat but also for vegetables for your sandwiches.
This unit has a fixed ring guard that prevents accidental contact with the blade which is great as safety while using a slicer is important. It is compact and does not require special storage space. The built-in sharpener features dual whetstones which makes sharpening possible in less than a minute.
10. Anescra Electric Deli Food Slicer
Highlighted Features
200W motor power
Thickness adjustment
Removable parts
Child safety button
Serrated and non-serrated blade
This a slicer with two removable stainless steel blades – serrated and non-serrated. These two blades are used based on the type of product to be sliced. You can slice meat, bread, and vegetables. It is powered by 200W, making slicing happen with minimal effort.
The removable parts help to ensure thorough cleaning after each use. This unit has a child safety button which drastically reduces the risk of an accident. It is compact and can easily be stored on your countertop or in your cabinet. It comes highly recommended.
Final Thoughts
Frozen meat slicers are great tools for saving your time and money as well as helping you do a major part of your food prep in the kitchen. When you get the frozen meat slicer, it only gets better from there.
It is interesting to note that some meat slicers work with other food products. That's a huge plus for a meat slicer. It can be difficult to know which is best for you and your house or restaurant but reading our review should be of great help.
Our top pick is the KWS Commercial 320W Electric Meat Slicer which spots amazing features. It is powered electronically, made from stainless steel, and has a built-sharpener.
With a small budget, you can also get a good meat slicer. Our budget pick is the ColouredPeas Manual Meat Slicer which is made from quality stainless steel, has an adjustable thickness, and is easy to operate.