Without a doubt, there's rarely a person who doesn't like the flavorful aroma and crust of fresh bread from a bakery or from the oven.
However, both baking and slicing bread can be a chore.
When it comes to cutting the ideal bread slices that are uniform enough to enjoy a good sandwich, we can't just use any knife.
If we do, we may produce uneven slices and make a mess all around us.
On the other hand, the best bread slicer helps cut the ideal slices and save up on time and prevent food loss.
You'll never have to 'freak out' when it's time to cut and serve bread, but on the contrary, it will become one of your favorite tasks in the kitchen.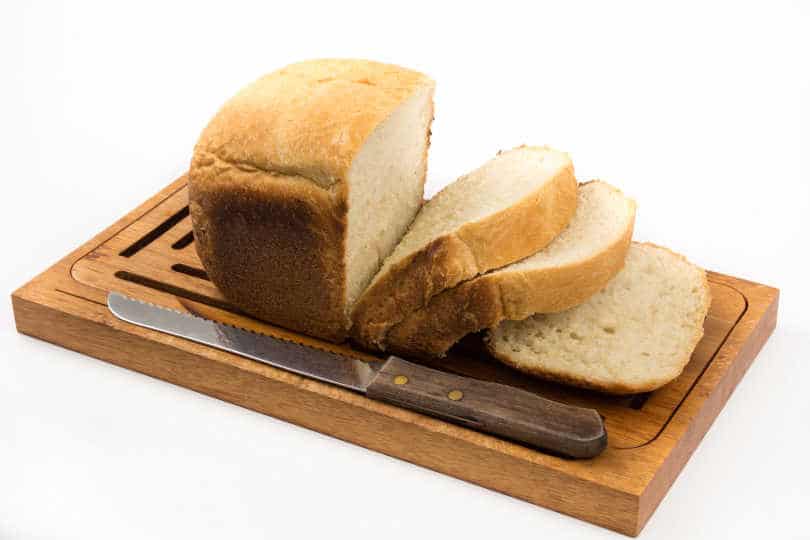 But, today, with the abundance of products, there are so many models of bread slicers. So, it's understandable to get confused when deciding on the best option.
Luckily, we made thorough research and prepared 10 excellent bread slicer choices you can purchase on Amazon, as well as some extra tips that any bread slicer user should know!
What is a Bread Slicer?
A bread slicer can be a smart multifunctional tool for your kitchen. It's a type of utensil that allows cutting even slices of bread with minimal effort.
What's awesome about these devices is the ability to adjust the preferred thickness by moving the guides. They're suitable both with homemade and store-bought bread.
Its guide moves the knife through a slit and this is how the bread is being cut. The guide comes with slits that are at a set distance from each other, depending on the thickness they're intended for.
Most models today offer 3 to 4 different thickness levels, but some may offer only one.
The guides also keep your hands safe from cuts while you're cutting the bread.
We really appreciate the fact that these tools aren't just useful for bread, but for other foods like cheese and ham too.
Why choose a Bread Slicer instead of a Bread Knife?
Surely, you can buy a great bread knife with a serrated blade and a strong handle to have a pleasant bread cutting experience.
Although bread knives are amazing on their own, for moments when we need multiple and even slices, a bread slicer device may be a more viable option.
The myriad of slots that are placed on each side of the singular cutting board gives us the freedom to cut equal slices. Depending on the size, the cutting board can fit small, medium or large loaves of bread.
It's important to note that there are non-electric and electric bread slicers- the non-electric ones can be made from wood or from plastic, each of which has its own advantages and disadvantages.
With a bread slicer, there's less mess and less food wastage.
This technology brings bread slicing to the next level.
Therefore, it's a suitable choice for bigger families or for restaurants and kitchens in schools, but also for any individual who likes their bread slices even and compact.
Does the Device's Material Play a Role?
For a lot of people, the material of the best bread slicer is a deciding factor.
These gadgets, as previously noted, the non-electric ones, can be made from wood or plastic. There are also acrylic options.
Wood is considered to be the most attractive one, as well as an eco-friendly and sustainable choice; however, to ensure optimal performance, hardwoods such as maple or hickory are preferred.
If there's no info about the device's type of wood used, there's a higher risk of the slicer being more prone to breakage, chipping, or splintering.
Wooden bread slicers need to be properly maintained to avoid the buildup of grease and bacteria.
The acrylic choices are an amazing contemporary look; however, the slots where the knife of the device slides through may chip and wear down eventually.
This material is also known to be prone to fogginess and scratches if excessively washed.
Last but not least, many people choose plastic due to its being flexible, inexpensive, and lightweight.
However, when buying plastic devices, we need to know that they're less likely to stand up to regular use, which may be an obstacle for people who like a long-term investment.
Regardless of which material you go with, this is a wonderful multifunctional tool that will guarantee an enjoyable bread experience.
How to Maintain Bread Slicer Properly?
If you opt for a wooden bread slicer, you have chosen wisely- this is the most sanitary choice and one that requires minimal effort to be cleaned- you can eliminate the cutting crumbs with a dry or damp cloth.
Avoid putting them in the dishwasher or leaving them in a damp and watery area for too long- mold and mildew can appear.
The plastic ones can be cleaned using a damp cloth and then wiped with a dry one.
Any remaining crumbs can be easily dusted away. Unlike the wooden options, these ones aren't that prone to mildew and mold; however, their longevity is shorter.
Should I worry about the Lack of Storage Space?
A bread slicer isn't a tiny device that you can place anywhere in the kitchen so it's vital to consider the size factor before making a final decision.
Compare your free kitchen space and then choose the adequate bread slicer size.
Whenever possible, go with the one that will occupy the least space or even better, choose a foldable option. This makes sure space is saved and it won't require any assembling and disassembling.
If you go with a foldable option, opt for the ones that fold flat as they can fit in the narrowest areas.
Although ones that can be assembled and disassembled are also practical in terms of storage, they require additional effort with each use.
Best Bread Slicers Review
1. DBTech Bamboo Wooden Foldable Bread Slicer
Product Information
| | |
| --- | --- |
| Package Dimensions | 0.3 x 0.19 x 0.17 inches |
| Item Weight | 1.98 pounds |
| Manufacturer | DBTech |
| Price | $23.79 |
Highlighted Features
100 % bamboo wood
Beautiful design
3 different thickness options
Foldable
If you want even and whole slices of your homemade bread, you definitely need this wooden bread slicer.
It comes with 3 different groove sizes so that you can slice in 3 distinct sizes (1.2 cm, 1 cm or 0.8 cm) according to your preference. Thanks to the foldable design, it's easy to store, even in kitchens with less available space.
You don't have to be an experienced bread slicer user to get the gist of it- it's very simple to use- you just put the bread and cut along the grooves using a preferred knife.
We really appreciate the usage of 100 percent bamboo wood which makes this device very durable, not just aesthetically pleasing. However, to ensure it stays clean at all times, removes crumbs after each use and never leaves it damp.
The spring-loaded flip design ensures you open and closes it within seconds.
2. Bambusi Bamboo Bread Slicer
Product Information
| | |
| --- | --- |
| Package Dimensions | 12.5 x 9.5 x 2.5 inches |
| Item Weight | 2.9 pounds |
| Manufacturer | Bambüsi |
| Price | $34.99 |
Highlighted Features
Premium bamboo
Eco-friendly
Comes with a stainless steel knife
Crumb catcher tray included
3 thickness levels
This bamboo bread slicer intended to be used with a knife allows you to make uniform slices of bread, but cakes, meat, and cheese too.
It comes with a stainless-steel bread knife as a bonus. It features three different thickness levels.
With it, mess and cleaning are brought to a minimum- there's a crumb catcher tray on the base of the device.
The tray makes a beautiful serving plate too.
This is a foldable slicer that makes storage effortless, which is important for those with less kitchen space.
This eco-friendly device is made from 100 percent bamboo wood. It's stable and strong, unlike low quality plastic slicers.
With proper care and use, it can last for a lifetime. The company gives a replacement or full refund in case of product dissatisfaction.
3. Kitchen Naturals Bamboo Bread Slicer
Product Information
| | |
| --- | --- |
| Package Dimensions | 13.97 x 8.26 x 6.1 inches |
| Item Weight | 3.05 pounds |
| Manufacturer | KITCHEN NATURALS |
| Price | Price not available |
Highlighted Features
Premium bamboo
Foldable
Comes with storage bag, knife rest, built-in crumb tray & a wooden spatula
Adjustable thickness
Refund or replacement available
If you're tired of uneven bread slices and mess, this slicer is what you need. It's sturdy, smooth, and foldable for headache-free use every time.
It also offers a knife rest and a storage bag. When you're done with its use, simply clean it and fold it for storage. The built-in crumb tray prevents mess by collecting all crumbs.
For best results, use a long and preferably serrated and sharp knife.
You can adjust the width of the slices by using the desired slot. There's no unpleasant odor being released from the device, but on the contrary- bamboo has quite a lovely aroma.
If you decide to purchase this product, you get a wooden spatula as a gift. And, shop without anxiety- the company gives a replacement or refund for unsatisfied customers!
4. Kinwell Bamboo Foldable Bread Slicer
Product Information
| | |
| --- | --- |
| Package Dimensions | 11.7 x 7.67 x 6.5 inches |
| Item Weight | 3.04 pounds |
| Manufacturer | KINWELL |
Highlighted Features
Storage-friendly
Quality bamboo
Easy-to-clean
Comes with extra bread bags
3 thickness levels
This new version of Kinwell's bamboo bread slicer comes at a more compact size and a smoother touch.
It allows you to choose from three different thickness levels. Thanks to the 100 percent bamboo used, the device is sturdy, eco-friendly, and durable.
The crumb tray on the bottom allows for zero mess in the kitchen and effortless serving too. Plus, the slicer is foldable so that you can store it without worrying about the lack of space.
Though it's intended for bread, it can also be a good choice for baguettes, cakes, and cheese. For an affordable price, you also get 20 extra bread bags for slice storage.
5. Comfify Bamboo Bread Slicer
Product Information
| | |
| --- | --- |
| Package Dimensions | 14.2 x 10.3 x 2.9 inches |
| Item Weight | 3.34 pounds |
| Manufacturer | Comfify |
| Price | Price not available |
Highlighted Features
Top-quality bamboo
Folding capacity
Bottom crumb tray included
Three thickness levels
Full refund for unsatisfied customers
This eco-friendly and all-natural bread slicer is made from premium resistant bamboo that's not just easy to clean, but also strong and good for the environment.
Thanks to its compactness and folding capacity, it won't overtake your kitchen space. With the bottom tray, any crumbs will be neatly collected. The tray can be used for serving too.
The slice guides come in three different thickness levels, for everyone's needs and preferences.
The guide board range is 5.9 inches so there are plenty of bread knife lengths you can combine it with.
Since the company believes in their product's quality and performance, they offer a full refund for unsatisfied customers.
6. Sierra Base Bread Pal Bread Slicer
Product Information
| | |
| --- | --- |
| Package Dimensions | 12 x 8 x 2 inches |
| Item Weight | 1.85 pounds |
| Manufacturer | SierraBASE LLC |
Highlighted Features
Premium maple, birch & hardwood
Fully-automatic bread slicer
Self-locking design
Produces round or regularly-shaped slices
This American-made foldable bread slicer is constructed with US-sourced, high-quality maple, birch, and hardwood.
Thanks to the rubber surface, it prevents sliding and potential injuries. The slicer features a simple, self-locking design.
Thanks to it, you can quickly open up your slicer without any assembling. When you're finished, you just fold it up easy and fast and put it in storage.
The wider cutting surface allows for wider loave use. To 'employ' your bread pal, just rotate the spring-loaded knife guides to the self-locking open position and insert the bread stop.
Then, position and hold the loaf. After cleaning it, just push the knife guides out of the notch and then rotate them under.
Being fully automatic, it's ideal for people who don't like to bother much, yet want to cut ideal slices for tasty sandwiches.
7. Nopro Bread Slicer
Product Information
| | |
| --- | --- |
| Package Dimensions | 1.5 x 2 x 3 inches |
| Item Weight | 4 ounces |
| Manufacturer | Norpro |
| Price | $21.48 |
Highlighted Features
Attractive design
Acrylic knife guides
Removable crumb tray
Affordable
Easy-to-clean
The Nopro slicer with a crumb tray is ideal for both home and commercial use.
It's durable and it will help you produce great slices with each use. Plus, it's quite affordable.
The knife guides are made with acrylic- a safe material that's very easy for maintenance and simple for assembling.
If you're worried about the mess, don't be. This slicer comes with a removable crumb collector that will keep everything in one place.
When you're done, just remove it, toss away the crumbs, and wipe it with a damp cloth and put it back.
However, you can only produce ½-inch slices- the slicer isn't adjustable. Make sure you use the longest serrated knife you have as a shorter one may slip out of the guides.
8. Magigo Bamboo Bread Slicer
Product Information
| | |
| --- | --- |
| Package Dimensions | 14.13 x 9.49 x 2.99 inches |
| Item Weight | 3.03 pounds |
| Manufacturer | MAGIGO |
| Price | $25.99 |
Highlighted Features
Top-quality bamboo
Sturdy & durable
3 different thickness levels
Foldable
Comes with extra bags & twist ties
This is another bread slicer designed with premium bamboo, but what makes it unique is its strength and resistance. When taken proper care of, it can be a lifelong investment.
It offers three thickness guides so that you can cut your bread in three different sizes. We love how easy storage is – the slicer is foldable and takes less space.
Plus, you have a knife rest which is much safe and convenient after you finish the slicing. The crumbs from the cutting won't fall on your countertop, but directly in the tray underneath.
The tray is easy to clean- you just need to wipe it with a damp cloth and dry it. For the price, you also get 20 bread bags and 20 Golden twist ties.
9. Eon Concepts Bread Slicer with Rubber Padding
Product Information
| | |
| --- | --- |
| Package Dimensions | 7.48 x 6.69 x 5.51 inches |
| Item Weight | 9.9 ounces |
| Manufacturer | Eon Concepts |
| Price | $13.99 |
Highlighted Features
Eco-friendly ABS resin
No unpleasant odor or toxins released
Comes with 2 rubber surface pads
Easy-to-use
This bread slicer is constructed with eco-friendly ABS plastic resin. It's sturdy and durable and it can withstand temperatures of -10 degrees Celsius to 90 degrees Celsius.
It doesn't emit toxins and unpleasant odors. It allows slicing bread into 4 distinct thicknesses- 1 cm, 1.5 cm, 2 cm, and 2.5 cm.
For the price, you also get 2 rubber paddings for the non-slippery surface. You just attach them onto the base and it will stay firmly on the kitchen countertop.
The mechanism is very simple- just slide the divider into the device for the desired level of thickness. Being foldable, it's not even a problem for low-space kitchens.
You'll surely appreciate the generous slicing surface that's ideal for bread, bagels, cakes, cheese, veggies, ham, etc.
It can contain loaves up to 6 inches height and 4.5 inches in width.
10. Purenjoy Bamboo Foldable Slicer
Product Information
| | |
| --- | --- |
| Package Dimensions | 12.6 x 8.7 x 2.4 inches |
| Item Weight | 2.5 pounds |
| Manufacturer | PRUENJOY |
| Price | $24.99 |
Highlighted Features
Suitable for various types of bread
Foldable design
3 thickness levels
100 percent lifetime guarantee
Non-slippery base
This 100 percent bamboo bread slicer is an excellent investment for those who want uniform slices of bread, French bread, custom-style baguettes, banana bread, and pound cakes.
Being foldable, it won't take up immense space in your kitchen as other slicers tend to.
You have three different slice sizes to choose from. Thanks to the side panels which are holding the loaf secure, you'll get effortless and ideal slices every time.
We really love the company's 100 percent lifetime guarantee for all its products, including this slicer.
Moreover, the non-slip stickers on the bottom of the crumb tray will ensure the slicer doesn't move during use.
For optimal experience, it's best to use it with a 10-inch bread knife. Because of the multifunctional tray, the mess is brought to a minimum.
Final Thoughts
Even though you may think that you don't need a bread slicer to cut your bread because you have a bread knife for this, when you realize all the advantages of this device, you'll think twice.
With a bread slicer, the risk of injuries is lower, the slices will be more uniform, you can slice plenty of slices in a short amount of time, and there will be practically zero mess.
Since it's not overly expensive and it can last for a lifetime if you take good care of it, a bread slicer can be an awesome investment.
To help you learn more about bread slicers and why these tools can be your good friends in the kitchen, we presented important information as well as our 10 top picks from Amazon.
Despite the fact that most of the models we presented are made with bamboo wood, we also presented great options from other materials.
If you want a durable, beautifully designed, and compact bread slicer and you're not limited in budget, our best pick may be great for you.
For people who don't want to spend much yet want to find out if a bread slicer is a good solution for them, our budget pick will certainly ease things!
* Affiliate links/Images/Price from Amazon Product Advertising API