With certainty, nobody, regardless of their expertise level in the kitchen, likes to work with a dull knife.
One needs to have the right knife which is razor-sharp and helps perform optimal chopping, dicing or slicing of various ingredients.
No matter if we were to ask a professional chef or an amateur in the kitchen, they will both say "no" to dull knives!
Though a quality knife tends to keep its sharpness and edge for a longer period of time than poor quality ones do, it will eventually lose it or it will diminish.
When this happens, it is time to catch up on our sharpening skills.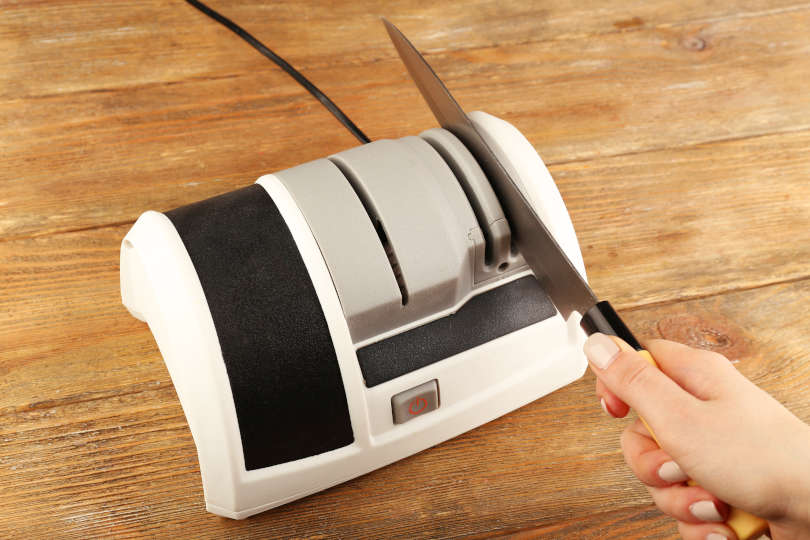 One way to get done with the sharpening fast is by using an electric sharpener. But, how to choose the perfect electric knife sharpener that will meet all of our needs?
Below, check out the list of our favorite choices for electric knife sharpeners currently.
Why Do I Need a Quality Knife Sharpener?
When you have sharp knives in your drawer, you do not just ensure optimal cutting, chopping, or slicing of numerous ingredients, but an overall satisfactory culinary experience.
But, knives don't stay sharp forever and we need to sharpen them regularly. A knife that's gone dull has to have its edge reshaped which will require metal removal.
An electric knife sharpener is a great option for restoring even the very dull forgotten blades in your kitchen.
Nowadays, there are a lot of different knife sharpeners that you can find, from manual to electric ones.
Thanks to their unique advantages and availability, the electric options are often the main choice of many homes and professional cooks today.
Why to Choose an Electric Knife Sharpener?
Electric knife sharpeners are designed in a way to be simple-to-use and easy-to-work-with so there's no need for previous experience or skills to start reaping its benefits.
The abrasives of this sharpener are set on motor wheels that spin against the blade. Even though you should always stick to the manufacturer's instructions for use, generally, they work the same.
You turn it on, hold the knife lightly, but securely and begin pulling it through the slots you want- do it slowly and smoothly.
Then, switch sides of the blade.
You will appreciate the fact that the device keeps you safe by minimizing the risk of injuries (which is not always the case with other classic knife sharpeners) and because you can use it for different types of blade materials and designs, including serrated and straight knives.
How to Choose the Electric Knife Sharpener?
Even though it may be easy to decide that you need an electric knife sharpener, especially if you prefer innovative and modern kitchen devices, finding an electric knife sharpener can be challenging.
This is mostly a result of the array of different brands and types available.
Therefore, it is important to learn the most important aspects of sharpening and the basics of electric knife sharpeners first so that you know what to expect from them.
How often should I Sharpen My Knives?
If you use your knives on a regular basis, they usually need to be sharpened every 3 months or so.
On the other hand, for moderate or occasional use, sharpen them every 6 to 12 months. A good suggestion is to sharpen the knife after every 300 meals.
Even if you do it more often, don't worry about any potential 'too much metal scraping off'. This is in fact a common myth about electric sharpeners- if you've chosen the best brand, you needn't worry about too much metal loss.
These sharpeners do take off metal, but this is a very small amount.
What to Know Before Buying an Electric Knife Sharpener?
Electric knife sharpeners enable honing and sharpening through rotating wheels which grind the edge.
Your task is to gently slide the blade up and down, with minimal effort, which is not the case with the manual models.
These sharpeners require more human involvement, that is, the adequate maneuvers, slight pressure, and watching out for the right sharpening angle.
Most electric sharpeners already have a set sharpening angle, so there's no need to hold the knife at a specific angle which is often the case with manual sharpeners.
With an electric knife sharpener, this aspect is already taken care of.
What should I Know about Sharpening Angles?
When you read about sharpening blades, you often see a sharpening angle being mentioned. Since different knives serve different goals, this requires the knife to be sharpened at a specific angle.
With electric knife sharpeners, some can sharpen at specific angles.
Most of the standard models only sharpen to an angle of 20 degrees. This is the most common angle of bigger American-style knives.
Other higher-end models may come with several sharpening angle options, usually 15 and 20 degrees.
However, if you need additional angles, it's maybe smarter to go with a manual sharpener and adjust the angle manually.
In this case, you may need a bit more experience in sharpening to achieve optimal results!
How to Clean an Electric Knife Sharpener?
Like with any other instrument, to keep it in good shape, we have to take proper care of it, including cleaning it on a regular basis. One way to do this is to use a clean and dry cloth.
Also, it's recommendable to loosen the bottom screw and remove the cover and sharpening wheel. You then shake it upside down and use a brush to clean it thoroughly.
It's best to do this after you've used it 5 times. Avoid water and lubricants for the moving parts like the motor and the wheel.
To clean the sharpening wheel, use a brush and a bit of detergent on it- scrub waste off and clean it away with a damp cloth.
From time to time, also remove the drawer below the wheels and wipe it out well using a paper towel or a damp cloth. This will eliminate all metal shavings.
Electric Knife Sharpener Reviews
1. Chef's Choice Trizor XV-EdgeSelect Electric Sharpener
Highlighted Features
3 stages
Sharpens & polishes
Flexible angle guide
Prolongs knives' durability
This potent device gives you the ability to change any knife angle into the desirable 15 degrees.
Each of the three stages has a distinct slot for a specific purpose.
The discs in the first and second slots are made with pure diamond abrasive and sharpen the blade and create bevels for optimal durability.
The stropping material of the third stage smoothens and polishes the knife.
The flexible angle guide controls the sharpening angle on its own, regardless of whether you sharpen a thick or a thin blade.
The Trizor XV Edge prolongs the longevity of the knives by transforming them into 15-degree edge blades.
2. LINKYO Electric Knife Sharpener
Highlighted Features
Affordable
2-stage sharpening system
Stop feature included
Non-slippery bottom
Easy to clean
This is an affordable, simple, and safe sharpening tool. For a decent price, you get some superior properties.
Thanks to the strong 2-stage sharpening system, you'll bring back to life the dull and damaged blades from your drawer.
However, it's suitable for straight edge blades only.
The incorporated "stop" feature stalls the sharpener in case of excessive pressure and minimizes the risk of injuries. Plus, the non-slip suction bottom also prevents slippage and potential injuries.
With this sharpener, everything goes easy and smooth, even the cleaning process.
You just need a couple of strokes with a damp and then with a dry towel to leave it clean and shiny and ready for next use.
3. Work Sharp Knife & Tool Sharpener
Highlighted Features
3 sharpening stages
Sharpens at 40 degrees angle
Versatile
Easy-to-use and install
1-year-warranty
With this superior tool, you can sharpen every knife and tool easily, fast, and efficiently. Its premium abrasive grit belts will meet all your needs for sharpening. There's a coarse, medium, and fine grit.
They won't burn or damage the steel while sharpening. Thanks to the guides, you'll always have 40-degree angle sharpened blades.
Customers love it for its versatility- you can use it for numerous bladed tools, tools for the garden like shovels, shears, pruners, etc.
They also praise it for how easy it's to use and install and because it's good value for money.
For this amazing tool, you get a great one-year warranty; however, it's only valid for those living in North America.
4. Presto O8800 EverSharp Electric Knife Sharpener
Highlighted Features
2 sharpening stages
Grinds & hones
Suitable for various blade types
Non-slippery bottom
This sharpener appeals with its simplicity in function and design.
There are no overwhelming and complex features, yet the results are efficient and fast. It has 2-stages for a sharpening system and delivers professional sharpening results at home.
The precision blade guide places the knife at the proper sharpening angle and sharpens within seconds.
The sapphirite sharpening wheels are made of hard and sturdy material that is used in professional knife shops. You can use the sharpener on blades from stainless steel, carbon or alloy.
Thanks to the suction cups on the bottom, there's a low risk of slippage or injuries. The two receptacles underneath it will collect all of the metal fillings for easy disposal.
5. Shenzhen Knives Diamond Knife Sharpener Tool
Highlighted Features
Great for ceramic or steel knives
Has a removable cartridge
2 diamond abrasive stones
Versatile
This is the ideal sharpener for ceramic and stainless steel blades. Its body has a removable cartridge for cleaning or replacement of old stones.
It comes with 2 diamond abrasive stones for sharpening, i.e. one with a 600 grit for coarse sharpening and the other one with an 800 grit for honing or fine sharpening.
Thanks to the motor's power and the strong stones, you can also use it to fix chips on blades up to a millimeter deep.
Planned out to the smallest detail, this sharpener is deservingly on our list for top electric knife sharpeners.
However, if you are looking for a sharpener for serrated blades, scissors or knives for outdoor usage, you may need another model.
6. Chef's Choice Diamond Hone Hybrid Sharpener
Highlighted Features
2 electric & 1 manual stage
Suitable for serrated & straight blades
Makes the blades stronger
100 % diamond wheels
If you're looking for an electric sharpener suitable for straight or serrated knives, this is a great choice. It has razor-sharp edges and its 3-stage advanced hybrid tech is a combo of manual and electric sharpening.
You can use it for household knives, as well as for sporting or pocket knives.
The 1st and 2nd stage is electric and intended for sharpening and setting the edge whereas the 3rd is for honing and final touch.
This stage is manual and doesn't require power to be used- you can use it anywhere.
It leaves blades not just sharper, but stronger and more durable too. The tool is assembled in the US and the company offers a 1-year household warranty.
7. Presto Professional Electric Knife Sharpener
Highlighted Features
3-stage-sharpening
Blade thickness adjustable
1-year warranty
Versatile & durable
This is an easy, 3-stage sharpener that enables professional results at home-it's great for kitchen knives, sports knives, and even Santoku ones.
To optimize the sharpening angle, you adjust the blade thickness selector-for example, medium for chef's knives, thick for hunting ones, and thin for lighter blades like those of paring or fillet knives.
The extra-fine grit from ceramic will fine-hone the blade and make it razor-sharp. And, it's so simple to use-you just draw the knife through each slot several times.
With this product, you can shop without a worry on your mind- it comes with a one-year limited warranty.
Customers praised this sharpener the most for being durable, versatile, and easy to use.
8. Edge Keeper Electric Knife Sharpener
Highlighted Features
Diamond-coated wheel
Easy-to-maintain
Affordable
Non-slippery bottom
Compact size
This is a 2-stage sharpener that sharpens quickly and easily almost any blade. It's set to sharpen at the ideal angle thanks to the angle guide.
It's very easy to clean and it produces low mess thanks to its removable magnet- it collects all metal shavings. It looks stylish and sleek.
The non-slip bottom feet keep you safe during usage and the sharpening wheels are durable and razor-sharp and diamond-coated. Its compact size makes it ideal for smaller kitchens.
What's more, it's suitable for fine-edge blades only, carbon or stainless steel ones, American or European style.
However, if you want to sharpen other knives like sporting, serrated, electric or knives, opt for a different sharpener.
9. Secura 2-Stage Knife Sharpener
Highlighted Features
Easy to hold
Good value for money
Non-slip bottom
2-year warranty
This affordable 2-stage sharpener will effortlessly sharpen your non-serrated blades fast.
The 1st stage is for sharpening and rejuvenating the edge and setting the angle whereas the 2nd one will hone and polish it. The suction non-slippery bottom cups keep the sharpener in place while you're using it.
We really appreciate the 2-year limited warranty.
It's very easy to use and intuitive- you have a red on/off button on the middle front. Since it's also compact and looks attractive, it can be a nice display piece in your kitchen.
Customers loved it the most for being easy to hold, easy to use, and for being good value for money.
But, this isn't a sharpener you can use with serrated or ceramic blades.
10. Chef's Choice 120 Diamond Hone Electric Knife Sharpener
Highlighted Features
Suitable for straight & serrated blades
Works very fast
100 % diamond abrasives
3-year warranty
This 3-stage premium sharpener comes with precision angle guides that find the right angle for you every time.
The 1st and 2nd stages form the first and second bevels of the edge. The 3rd one polishes the third bevel. The 1 and 2 stage wheels are 100 percent diamond.
This is, without doubt, a versatile and fast electric sharpener- it works with sporting, butcher, gourmet, and pocket knives. It will leave them renewed, sharp, and long-lasting.
Plus, it has a very good design- there's sufficient place to hold it well and doesn't cause any tiredness in the hands. In this way, you'll be focused on the sharpening process.
If you decide to buy it, you get a 3-year warranty.
Final Thoughts
Without doubt, electric knife sharpeners have so many benefits to offer, including comfort, speed, efficiency, and minimal human effort required.
Regardless of how much time you spend in the kitchen, you need to have sharp knives to optimize food preparation.
One of the best ways to maintain them in optimal shape is to have an electric sharpening device by your side. This smart and useful investment will never let you struggle with dull blades.
We presented 10 top choices available on Amazon right away and all of them are a great investment. If you're not limited when it comes to your funds, feel free to go with our top pick- it delivers premium results every time!
If you don't plan on spending a lot on this kitchen gadget, but still want an efficient and quality product, our budget pick will leave you amazed, for sure!