A lot of culinary enthusiasts, chefs, and cooks spend a lot of money on tools, particularly knives.
This often makes a lot of sense as knives play a pivotal role in the creation of almost any dish. They need to be sharp, durable and constructed from premium materials.
However, what happens when we travel and need to take our cooking tools with us?
We need to be able to transport our knives properly and ensure they're well-protected and won't get damaged or worse, cause injuries.
To ensure safe and responsible transport, it's beneficial to have the knife roll bag by your side.
These protective cases will ensure maximum safety for the people around, but also prolong the knives' sharpness by ensuring their edges aren't damaged.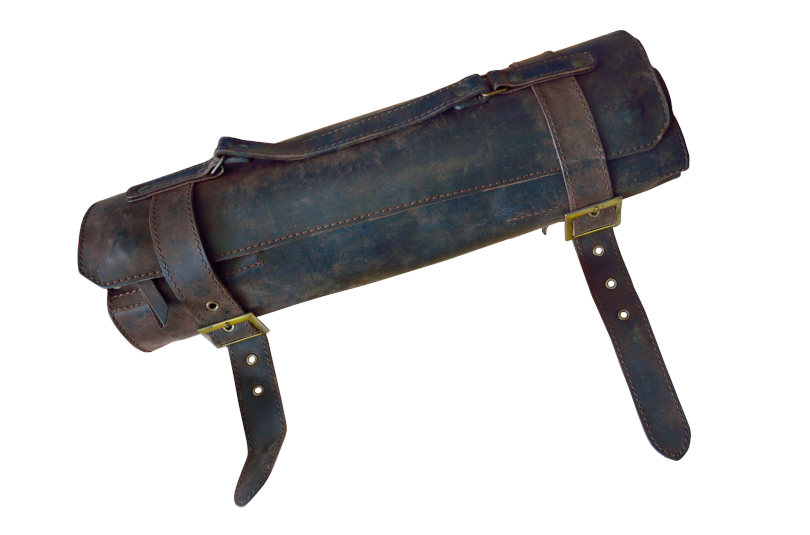 To help you choose the knife bag for chefs or a roll for your knives, we've decided to present our 10 favorite models currently, as well as some important information that every buyer should know before making a purchase.
What Are Knife Bags & Rolls?
Knife bags and rolls are designed to help chefs store and transport their knives safely and responsibly. This is a smart way of ensuring all of your cooking equipment is with you when you're on the go.
And, you needn't be a professional chef to benefit from knife bags and rolls- they make excellent, safe home storage for knives.
Knife bags are often made with textile fabric, leather or nylon and offer several sections for storing knives individually, as well as additional pockets for remaining culinary tools.
They come with handles that ease the carrying- they're comfy and ergonomic and don't cause pressure on the hands. Some models also offer shoulder strap carrying options.
Why do I need a Knife Bag for Chef?
A good chef is aware of the necessity of quality and sharp knives because of their major role in food creation.
What's more, there are a lot of cases when we need to take our knives with us whether it's on a catering job at a new restaurant or at a friend's house to prepare the holiday dinner.
This transport is made easy and safe when you have a proper knife bag or a roll- these products are ideal for maintaining the protection and safety of your tools, but also to travel conveniently and in style.
What are the Advantages of Knife Bag for Chef?
Although you can put your knives in a suitcase or a regular bag, we strongly advise against this. When you throw your knives all together or one on the other, you contribute to more damage, both to the tools and to the bag.
On the other hand, chef knife bags come with separated and adequately secured sections for every knife, enabling maximum safety, unlike regular bags that are intended for other things.
Thanks to the specialized sections, you can always access your desired knife easily and conveniently. You won't have to waste time searching for that one chef's knife or some other tool you need at the moment.
Being made from quality and strong materials, these bags will keep away dust, dirt, moisture away from your knives, but also prevent damages, which is of primary importance when you own more expensive knives or knives dear to your heart.
What Should I Know Before Buying a Chef Knife Bag?
The Size
To make sure your cooking tools are protected, you need to find the perfect size bag for your chef knife. If you have 15 tools, it's normal that a chef knife bag with fewer pockets won't suffice.
Therefore, before deciding, consider the number of knives you have, measure them, and look for a bag with a suitable length and number of compartments.
The Material
When choosing a knife bag or a roll for your knives, consider the material- do you need a softer and lighter or a sturdier one?
Let's say you have more than 10 expensive and big chef knives- they need to be kept secure and sharp and this can be better achieved with leather and a sturdy bag that has good stitching.
On the other hand, if you possess a couple of smaller knives and tools, a quality polyester roll would probably be suitable.
The Price
In order to find the knife bag for chefs, you needn't spend more than your budget allows. If you can't afford a bag or a roll, there are always less expensive options with good quality.
It's beneficial to know that the leather ones tend to be more expensive than polyester and nylon ones. Consider the material used, the design, and the stitches and you can always find a great roll or a bag for a decent price.
The Design
Though they may seem unimportant to some, design details are often crucial in making the final decision for a bag.
There are designs that enable carrying the bag by hand or over the shoulder, as well as bags that are more similar to backpacks or to traditional knife rolls.
A good option is the type of rolls that offer a handle and a shoulder strap that increase their flexibility in terms of carrying.
How to Take Care of My Chef Knife Bag?
Taking care of your chef knife bag will ultimately depend on their material; however, most of them shouldn't be washed or dried in the machine and it's not recommendable to dry-clean them.
To be certain of how to maintain these bags clean, check their label and other cleaning instructions the manufacturer provides. If it's not machine-washable, you can brush it using a soft brush and spot clean it with a damp cloth or a sponge.
Best Chef Knife Bag Reviews
Top Pick
This is our top choice not just because of high customer satisfaction, but because of the premium materials and design too.
The nylon & polyester are ideally blended and the excellent case-like design, the strong zippers, and the elasticized pockets make it highly efficient, simple-to-use, and durable.
Budget Pick
This knife bag is our budget pick because of its affordability and the awesome properties it has to offer.
From reinforced and elasticized pockets and a padded construction from quality 600D nylon to top quality YKK zippers and ergonomic handle for extra comfort, this knife case is amazing value for money.
1. Ergo Chef 5-Pocket Knife Bag
Highlighted Features
Made from quality nylon & polyester
Case-like shape with 2 zippers
Comfy carrying enabled by Velcro handle strap
5 elastic pockets
This knife bag comes in a case-like shape and it's entirely black on the inside and on the outside. It features 2 zippers, elasticized pockets, name tag area, and a comfy handle for easy carrying.
The Velcro attachment enables both sides of the handle to be closed together or not, whichever you find comfier.
Thanks to the 5 elastic pockets, your knives will be perfectly held and secured and you needn't worry about them getting damaged during transport.
The materials used for this bag are heavy nylon and polyester which are less expensive than leather, yet provide excellent quality and longevity.
This could be the ideal choice for culinary students who're on the go all the time and need their equipment with them.
2. Noble Home Chef Knife Bag
Highlighted Features
It can hold up to 18-inch knives
Both handle & shoulder strap
Extra pockets
Strong metal zippers
Adjustable straps
This knife bag will help you carry more than 10 tools, including your knives, scissors, and cleavers. The 4 additional pockets are designed for spoons and utensils.
The bag offers a handle and a shoulder strap (removable one) that enables you to choose how you'll be carrying it.
The strong 600 Denier Canvas woven and sturdy polyester ensures the roll withstands years of daily usage.
For the utmost personalization of your culinary tools, use the name tag slot to place your personal info if you wish to.
The 2 strong canvas cover flaps are excellent protection whereas the strong metal zippers and adjustable straps help secure everything together.
3. Messermeister 5-Pocket Chef Knife Bag
Highlighted Features
Lifetime warranty
5 elastic knife slots
Additional pockets included
Racquet coil zippers
Messermeister is indeed one of the most popular fashion-forward designers that offer high-quality products.
This affordable knife bag with 5 slots is an ideal example of this- it's made using high quality and durable fabrics. The company is also known for using metal for its hardware, never plastics.
This padded chef knife bag comes with a foam core exterior and a fully lined interior. The bag is made with 600 Denier water-resistant nylon which is also luggage-grade laminated.
The heavy-duty YKK racquet coil zippers are designed to resist abrasion and to deliver excellent zipping results.
The nylon handles ensure comfy holding. The deluxe shoulder strap has been strengthened with metal D-rings placed at both ends of the bag.
4. Noble Home & Chef 8-Slot Knife Bag
Highlighted Features
Decent price
Holds up to 8 knives
Additional pouches
Handle & shoulder strap included
Made from durable polyester
This chef knife bag has 8 slots and you can insert up to 18 inch long knives. You also get a covered section for your sharpening steel, 4 holders for spoons, and a zippered pouch for any other extra tool you may have.
Thanks to the strong handle and removable shoulder strap, the bag is easy and safe to carry. It's also padded for maximum protection and its materials ensure it preserves its strength even after years of regular use.
The company used 600 Denier Canvas woven out of durable polyester for its making. Thanks to the tough canvas cover flap, your knives will be safe and sound; the quality zipper makes sure your precious knives stay in place.
5. Everpride Knife Bag for Chefs
Highlighted Features
Money-back guarantee
Handle & shoulder strap included
Made from durable polyester
Comes with 2 Everpride knife guards
3 large compartments for 20 knives
No matter if you're a professional chef, a home cook or a culinary student, this is an accessory you shouldn't be without.
This premium bag is made from quality materials, i.e. 600 Polyester with extra PVC backing.
Besides the bag, you also get 2 Everpride knife guards as a compliment. The holder is divided into 3 big compartments for 20 knives, as well as additional slots.
The bag is so practical and easy to carry- there's both a handle and a shoulder strap, whichever is more convenient for you at the moment. It's described by users as comfy and lightweight.
Enjoy your shopping freely as the bag is backed up by a money-back guarantee. If you're not satisfied, you can return the bag and get a full refund.
6. Boldric Khaki Canvas Chef Knife Bag
Highlighted Features
Impressive design
Great functionality
Made from strong materials
Waterproof
Easy-to-clean
Manufactured from quality materials, this khaki canvas chef knife bag is amazingly functional. In addition to the unique brown leather trim, it's also waterproof which makes it easy to keep clean (you just need a damp cloth and you're good to go). The bag is wrapped and closed with a Velcro strap.
Boldric is an established name when it comes to the designs of knife bags. They're the creators of several attractive chef knife bags and this 6-slot one is not an exception.
Even though it can fit only 6 knives, it does offer great design and functionality. Its robust build and excellent fabric used make it ideal for both home and professional cooks.
Despite being one of the more expensive models, it's certainly an impressive knife case for cooks who want to stand out from the crowd.
7. Everpride Chef Knife Bag with 12 Slots
Highlighted Features
12 knife slots
Extra slots for other utensils
Made of 600D polyester fabric
Padded for safety
This beautifully designed bag will help you place 10 Japanese or Western chef knives, as well as meat cleavers and other utensils.
The roll also offers smaller pockets for your tasting spoons. Everpride is a company whose team is consisted of reputable chefs who ensure their products are innovative, modern, and feature top-quality materials.
With this product, you get two Everpride knife guards for optimal safety.
It transforms into an easy-to-carry roll with a shoulder strap. The material is 600D polyester fabric with extra PVC padding that won't allow the knives to slide and rip the bag.
The Everpride logo on the front of the roll definitely adds to the whole 'magic'. With this bag, you'll feel more confident and keep your precious tools safe and within a hand's reach.
8. Everpride Waxed Canvas Knife Bag
Highlighted Features
10 knife pockets + additional slots
Made from waxed canvas
Has both a shoulder strap & a handle
Easy-to-use
This knife bag by Everpride features 10 knife pockets and its waxed canvas. It's strong and easy to use.
It's comfy to wear and one of the premium medium-size knives rolls currently. The roll is also designed with 3 smaller pockets for additional utensils.
We appreciate the inner zipper pocket that could be used for business cards or recipes.
This bag offers two carrying options- in your hand or over your shoulder. The handle grip is comfy and balanced, as well as durable and safe due to the high-quality material used.
The shoulder strap is gentle on the body and strong enough to carry your tools without putting extra pressure on your shoulders. The additional padding cover ensures the knives won't slide or rip the bag.
Restore the bag's shine with a damp sponge and a mild soap.
9. Chef Sac Sling Knife Bag
Highlighted Features
Crafted from strong 600D polyester canvas
Reinforced double stitching
More than 20 knife slots + additional pockets
Can be carried over the shoulder or in the hand
This bag-like portable knife case is created from a strong 600D polyester canvas and won't get damaged even after years of daily use.
Thanks to the reinforced double stitching, the bag can last for a lifetime. You can rely on it whenever you need to get your culinary tools in one place and head out.
It can fit an entire set of culinary tools, up to 21 knives, and you also get zippered mesh pockets for other culinary tools.
You can wear it on your back and feel comfy, thanks to the strong and ergonomic shoulder strap. Or, hold it like a bag with the strap attached to the top, whichever suits you more.
This bag is without a doubt aesthetically and visually pleasing and will bring high fashion into your culinary world.
10. Hersent Knife Roll Bag for Chef
Highlighted Features
Made from quality natural oxford material
9 pockets
Waxed & waterproof
Wrap cord included
This black and grey rollout bag by Hersent is inexpensive, yet highly efficient.
You can store up to 8 knives in various lengths. There's an additional pocket included. The flap cover keeps the tools in place and prevents injuries.
The material used is durable natural oxford and it's waxed to be waterproof. However, avoid soaking it in water to clean it, use a damp sponge and avoid strong detergents.
Compact and convenient, it's great for camping or barbequing trips, as well as for culinary classes or work.
The sewn canvas cord allows you to wrap the roll after closing it and thus, secure all of the tools.
It's a straightforward and simple-to-use knife roll and ideal for people with a smaller knife collection.
The company gives a refund or replacement options for customers who're not 100 percent satisfied with the product.
Final Thoughts
When professional and home cooks invest in expensive knives and other culinary tools, it's also wise to invest in the best chef knife bag or roll that allows their proper storage.
Whether we need our knives when we're on the go or simply need a place to store them safely, these cases are an excellent choice. Luckily, if you're searching for this type of knife case, there are plenty of models and designs to choose from.
You can find an over-the-shoulder bag or a rollout that is tied with a cord and carried by hand, whichever suits you more. There are leather options that are usually more expensive and ones from fabrics like nylon, cotton, and polyester that are more affordable.
Each of these materials has its advantages and disadvantages and we should take them into account before making a purchase. However, this can be quite a challenging process, especially for first-time buyers, so we hope our guide helps you!
We've presented different types of chef knife bags and rolls and we believe they can suit anyone's needs and personal preferences, as well as budget.
If you're limited in terms of budget and you don't have a bigger knife collection, our budget pick will be a good choice.
If you don't mind spending a bit more and if you want premium materials and optimal design and functionality from this culinary accessory, our best pick by Ergo Chef's could be an excellent investment.
* Affiliate links/Images/Price from Amazon Product Advertising API