When it comes to wooden cutting boards, many people think that they are all the same; however, they're not. They differ in their properties that don't just affect the look of the board, but their durability too.
So, before you decide on a wooden board (this is the best surface in terms of cleanliness, knife maintenance, and attractiveness), consider the two different types of production, that is, end grain and edge grain.
The end grain cutting board is constructed from end wood pieces. Though more expensive, it's a worthy and smart investment. Plus, they can "self-repair", that is, their fibers close up after being cut up by the blade of a knife.
On the other hand, the edge grain ones are made from parallel wood pieces combined together. They do come at a lower price and are praised for their durability; however, they tend to dull up knives faster than the end grain ones.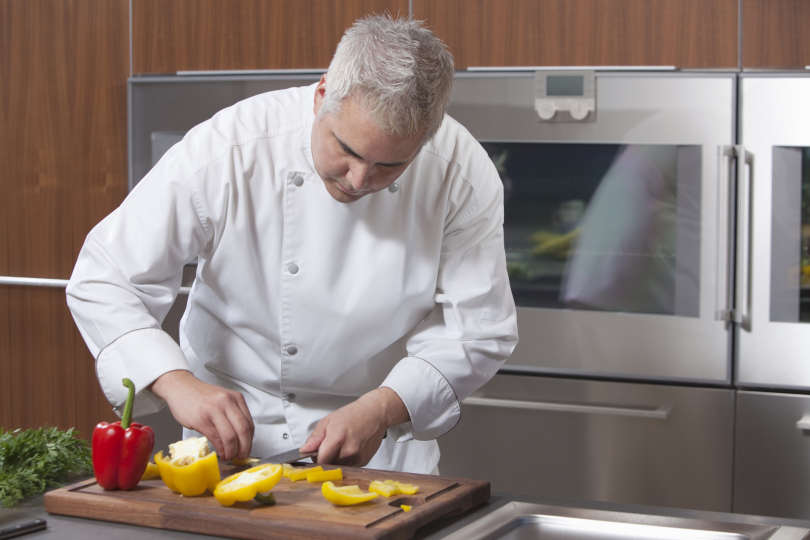 Hence, if you're not shopping on a budget and if you want to protect your knives and have a beautiful mark-free cutting (and serving!) board; invest in an end grain cutting board.
However, with so many different options available on the market, it can be challenging to find the proper end grain cutting board for you.
This is where our review can help- learn more about end grain cutting boards and our ten top choices.
Why Do I Need a Wooden Cutting Board?
As any expert would tell you, a knife is only good if it is paired with the right partner, i.e. a quality cutting board. This averts the knife from becoming dull too fast.
And, wooden boards are often the preferred choice (over plastic ones) because the food-borne bacteria it absorbs remains inside where they are unable to multiply and thus, die.
On the other hand, plastic boards, once they have cuts, are hard to clean and though the bacteria are trapped, plastic has no natural antimicrobial properties to destroy them.
Many wooden boards make a great serving board too- whether you are serving some cheese for a wine night with friends or some cookies for a gathering with family, they can be a great addition to the table.
What Are the Benefits of End Grain Cutting Boards?
Considered crème de la crème in the world of wooden cutting boards, this grain offers a variety of advantages, including the ability for 'self-healing' and high splintering tolerance.
For many users of wooden boards, end grain production is the aesthetically best option and ensures durability, color, and character.
When you cut or chop on this board, the fibers absorb the impacts and there are no nicks and gouges. Being able to absorb both noise and energy makes these boards resistant to wear and scraping.
Wooden boards are a sustainable and smart choice from both an environmental and financial point of view as opposed to plastic ones which are wasteful, not recyclable, and poorly aesthetical.
Even though you may pay a bit more upfront, an end-grain wooden cutting board will last for decades and even for a lifetime.
When you take good care of them by washing them with hot and soapy water and towel-drying them and oiling them on a weekly basis or so, they can be your best allies in the kitchen.
How to Choose the End Grain Board?
If you have invested in finer kitchen equipment, including knives, it is a wise option to take proper care of them and invest in the right chopping board.
You will recognize this board easily because its cutting surface is made from end wood pieces and therefore usually has a checkerboard pattern.
When you use your knives on this board, it will feel softer when the knife and the board make contact, which is not so emphasized with other wooden boards like edge grain.
Take into account that hardwood (walnut, cherry) is harder and thus, has longer durability unlike softer woods like fir or pine that will wear off much faster.
Moreover, avoid using boards made with glues that contain formaldehyde, regardless of the type you choose.
Useful Maintenance Tips for End Grain Cutting Board
With these few tips up your sleeve, your cutting board can last for a lifetime.
Did you know that cleaning your board with oil and vinegar or lemon juice is pivotal?
Depending on how often you use it, you should do this every 2 to 4 months. In this way, you'll prolong its lifespan and keep its appearance optimal.
When applying oil, it's necessary to wash and dry the board first. Then, apply some vinegar or lemon juice and pour some sea salt grains on top.
Using a paper towel or a cloth, rub it into the board. Leave it for 20 minutes.
Afterward, rinse it well and dry it. Now, you can apply a small amount of the oil you're using throughout the entire surface.
The best way to clean your cutting board after you're done with the chopping and cutting is to rinse it and wipe it with a cloth or a dish brush. Avoid submerging it in water-this can cause deformations.
When it dries entirely, then store it vertically to keep its original condition.
End Grain Cutting Board Reviews
1. Top Notch Kitchenware End Grain Cutting Board
Highlighted Features
Premium bamboo
Thick, yet light
Damage-resistant
Eco-friendly
Non-slippery bottom
If you're searching for a durable, long-lasting, and thick cutting board, this is an amazing choice. Being made from bamboo, it's lighter than other types of wood, yet harder and more resistant to damage.
The board is soft and won't dull your knife. And, it's sufficiently dense to ensure you chop and cut effortlessly and safely.
Even though it's designed for professional chefs, all cooking enthusiasts will love it. Moreover, if you decide to invest in this cutting board, you're making an eco-friendly choice.
Bamboo is a biodegradable, sustainable, and renewable resource that doesn't need materials to grow. Plus, we love the wonderful design and checkerboard appearance that makes it a great choice for serving food.
And, no need to worry about it sliding throughout your counter while using it- it has rubber feet on the bottom for extra stability.
2. Daddy Chef End Grain Wooden Board
Highlighted Features
Made from sturdy & quality hardwood
Doesn't dull knives
Side handles
Non-slippery bottom
Easy-to-clean
This high-end cutting board is made with top quality hardwood and FDA-approved glue. It won't damage or dull your knives and it will actually prolong their sharpness.
The board comes with side handles which are very convenient, especially when you're using the board as a serving tray.
There are transparent silicone and non-slippery feet on its bottom that won't scratch your countertops and prevent the board to slide from side to side while you're chopping.
We really appreciate how easy it's for maintenance- wipe it with a wet dish towel or a sponge and remove any leftovers and dry it.
To ensure it preserves its natural glow and properties, every two months or earlier, rub it with mineral oil.
Oiling your board will keep mold away and prevent foot particles and moisture from penetrating its pores.
3. Non-Slip Rubber Feet End Grain Bamboo Board
Highlighted Features
Antibacterial properties
Made from premium bamboo
Eco-friendly
Smaller size great for smaller kitchens
Stylish checkerboard design
This is another checkerboard, a bamboo cutting board by Top Notch Kitchenware, but comes in a smaller size, which is great for smaller spaces.
It's a lighter choice than other wooden boards; however, it's still scratch-resistant and hard.
It won't damage your knives and it won't slip while you're in a chopping 'frenzy' thanks to its non-slippery base.
It's more than just a cutting board-it's a contemporary serving tray for those lovely Friday nights with wine and cheese. The non-porous surface that's naturally provided by the bamboo will ensure bacteria stay away.
It's also backed up with a lifetime guarantee so you can shop without a worry on your mind!
4. TPA Wood Chopping Board
Highlighted Features
Made with premium hardwood oak
Checkerboard design
Doesn't dull knives
Excellent gift option
Non-slippery bottom
TPA Wood used premium hardwood oak for the making of this beautiful checkerboard end grain cutting board.
It has an optimal size (16×12 inches and a 1.5 inches thickness). It will keep your blades safe from dulling and will prolong their sharpness.
This board is a great gift- it can be used to carve brisket, pork, beef, turkey, etc. It's also suitable for cutting and serving veggie and cheese platters.
The board has ergonomic handles that ensure its carrying is easy and safe. The anti-slip feet allow the board to stay firm in place while using it and lower accidents and food loss.
This amazing board is coated with food-safe oil and wax for optimal finish and preservation of its properties.
5. Sonder LA End Grain Walnut Wood Cutting Board
Highlighted Features
Made from teak wood
Reduced scarring & damage
Three different compartments
Embedded handles
Rubber feet
This artisan cutting board is designed with optimal functionality and multipurpose in mind.
It's highly durable and appreciated for its 'self-healing' abilities. Its fibers will close up after you finish with the prep.
Teak wood is a wonderful option- it's prone to moisture, staining, and scarring. It's known to be sturdy enough to withstand prolonged use.
We really love the versatile embedded compartments that ease your organization of different ingredients.
In addition to helping you store ingredients, it also eases serving charcuterie boards.
The removable non-slippery feet on the bottom ensure high stability during usage whereas the carved-out handles on the side make its carrying effortless.
The built-in juice grooves collect surplus liquid coming out of the ingredients while prepping them, so you needn't worry about additional mess and cleaning.
6. Maple End Grain Cutting Board
Highlighted Features
Made from premium maple
Aesthetically beautiful
Durable
Non-slippery bottom
NSF-approved
This is certainly one of the most originally-looking cutting/serving boards. It's full of rustic character and natural beauty.
If you decide to invest in it, you won't just get an aesthetically beautiful board, but a durable kitchen tool too.
Though it may feel heavier than other boards, its considerable weight is what makes it stable and strong.
Made from maple, the cutting surface is smooth, scratch-resistant, and slippage-resistant.
Maple is a popular wood choice because of its numerous advantages, including reliability and renewability.
Being NSF approved, this product is a trusted one which has been tested several times before released on the market.
To ensure optimal durability and to preserve its quality, treat it with mineral oil from time to time. The only setback for some people may be its rather high price.
7. Walnut End Grain Cutting Board
Highlighted Features
Made from walnut
Sturdy, but soft on blades
Easy-to-clean & sanitize
4 different sizes to choose from
This gorgeous walnut cutting board is highly durable, yet gentle on your cutlery. Simple for cleaning and sanitization, it's a definite must for every kitchen.
You can pick the size that suits you the most, i.e. there are 4 different to choose from. Whenever you are chopping, carving, serving or slicing, this board should be by your side.
It's meticulously crafted with soft edges and a beautiful dark and natural brown color provided by the walnut. Indeed, it will satisfy even the pickiest of users.
It's perfectly suitable for the culinary, food, and cooking industries. Although it may be a bit more expensive, it's surely worth it.
You can switch between cutting sides to help the sides heal. Remember to wash it by hand to preserve its optimal quality.
8. Ironwood Gourmet End Grain Cutting Board
Highlighted Features
Made from acacia wood
Innately hard
Dark deep natural contrast
Multipurpose kitchen tool
This board is designed with cost-effective material and it's more than just a cutting board- it is a multifunctional tool. You can use it as a serving tray too.
You will love its marvelous appearance, but also how easy it's to maintain it- you just need to rinse it with warm water and soap and leave it to dry.
Acacia wood is well-known for its naturally contrasting and one-of-a-kind patterns. Thanks to this board, wear and tear of your cutlery will be part of the past.
When used for serving, it definitely improves meal presentation. Why choose acacia wood cutting boards? Because they possess natural hardness and offer a dark and deep contrasting grain. Thanks to its density, it's also antibacterial.
9. Hardwood Chef Premium Acacia Cutting Board
Highlighted Features
Thick & durable
Made from Malaysian acacia wood
Natural glow and softness
Built-in grooves
Preconditioned with mineral oil
This board features premium thickness and durability. It's crafted from premium Malaysian acacia wood. Acacia has been a very popular choice lately as it's plentiful, good-looking, and offers fair performance.
Naturally glowing and soft, it's a board that's up for any cutting or chopping task.
It makes a modern serving platter too.
Its ingenious grooves throughout will avert juices from spilling onto the counter. They can also serve as grips for simple carrying.
Acacia wood is renowned for its abundance of natural shades and lustrous tones. The board is preconditioned with mineral oil for additional shine.
No matter if you are buying it as a gift for someone or for your kitchen, this affordable and quality board could be the best end grain cutting board you could choose.
10. Viking Culinary Acacia Wood Cutting Board
Highlighted Features
Made of Acacia hard wood
Water and bacteria resistant
Good for larger meats
Viking Culinary Acacia Wood Cutting Board is also made from acacia hardwood and thanks to the wood's natural oils, it creates the ideal cutting board resistant to bacteria and water.
The fibrous cutting surface enabled by the end grain production will help glide the knives across the fibers and minimize wear and tear.
Thanks to its rather generous size, it is the perfect surface for roast, chicken, and even turkey. You will appreciate the natural patchwork pattern which is unique to every board. Plus, whenever you are serving some tapas or rolls, this board will amaze your guests!
To ensure it lasts for a lifetime, wash it in the right way, i.e. by hand with warm water and soap and towel-dry it.
Acacia wood offers a natural resistance to water thanks to its natural oils and lowers the dulling of knives. If you are therefore searching for an affordable cutting board with premium quality, beauty, and strength, this Viking cutting board will amaze you with each use!
Final Thoughts
If you have been investing in quality cutlery, you should consider investing in a quality cutting board too.
This helps avert your knives from going dull or wearing off too soon. Being an essential tool in the kitchen, a cutting board should never be underestimated.
When you choose the right one, you do not just help preserve your knives, but you also improve chopping, cutting, slicing, and serving tasks.
In the world of cutting boards, wooden surfaces, especially the end grain ones, are considered to be the best option in terms of design, longevity, and performance.
This is why in today's review we presented 10 different models of such boards made from various types of wood, including maple, walnut, and acacia.
If your budget allows you to spend a bit more, we definitely love the Top Notch Kitchenware checkerboard with all its natural beauty and consistent performance.
In terms of practicality and affordability, we really love Prosumer's Choice's cutting board with elevated feet and quality bamboo.
Whether you will chop some meat or serve some delicious food, these boards will never fail you.