What if we told you that you needn't sharpen your knives, but have them do it on their own? If you're tired of having to sharpen your blades or paying extra to a professional, this is the smartest option.
The self-sharpening knife set is what you need. These storage blocks have ceramic sharpening edges inside their slots.
When you put it back in, it automatically rubs against these sharpeners.
By doing this, the knife is restored every time it goes out of or into the block.
This is a really smart option which saves you time and takes the tedious sharpening process out of the equation.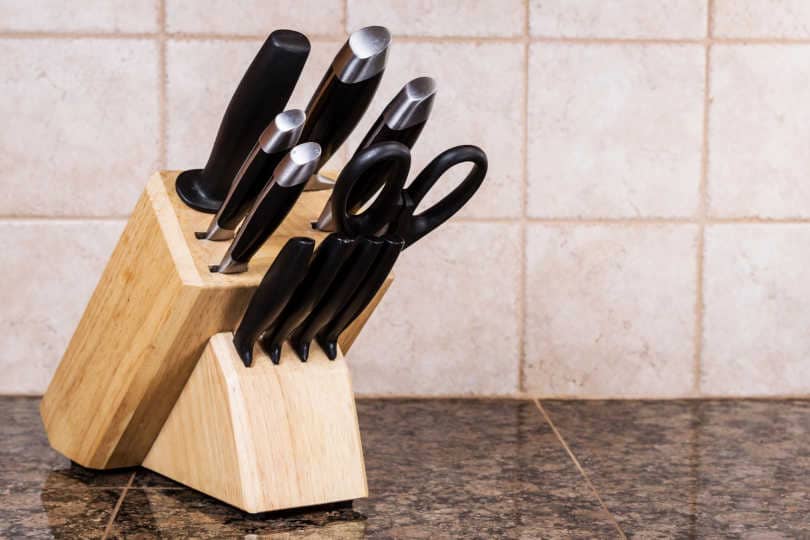 However, not every self-sharpening set out there works-this is why it's pivotal to find the best option possible. Knife Verge exists exactly for this- to inform our readers about the top products currently.
If you're also interested in buying a self-sharpening knife set, check out the 10 trending models on Amazon below, as well as some important tips you should consider!
What is a Self-Sharpening Knife Set?
Self-sharpening knife sets are knives that don't need additional sharpening because they're already being sharpened by an integrated self-sharpening system in the storage blocks.
This self-sharpening system can either be placed inside the slots of the storage block or on the outside of the block. Some sets also offer a sharpening rod that's easy to use and practical.
Self-sharpening sets are an awesome choice for those who want their knives' blades to last without having to manually put in a lot of effort to sharpen them.
How does the sharpening work? Whenever you take out or put in a knife, the ceramic sharpening edges rub against the blade and sharpen it.
These ceramic sharpeners won't eliminate steel to make the edge of the blade sharper, but rather hone the edge; so, whenever you take out or put in the knife, you're realigning its edge.
Still, this doesn't mean that you won't ever need to sharpen them.
Additional honing and sharpening may be required after a certain amount of time. However, this will be less frequent than without a sharpening block.
Why Do I Need a Self-Sharpening Knife Set?
Anyone who's spending time in the kitchen prepping meals can benefit from this type of set, especially those who're not very keen on sharpening or those who are forgetful or don't have enough time for this activity.
By investing in a knife set with a self-sharpening block, you're ensuring the blade's edge is always optimal and you'll have them ready for the next mincing or chopping task.
And, these sets offer a really versatile group of knives, from Santoku to steak knives; you'll have a proper knife for any task and at your hand's reach thanks to the well-organized slots.
You needn't look for the proper knife for hours through your drawers, but find the needed one right away.
Sounds pretty cool, right?
Factors to Consider While Buying Self-Sharpening Knife Set?
As with any other product you're planning to buy, it's essential to consider the most important factors first.
In the case of self-sharpening knife sets, here are the things you should look for:
The number of knives
Different sets offer a different number of knives; some can have as little as 4 and others can have up to 15 or more.
Some sets may also include other things in addition to knives like kitchen shears and sharpening rods.
Consider the types of knives and whether you'll need all of them.
You needn't end up with a set with many different knives of which you'll just be using only two or three.
The steel quality
Since you'll be using these knives to chop, mince, slice, etc. you need them to be of quality and sharp steel.
Depending on this, you'll know whether they last and how they'll be able to cut.
In most cases, carbon steel is the best choice as it's sturdy, doesn't corrode, and it lasts for a long period of time.
The handles
A knife isn't just a blade; it's also a handle and it matters how it feels in your hand and it plays a pivotal role in whether the use will be easy or not.
In most cases, knives made in one piece are great because the risk of breakage is non-existent and because the model is balanced and easy to clean.
Wooden ones are also a beautiful choice; however, wood tends to be more challenging in terms of maintenance than some synthetic materials.
The block
Since this is the block that will hold your knives, sharpen their blades, and be in a visible spot in your kitchen, it matters what type you choose.
Usually, they're made of sturdy wooden material and may also be polished for additional quality maintenance and aesthetics.
Make sure you choose one that has non-slip rubbery feet and preferably one with the knives written on the slots to always pick out the right knife for the task.
How & When to Clean Self-Sharpening Knife Set?
Although some knife models are dishwasher-safe, with knives, it's always best to go with hand washing. It's the safest and easiest to control and lower the risk of damage.
Opt for a sponge and a mild dishwashing detergent and it will be just fine.
And, always dry them out after rinsing to prevent water spots and other stains. Knives should be washed after every use.
When it comes to the storage block, hand washing is also the optimal choice. Do this every month or so, especially if you're using the knives regularly.
Hot and soapy water and a sponge are great and for the slots, use a small brush.
Rinse it off well and use sanitizer if you want (a tbsp of bleach per gallon of water). Soak the block in the solution and rinse it off and dry well.
List of Self-Sharpening Knife Set
1. Calphalon Classic Self-Sharpening 15-Pcs Set
Highlighted Features
Full-stainless steel knives
Built-in ceramic sharpeners
Comfy handles
Versatile knives
Keep your knives sharp for a lifetime with this 15-pcs set with a sharpening block. When each of the 15 pieces is inserted into its block or taken out of it, it gets sharpened.
Each of the full-tang knives is made of quality high-carbon steel and it's perfect for everyday use. They're also labeled on the handle to ensure you always take out the correct knife for the task.
The knives are really versatile; you get a chef's knife, bread knife, knife for paring, knife for steaks, as well as kitchen shears. Their contoured handles ensure hand tiredness is brought to a minimum.
The wooden block is amazing-it has built-in ceramic sharpeners. It has non-slippery feet to keep it firmly where you place it; it will look great on your kitchen countertop where it won't just beautify the space, but also be at your hand's reach.
2. Zwilling 14-Pcs Self-Sharpening Knife Set
Highlighted Features
Ergonomic handles
Easy to clean
Satin-finished blades
Lightweight
Handsome wooden block
Sharpening slots included
This set offers 14 elements made of premium stainless steel. The blades are satin-finished to ensure optimal and precise cuts with each use.
The knives are durable and designed optimally and stamped in one piece. They're lighter than the forged knives and thanks to their full-tang design, the maneuvers are optimized and the cutting doesn't cause fatigue.
This is achieved thanks to the ergonomic triple-riveted handle. It's curvy and comfortable, ideal for frequent use. Although the knives are best to be washed by hand, they're dishwasher-safe too.
Last but not least, there's the beautiful and versatile ash wood block. Thanks to the ceramic honing wheels in each of the slots, it automatically sharpens the blades when you put in or take out a knife.
3. McCook 15-Pcs Kitchen Knife Set
Highlighted Features
Comfy handles
Easy to clean
Ergonomic design
Good value for money
Beautiful & practical block
This awesome set with a sharpening block can easily become your go-to collection. It consists of various types of knives, including Santoku, Chef's, Utility Knife, as well as kitchen shears.
You can use them to chop, slice, mince, etc. with ease and enjoyment. This is achieved thanks to their full-tang construction and usage of strong and durable German carbon stainless steel.
The handle is made to fit the hands nicely and it won't cause any discomfort or tiredness. All of them are set well in a wooden block with anti-slip feet on the bottom.
This block doesn't just keep them all in one place and protects them, but it also sharpens them with the ceramic rods in the slots.
4. Marco Almond 14-Pcs High Carbon Knife Set
Highlighted Features
Ergonomic
Wooden block with sharpener
Good value for money
Awesome craftsmanship
Practical
These 14 knives are outstanding in craftsmanship; forged from a single piece and premium high carbon stainless steel, they're not just highly sharp, but comfortable and intuitive.
It's not only the knives that are wonderful; there's also the wooden block with a built-in sharpener which is convenient, works fast, and requires minimal effort.
You just slide the blade onto the slot and you're good to go. The block doesn't slide thanks to the non-slippery feet on the bottom.
You get a versatile pack of knives, including chef's, bread, steak, utility, Santoku, and more. As it's forged from a single piece, the knives don't stick and are easy to clean.
The optimized weight and balance make its usage even better and allow for an easy and comfy grip.
5. Sabatier Self-Sharpening Pro 12-Piece Set
Highlighted Features
Comfortable
Easy to hold
Great gift idea
Good value for money
Durable
Self-sharpening
This knife set with self-sharpening block ceramic slots will automatically sharpen your blades when you take them out or put them in.
Each of the blades is made razor-sharp and it's been expertly handcrafted to maintain its edge for a long. Each of them is made using high-carbon stainless steel, which also makes the blades resistant to stains and corrosion.
Moreover, we love the handles-they're triple-riveted for maximum stability, comfort, and maneuvers. The set contains various knife types, including utility, paring, steak, and more.
The block isn't just multifunctional, but also handsome and doesn't slide thanks to the non-slippery feet on the bottom.
6. Farberware Self-Sharpening 13-Pcs Knife Set
Highlighted Features
Lightweight
Ergonomic
Great gift
Durable
Great value for money
Sturdy
All of the knives in this set are automatically sharpened when put in or taken out of the slots thanks to the ceramic sharpening rods the block has.
The knives' blades are strong and long-lasting thanks to the usage of high-carbon stainless steel. They'll keep their sharpness optimal and help you cut, slice, and chop easily.
What's more, the knives feature elegant and ergonomic handles; each of them offers a fine and soothing grip and it's brushed and semi-matte finished.
The block is classic black with the company's logo on the front, making it an awesome addition to any kitchen style.
The manufacturer recommends washing the knives by hand and drying them right away to ensure longevity.
7. Calphanol Classic Self-Sharpening 6-Pcs Set
Highlighted Features
Good value for money
Sturdy
Full-tang knives
Non-slip block
Long-lasting materials
This is the perfect set for those who don't need too many knives, but only a few classic ones. In this 6 pcs set, you get forged knives made of high-carbon stainless steel and a blonde rubberwood block with built-in ceramic sharpening rods.
The beautiful and sturdy block adds a modern touch to your countertop and doesn't slip thanks to the rubber feet.
The knives' handles are also amazing; they're triple-riveted, countered, and labeled to easily identify them when you need to take them out of the block.
As the knives are constructed full-tang, they're well-balanced and strong. With proper care, they can last for a long time.
The company believes a lot in this set and they give a full lifetime warranty for it.
8. Henckels Self-Sharpening Knife Set with Block
Highlighted Features
Durable knives
Beautiful & practical block
Easy to hold
Good value for money
Sturdy
Long-lasting
This set offers 14 different types of knives as well as kitchen shears.
They're kept in a beautiful stained ash wooden block that also features sharpening slots. So, whenever you take out or put in a knife, it gets sharpened.
In this way, you prolong their sharpness and save precious time. The wonderful knives are constructed from premium stainless steel and one-piece stamped.
They're durable and balanced.
Thanks to the triple-rivets, working with knives is always easy and comfortable.
The handle is made ergonomic and you'll never have to worry about discomfort or pressure in the hands.
9. Styled Settings Rose Copper 7-Pcs Knife Set & Block
Highlighted Features
Modern design
Sturdy knives
Self-sharpening block slots
Awesome gift idea
Ergonomic handles
If you're searching for a beautiful and functional self-sharpening set, this stylish rose one is ideal for you. The knives have risen gold-copper bolster and look luxurious.
Moreover, the subtle curvature of the knives' handles makes them fit in your hand perfectly. The knives are constructed using high-quality stainless steel and are full-tang. This construction allows for optimal balance and leverage.
Thanks to the quality materials used, they're long-lasting and look impressive.
The fine-looking black knife block has a sharpener set into each of the slots and ensures they're always in top form. The triple-riveted Pakkawood handle is used to ensure unmatched durability.
The unique rose details make it the ideal gift set.
Any kitchen will look much better thanks to this set. It's versatile, trendy, and long-lasting.
10. Elegant Life 15-Pcs Kitchen Knife Set
Highlighted Features
Thick
Comfy knives
Strong & sturdy blades
Shears + sharpening rod included
In this set, you get superiorly-sharp 12 different knives as well as kitchen shears and an easy-to-use and practical sharpening rob. Their blades are forged and have hand-polished edges and are tempered for optimal precision.
The knives' edges are hand-sharpened and will keep their optimal balance at all times.
Thanks to the Japanese high-carbon stainless steel, the blades won't rust, weaken or dull any time soon.
All of the knives and the shears are neatly packed in the impressive Pakkawood block that will always stay firmly in place thanks to the non-slippery bottom.
And, to ensure every knife goes into its slot, the manufacturer wrote the names of the knives under each slot.
The brown and black Pakkawood triple-riveted handles with grain design are comfy, durable, and balanced.
Final Thoughts
Homemade food prep can be easy, fun, and good for us if we have the right tools in our hands. The first and most important tools are knives, of course.
And, even better, a set of knives designed specifically for certain tasks. Most of the knife sets sold today also come with a storage block that can have sharpening slots inside or not.
If you want to keep your knives' blades in optimal shape without having to bother too much with honing and sharpening, the ones with sharpening slots are an awesome choice.
Thanks to these slots, whenever you take out or put in the knife, you're honing the blade and making sure it's in optimal shape for the next use.
Luckily, for those who want this type of set, there are many versatile models you can find on Amazon and we presented the 10 best self-sharpening knife sets.
Our best pick is a great decision for those who're not limited in terms of budget; in case you don't want to spend a lot, but still want to give this set a chance, our budget pick won't fail you!
Happy sharpening!