If you've decided it's the right time to introduce your children to the world of pocket knives, it's important to do it properly.
In order to do this, you need to know the best pocket knives for kids.
If you've passed on a love for pocket knives to your children, teach them the pivotal lesson: pocket knives aren't toys and respect and care are pivotal!
Nowadays, you can safely introduce them into the world of knives, even when they're not mature enough for a real blade.
There are plastic dummy knives, wooden ones, and even blunt stainless steel ones. The goal is to show them how it feels to have a blade and how to work with it.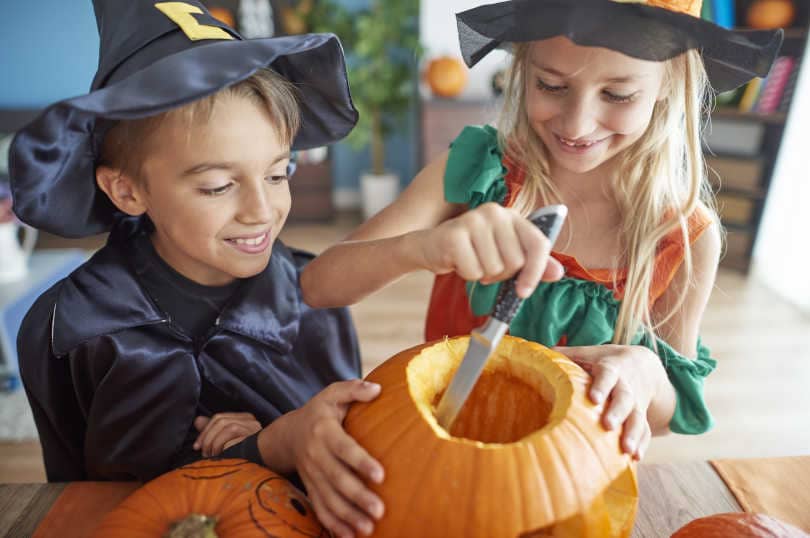 Despite the user-friendliness of children pocket knives, there are still things we don't know whether they're appropriate for our child's age or whether they're safe.
To help you pick out the best one, we compiled a list with the top 10 children pocket knives currently.
What Is a Pocket Knife for Children?
A pocket knife is a compact foldable knife that has one or more blades. It's designed to fit in most pockets-hence, the name.
Some people also call it a jackknife or a penknife. These knives are recognizable for their versatility and are known to be used for anything from opening a card box to peeling fruit with it.
Nowadays, pocket knives are more than a blade with a handle-a lot of them are made to be multi-tools, constructed with a blade and several other commonly used tools like scissors, can openers, tweezers.
Their safety and compactness are further achieved with a locking mechanism that locks the blade into a fully opened position before it can be folded. This ensures no accidental blade closure while cutting.
Why Does My Child Need a Pocket Knife?
Many avid pocket knife users use children-friendly pocket knives to introduce their children to the world of knives.
Whether it's to familiarize your child with the outdoor world or to empower them by helping you cut a rope or open a can, it can be a great idea.
Indeed, a pocket knife can be an invaluable tool-it doesn't just ease learning, but it transforms the child from a passive observer into a doer and helps them reveal how to make things for themselves.
Most pocket knives today that are kid-friendly are also multi tools-they have a corkscrew, a screwdriver, nail cleaner, a needle, tweezers, and more.
The child can use them both indoors and outdoors. No matter their familiarity with knives and other types of tools, the pivotal thing to do is to give the most important safety lesson and to set ground rules.
Without a doubt, pocket knives help children learn outdoor skills that are important as the ones they learn indoors-it's part of our practical life.
When it's The Right Time for My Child to Start Using a Pocket Knife?
For a lot of adult avid knife users, passing their love of knives to their children is a type of a milestone of growing up.
But, a lot of parents are worried whether they know when it's the right time to begin introducing them into the world of knives.
Although we would all like to have one true answer for the right age, it really depends on you and your child. Every child is unique and their motor and decision-making skills differ.
Unfortunately, many children learn about knife respect the harder way by cutting themselves. Knowing this, parents end up being over-protective.
A good starting point is therefore a wooden knife kit-this will serve as a training moment for the basis of responsibilities and respect for knives.
Explain that when they're ready, you'll allow them to have a real knife. A good general age for knife use that's supervised is between 5 and 7 years.
If you've explained the dos and don'ts of knife use, you should continue supervising them, a couple of months or years.
Then, somewhere around the age of 10, they may be ready for a real knife. Still, take into account that nothing can make a sharp knife 100 percent safe!
These tools are designed for cutting and their nature is what makes them dangerous. This is why parents need to focus on teaching adequate use.
Remember to research your area of living to make sure your child isn't breaking any laws- a lot of regions consider knife-carrying illegal. It's up to you to supervise their use.
And, a child must never take their knife to school-schools have zero-tolerance policies for bringing any sharp objects!
How to Choose the Best Pocket Knife for My Child?
The general rule of thumb when considering the best pocket knife for kids is to avoid the $5 ones sold at gas stations.
These knives usually break quickly and may end up injuring the child.
However, don't go with overly expensive models either – a lot of children tend to lose their first knives. If this happens, you've ended up investing in something short-lived.
Stay in the range between $10 and $40 to make sure you're getting a quality pocket knife that won't cause headaches in case it's lost or damaged.
Depending on how ready your child is for their first knife and what the laws in your city or country are, it's essential to choose one that's made of quality materials, has a comfy blade, and a locking mechanism.
Moreover, it should be one that's foldable or one that comes in sheaths or boxes to ensure maximum safety.
How to Care For a Pocket Knife for Kids?
Besides teaching our young ones to respect and properly use a knife, it's also crucial we teach them about the importance of good maintenance if they want them to last.
Although a sharp blade means more danger, it also has its perks- keeping it sharp keeps them safer than letting them work with a dull one. This is because a dull blade requires more pressure and may increase the chance of cuts or stabs.
Make sure your child always cleans it after use with warm water and dish soap and regularly removes dirt or grime in the area between the blade and handle.
How to Store a Kid's Pocket Knife?
When a knife isn't being used, it has to be tucked away. The type of storage depends on the type of knife you have.
Fixed blade ones must never be left exposed and become a danger to those who accidentally grab them.
If you've chosen a pocket knife that's foldable, make sure it's always closed when it's not used. Although the name suggests easy pocket carrying, pockets are unsafe places to keep a knife!
Quick Comparison of Pocket Knife for Kids
Preview
Best Overall
Budget Pick
Title
Victorinox Junior 09 Kids Swiss Army Knife, 8 Function Swiss Made...
Opinel Outdoor Junior No. 07 Stainless Steel Folding Knife with Safety...
JJ's Knife Kit Lock Back Wooden Pocket Knife Making Kit | Perfect...
COLUMBIA RIVER KNIFE & TOOL CRKT Nathan's Knife Kit: Wooden Pocket...
Victorinox Mini Champ Swiss Army Knife, Compact 18 Function Swiss Made...
Prime
Best Overall
Preview
Title
Victorinox Junior 09 Kids Swiss Army Knife, 8 Function Swiss Made...
Prime
Preview
Title
Opinel Outdoor Junior No. 07 Stainless Steel Folding Knife with Safety...
Prime
Budget Pick
Preview
Title
JJ's Knife Kit Lock Back Wooden Pocket Knife Making Kit | Perfect...
Prime
Preview
Title
COLUMBIA RIVER KNIFE & TOOL CRKT Nathan's Knife Kit: Wooden Pocket...
Prime
Preview
Title
Victorinox Mini Champ Swiss Army Knife, Compact 18 Function Swiss Made...
Prime
Best Starter Pocket Knife for Kid Reviews
1. Victorinox Swiss Army Multi-Tool Pocket Knife for Kids: Best Overall
Highlighted Features
Quality multi toolset
Iconic design
Versatile
Value for money
Ergonomic design
This multi-tool pocket tool with 8 functions is compact, agile, and versatile. They're an icon of smart and useful design.
The Swiss stainless steel tempered construction is highly resistant and sturdy.
This versatile tool has a large rounded-tip blade, nail file, screwdriver, tweezers, Philips screwdriver, and a mini saw.
It's a useful pick for children with more experience in knife handling. They're awesome for camping trips or when you go fishing together.
You can easily sharpen it with a whetstone at 15 or 20 degrees.
2. Opinel No-7 Outdoor Junior Knife for Kids
Highlighted Features
Great quality
Thick Sandvik blade
Rounded blade tip
Patented locking mechanism
Integrated whistle
Comfy handle
This knife looks interesting and it has a lot to offer. We love the 2.5 mm thick 12C27 Sandvik blade with a slightly rounded tip to lower injuries.
Their patented locking mechanism developed in 1955 makes sure the blade is safely opened and closed.
It also has an integrated whistle-it work when it's hot, cold, or wet. This makes the knife an ideal choice for camping trips. The blue-colored handle is comfy and extra padded with rubber for a sturdy grip.
The good thing about this knife is that your child can use it to cut stuff like a roasting stick for marshmallow under your watch with a lowered risk of injuries thanks to the rounded blade tip.
3. Opinel First Pocket Knife for Kids
Highlighted Features
Rounded blade
Versatile
Comfy handle
Closing mechanism
Durable stainless steel
This can be your child's first pocket knife and help you teach them to cut out, carve, and tinker like grownups do.
From spreading butter on their toast to trimming cardboard, it can be a pleasant experience for you and your little ones.
The knife has a rounded tip blade and an ergonomic green handle. The safety level is increased with its great opening and closing mechanism. The knife's stainless steel is durable and resistant to stains.
However, the blade is sharp, so make sure your young user is never left unsupervised!
Feel free to clean it with warm water and dish soap. The knife is manufactured in the French Alps.
4. Columbia River Wooden Pocket Knife for Kid
Highlighted Features
Made from wood
Easy to assemble
Smooth opening transition
Great for various projects
1 year limited warranty
This wonderful wooden knife set looks and feels awesome.
It will help you teach your little ones about responsibility and safety while handling knives. It's best to use it with children age 7 or older.
It's designed by Glenn Klecker from Oregon. If you decide to buy it, you get a 1-year limited warranty against material or manufacturing defects.
The locking mechanism is great and useful and helps keep your little ones safe. The release is slow and smooth-it requires only one click.
The customers who bought this knife loved it the most for being a great gift, being easy to assemble, and offering great value for money.
5. JJ's Lock Back Wooden Pocket Knife for Kids: Budget Pick
Highlighted Features
Great for younger children
Toy-like pocket knife
Awesome locking mechanism
Thick
This is yet another awesome wooden pocket knife ideal for teaching your little ones to learn how to handle knives properly. It's made in the US in accordance with the US toy standards.
The blade isn't sharpened and it's great for beginners in knife handling to teach them the basics. Its locking mechanism is great.
It comes in a kit package and you need to assemble it- but don't worry, it's very easy. You can do it together with the child- an awesome craft project.
People who bought it praised it the most for being an awesome gift, being easy to assemble, and being thick enough.
6. Hat Shark Personalized Pocket Knife for Kids
Highlighted Features
Durable
Multiple tools included
Versatile
Made from stainless steel & wood
Engraving option available
This multi-tool pocket knife is an amazing choice not just because of the personal engraving option, but also because of its versatility.
It's made of quality stainless steel and wood. It's great for the more experienced youngsters in knife use, of course, with continued supervision.
The model is foldable and in addition to a knife, it also has other useful tools like scissors, a screwdriver, and a can opener.
The manufacturer gives the option for double-side engraving; however, the second engraving isn't included in the price.
The customers who purchased it gave the most kudos for being a great gift idea, for offering good value for money, and for being sturdy.
7. Victorinox Swiss Army Multi Tool for Kids
Highlighted Features
Good craftsmanship
Lightweight
Compact size
Multi tool
Sturdy & durable
Long-lasting
This multi tool may look small, but it's really powerful and strong.
It offers impressive 16 features, including a blade, a screwdriver, a ruler, and bottle opener and more. It provides all the things you need throughout the day.
However, as it's sharp, it's best to give it to children only when they're supervised by an adult. The Swiss-made stainless steel construction encased in traditional red ABS scales makes the tool sleek and durable.
Thanks to the folding capacity, carrying it everywhere is easy because it's so compact. You can easily hang it on a keychain or store it in a bag.
The company offers a lifetime guarantee against material and workmanship defects.
8. Loma Creek Kids Pocket Knife & Survival Kit
Highlighted Features
Great value for money
Versatile tools
Whistle included
Made from strong stainless steel
Beautiful & comfy handle
This military-grade pocket knife multi-tool is quite practical. It also has a safety locking mechanism. It's constructed using the finest stainless steel and it's durable and long-lasting.
The blade is sturdy and sharp, but still safe thanks to the safety button. Whether you need to teach your child to peel a wooden piece or open a can, this multi-tool has your back.
Plus, it features an emergency whistle too, which makes it a reliable signal, especially in the outdoors.
Let's not forget the tool's awesome rosewood handle with brass pins which fits in the hands nicely and doesn't cause discomfort.
9. Gowill Thin Pocket Knife for Kids
Highlighted Features
Compact size
Folding & locking mechanism
Comfy handle
Ergonomic design
Versatile
This slim pocket knife is the ideal tool you can carry with you or use it to teach your children about proper knife use.
It has a durable and sharp 440 stainless steel blade that delivers the best results and doesn't corrode, scratch, or fade.
The handle with the G10 scale is an awesome fit in the hands and the grip is very good. The folding knife's overall length is 5.4 inches. Thanks to its compact design, it's safe and practical to use.
Its functional frame lock ensures the blade is held open and then safely closed. It doesn't allow any unexpected closings!
Without a doubt, buyers loved it the most for being great value for money, having a lock feature, and being ergonomic.
10. Gowill's Small Pocket Folding Knife for Kids
Highlighted Features
Affordable
Sturdy & durable
Strong stainless steel
Folding design
Ergonomic handle
Convenient, inexpensive, and useful, this slim pocket knife is strong, light, and durable. It features a strong stainless steel blade and it doesn't corrode, fade or scratch.
The beautiful blue or green stainless steel handle has an anodized aluminum scale that fits perfectly in the hands and optimizes the grip. The opening and closing mechanism ensures the usage is safe and practical every time.
Thanks to the liner locking system, the risk of unexpected closure are brought to a minimum.
However, if it's planned for children, make sure they never use it without your supervision-the blade has a sharp tip!
Final Thoughts
If you want to transfer your love for knives to your children, the best pocket knife for kids can be a great starting point for learning and introduction.
When you think your child is mature enough to handle a knife first for basic tasks and then for more complex ones, make sure you've chosen the best model for them.
Pocket knives are never 100 percent safe; however, with your supervision and the important lessons, your child can learn all of the tricks and trades of using a knife.
Plus, today's child-friendly pocket knives come with a lot of additional tools like scissors, nail files, etc. which can really come in handy both indoors and outdoors.
Before making a choice, make sure you've learned all there is to learn about how to properly use them, what your child should know, and what type to choose.
If spending a bit more isn't a big problem for you, you'll be really happy with our best pick while our budget pick helps you spend less without sacrificing performance.
Happy learning!
* Affiliate links/Images/Price from Amazon Product Advertising API