An Alaskan Ulu knife is an all-purpose knife that is traditionally used by the Innuit and Aleut people for skinning and cleaning animals, but for cutting children's hair and trimming snow. And, they're handmade in Alaska.
But, today, the ulu knife is also frequently used in households worldwide for daily cutting tasks of cheese, veggies, and even pizza and it can be produced outside of Alaska.
Its size varies and it's usually a reflection of its usage. For example, an Ulu with a 6-inch or so the blade is great for general purposes whereas smaller options with 2-inch blades are preferable for cutting patterns from animal skin.
Indeed, among the various innovative tools which come from the Eskimo culture, the Ulu knife is definitely among the top 5. Originally, it was made from flat, thin, rocks, slate or jade whereas the handles were constructed of ivory, bone or wood.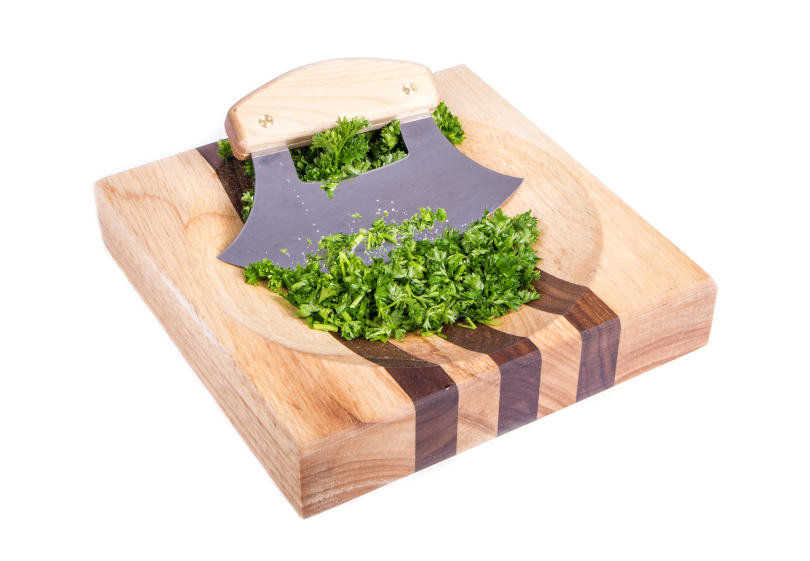 Nowadays, not just natives, but the whole world is using their Ulu knives for daily kitchen tasks. It definitely boasts high sharpness and it's a quite versatile knife that you should consider having in your drawer.
In addition to making an excellent knife for fish filleting, you can also use it to cut a variety of veggies, meats, cheeses, and pizza. To this extent, we decided to present our favorite and top models of Ulu knives today to help you make an easier choice.
What Are the Uses of an Ulu Knife?
An Ulu knife can be found in four different styles, i.e. Alaskan, Canadian, East Greenlandic, and West Greenlandic.
The Alaskan style of Ulu knife which we focused on in this review has a blade that's a centerpiece that's cut out and both of the blade's ends fit into the handle.
Its crescent moon shape allows for a rocking motion which pins down the food and thus, makes it's cutting much easier and faster.
What Is the Ulu Knife Made of?
Nowadays, most Alaskan Ulu knives are constructed with a stainless steel blade and a handle from caribou antler or hardwood. You can also find commercial Ulu knives with strong and durable plastic handles that often go together with a cutting bowl or board.
Thanks to the blade's curvature, there's a rocking-like movement while using it which also eases the chopping and slicing. The placement of the blade and your hand on the handle adds to the pressure which is great for cutting through stronger foods.
The most common size of an Ulu knife is a 6-inch blade that can be used for various purposes, even though there are smaller ones of 2-inches and larger ones up to 12-inches.
How to Use Ulu Knife?
In today's world, although underrated, an Alaskan Ulu knife can make a great addition to your knife collection.
You can use it to easily cut meat, poultry, fish, and veggies. Moreover, it's very suitable for mincing, chopping, dicing, and slicing with ease. Plus, it can help you slice the best pizza slices.
Fisherman and hunters will particularly love this special knife- it's great for animal skinning, dressing game, cleaning fish and other animals, as well as for filleting.
To use it properly, just grip its handle in your palm with the beveled side away. Then, you place the knife over the items that need to be cut or sliced and use a rocking motion.
Your Ulu knife can also be used with a block and bowl- this is a cutting board on one side and a bowl on the other.
The 'trick' with these bowls is the fact that the blade fits perfectly into its curvature so you can reap the blade's full edge when you're chopping or cutting.
How to Take Proper Care of Ulu Knife?
This knife is very easy to maintain- to ensure the edge is properly cutting, hone it occasionally. In terms of sharpening, do it only on the beveled side with steel or hard stone. Either will work fine.
When you're finished using it, it's recommendable to rinse it with warm and soapy water and to wipe it dry. Never wash your Ulu knife in the dishwasher! Store it in a safe area.
What Makes Ulu Knife a Great Option for Me?
Though it may be a funny-looking knife with its curvy blade and weapon-like appearance, it's the tool you often see in pizza restaurants. They're great for pizza cutting with minimal effort, as well as for numerous other foods.
This knife will definitely become your favorite go-to knife in the kitchen- it's a wonderful tool. Plus, we love its safety- it's not prone to handle breakages and it's almost impossible for its handle to break.
And, it's beneficial for disabled individuals too- it can be used with one hand.
Thus, it can be such a practical solution for people with carpal tunnel syndrome, wrist ache, arthritis, nerve disorders, or people without both hands.
The low effort which this knife offers is one of its major benefits- unlike most other knives that require a lot of human effort, your Ulu knife needs just a bit.
It will preserve its sharpness for a prolonged period of time and when taken good care of, you can have a lifelong tool by your side.
Alaskan Ulu Knife vs. Mezzaluna Knife
Even though they're very similar, these two knife versions are distinct. The Mezzaluna knife is an Italian version of an Ulu with a couple of differences.
Namely, it comes with two short handles, unlike the Ulu which has only one perpendicular handle. The former therefore requires using both hands.
Oftentimes, the Mezzaluna is used for chopping a vast amount of herbs on a cutting board or a bowl with depression that helps the herbs stay in one place. On the other hand, an Ulu is better at tasks like slicing pizzas, veggies, and meat.
This being said, before making a purchase, it's important to learn the distinction between these two similar, yet different types of knives.
Quick Comparison of Ulu Knives
Preview
Best Overall
Best Budget
Title
Alaska Ulu Knife Set Curved Knife with Wood Handle plus Chopping Board...
Ulu Factory Ulu Bowl set Birch Handle AK Cutlery
8" Block with Deep Dish Chopping Bowl and Alaskan Birch Handled Ulu
Multi-Colored Exotic Wood Handled Ulu with Stand
Prime
Best Overall
Preview
Title
Alaska Ulu Knife Set Curved Knife with Wood Handle plus Chopping Board...
Prime
Preview
Title
Ulu Factory Ulu Bowl set Birch Handle AK Cutlery
Prime
Preview
Title
8" Block with Deep Dish Chopping Bowl and Alaskan Birch Handled Ulu
Prime
Preview
Title
Multi-Colored Exotic Wood Handled Ulu with Stand
Prime
Best Budget
Preview
Prime
Ulu Knife Reviews
1. Alaska Ulu Knife Set by the ULU Factory
Product Information
| | |
| --- | --- |
| Package Dimensions | 8.58 x 8.43 x 1.89 inches |
| Color | Birch wood |
| Item Weight | 2.25 pounds |
| Manufacturer | EVATONTT |
Highlighted Features
Made with premium American stainless steel
Beveled edge shaped precisely
Heat-treated for edge preservation
Quality wooden handle
Comes with a bowl/chopping board
This Alaskan 3-Tool Set was designed and made in Alaska with US products.
It's made by the Ulu Factory which has been producing the Alaskan Ulu for more than 25 years. Their facility offers top quality and a vast array of Ulu knives and accessories.
It features a sharp blade constructed with top quality American stainless steel and its beveled edge is shaped to perfection. Plus, during the production, this blade is additionally heat-treated to ensure the edge maintains its sharpness long-term.
We really love the wooden, comfy, and rustic handle with a logo by the company ingrained on it. And, we also appreciate that this set includes a knife stand and a wooden bowl/chopping board.
2. Ulu Knife Set (Bowl+ Birch Handle) by Ulu Factory
Product Information
| | |
| --- | --- |
| Package Dimensions | 7.99 x 7.91 x 1.5 inches |
| Color | Brown gold silver steel light wood dark wood walnut |
| Item Weight | 1.7 pounds |
| Manufacturer | The Ulu Factory |
Highlighted Features
Made in Alaska
Comes with a bowl/chopping board
Stainless steel blade that doesn't rust or stain easily
Easily sharpened with a honing tool
Cutting bowl/chopping board isn't slippery
This is yet another amazing set with an Alaskan Ulu knife and a bowl/chopping board designed in an Alaskan style. Entirely made in the US, the knife features a high-quality stainless steel blade that will help you tackle chopping and slicing effortlessly.
The wooden handle which is made from birch wood is amazing. Birchwood is acquired from the external layer of birch trees that grow in the Northern Hemisphere from America to Russia and in between.
It's long been used in kitchenware construction because of its waterproof properties, as well as because it's aesthetically pleasing and pleasant to the touch. Moreover, it offers low thermal conductivity-it will feel warmer in the winter.
The blade also has the company's logo ingrained which makes it even more beautiful. The knife measures around 5 inches across, best for chopping, slicing, dicing…
3. Arctic Circle Alaskan Ulu Knife with Natural Exotic Wood
Product Information
| | |
| --- | --- |
| Package Dimensions | 8 x 5.7 x 0.9 inches |
| Color | Brown |
| Item Weight | 8 ounces |
| Manufacturer | Arctic Circle |
Highlighted Features
Etched blade
Comfy wooden handle
Matching wooden knife stand
Strong stainless steel blade
Natural earth tones and bright red colors
Indeed, if you're a person who prefers aesthetically pleasing knives, you'll love this one. Beautifully etched and created to last, it boasts a blade that is resistant to staining and rusting and very sharp.
The knife is quite affordable as well, and you can use it for so many different tasks in the kitchen, from chopping herbs to slicing meat. It comes with a 6-inch blade. And, when you feel that the blade is reducing its sharpness, no worries- just sharpen it on your favorite sharpening tool and you're good to go.
However, it's vital to note that this particular Ulu knife isn't made in the US- it's actually imported from China which may be an important characteristic for potential buyers.
4. Ulu Knife with Birch Handle & Chopping Bowl
Product Information
| | |
| --- | --- |
| Package Dimensions | 8.62 x 8.35 x 1.81 inches |
| Item Weight | 2.07 pounds |
| Manufacturer | Garden-Outdoor |
Highlighted Features
Premium quality
Made in Alaska
Birchwood handle
Quality 440 stainless steel blade
Comes with an 8-inch bowl/chopping block
If you enjoy using herbs and spices in your cooking, you'll love the fact that this Alaskan-made Ulu knife comes with a beautiful wooden chopping bowl/board.
This tool additionally simplifies the chopping, slicing, and dicing and they will certainly your favorite activities.
The bowl is 7 ½-inches across and 1 1/4-inches deep. The indentation ideally blends with the rocking movements you perform with the knife and helps you keep all the things in one place.
Though it may seem quite simple at first glance, the brown wooden handle is very comfy and easy on the hands and will help you maintain a good grip.
When you're done using it, just rinse it with some soapy warm water and wipe it with a cotton cloth and store it properly.
5. Multi-Colored Exotic Wood-Handled Ulu Knife
Product Information
| | |
| --- | --- |
| Package Dimensions | 7.8 x 5.71 x 0.98 inches |
| Color | Multi-colored |
| Item Weight | 7 ounces |
| Manufacturer | Arctic Circle |
Highlighted Features
440 stainless steel blade
Multi-colored exotic wooden handle
Easy to clean
Suitable for use with one hand
Comes with a resting stand
It's not just the stunning color mixture on the wooden handle and the stand that will attract you, but its glowing and razor-sharp stainless steel blade too. Whether it's veggies for a late-night salad or pizza for lunch, this Ulu knife will be your best choice.
We appreciate that it comes together with a stand that ensures the knife is placed on an adequate surface and it will even beautify your kitchen.
Since the handle isn't varnished, it's beneficial to use a Butcher Conditioner on the wooden surface to maintain its quality and avert it from drying or cracking. This will keep its coating safe.
However, as it boasts a quite sharp blade, it's best to keep it out of reach from children and pets, preferably somewhere higher in the kitchen. And, it's important to note that although it's designed in Alaska, it's a product which is imported from China.
6. Alaskan Ulu Knife by Arctic Circle
Product Information
| | |
| --- | --- |
| Package Dimensions | 8 x 5.7 x 1 inches |
| Color | Natural |
| Item Weight | 8 ounces |
| Manufacturer | Arctic Circle Enterprises, LLC |
Highlighted Features
Boosts leverage & dexterity
Eases & speeds up chopping & cutting
Comfy, hardwood handle
Comes with a hardwood stand
Ideal for those with smaller hands
The combination of a highly sharp stainless steel blade and optimal grip enabled by the handle makes this knife ideal for a variety of tasks in the kitchen.
Its smaller size is great for people with smaller hands because it enables them to feel more in control. Thanks to the quality materials used for it, the knife is sturdy and sharp. In addition to the knife, you'll also get a suitable stand to keep your knife protected.
The attention to detail with this particular Ulu knife is definitely worth mentioning- there's not just an ingrained decoration on the handle, but also on the blade- it surely makes this knife so special!
7. Legendary Arctic Ulu Knife
Product Information
| | |
| --- | --- |
| Package Dimensions | 8.4 x 6 x 0.9 inches |
| Color | Brown |
| Item Weight | 6.4 ounces |
| Manufacturer | The ULU Factory |
Highlighted Features
6-inch stainless steel blade
Walnut knife stand
Comes with an instruction book
Easily-sharpened
Large and comfy wooden handle
This Alaskan knife is 100 percent made in Alaska and it's more than a knife- it's an effective tool for so many tasks in the kitchen. The stainless steel won't rust or stain, yet it's so sharp that you will simplify cutting, chopping, and dicing.
It's also great for people with disabilities who may have reduced usage of both hands- it can be used with one hand. It will transform every chore into an enjoyable one.
Since it comes with a stunning brown wooden stand, you can keep it on your kitchen counter-it definitely looks impressive.
The handle is ergonomic and easy on the hands and helps you feel in control while rocking the knife back and forth.
To ensure it preserves its sharpness and edge, feel free to sharpen it prior to every use for an enjoyable and stress-free experience in the kitchen.
8. Lamson Ulu Knife with Riveted Walnut Handle
Product Information
| | |
| --- | --- |
| Package Dimensions | 7.25 x 5.5 x 1 inches |
| Color | Brown |
| Item Weight | 5.3 ounces |
| Manufacturer | LAMSON |
Highlighted Features
Hardened & tempered high-carbon stainless steel blade
Hard, riveted walnut handles
Made in the US
Versatile
Products by Lamson aren't just stylish, but also high-performing, traditional, yet innovative.
Their aim is to offer their customers nothing short of American-made perfection. They're also one of the oldest cutlery manufacturers in the US and offer fine knives, tools, and accessories.
This particular Ulu knife is such a versatile tool- you can use it to cut meat, veggies, cheese, fish, seafood, and pizza. It's a half-tang construction that's secured with brass rivets.
Thanks to the walnut material used, the handles don't just look, but also feel sturdy and are very durable. Plus, it feels good on the hands and it fits perfectly. It also maintains its edge well.
Take into account that the natural color of the handle may vary from knife to knife. What's amazing with this Ulu knife is the lifetime warranty the company offers so that you can shop without a worry.
9. SZCO Supplies Ulu Knife
Product Information
| | |
| --- | --- |
| Package Dimensions | 5.5″ W x 3.75″ H – 4.5″ BONE HANDLE |
| Manufacturer | SZCO Supplies |
Highlighted Features
Bone handle
Full-tang
Blade from stainless steel
Comes with protective leather sheath
If you like classic and traditional options like a bone handle, you will definitely enjoy this Ulu knife by SZCO Supplies. The knife doesn't just look beautiful, but it's also an excellent collector's piece and an amazing utility knife.
The bone handle is solid, the blade is super sharp, and the leather sheath for protection and storing is quite sturdy. This is why it also makes an excellent gift.
The bone handle is bleached white and smooth and what's great about it is that you can use a dye of your choice to create a variety of looks.
When you feel it's reduced its sharpness, don't worry- sharpen the blade as you would with other knives; a diamond stone will also work well.
Nonetheless, it's crucial to note that the knife has been made in Pakistan, not in the US.
10. Gil Hibben Legacy Ulu Knife & Leather Sheath
Product Information
| | |
| --- | --- |
| Package Dimensions | 8″ overall |
| Item Weight | 1 pounds |
| Manufacturer | Hibben |
Highlighted Features
Razor-sharp stainless steel blade
Elegant and sturdy pakkawood handle
Protective leather sheath
Wide blade
Modern design
Without a doubt, this Ulu knife is a contemporary and sleek reimaging of a traditional Ulu. The 6.5-inch 5Cr15 stainless steel blade offers a polished finish which makes an excellent contrast to the black pakkawood handle.
Although it's made in China, this Ulu knife boasts amazing craftsmanship-great edge, high sharpness, and ergonomic pakkawood handle that will fit perfectly into any hand.
It also comes with a black leather sheath for the blade that will help you prevent injuries and prevent the blade from getting damaged. Plus, the blade has stainless steel pins that ensure the grip is comfy.
The beefy and wide blade is razor-sharp and will make every slicing or cutting task straightforward.
When you're not using it, keep it safe in its black leather sheath that has the Hibben logo and safe snap closure.
Final Thoughts
Though it may appear 'otherworldly' when you see it for the first time, an Ulu knife is a very beneficial tool you can use daily.
Thanks to its curvy shape and rocking maneuvers, it will be your favorite option for chopping, dicing, slicing, and cutting fruits, veggies, meats, herbs, and create the ideal pizza slices.
Alaskan Ulu knives are made with high-quality stainless steel blades; sturdy, usually wooden blades and excellent edge retention. Oftentimes, they come with a chopping board/bowl which makes the chopping and dicing so much easier and more fun.
The 'magic' of the Alaskan Ulu knife is in its rocking motion and the ability to do this with one hand. It's the curvature of the blade that enables this rocking motion to take place.
If you're looking for an Alaskan Ulu that's 100 % Alaskan and you're not limited in terms of budget, we warmly recommend our best pick-the set by the ULU Factory that is made with premium materials and will maintain its edge long-term.
If you don't want to spend more on an Ulu, but still want to have the best Ulu knife in your kitchen, our budget choice can be what you're looking for the one by Arctic Circle has so much to offer- stunning design, premium quality materials, and excellent sharpness.
* Affiliate links/Images/Price from Amazon Product Advertising API