Though its name may imply otherwise, a boning knife has a lot more to offer than just deboning.
Once you start using it, you will discover that its curvy and flexible blade is highly versatile. And, it is a great way to better your knife skills.
A boning knife is thin and long and it helps you cut through meat easily and eliminate bones. Similar to fillet knives, their blades are highly flexible, yet strong.
The blade has a sharp tip for the optimal piercing of the meat.
The boning knife has a blade that is between 5 and 7 inches long.
Firmer blades are more useful for beef while the fewer firm blades are more suitable for leaner meat like a chicken.
Removal of skin from meat or fish is essential in averting the meat from becoming tough and chewy once cooked.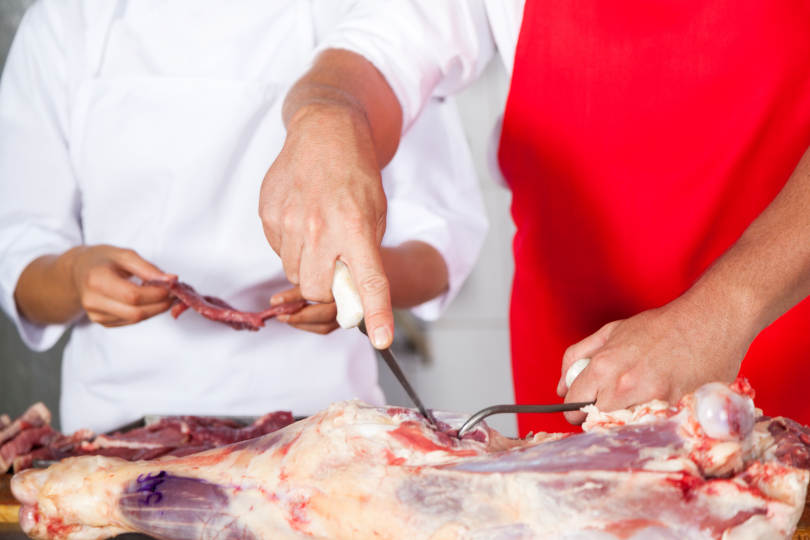 However, with a variety of boning knives available today, it's not easy to make a final decision.
We're here to help in your shopping- we'll present the boning knife for the money, as well as important facts you should know before you choose.
Let's go!
The Miscellaneous Uses of Boning Knives
Separating meat from the bone
A boning knife's specialty is to help you cut around different shapes of bones in order to separate the meat.
Remember, this knife is not mean to cut through the bone, but only to extract the meat from the bone effortlessly.
Separating skin from the meat
Some types of meat, such as chicken, have skin that is usually removed.
The best knife for this purpose is a boning knife due to its flexible tip and thinness. Some boning knives are also good for the removal of fish skin.
Cutting baked goods & carving cakes
Believe it or not, your boning knife is your best ally for your endeavors with baking goods.
You can use its sharp and flexible blade to create all kinds of cookie forms, from simpler to more complex ones, especially when you do not have a specific cutter shape.
Moreover, it can be of great aid for cakes that need light carving and sculpting prior to decoration. Though it is not as ideal as a kit for cake carving, it certainly comes in handy.
Cutting fruits
To remove the skin from mango meat, feel free to use a boning knife. Or, get rid of an apple's or pear's core in one or two precise cuts with your boning knife.
How to Properly Take Care of Boning Knife
Once you have found the boning knife for you, it is pivotal to take proper care of it so that it lasts.
Here are a couple of useful tips that you should take into account prior to making a purchase:
Avoid leaving your knife in the sink; instead, wash it right after use. If you have to wait, make sure you leave them on the countertop.
Though a lot of knives these days are considered dishwasher-safe, wash your boning knife by hand. By not doing this, you are risking scratches on the blade, pitting, discoloration, etc. Use warm water, soap, and sponge for and make sure you towel-dry them. Leftover moisture can contribute to mold and rust.
To cut in the right way, you need to use a rocking motion while maintaining the tip of the knife in contact with the surface as much as possible. Never scrape the blade's edge on the board- use the back of the blade for collecting piles of chopped or sliced food.
Use your boning knife for the purposes it is intended for; misuse of your boning knife can result in damage to the knife or an injury.
How to Keep Boning Knife Sharp?
Dull blades will not just impede the deboning process, but they can increase the chances of injuries.
It is best to sharpen the knife's blade on a yearly basis while the need to honing on a more regular basis.
You will need adequate tools to perform honing and sharpening and also to know how to use these tools properly. If you are unsure, you can always rely on professional knife-sharpening services in your area.
What to Look for in a Boning Knife
A quality boning knife goes a long way. Therefore, it is crucial that we know what makes a boning knife a good one.
Before you start your "hunt" for a boning knife, you should know some important factors. Check them out in the list below:
The blade needs to be very sharp in order to cut close to the bone; this allows for steady pressure while cutting and no meat left behind
The blade should not be too long or too short; go with a blade with 5 to 6 inches long. This length is ideal for cutting through slabs of meat with minimum effort and optimal control of the movements
Its handle needs to be heavier than the blade to have more control while working and to perform precise cuts
Often times, you may be using your boning knife for more challenging tasks or with wet or slippery fingers. So, to prevent the fingers from sliding towards the blade, it is important to look for boning knives with a protective bolster (this additional piece is added in the space between the blade and handle ) for injury-prevention
To prevent finger slippage, choose boning knives with a handle made from non-slippery materials; their texture and contour enables excellent grip
Avoid ceramic blades as they are more prone to snapping or shattering during contact with bones; instead, choose steel, both strong and flexible one!
Boning Knife Reviews
1. Victorinox Swiss Army Fibrox Pro Boning Knife
Product Information
| | |
| --- | --- |
| Package Dimensions | 11.38 x 1.38 x 0.75 inches |
| Item Weight | 2.89 ounces |
| Manufacturer | Victorinox Swiss Army |
| Price | $34.00 |
Highlighted Features
Flexible blade
European stainless steel
NSF-certified
Fibrox ergonomic handle
Non-slip handle
Lifetime guarantee
This knife is the ideal choice for deboning thanks to its pointy tip.
It easily pierces meat whereas its straight edge ensures the cuts are clean and smooth, even when it's passing through complex areas like cartilage and joints.
The 6-inch blade is constructed of European lightweight stainless steel.
It's NSF-certified and the ergonomic handle is Fibrox. It doesn't slip, even in wet situations and it's properly balanced so that you're comfortable while working with it.
The grip is comfy and it won't cause any wrist or hand tiredness.
Since the company believes in its products and the Swiss craftsmanship they offer, they give lifetime guarantee for material and workmanship defects.
To ensure it lasts for a lifetime, wash it by hand.
2. Mercer Culinary Millennia Curved Boning Knife
Product Information
| | |
| --- | --- |
| Package Dimensions | 11 x 4 x 1 inches |
| Item Weight | 4.6 ounces |
| Manufacturer | Mercer Tool Corp. |
| Price | $32.74 |
Highlighted Features
Made from premium Japanese steel
Ergonomic handle
Textured finger points
NSF-certified
This boning knife is constructed with quality Japanese steel which is non-staining and resistant to discoloration and rusting. It preserves its edge for a long period of time.
Plus, it boasts an aesthetically pleasing and ergonomically designed handle. It's made of Santoprene for high comfort and polypropylene for longevity.
The textured finger points located on the handle prevent slippage and ensure a strong and comfy grip.
If you choose this knife, you won't just get high performance, but a limited lifetime warranty too.
This product is also NSF certified, i.e. Mercer Millennia knives meet the safety, performance, and quality standards!
You will easily "fall in love" with its curvy edge which is useful for trimming fat and sinews, but for poultry, fish, and even bread too.
If you don't like too long and tall blades, opt for a different model.
3. Shun Premier Gokujo Boning Knife
Product Information
| | |
| --- | --- |
| Package Dimensions | 11.25 x 0.63 x 1.25 inches |
| Item Weight | 4.5 ounces |
| Manufacturer | Kai |
| Price | $169.95 |
Highlighted Features
Damascus steel blade
Perfect for fish, beef & poultry
Pakkawood handle
Suitable for left- and right-hand users
The highly sharp edge of the blade helps you cut close to the bone and trim skin from roast and tenderloin with low effort. The blade glides through beef, poultry, and fish.
The layered Damascus steel ensures high strength while the hand-hammered finish is essential for a low knife drag.
Extra thin and razor-sharp, this knife's blade is a state of the art- a 16-degree blade angle that makes it flexible, yet much sharper than traditional Western knives.
The Packwood handle in walnut finish is stylish and satiny. It is designed to fit the palms perfectly and provide safety and comfort during usage. The end cap features the company's logo.
It's a premium boning knife and a "dream come true" for cooks who appreciate quality steel and famous Japanese styling. The knife is suitable for both left- and right-handed users.
4. Dexter-Russell Boning Knife
Product Information
| | |
| --- | --- |
| Package Dimensions | 11.8 x 3.6 x 1.3 inches |
| Item Weight | 4.8 Ounces |
| Manufacturer | food service warehouse |
| Price | $19.21 |
Highlighted Features
Affordable
Long & pointy blade
High-carbon stainless steel blade
Lightweight
Grip-Tex handle
For a decent price, this knife offers positive experience in deboning. Thanks to its long, pointy, and curvy blade, you will smoothly penetrate and slice poultry or fish.
The high-carbon steel blade is hand-sharpened and honed and thus, strong and flexible for deboning.
It has a Grip-Tex handle which provides an easy, yet strong grip and optimal safety and hygiene (sealed against bacteria).
Users describe it as a 'lightweight boning knife with an excellent angle for trimming skin and fat'.
Having this boning knife in your kitchen will definitely make barbeque preparations easier and more enjoyable, for sure!
5. Victorinox Swiss Army Rosewood Curved Boning Knife
Product Information
| | |
| --- | --- |
| Package Dimensions | 10.75 x 1.13 x 0.75 inches |
| Item Weight | 3.2 ounces |
| Manufacturer | SWIT7 |
| Price | $27.60 |
Highlighted Features
Semi-stiff blade
Lightweight & comfy
Non-slip Fibrox handle
NSF-approved
Swiss quality
Thanks to its semi-stiff blade, you can effortless cuts through bone and cartilage and around chops and ribs.
It's a lightweight and comfortable knife with a slip-resistant handle and a curviness that optimizes the working angle.
Made with high-carbon stainless steel, the blade is razor-sharp and resistant to corrosion and rusting.
The Fibrox handle is slip-resistant, textured, and ergonomically designed for comfort and balance during usage.
It's also NSF-approved and made by skilled Swiss craftsmen. You will also get a lifetime warranty against manufacturer defects!
The straight blade is ideally tapered and the absence of serrations helps you make the perfect cuts. Stamped for precision and durability, this is a smart investment- you get an affordable, yet quality boning knife.
For bigger and sturdier meat, opt for a different boning knife.
6. Dalstrong Forged German Boning Knife
Product Information
| | |
| --- | --- |
| Package Dimensions | 15.83 x 5.43 x 1.61 inches |
| Item Weight | 6.5 ounces |
| Manufacturer | Dalstrong |
| Price | $70.00 |
Highlighted Features
High-carbon German steel
Pakkawood, triple-riveted handle
Full-tang for optimal strength & durability
Versatile
Money back guarantee
This 6-inch boning knife is a combination of amazing craftsmanship, newest tech, beautiful design, and excellent materials.
The knife is pleasing to look at and hold and it comes neatly packed in a PerfectFit sheath for safety.
It's made full-tang and the blade is razor-sharp. It features high-carbon German stainless steel and its edge is hand-polished at 14-16 degrees per side.
Thanks to the flexible blade tech, the deboning, filleting, skinning, and trimming meat is efficient and effortless, but also satisfying.
We really love the classic black triple-riveted Pakkawood handle- its grip is optimized and it's ideally comfortable. It has also been laminated to boost strength, cleaning, and staining.
Dalstrong offers a 100 percent money-back guarantee in case of product dissatisfaction.
7. Wusthof 6-Inch Boning Knife
Product Information
| | |
| --- | --- |
| Package Dimensions | 11 x 3 x 1 inches |
| Item Weight | 4.9 ounces |
| Manufacturer | Wusthof |
Highlighted Features
Precision Edge Tech
High-carbon stainless steel
Optimized edge retention
Highly-sharp blade
Triple-riveted strong handle
This knife is a real masterpiece that's suitable for both home and professional cooks. It's precisely forged from a single blank of high-carbon stainless steel (Precision Edge Technology).
Its blade is 20 percent sharper and its edge retention is twice higher.
You can easily control the movements thanks to the triple-riveted handle. It has a protective bolster that will keep your fingers safe!
Though it's dishwasher-safe, it's better to wash it by hand. Its high-end materials and design make it ideal for deboning chicken or ham or for trimming fat and sinews.
The blade is very thin and flexible and you can also use it for filleting or to prepare a delicious Carpaccio.
This knife will always bring excellent results and better your culinary experience.
However, this may not be a good option for you if you prefer Japanese steel.
8. Zwilling J.A. Henckels Boning Knife
Product Information
| | |
| --- | --- |
| Package Dimensions | 16.5 x 2.75 x 1.5 inches |
| Item Weight | 4.8 ounces |
| Manufacturer | Henckels |
| Price | $94.90 |
Highlighted Features
Made in Germany
Laser-controlled edge
Consistent blade angle
Full-tang construction
High-carbon stainless steel
Strong & durable Novodur handle
This high-end boning knife is made in Germany and features a special high-carbon stainless steel formula. It's forged from one piece of steel and its ice-hardened blade is optimally sharp.
It will preserve its edge longer and it's very resilient.
The cutting angle is amazing thanks to the precision-honed blade and the laser-controlled edge. The blade is flexible enough to bend properly around joints and big bones.
The Novodur polymer triple-riveted ergonomic black handle is ideally bonded with the full-tang.
The strong bolster ensures you get the right balance and protection. It's a great option for both professional and home cooks.
Even though the knife is described as dishwasher-safe; the company recommends washing it by hand.
We definitely appreciate the fact that the company offers full warranty for its products, including this boning knife.
9. SMTENG 5.5-inch Boning Knife
Product Information
| | |
| --- | --- |
| Package Dimensions | 9.65 x 1.97 x 0.79 inches |
| Item Weight | 9.2 ounces |
| Manufacturer | SMTENG |
| Price | Price not available |
Highlighted Features
Logwood curved handle
Well-balanced full-tang
Stainless steel thick & curved blade
Ergonomic & attractive design
Gift box included
Boning knives are versatile tools, without a doubt.
One such essential tool in your kitchen is this boning knife by SMTENG. It will be your best choice for brisket trimming, lamb trimming, or chicken skinning.
The curved handle is made of logwood and triple-riveted for optimal balance and durability. The blade is thick, curved, and razor-sharp. It retains the edge and doesn't rust or corrode.
When it does diminish in sharpness after some time, you can easily sharpen it with a sharpening tool.
The curved blade and handle make sure the maneuvers are easy and precise. The handle will 'fall into' your hand perfectly, regardless of whether you're left- or right-handed.
As it comes packed in a beautiful box with the company's log, it makes an amazing gift for special occasions.
10. Ultra Source 6-Inch Boning Knife
Product Information
| | |
| --- | --- |
| Package Dimensions | 12.64 x 4.29 x 1.38 inches |
| Item Weight | 9.6 Ounces |
| Manufacturer | UltraSource |
| Price | $13.99 |
Highlighted Features
6-inch curved blade
Great for poultry and fish
German high-carbon molybdenum steel
Antibacterial handle
This 6-inch curved blade boning knife is the best choice for separation of poultry and fish from the bone with excellent precision.
The German high-carbon molybdenum steel is cryogenically treated to resist rust and to preserve its edge for longer.
We love the textured yellow handle- it's antibacterial and liquid-welded.
The blade and handle are both balanced using front and rear safety bolsters. This lowers the tiredness in the hand and maximizes the grip.
The blade-to-handle construction is also seamless and eases the knife's maintaining. This knife comes with a semi-flex blade. There is also a stiff and flexible blade.
It's a great choice for home cooks, as well as for professional purposes in butcher shops, groceries, meat markets, and industries.
Final Thoughts
A boning knife is as important for professionals as it is for home cooks. Crucial for deboning meat and filleting fish, it's a smart investment.
Thanks to their razor-sharp and flexible blades and ergonomic, non-slippery handles, they allow clean, clear, and lightweight cuts.
If you're limited in terms of budget, don't worry-we've presented some amazing quality, yet affordable boning knives for you.
If you can spend a bit more, the more expensive models can be a great investment because of their optimal performance, unique design, customer satisfaction, and material quality.
If you need a boning knife for smaller meat like poultry and fish and want to buy from a trusted brand with NSF-approved products, we warmly recommend the Victorinox one.
Japanese steel lovers will definitely appreciate the Mercer Culinary 6-inch boning knife with a long and tall blade and a catchy handle design, which also happens to be our budget pick!
* Affiliate links/Images/Price from Amazon Product Advertising API