Yes, of course, pre-packed deli meats are convenient and delicious, they can never be better than freshly cut homemade meat.
And, knowing how expensive these food products can be, it's good to know that you can save money by investing in the best meat slicer for home use.
Thanks to this kitchen gadget, you can prep your deli cuts and enjoy fresh and yummy, and perfectly sliced meat for epic charcuterie boards and finger-licking good sandwiches.
Plus, these machines are a smart investment; you can use them with so much more than meat. They're awesome for making perfect slices of cheese, bread, and veggies.
You'll no longer fret prepping the dinner table for get-togethers with friends and family; your meat slicer will have your back.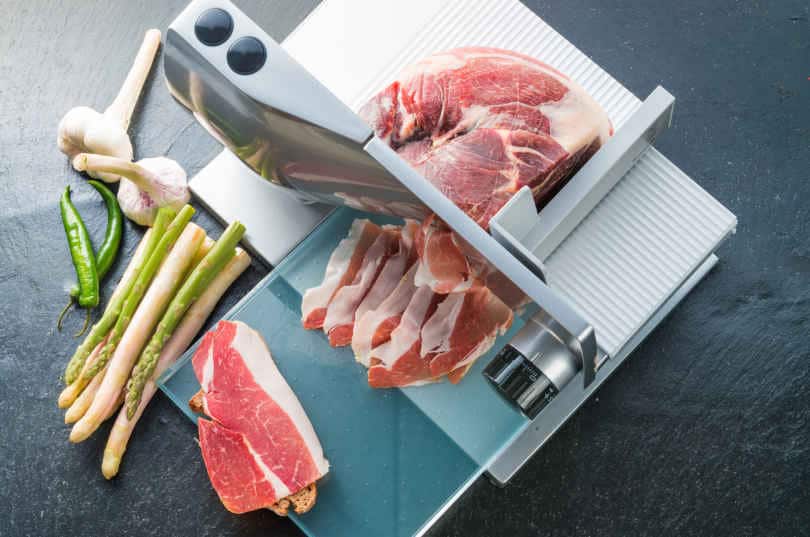 To help you on the quest of finding the best model for you and your budget, we've made a list with the 10 trending models currently, as well as useful tips you should know!
What is a Meat Slicer?
Meat slicers are machines that are powered by electricity or manually and used for meat slicing, as well as slicing other foods like bread, harder veggies, and fruits, fish, etc.
The meat which can be sliced with these machines can be hot or cold and the thickness level can be adjusted according to your preference.
Opting for a meat slicer for home use is an awesome idea, mostly because of two major reasons. First is that the slicer will release the texture and taste of the meat, much better than the hand cutting does.
And, the second thing is that it saves you money in the long run; you invest in it once whereas constantly buying pre-sliced meats from stores can cost up to 3 and 4 times the price of a whole meat piece.
Electric vs. Manual Meat Slicers
Electric meat slicers have a motor that moves the blade and enables the cutting. This makes the process effortless and gives you a chance to cut the meat into the wanted thickness.
Plus, there's little or no risk of being injured with this type of slicer-in fact, nowadays, they're made with multiple safety features like a locked blade when not in use, an on/off button, rubber suction feet, etc.
However, one downside is you can't use it where there's no electricity and thus, a manual slicer would do better in this case. For example, when you're out camping or fishing.
Manual meat slicers require manual rotation of the blade (usually through a handle) to do the slicing. Thus, it does require more human effort than an electric one.
And, you need to have more muscle power to be able to slice it optimally.
This is a beneficial choice for those planning to cut smaller amounts; however, for larger batches and more frequent use, the electric one is a much better option.
Also, there's the safety factor-as you operate the slicer by hand using quite the force, your risk of injury is higher.
Why is a Meat Slicer a Good Idea?
You save money in the long run–if deli meats are on your eating table often, you may want to consider an electric meat slicer.
This is because, in the long run, it will save you a lot of bucks. Knowing how expensive some precut meats can be, in a year, you can save a lot of money by buying whole pieces of meat, which is less costly.
You prep larger batches (awesome for bigger families)

-there should be no problem if you're a family of two or three and you seldom eat sandwiches and deli meats; but, what if you're a big family with 5+ members, including children, who love sandwiches?
By investing in this machine, you can easily prep bigger batches faster and thus, stop fretting about food prep for your loved ones.
You reduce the risk of injuries to a minimum-using a knife to cut meat, bread, or veggies or a manual food slicer puts you at a higher risk of potential injuries in case of the imbalance; on the other hand, with an electric food slicer, this is less common.
Saves you time-

nowadays, with our busy lives and all that, prepping food at home has become something we rarely do. So, we often reach for takeouts or dining out.
But, thanks to this machine, you can prep a lot of food in a short amount of time, thus, you'll run out of excuses to start eating healthier today!
Makes meat tastier-an electric food slicer will release all those amazing flavors from meat much better than manual cutting can do! This definitely ups the game, don't you agree?
Beneficial for those with arthritis or compromised hand use

-if you're struggling with a joint ache or you have some hand and arm disability, an electric slicer may be a good choice for you.
It doesn't require you to apply big pressure and make things more painful-it practically does the job for you.
How to Use a Meat Slicer?
Before you begin using your meat slicer, a pair of plastic gloves will be great to ensure maximum food sanitary.
Then, you plug it in and put the meat (or other food) onto the platter, and turn it on. Then you push the platter from one side towards the blade.
This is usually how electric ones work. For a manual one, you may need to do a similar thing but in this case, the slicing is done manually by you pushing a handle.
After you're done using it, always clean it properly to have it ready for next time. And, it's essential to note that although it can be used with a long list of foods (meat, cheese, bread, veggies, and fruits), there are those that you should avoid slicing with this machine.
Some of them include meat with bones, hardly frozen meat and fish, foods with seeds, and very big chunks of meat!
Which are the Factors to Consider First?
Serrated or straight blade
Serrated blades have tiny grooves like those on knife bread. Choose a slicer that has this type of blade if you plan to use it mostly with meat and bread.
On the other hand, the smooth ones can be used for meat, sushi, veggies, cheese, harder fruits, etc. They provide a thin and precise cut.
However, although it does give great results and doesn't damage the foods, it's not recommended for meat with harder crusts.
Machine material
Stainless steel food slicers are more expensive; however, they do offer high durability and longevity.
You can find models with aluminum housing and they're somewhat less costly and are also durable.
Although the plastic housing does seem easy to use and easy to clean and maintain, it's not the sturdiest option out there.
Ease of use
One of the main reasons why people decide to buy this machine is because of the comfort it provides and of course, its ease of use.
Thus, make sure the one you choose is simple to use and has no complex steps-you don't want to invest in something that later turns out to be a task you fret, rather than look forward to.
Safety
This is a crucial factor to consider before you decide on the top meat slicer for your home use.
This being said, go with one that has non-slippery rubber feet, an on/off lock, and other locking mechanisms, especially when it's not used.
Blade size
When it comes to choosing a slicer, don't forget to consider its size. If you plan to use it at home or in a smaller restaurant, an 8 to 9-inch size will be fine.
On the other hand, if you tend to slice bigger amounts of food, one between 9 and 14 inches may be more suitable.
When & How to Clean my Meat Slicer?
When you're switching between meats or from meat to cheese or bread or vice versa, always wipe the slicer using a sanitizing spray.
And, after use, always fully clean it to prevent food residue and bacteria buildup. If your slicer is one that can be disassembled, clean each part thoroughly before putting it back on.
It's important to note that although some of these parts are dishwasher-safe, it's always a better variant to wash them with water and mild soap.
How to Maintain the Blade in Optimal Shape?
Clean it with sanitizing spray and with water and soap regularly
Sharpen it with a sharpening stone
Service it regularly per manufacturer's recommendations
Best Meat Slicer Reviews
Top Pick
Ostba's Electric Meat Slicer is definitely our best pick because of its high customer satisfaction, impressive design, quality of materials, and ease of use.
Budget Pick
Elite Gourmet's Ultimate Electric Meat Slicer doesn't require you to spend less than 100 bucks, yet you get a stunning machine. It's versatile, has a sharp serrated blade, and you can adjust your desired thickness.
1. Ostba Electric Meat Slicer
Highlighted Features
Non-slippery feet
Strong & long-lasting
Very sharp blade
Versatile & easy to clean
Feel like a pro chef with this electric meat slicer with 200W potency. It's sturdy and long-lasting thanks to the premium stainless steel construction.
It gives you the opportunity to set the desired thickness, ranging from very thin to extra thick. You can use it with meat, but with other foods like cheese, bread, veggies, and fruits too.
The cutting is successful, easy, and effortless thanks to the stainless steel 7.5-inch serrated blade which is highly sharp. It can even provide consistent cuts even through frozen foods.
We really love the child safety button addition- it helps keep your loved ones protected!
Using it is really simple and intuitive-you just turn on the machine on the on/off button and take the piece of meat or cheese and move it from left to right against the rotating blade.
Your delicious slices will wait for you on the other side.
2. Beswood 10-inch Electric Food Slicer
Highlighted Features
Non-slippery bottom
Reduced noise & vibration
Versatile
Strong construction
Easy to use
This 240W potent food slicer boasts a strong and long-lasting construction thanks to the carbon steel, aluminum, and rubber used for its production.
The carbon and chromium-plated blade are highly sharp and strong, making the cutting easy as a breeze. It won't corrode or go dull; so, no need for recurrent sharpening.
The bottom suction cups ensure the device stays in place while using it, thus maximizing your safety and speeding up the process.
You just press the on/off switch and the blade begins turning and you can start slicing. This model also comes with an option to choose between desired thicknesses.
With these machines, noise and vibration are often decisive factor-luckily; this model has a premium V-belt with reduced noise and vibrations.
3. Cusimax Electric Food Slicer
Highlighted Features
Easy to use
Sturdy & sharp blade
Strong construction
Non-slippery bottom
Adjustable thickness
This electric 200W food slicer offers upgraded workmanship and a 430 stainless steel, 7.5-inch blade. It's sharp, durable, and won't rust.
By investing in this model, you invest in easy, effortless, and enjoyable food slicing. Whether it's meat or bread or veggies, it has your back. And, no food will be stuck or hidden into it; the removable blade eases the cleaning.
The improved design also ensures the noise and vibration are brought to a minimum. You can adjust the desired thickness level-from super thin to thick. It's ideal for meat, cheese, fruits, bread, veggies, and more.
Moreover, the anti-slip sucking pads on the bottom ensure the machine stays in place and betters safety and ensures enjoyable use. As the blade is removable, the cleaning is simple and fast.
4. Elite Gourmet Ultimate Electric Food Slicer
Highlighted Features
Ultra-sharp blade
Thickness level is adjustable
Long-lasting construction
Safe
Highly versatile
Designed to save time and last, this electric food slicer saves you money and time.
It's constructed using premium quality die-cast aluminum housing, which makes it not just extra durable, but easy to clean and non-rusting.
The cleaning is also further eased with the removable blade. The blade is highly sharp, 7.5-inch, and made from stainless steel. Feel free to wash it by hand or in the dishwasher, both are fine.
Thanks to the adjustability option, you can slice the cheese or meat to the desired thickness. The use is also quite simple-you turn it on and set the food on the platform in front and glide it towards the blade.
And, the machine will always stay in place and improve your safety.
5. Chef's Choice Electric Meat Slicer
Highlighted Features
Thickness is adjustable
Cool-running & high torque motor
Safety lock feature
Tilted carriage for more efficiency
Easy to clean
This amazing 120W slicer boasts components constructed of cast aluminum and stainless steel, as well as a metal food pusher. The power is wonderful thanks to the high torque motor with a gear drive.
The food carriage is also tilted to ensure faster and more efficient slicing of meat, but cheese, bread, fruits, and veggies too.
When it's not in use, turn off the machine and put the blade in a lock position-this will maximize safety, especially if you have children around.
The sturdy and long-lasting stainless steel blade is sharp and has a 7-inch size. Since it's removable, same as the food pusher, carriage, and thickness adjuster, the cleaning is made simple.
It's good to know that this slicer comes with a serving tray. The non-slippery suction feet are also an important, useful addition.
6. Chefman Electric Food Slicer
Highlighted Features
Thick construction
Versatile
Easy to use & clean
Potent motor
Optimized safety
Boasting a strong and long-lasting stainless steel and aluminum construction, this is a versatile and safe food slicer. Whether you need to make ideal deli cuts or prep bread for sandwiches, it has your back.
Thanks to the potent 180W AC motor and serrated and highly sharp stainless steel 8.6-inch blade, you can tackle any food easily. We really love how sleek and compact the design is, making it suitable for most cabinets and countertops.
The blade safety guard is an awesome addition, showing the importance of safety. Another safety feature that's convenient and everyone will love is the non-slippery bottom achieved with the suction feet.
Shop without a worry on your mind as the manufacturer gives a 1-year warranty for the slicer.
7. Befen Manual Food Slicer
Highlighted Features
Greater control
Thickness adjustable
Sturdy
Versatile
Easy to clean & use
If you're more into manual food slicers rather than the electric options, this one is worth considering. Constructed of sturdy, long-lasting, and non-rusting stainless steel, it will do the job fast and efficiently.
And, you'll appreciate how easy it is to use, even if it's your first time. You just put the meat or bread onto the feeder table and press the feeder handle onto the left. Then, you stick the handle into the meat and begin slicing with the slicer handle with the other hand.
You can also adjust the desire thickness-you turn the knob outside if you want thicker pieces or towards the inside for thinner ones. Thanks to the non-slippery suction feet on the bottom, the device is firmly in place throughout the whole process.
Plus, the cleaning is so easy-you take down the parts and clean them thoroughly before putting them back.
8. KWS's Premium Electric Meat Slicer
Highlighted Features
Optimized safety
Low noise level
Easy to use & clean
Made of quality materials
This meat slicer is a wonderful option-from the strong and long-lasting aluminum alloy construction to the 10-inch highly sharp premium stainless steel blade coated with Teflon, it will never fail you.
The blade isn't just highly strong, but also durable and non-rusting.
Plus, the motor is strong, yet the machine is quiet-you get stunning 320W of power. It will help you tackle meat, but bread, cheese, veggies, etc. too.
The assembling and disassembling are easy, so the cleaning and packing won't be tiring.
Let's not forget one of the best parts about this slicer-the built-in sharpener that hones and restores the sharpness of the blade. In this way, your blade will always be razor-sharp and up to any task.
Customers loved it the most for its safety feature, low noise, and simplicity of use.
9. Super Handy's Electric Food Slicer
Highlighted Features
Lightweight
Easy to use & clean
Good safety features
Versatile
German steel blade
This collapsible food slicer boasts a sleek and compact design that's easy to carry around when you're on the go. It features a 100W power motor and a sharp German stainless steel blade that does the job.
The forged and serrated blade is 6.7 inches and also removable, for easier maintenance.
It's not just perfect for meat, but for bread, veggies, hard fruits, and more. The slicer is easy to use and you can set the desired thickness level.
To turn on the machine, you press both the safety lock and the power button. This helps promote optimal safety, which is awesome for households with children.
And, don't worry about unwanted slippage-the suction cups on the bottom ensure it stays firmly in its place.
10. Valley Sportsman Food Slicer
Highlighted Features
Good value for money
Easy to use
Sharp blade
Versatile
Good safety features
This electric heavy-duty food slicer looks amazing, but it also has to offer other great features. In addition to an affordable price, it also has a potent 180W motor and a side adjustment section to set the desired thickness.
The serrated stainless steel blade is sharp and will keep its edge for a long. To use it, you put the meat onto the food platter and turn on the switch and push the platter towards the blade.
Feel free to use it to make deli cuts, but also cheese and bread slices.
Thanks to the non-slippery bottom feet, once you set it in place, it won't move around and slow you down or cause injuries.
Customers who purchased it gave it the most kudos for being simple to use, offering good value for the price, and being durable.
Final Thoughts
If deli meats are a regular part of your diet, you may benefit from the best meat slicer for home use.
This machine won't just help you slice your meat and save money in the long run, but also help you make the perfect slices of bread, cheese, and veggies too.
This machine, although a pricier investment, makes things so much easier. You buy chunks of meat that are less expensive than pre-cuts and you optimize its flavor release.
When it comes to meat slicers, the electric ones are really popular nowadays. They're easy to use, easy to clean and finish the job fast.
Thanks to them, you needn't be a pro to prep the perfect charcuterie board or make the yummiest sandwiches for you and your loved ones.
In case you have no limit in terms of budget, you'll love our best pick. Those who're looking to spend less, yet still want a quality slicer, will appreciate everything our budget pick has to offer!
Happy slicing!
* Affiliate links/Images/Price from Amazon Product Advertising API