For all the fish eaters out there, getting fresh fish can be really exciting.
The sad part, however, is that most of these fish have scales on them, and the process of completely removing all those scales can be annoying at times. For that, you will need the best fish scaler tool to get the scaling job done right away.
While you might think that a fillet knife is more than enough to do the scaling job, it will actually take a while for you to completely strip off the scales of your fish.
Moreover, your safety isn't guaranteed either. It's an entirely different story with a fish scaler, however.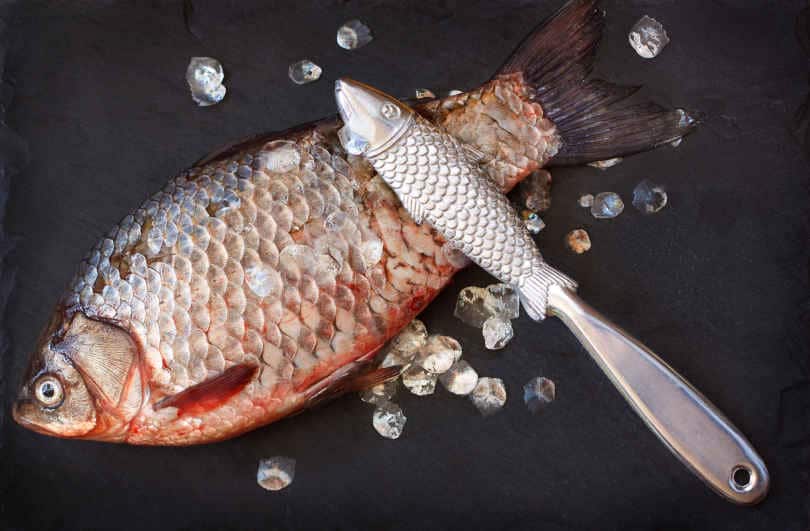 A fish scaler is, as the name implies, a tool you use for removing scales on a fish mess-free. It also removes half the time it would take to scale a fish using your knife.
However, not all fish scalers on the market are the same, and it's for that reason why we created this guide to help you out.
What is Fish Scaler?
As we mentioned earlier, a fish scaler is a tool you can use to remove the scales of your fish.
Normally, removing scales off your fish can be a messy job, not to mention it can take a lot of time as well. With a fish scaler, you'll be able to do the scaling job at a much quicker rate, not to mention you won't leave a lot of mess behind.
How to Choose the Best Fish Scaler
Not all fish scalers are built the same; therefore, in order to find the right one for your needs, you need to know which key factors to look out for.
These are as follows:
Ease of Use
A scaler's usability is one of the main features you should consider. If it will take you a long time to completely scale a single fish, then it's better to look for another option.
After all, fish scalers are designed to cut your time scaling fish in half.
Frequency
You also want to consider how frequently you will be using a scaler to scale fish. If you are a chef who normally cooks lots of fish on a daily basis, then going for a large-capacity drum is the better option.
On the other hand, if you only use your scaler occasionally, then the simpler ones will do just fine.
Blade Vs. Scrubber
A fish scaler can be either a blade or a scrubber. Your choice will depend on which scaling method you want. Both types are available in either manual or electric versions.
However, just keep in mind that a blade scaler can be the better choice since it's more precise and can effectively remove scales from small and big fish with ease.
Manual Vs. Electric
Most of the fish scalers mentioned above are manual tools. For an average user, they're more than enough to scale a fish or two while cooking. They're fairly cheap as well.
However, the problem with manual scalers is that they won't guarantee controlled scale removal.
Meanwhile, electric versions can offer better scaling performance. They can even take on several fish all at the same time without creating any mess.
But then again, they're quite expensive, so you should make a decision based on your budget and how fast you want to get the scaling job done.
Ease of Cleaning
Another important feature you have to look for when buying a fish scaler is its ease of cleaning. You can find several scalers that simply leave their scales behind everywhere.
However, there are some that do a good job of making the entire scaling process mess-free. Generally, it would be wise to go for a scaler that doesn't leave any mess behind, just like the ones we've mentioned above.
Lightweight and Ergonomic Design
You don't want a scaler that feels clunky to use. That said, you have to look for a product that's lightweight and has an ergonomic design.
It's because it's way easier and more convenient to use, especially if you're about to clean fish. It's even better if you go for one with a non-slip handle so you can work despite having wet hands.
Material
Some fish scalers are designed to last long simply because of the material used to make them. There are actually plenty of material choices you can choose from, with the most common being stainless steel, plastic, and even wood.
Out of the three, stainless steel has proven itself to be the most durable and long-lasting. Aside from that, it's very easy to clean and can resist rust and corrosion.
Meanwhile, a plastic fish scaler can only last for a little while and won't be able to remove scales as effectively as a stainless steel scaler.
However, it can be more than enough for simple scaling jobs.
On the other hand, wood is surely the poorest choice out of the three due to how easy it can get mold. Apart from that, it can also break easily, thereby making it more of a hassle than a convenience.
Safety
Another important factor that's commonly overlooked by most people who buy fish scalers is safety. When shopping for a scaler, you have to keep in mind that it will have one type of sharp end.
You can find some products that have exposed blades with no sheathes at all. Such scalers can be quite dangerous if you have kids around with you.
Fish scalers that come with their own safety features can be a good option. A few of these include a non-slip grip and an ergonomic handle among others.
How to Take Care of My Fish Scaler
Most fish scalers come with their own manual that tells you exactly how to clean them.
However, most of them can be cleaned using simple washing or using your dishwasher. If you choose to use the latter method for cleaning, just make sure that yours is labeled as dishwasher-safe.
If it's with dishwashing, check first if you can disassemble it so you can deep clean it beforehand. Just be careful when handling those sharp parts. Use soap and water to clean your scaler then hang it to dry before putting it in your storage.
However, since a fish scaler has sharp edges, you have to store it in a cool, dry place that is far away from children's reach. If there's a box where you can stash it, then do so in order to make it extra safe.
As far as maintenance goes, most scalers come with a protective coating.
Therefore, in order to preserve yours, you want to make sure to avoid damaging the coating. If possible, replenish it whenever necessary. Always thoroughly clean your scaler and check for any damage.
Depending on the manufacturer, some scalers will come with tips on how you can specifically maintain them.
Why is it Necessary to remove Scales Of a Fish?
To be honest, it's not really necessary to scale fish. However, eating fish with scales on it can be rather unpleasant. Besides, bacteria might also get trapped under the scales.
Therefore, before you proceed to cook your catch, make sure to clean it first then scale thoroughly. Scales don't have any nutritional value anyway, so having them removed can be a better option.
With a fish scaler, it will only take you seconds to get the job done.
Can I still remove Scales on my Fish without a Scaler?
Yes, you can. You simply have to use the blunt side of your knife to remove the scales. However, do keep in mind that this can be a rather time-consuming task, not to mention it can be quite messy.
Fish scalers are designed to solve those issues, so investing in one is highly recommended.
How does a Fish Scaler Work?
It actually depends on the type of scaler you choose, whether it's manual or electric. Generally, a fish scaler work through the use of a sharp and jagged edge which can cut against a fish's scales with ease.
There are lots of scalers out there that use a sharp metal for removing the scales efficiently.
However, for those electric variants, they normally use a spinning edge that can take care of the scaling process automatically.
When should I buy an Automatic Scaler?
For most individuals, a manual fish scaler will do the job just fine.
However, if you cook fish on a regular basis, or if you're a chef, then investing in an automatic fish scaler is highly recommended. If you only cook fish occasionally, then you're better off buying a manual model.
The Best Fish Scaler Reviews
1. Yamasho Brass Fish Scaler
Highlighted Features
Highly ergonomic wooden handle
Durable construction
Pretty sharp brass sawtooth
Quite affordable price tag
Quite possibly the best handheld scaler, this brass scaler from Yamasho only requires minimal effort to completely remove all of the scales on your fish.
It's a Japanese-inspired tool that features a wooden handle alongside a head made of brass. Perhaps the best part about this scaler is its pretty simple yet functional design.
This scaler is particularly effective when submerged underwater instead of above it.
Additionally, it's also pretty sharp, and you can maintain its sharpness for a longer time by simply washing and letting it dry after use. Also, as Amazon's Choice for a brass fish scaler, you surely can't go wrong with this product.
2. GiniHome Fish Scaler Brush
Highlighted Features
Food-safe 304 stainless steel construction
Safe and ergonomic design
30-day money-back service
As a high-quality scaler that's recommended by a lot of chefs, this stainless steel fish scaler from GiniHome rightly deserves a spot in this list.
It's made from food-safe 304 stainless steel, making it durable and resistant to corrosion at the same time. Due to its durable construction, you can expect to use it for a longer period of time.
Aside from that, it also features an ergonomic handle to prevent you from experiencing fatigue when scaling your fish. It can be used to scale any type of fish, and you just have to wash it then hang it afterward after use.
Additionally, it comes with a 30-day money-back guarantee just in case you don't like its performance (though it's highly unlikely).
Lastly, it's fairly cheap, making it an absolute bargain!
3. Big Norm-Feets Magic Fish Scaler
Highlighted Features
Circular design for effectively removing scales
Corrosion-resistant plastic construction
Works on all types and sizes of fish
As a "magic" fish scaler, the Big Norm-Feets scaler surely does wonders when it comes to fish scaling. Due to its large surface area, it can completely remove scales on your fish in seconds, mess-free!
It also works on any fish regardless of their type and size. Additionally, it's made to be resistant to corrosion, so you can expect to use it for the years to come.
Due to its circular design, you can make every fish scaling task a breeze. You'll be impressed by how effective it is, not to mention it's way safer than using your knife.
Lastly, it's available for a very low price which makes it yet another noteworthy addition to your kitchen.
4. Kwizing Brass Fish Scaler
Highlighted Features
Resistant to rust and corrosion
Ergonomic design to make handling easier and convenient
32 serrated teeth for effective scaling
Yet another Japanese-inspired brass fish scaler, this one from Kwizing is capable of removing even the toughest scales.
This makes it a really effective tool for chefs and anglers. It has a wooden handle with a fairly ergonomic design to make it comfortable to use.
Apart from that, its brass head contains 32 serrated teeth for removing even the tricky areas of your fish.
Since it's made from brass, you can expect it to be rust and corrosion-resistant. Aside from that, it's also very easy to clean, thanks to its specially designed grooves where all the scales go through.
Lastly, it comes at a slightly higher price than the ones mentioned earlier.
5. Lxnoap Stainless Steel Fish Scraper
Highlighted Features
Lightweight construction
Holes on the head for easy cleaning and hanging
Varied sawtooth sizes to deal with all scale sizes
Designed to reduce the time it takes to remove scales on your fish by almost half the time, the Lxnoap stainless steel fish scraper is certainly a solid option you want to consider for your kitchen.
As a product that's made of 304 stainless steel, you can expect it to last for a long time due to its rust and corrosion-resistant nature.
It features trapezoid-shaped teeth for effectively removing fish scales while protecting the skin of the fish at the same time.
Additionally, it has a really smooth handle to make scaling activities a lot easier and convenient.
6. Sea Striker Fish Scaler
Highlighted Features
Different sizes and colors to choose from
Designed to take on saltwater action
Fairly affordable price
For a product that's hailed as an angler's best friend, the Sea Striker fish scaler surely does its job pretty well.
It has a very lightweight construction alongside an ergonomic handle to make it very easy to use. Due to its very handy build, you can take it with you whenever you go out on a fishing adventure.
Apart from that, it's also very easy to clean. You just have to wash it using soap and water then leave it to dry before storing it.
As a fish scaler that's designed for fishing adventures, you can rely on its tough and durable construction that can easily resist corrosion due to saltwater.
It also comes in a variety of colors for you to choose from.
7. HIC Fish Scaler
Highlighted Features
Unique and quirky design
Simple yet durable aluminum construction
Curved handle for a more secure grip
Easy to wash and clean
If you're looking for a quirky fish scaler that can still get the job done with ease, then this HIC fish scaler from Conimar is perfect for you.
In fact, out of the other scalers in this list, this one has the most unique design feature a figure of a fish on its head.
Performance-wise, the scaler can effectively remove scales off your fish without damaging the fish itself.
Moreover, it's made of aluminum to make it durable and resistant to rust. Also, its edges aren't that sharp, so you shouldn't worry about accidentally cutting your skin while scaling.
It's also very easy to clean. You just need to wash it using warm, soapy water before storing it.
8. Mare Commercial Stainless Fish Scaler
Highlighted Features
Unique ring-shaped design
Ergonomic handle
Serrated sides
Yet another fish scaler that comes with a unique design, the Mare Commercial scaler is one that's designed for heavy-duty scaling.
Compared to the other products on this list, this one features four steel rings that vary in size which are then attached together to its handle.
These rings are arranged with the smaller rings inside the bigger ones. The rings are serrated on both sides, so you can use them regardless of which side is facing toward the fish.
Meanwhile, its handle features a slight curve to secure a firm grip while scaling fish. Additionally, it reduces direct contact between the blade and your fingers, making it really safe and convenient.
9. Speder Electric Fish Scaler
Highlighted Features
IPX7 waterproof rating
Portable and easy to use
Includes a power adapter and cable
Rechargeable and long-lasting battery
Designed to make fish scaling even more convenient, this fish scaler from Speder is an electric tool that's powered by a 6-amp feature.
It comes with a 304 stainless steel roller blade for removing scales off your fish without too much manual intervention on your part.
This makes it a perfect choice for those who want to cook a lot of fish since it allows them to save a lot of time, making it possible for them to focus on other cooking tasks.
It also works for both right and left-handed users, so using it on either hand shouldn't be a problem.
10. Open Country Tumble Drumm Fish Scaler
Highlighted Features
Scales up to 50 fish at once
Mildew and odor-resistant
Large capacity
Water-proof housing
If you think the Speder is the ultimate scaler when it comes to quick-action scaling, then wait 'til you see what the Tumble Drumm has to offer.
First off, it's an automatic fish scaler that can do the job of fish scaling for you. You simply have to put fish and water in a bucket, place the scaler on top, turn it on, then let it do its job.
As a large-capacity drum, the Tumble Drumm can scale up to 50 fish all at once, and you don't even need to do the manual scaling by yourself.
Also, its roller and bucket design makes it very easy to clean. It's even resistant to both mildew and odor, so you shouldn't have any problems cleaning it.
Of course, as it's capable of scaling much fish at once without any manual effort, it's on a rather expensive side.
It's pretty useful for chefs and those who want to cook lots of fish at the same time.
Final Thoughts
A fish scaling task shouldn't be stressful. Regardless of the type of fish you want to scale, there's certainly a fish scaler that can get the job done for you.
The key here is to invest in the best fish scaler tool that you think can suit your needs and allows you to remove scales without any mess and in a smooth and comfortable manner.
If you're one who is always scaling fishes, having a reliable scaler to back you up would definitely make things easier for you. Choosing the ideal one for you depends on your preference though.
Luckily, you can narrow down your choices with the scales mentioned above. All are high-quality scalers that you can depend on.
Of course, we still have to choose one though. Overall, while all of the scalers mentioned here are top-notch, the Yamasho Brass Fish Scaler is definitely our best choice around.