Even those who eat or prepare fish sporadically know that it's always tastier when you buy it raw and prep fish yourself, rather than buying a fillet.
Though this is the more preferred option, the deboning and filleting aren't without challenges- you need the right equipment to ensure everything goes smoothly, otherwise, it can be time-consuming and lead to food wastage.
This is why you need fish bone tweezers- a small, yet potent tool that's essential for taking out those almost invisible fish bones.
These bones can be hard to catch by hand or to remove them using a knife- with the best fish bone tweezers; you'll pluck them out with ease and enjoyment!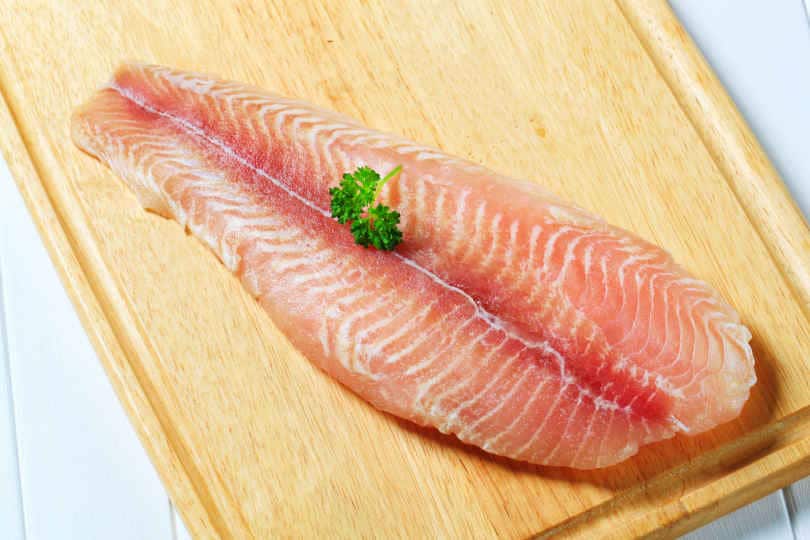 This tool is very versatile- you can use it for many other tasks like plucking out poultry feathers, removing splinters from the skin, etc.
With this in mind, we're more than glad to share with you a list of the 10 top fish bone tweezers available on Amazon, as well as some great tips about how to pick the most suitable for you.
What are Fish Bone Tweezers?
Fishbone tweezers are tweezers specially designed to be used for the removal of pesky bones from raw fish and other seafood.
These tools are compact, easy to use, and durable.
Most of them are made of strong stainless steel and their grip is optimized to ensure we can pluck out even the most stubborn of bones.
Professional chefs almost always use these tweezers rather than removing the bones with the fingers or other utensils- this doesn't just make the job harder, but it also damages the meat and results in food wastage.
These utensils are so easy to maintain- you can wash them in the sink or in the dishwasher, both are completely fine.
What are Fish Bone Pliers?
Pliers are also used to remove bones from fish- they're also made from durable material and help eliminate both small and larger bones effortlessly.
They differ from the tweezers in their design- pliers have a scissor-like design. They have bigger handles and allow for improved maneuvering and control.
Why do I need Fish Bone Tweezers?
Do you catch your own fish? Do you prefer to buy raw fish and seafood and prepare it yourself?
If the answer is yes, you definitely need a functional tool to remove those tiny bones- no one likes eating a fillet of fish and end up chewing or even worse, swallowing a bone!
Thanks to the fishbone tweezers, you can easily and firmly catch and throw away all the bones, even the least visible and the thinnest ones.
Without a doubt, having this tool by your side won't just ease the process and save you time, but it will also help you prepare tasty fish and seafood, without having to waste meat.
Plus, these tools are inexpensive, yet offer some amazing properties and boast great quality. So, there's no excuse like 'high price' to not have this precious tool in your kitchen drawer.
Being compact, both the tweezers and the pliers are suitable for taking them on your fishing and camping trips!
How to Use Fish Bone Tweezers?
First, lay the fish fillet with the skin-side down and make sure you're working on a flat surface.
Using your fingertips, feel the length of the fillet. This will allow you to notice that the bones are mostly located in the thickest section and that they move towards the middle of the fillet.
Each bone is a few inches from the other. As you move towards the fish's head, you'll see that they're becoming bigger.
Using the tweezers, pluck out the first bone you locate. Do this by gently pressing the flesh next to the top so that the bone can poke about the surface a bit.
Then, grab the tip with the tweezers.
It's normal to feel slight resistance when trying to take out the bone, but don't let go. Pull out in a firm, yet calm manner.
Last but not least, since the bones tend to be aligned towards the head, pull up and sideways as well.
Repeat the process until you're sure there are no remaining bones.
Which are the most important factors to consider?
Material
For these fishbone tweezers to last for a long period and not get damaged due to use or water, it's important to only opt for the ones constructed from strong stainless steel.
Namely, this is because stainless steel is one of the best materials out there- it's resistant to corrosion, fire, and heat. Moreover, it's one of the least demanding in terms of maintenance.
Tip design
Slanted tip
Tweezers with a slanted tip are the most popular because they're perfect for lifting the bone from the meat easily before pulling it out.
They're great if you want optimal precision and get as closer to the meat as possible. This further minimizes the chance of the bone-breaking as you pull.
Flat tip
With the flat tip tweezers, you can easily angle them to run parallel to the skin, and thus, you'll be able to grip even the finer bones and pluck them out effortlessly.
Handle design
Plucking out bones from fish and seafood can take a while, so when you're doing it, it's important not to feel any discomfort or pressure in the hands.
Since you'll be doing the maneuvers using your hand, the tweezers need to fit into it properly, without feeling too big or too small.
And, they need to be non-slippery and without any sharp parts that can potentially injure you. If they're ergonomically designed, they're a great option.
Price
Even though most fishbone tweezers and pliers are sold at reasonable prices, sometimes, you can come across more expensive ones.
Make sure you research more about the company and customer satisfaction before you decide to buy such a model.
If the model boasts premium material, optimal design, and high customer satisfaction, then the higher cost may be justified.
Otherwise, it's probably not worth it!
When to Clean my Fish Bone Tweezers?
This is the easiest part with your fish bone tweezers.
When you're done using them, either wash them in the sink using a gentle soap and warm water and towel dry them or place them in the dishwasher if you're in a rush.
Since they're made of stainless steel, water doesn't damage them and they don't absorb unpleasant odors.
10 Best Fish Bone Tweezers Reviews
Top Pick
The Fish Bone Steel Tweezers by Kwizing is our top pick not just because they're handmade in Japan, but because they have a lot of other important features to offer!
Some of our favorite ones are definitely the tweezers' sturdiness, optimized design, affordable price, and longevity.
Budget Pick
Cindy's Tool Fishbone Tweezers are a great value for money- for an inexpensive price, you get such a great product.
From an excellent grip and simple and versatile use to strong & odor-resistant stainless steel, it's not a product you should be missing out on!
1. Kwizing Fish Bone Stainless Steel Tweezers
Highlighted Features
Handcrafted in Japan
Inexpensive
Sturdy & durable
Optimized design
This is one of the most popular fish bone tweezers currently and it boasts amazing customer satisfaction, affordable price, and excellent durability.
With it, deboning raw fish will become your favorite task.
It helps you get rid of scales and bones fast and without too much complication.
The product is made in Japan by talented craftsmen. The design is optimized to ensure the best experience- they have curvy jaws that boost control.
The ergonomic design is also easy on the hands and allows for a comfy, non-slip grip.
We love the fact that the sturdy all-stainless steel fish tweezers are dishwasher-safe and very easy to clean.
When you take the right care of this kitchen tool, it can last for a lifetime.
Customers agree the most about the product's great value for money, easy maintenance, and ease of use.
2. Iziusy Set of 2 Fish Bone Tweezers
Highlighted Features
Set of 2
Compact size
One is flat, the other is a slant design
Made from strong 430 steel
Inexpensive
For an affordable price, you get these two amazing fishbone tweezers- one is with a flat tip and the other is with a slant.
Both are made from strong, 430 stainless steel and have beautiful and functional designs. It fits nicely in the hands and doesn't cause any tiredness or discomfort.
Both the flat and slant design enables you to get close to the surface practically and conveniently and remove bones without damaging the meat.
When you're done using it, just rinse it with some water and soap or put it in the dishwasher- it's entirely dishwasher-safe.
Users loved these tweezers the most for their ease of cleaning, ease of use, and sturdiness.
3. Global's 4.5-Inch Fish Bone Tweezers
Highlighted Features
Modern design
Made by a reputable brand
Strong stainless steel
Satin finish
Ergonomic handle
If you're looking for modern and efficient tweezers to complement your Global knives, this is the right choice for you.
Their beautiful design will help you pluck those annoying bones from fish and seafood with minimal effort.
They're made from strong stainless steel and have a satin finish, as well as the company's logo and interesting dots ingrained.
Users will love to hear that the handle has been designed for optimal comfort and dimpled to ensure a safe and good grip.
The tweezers come in a neat package that you can later use for storage. Dishwasher-safe and sturdy, this is definitely a smart choice.
Global's products are equally appreciated by both home and professional cooks, including Ludo LeFebvre.
4. Self Tek 3 Pcs Set from Steel Tweezers
Highlighted Features
Versatile tool
Set of 3
Strong 430 steel
Sturdy & durable
Ergonomic design
With this set of 3 stainless steel fish bone tweezers, plucking out those tiny bones will no longer be a tiring task.
Thanks to the fine-tip design, the grasping of even the most delicate items is made easy. You can catch the bones without too much effort and without damaging the meat around.
You can also use it to remove the scales too or for other beauty and medical purposes- it's really multipurpose.
All three are constructed from premium 430 stainless steel and are durable and sturdy.
The ergonomic design ensures the tweezers don't feel too big or too small in your hands. This optimized comfort allows for easy maneuvers and headache-free filleting.
5. Cindy Tool Fish Bone Tweezers
Highlighted Features
Easy maintenance
Strong stainless steel
Sturdy
Easy to use
Versatile
Thanks to these tweezers, removing those pesky bones from fish and other seafood will be easy and quick. You can also use it to pull out hair from poultry or to hull strawberries and remove splinters.
What's more, their large, non-slippery surface enables a good grip and holding the bone like no other tool.
Their ergonomic shark-like design ensures the tweezers fall into your hands and don't cause discomfort while using them.
The tweezers are constructed from premium stainless steel that's not just very strong, but also resistant to odors.
You can wash them in the sink or in the dishwasher- it's suitable for both. You also get a 1-year guarantee for this product.
6. Iziusy 4-Pcs Fish Bone Tweezers Set
Highlighted Features
Good value for money
Easy maintenance
4 pcs in a set
Versatile
Made from premium 430 stainless steel, these 4 tweezers are strong, sturdy, and can last for a lifetime.
If you love preparing and eating fish, but plucking out the bones has been a nightmare for you, you definitely need these tweezers.
Thanks to them, you can get rid of bones with so much ease and little effort.
The design is made ergonomic and it doesn't feel too small or too big for your hand.
Interestingly, each of the four tweezers features a different tip design, so that you can always find the most suitable for the task.
All of them are dishwasher-safe and multipurpose- you can use them for medical, beauty and other tasks as well.
7. Rosle Fish Bone Tongs
Highlighted Features
Durable
Easy to maintain
Simple to use
Sturdy
Quality stainless steel
As of 1888, Rosle has been using German engineering to make the finest professional kitchen utensils that will deliver great results and look amazing.
Unique and efficient design, these stainless steel sturdy tweezers are a smart investment.
They're made of great material quality-18/10 stainless steel which is durable, easy-to-maintain, and dishwasher-safe.
The well-balanced and flexible handle is precise and comfy and will enable you to easily pick even the least visible and thin bones common in seafood.
The tip is also a piece of art-it has grooved ridges and flat, wide grips that enable easy dealing with any fishbone size without breaking them.
What's more, the company gives a lifetime warranty for these tongs.
8. Cindy 2 Pcs Japanese Fish Bone Tweezers
Highlighted Features
Easy to maintain
Made from quality steel
Set of 2
Inexpensive
Ergonomic design
For an affordable price, you can get this set of 2 Japanese quality fishbone tweezers. They're made of top quality 430 stainless steel.
Whether it's salmon, trout, or saltwater fish, have these tweezers by your side and you'll remove the bones within minutes.
The ergonomic design enables to hold it easily and catch and pluck out the bones right away. They also take little space and can be washed in the dishwasher.
Being compact, they're not an issue when it comes to storing or taking them with you on fishing or camping trips.
The tip is sharp, convenient, and practical and it won't damage the surrounding flesh. With proper care, they can last for a lifetime.
9. Kotobuki Fish Bone Tweezers
Highlighted Features
Low price
Made in Japan
Simple to use
Easy to clean
Great design
These tweezers are made in Japan by the hands of talented craftsmen using premium stainless steel. They're sturdy, durable, and easy to use.
Unlike using the hands or some other tool to pluck out those tiny bones and risking tearing the meat, tweezers enable everything to go smooth.
Although their design looks quite simple, it's actually well-thought out-the tips are adjusted to ensure no bone escapes and the handles are non-slippery and easy to hold without any discomfort.
They're an inexpensive investment for people who regularly debone raw fish and other seafood.
Customers praised these tweezers the most for being durable, easy to clean, and easy to hold.
10. Chef's Trade Fish Bone Pliers
Highlighted Features
Handcrafted in Pakistan by artisans
Highly comfy handle
Easy-grip
Easy maintenance
Scissor-like design
If you prefer pliers more than tweezers, these will help you tackle all the challenges that come with deboning fish and seafood of all shapes and sizes.
If comfort is the first thing you're looking for in a kitchen tool, this is the best option for you.
This scissor-like model has amazing, ergonomic, and handcrafted handles that are non-slippery and fit into the hands ideally.
The entire pliers are made of the quality and sturdy stainless steel that's durable and dishwasher-safe.
Customers love this product mostly for its comfort, ease of maintenance, and simple use. The claw part is strong and sharp enough to pluck out even the stubbornness of bones.
Final Thoughts
With the best fish bone tweezers or pliers by your side, you'll no longer have to 'fear' the cleaning of raw fish and seafood.
Now, this part of the food preparation will actually become an enjoyable one- this tool is precisely made to ensure the plucking goes easy and smooth.
With this useful utensil, you'll no longer tire your fingers and waste precious meat.
Although often underrated, if we take into account how many times we come across a bone in our cooked fish, it turns out these tweezers are more than essential for professional cooks and people who prep their own fish fillets.
To help you on the hunt for the best tool for removing fish bones, we presented the 10 top trending products currently on Amazon. With one click, you can have this precious tool in your home and have fun in the kitchen.
Plus, these fishbone remover tweezers are highly versatile- you can use them for many other purposes, including beauty and medical. So, in a way, they're quite the smart investment.
If spending too much isn't an option for you, you'll love our budget pick- it boasts excellent value for money and will last for a lifetime.
Those who're not limited in terms of the budget will be amazed by our best pick- it's a product made by one of the most reputable companies. Plus, it's handcrafted in Japan- a real masterpiece!
* Affiliate links/Images/Price from Amazon Product Advertising API