Have you found yourself scouting for the best location in your kitchen to quickly cut your vegetables or cheese? You know you also have to make sure it's a clean surface, right?
Save yourself time and hassle by getting yourself a cutting board. Now, you don't need just any kind but one of the bamboo cutting boards.
A bamboo cutting board is sure to take away all your cutting and slicing worries. It is sturdy and does not slide off your countertop while in use.
It is also gentle on your knives and doesn't cause them to get blunt. With its natural antimicrobial property, you can rest assured that your health is not at risk.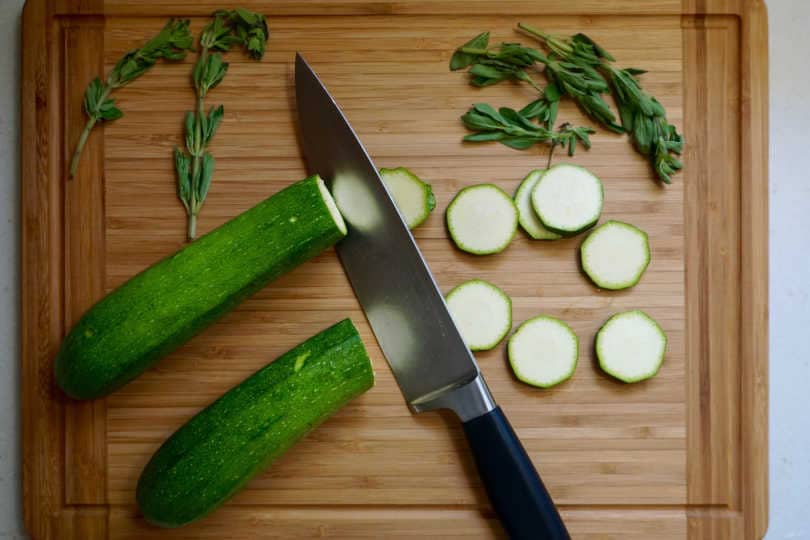 With so many products in the market today, it can fast become a difficult task to know which is good and which is not. We have done the work and selected the very best of them all. All you have to do is read our reviews of each product.
What is a Bamboo Cutting Board?
A bamboo cutting board is a cutting board made from natural bamboo. It usually looks like its wooden counterpart in terms of its aesthetic appeal. It is a sturdy flat surface for slicing, dicing, or cutting your food like vegetables, cheese, or bread. It can also be used to cut raw meat and fish, depending on its finishing.
How to Use a Bamboo Cutting Board?
Using a bamboo cutting board is straightforward. Bring it out from storage and then wipe it clean with a dry piece of cloth. Place your food on it and cut it into pieces. Transfer to a plate or pot or use the board as a serving tray.
Immediately after use, wash with water and soap and then leave to dry.
Why is Bamboo a Good Cutting Board Material?
Bamboo is one of the best cutting board materials. It is a renewable resource seeing as it can regrow in fewer years compared to hardwood and it is organic which makes it eco-friendly.
It is usually durable and even though it requires more maintenance compared to a plastic cutting board, it is great for your knife blades.
How Should I Clean a Bamboo Cutting Board?
A bamboo cutting board should be hand washed after each use and air-dried immediately.
It is advised that you do not put it in a dishwasher as it is not heat resistant. Exposing your bamboo cutting board to heat can make it warp thereby reducing its durability.
What Oil Should I Use to Maintain a Bamboo Cutting Board?
Applying oil on your Bamboo board often is good maintenance practice. The oil helps to make it less absorbent which means it becomes more water-resistant. Food-safe mineral oil is a non-toxic cutting board oil and is the recommended oil to use on your board.
Apply the oil all over your board with a dry cloth and leave it to dry.
Can I Use A Bamboo Cutting Board for Meat?
Bamboo cutting boards can be used for meat only if it has a glossy finishing or if it has been oiled to make it less absorbent.
After cutting raw meat on it, it should be immediately washed with warm water and soap and then left out to dry. This is to prevent your board from harboring bacteria from the meat and also from having a foul odor.
What to Consider Before Buying a Bamboo Cutting Board
There are several good bamboo cutting boards but you need to buy the one best suited to your needs. To do that, these are the factors to consider.
Dimension & Size
Bamboo cutting boards come in different sizes and some come in a set containing assorted sizes. You should consider the size of your countertop before making a purchase. You don't want to buy a board that is so big, it extends to your sink and cannot stay balanced.
You may be one who cooks large quantities of food and needs a large working surface to slice portions or you might simply need one for slicing fruits. Depending on your reason for wanting a cutting board, it is a major determining factor of the size you pick.
Storage Space
With most bamboo cutting boards, storage is usually not a problem as they are simply flat. The different options for storing a bamboo cutting board include putting it in a drawer, keeping it on your countertop permanently, or leaving it to hang on the wall if it has a hang hole or handles.
Price
Whether you're deciding to splurge or you're working on a budget, there's a bamboo cutting board available for you. Even though it is not always true that the more expensive a product is, the better it is, many times, it happens that way.
If you're looking to use the product for a long time or in a family home, you should invest in your purchase but if it's for a one-off camping trip, you can go for the cheapest product you can find.
Bamboo Cutting Board Reviews
1. Seville Classics Bamboo Cutting Board
Highlighted Features
7 color-coded cutting mats
Built-in mat storage
BPA-free
Non-slip silicone feet
Compact
This Seville Classics Bamboo Cutting Board is our best pick out there. The color-coded mats with food icons are one feature that makes this board different from the rest. The mats make it easy to prevent cross-contamination. Each one fits snugly on the top of the bamboo cutting board and can be stored in the built-in storage compartment when not in use.
The mats help you save time as you don't have to wash to reuse immediately since you have options for other food groups you want to cut. You also save time when cleaning as you can toss the mats in the dishwasher. The bamboo cutting board can be used without the mat. While it is already sturdy, it features a non-slip silicone fit for extra grip.
It is advised that the bamboo board be hand washed only and then wiped with food-safe mineral oil often. This is not a bamboo cutting board you should pass up.
2. Freshware Bamboo Cutting Board
Highlighted Features
Set of 3
Assorted sized
Eco-friendly
Multifunctional
Reversible
There are a lot of things to consider when cooking. Surely, safety and convenience are on your list. A bamboo cutting board is one way to guarantee both when it comes to cutting. This product comes as a set of 3 boards of varying sizes so you are spoilt for choice when it comes to deciding which to use.
The smallest one is the perfect size for a camping trip as it requires little storage space and is lightweight. Aside from using the boards for cutting, you can also use them for serving your appetizers.
The boards are crack-proof and will not slide off your workspace. They are made from natural bamboo and are gentle on your knives. Their handles provide support for transporting the boards and also allow you to hang them. They are to be hand-washed only. You can apply mineral oil to the surface once in a while to make it last longer
3. Farberware 3-piece Bamboo Cutting Board
Highlighted Features
Set of 3
Assorted sizes
Handle
Bamboo has natural antimicrobial properties so you can cut your vegetables and bread knowing that your health is not at risk. It is a preferred alternative to hardwood since it does not make your knives blunt. The two sides of the board can be used as your cutting surface. No side is better than the other.
If you're all for a multifunctional tool, this cutting board can also serve as a serving tray for your cheese, meat, sandwiches, or any other appetizer. It comes as a set of 3 in different sizes. You have options of which board to use for different occasions. The two largest boards have handles that make transporting them easy. It is easy to clean with soap and water.
4. Totally Bamboo United State Shaped Bamboo Cutting Board
Highlighted Features
United State shaped
Hand wash
Lightweight
Multifunctional
How much of a lover of the USA are you? You can show it even with the cutting board you own. Totally bamboo cutting board is a cutting board that is shaped like a particular state of the country. This board can be used as a cutting board, serving board, or wall art. When used as a serving board, it is sure to catch the attention of your guests.
It's a great gift you can give to both young and old. It should not be washed using the dishwasher as it is not dishwasher safe. It is made from sustainable sourced moso bamboo which is more gentle on knives and eco-friendly.
5. HHXRISE Organic Bamboo Cutting Board with Handle
Highlighted Features
Two built-in compartment
Juice groove
Handle
100% Bamboo
Generally, with a cutting board, you tend to have a less messy and more organized workspace. This bamboo cutting board takes organization to the next level. It has two built-in compartments you can put your sliced pieces in while you work. The compartments are also useful for food arrangement when using the board as a serving tray. The juice groove on the board catches liquids and prevents spills on your countertop.
This board has a handle you can wrap your fingers around for better grip while moving it. The handle can also be used to hang the board on the kitchen wall either for storage or to air dry after handwashing. It is made from natural bamboo and has a polished surface. It has an ideal size of 12″ x 8.4″ and will be a great addition to your kitchen.
6. Royal Craftwood 3-piece Bamboo Cutting Board
Highlighted Features
Juice groove
Set of 3
Antimicrobial
Side handle
Reversible
It is usually nice to have cutting boards of different sizes in your kitchen. You won't like to bring out a large cutting board to slice an onion, would you? This product is a 3-piece set of different sizes-small, medium, and large. You can use both sides of each board for cutting. It has a side handle that makes it easy for you to move the board.
It's gentle on your knives and does not cause them to get blunt. Scratches and cuts are not left on the board after cutting and it's made completely from natural bamboo. The juice groove ensures that your kitchen space is not messy while you work.
All the liquid from your food is collected in the groove. The boards are handcrafted and have aesthetic value giving your kitchen a nice look. They are sturdy and will stay still while you cut. To clean, all you need to do is rinse with warm water after each use.
7. Utopia Kitchen Bamboo Cutting Board
Highlighted Features
Large
Juice groove
Formaldehyde-free
A cutting board is an essential tool in your kitchen and this is one you should have. The bamboo cutting board is thick enough to be durable and at the same time soft enough to be safe for your knives – it does not make your knife blunt. The board is safe to use as the glue used to put the boards together does not contain formaldehyde and the surface is finished with sunflower oil which makes it less absorbent.
You can clean the board by using warm water and soap or a dilution of bleach and water. You should rub the surface of the board with bamboo revitalizing oil from time to time. If you have a friend who loves to cook, this can serve as a great birthday or housewarming gift.
8. HHXRISE Organic Bamboo Cutting Board
Highlighted Features
Juice groove
Built-in compartments
Eco-friendly
When slicing your cheese, bread, or vegetables, you can't do it in the air and you sure do not want to use your hand as the cutting surface. It can also be unhygienic to cut directly on your countertop. What you need is a good bamboo cutting board. This board is 12″ x 8.4″ in size providing you with a large enough working area. It is 1.2″ thick and durable.
It has a juice groove to help you catch liquid and avoid a mess. It also has 2 compartments where you can keep already sliced or chopped food. This eliminates the need for bowls around your cutting board. It is not dishwasher safe and should be hand washed. To protect the board, you should oil it every 2-3 months.
9. Camco Bamboo Stove Top Work Surface
Highlighted Features
Adjustable legs
Juice groove
Eco-friendly
Stovetops come in some standard sizes but this stovetop workplace was built exactly for them. With adjustable legs, you can make it fit the size you have. Now, you can do a lot with your new work surface like kneading dough, slicing, dicing, or cutting.
It is 21.25″ x 11.5″ in size and 2.5″ thick. It helps you increase the available workspace in your kitchen. The juice groove ensures that no liquid spills to other surfaces while cutting. Cutting on them does not dull your knife with time. It is great to note that bamboo naturally has antibacterial properties. It does not absorb liquids and so is durable. Asides from being used as a cutting board, it can also double as a serving tray.
10. Laboos Bamboo Mini Cutting Board
Highlighted Features
7″ x 7″ mini cutting board
Set of 2
Hand washed
What is small in size, lightweight but can still get the job done? Laboos Bamboo Mini Cutting Board! It is great to note that both sides can be used for cutting.
With its size, it does not take up much space and can be left on the counter for everyday use. Its small size also makes it suitable for traveling and camping. It can be used for cutting food like bread, fruits, sandwiches, and others quickly.
It is 7″ x 7″ in size and 0.4″ thick. If you don't have much to cut, you no longer need to bother with an overly large board. They are the perfect size for making a meal for 1-2 persons. They are useful as cutting boards for kids. They have a little hole used for hanging them on a hook in the kitchen. Cleaning them involves handwashing with soap and warm water. After this, make sure to air dry them. This way, your boards do not retain any foul smell.
Final Thoughts
Your choice of a cutting board can either make your cooking experience less stressful or make it frustrating. Choosing one of the best bamboo cutting boards is a sure way of ensuring you get the best result. There are some factors to consider and with our buying guide, you know what to look out for.
We have done our research to compile this list and after reviewing the products on our list, we recommend Seville Classics Bamboo Cutting Boardas the best overall. It has BPA-free color-coded plastic mats that help you prevent cross-contamination of your food. It also helps you have a hassle-free experience and is easier to clean since the mats are dishwasher friendly.
If you're on a budget, an economical but also great bamboo cutting board is the HHXRISE Organic Bamboo Cutting Board. It has a large working surface with compartments for placing cut food pieces. It also has a deep groove for catching liquids to help you avoid making a mess on your counter.
Our list was compiled in a way to cater to a variety of needs and preferences. Regardless of which product from our list you pick, you can be sure that it'll be a great purchase decision.