If you have a beautiful wooden cutting board that you want to keep beautiful for years and years, you need to oil it regularly.
Cutting wooden boards are indeed a piece of art- they're aesthetically pleasing and very practical and durable.
They make great surfaces for cutting, but also for serving delicious food.
However, some of the most quality wooden boards can be quite pricey. So, if you want to keep this investment top-notch even after prolonged use, it's important to treat it with adequate oil.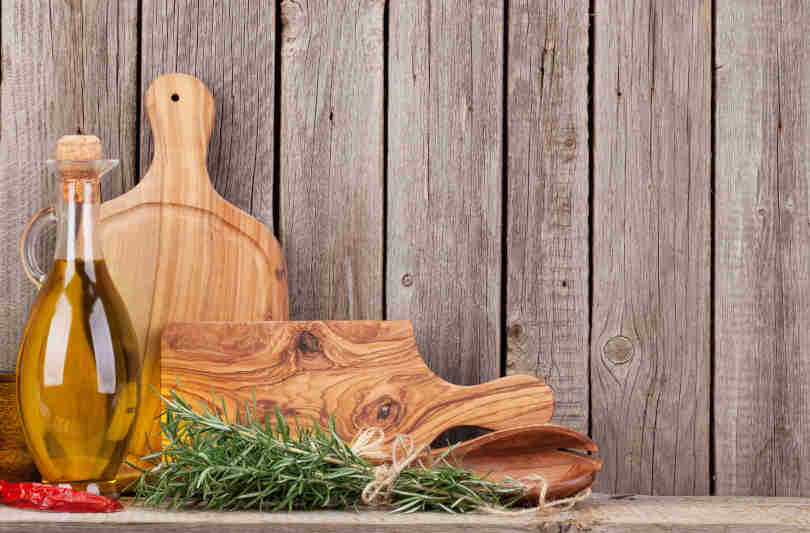 This specialized oil can be applied to any type of wood and it's completely natural. When you use it regularly, your board will be less prone to drying and cracking.
Applying the oil on the board isn't hard- you just coat the board with mineral or other food-safe oil by pushing it into the board using a paper towel or a cloth.
You then leave the oil to penetrate overnight and in the morning, it's ready for use!
The best oils for cutting boards are quite versatile- you can use them on wooden countertops, wooden utensils, etc, and keep them clean and without cracks and bad smells.
To ensure your wooden board is free of cracks or warps, the best oil for cutting boards plays a major role.
But, choosing a quality oil for wooden utensils isn't easy- there's a bunch of them in stores and online and may confuse you.
We're here to help- read about our favorite 10 oils you can purchase on Amazon, as well as some extra tips about oiling and why it's pivotal.
Let's go!
Our Top 10 Picks
Affiliate links / Images from Amazon Product Advertising API
How to Properly Maintain Wooden Cutting Boards?
Keeping your cutting board clean and shiny can be simple and fast if you have the proper oil. It's a sanitary method and an excellent way to prolong the longevity of your wooden cutting boards without spending too much.
The first way we can maintain our kitchen boards and wooden surfaces clean is by washing them adequately with warm water and soap.
Water and good scrubbing are essential in removing the bacteria and other particles.
The board should be then dried using a towel or dried on a rack. But, when our wooden cutting boards become too dry, this washing may not suffice- it's time for some good oiling.
You need several good drops from the oil you've chosen and then you use a cloth or a paper towel to spread it evenly and well throughout the entire board, up and down, and on every side.
Leave the board overnight so that the oil penetrates into the pores.
Why is Mineral Oil good for Wooden Cutting Boards?
These specialized oils are made to penetrate the wood and saturate its fibers and thus, prevent any other liquids like bacteria or blood and moisture to soak into it.
Moreover, when a cutting board or another wooden surface like a wooden countertop is properly oiled, it will keep an optimal shape and it won't expand or shrink, which may happen with a dry board that's been exposed to water.
All types of wooden boards should be oiled for optimal longevity and quality maintenance.
What about Cutting Board Creams and Waxes?
Waxes and creams are also recommended to be used on wooden cutting surfaces in combination with oils.
These products, unlike oils that enter the wood, serve to create a physical barrier of the wood's surface and prevent stains.
Wax is also beneficial in the sanitation department- it seals and fills in the scars from knives and other cracks where bacteria tend to gather.
When used together, oils and waxes can be an excellent way to seal the wood and add a protective barrier and create and easier-to-clean and sanitary surface.
What are the Different Types of Board Oils Available?
When choosing the best cutting board oil to use on your wooden boards, you need to make sure they're made with food-grade substances since this board comes into regular contact with food.
Avoid using natural oils like olive, corn, veggie, walnut or peanut on your boards- they're rich in fats and when they oxidize, they go rancid and cause the bad smell to develop.
Also, never use the mineral oils from hardware stores which aren't food-safe rated because they're made for lubrication of machines that don't come into contact with food.
The best option for your boards is, without doubt, a mineral oil, also known as liquid paraffin.
You may come across other options; however, this remains the best, as long as it's FDA-approved and a USP-grade oil.
Did you know that this oil doesn't oxidize? This means it won't become sticky, smelly or darken.
How to Properly oil Wooden Cutting Boards?
When you oil your board, it's important to leave it to soak up the oil as much as it can to boost the advantages. Preferably, leave it overnight.
The first thing you should do prior to the oiling is to wash and dry the cutting board. Warm water and soap will suffice.
Pour several drops of your oil and use a clean cloth or a paper towel and start rubbing it gently, but firmly into the grain's direction or using a circular movement.
Continue rubbing and add more oil until you're satisfied with the shine of the surface. Repeat the same on the other side and all other sides too.
Leave it overnight on a rack and wipe away any surplus oil prior to leaving it.
How Frequently to Oil Wooden Cutting Board?
This is certainly one of the most common questions about maintaining wooden cutting surfaces.
The best recommendation is to oil your board when it feels dry or it quickly soaks up liquid. Or, you can oil it once or twice per year.
Also, you can oil your new boards after buying them and before using them for the first time. This coating can be beneficial, but it's only optional.
Despite no strict rules as to when you should oil boards, there are useful tips on how to know it's time for oiling.
Two useful ways are:
Some parts of the board look duller or lighter than the other
Water and other liquids penetrate the wood fast
Best Cutting Board Oil Reviews
1. Thirteen Chefs Food Grade Mineral Oil
Affiliate links / Images from Amazon Product Advertising API
Highlighted Features
Affordable
Food-safe
Doesn't spoil
Suitable for different woods
Simple-use bottle
This FDA-approved food-safe mineral oil for wooden and bamboo surfaces like cutting boards, countertops, and salad bows is affordable and quality.
It's pure USP mineral white oil that will protect and restore the wood. It helps you hydrate and seal the wood and lower the growth of bad bacteria.
You can also use it with granite, soapstone, knives, and even your garden equipment.
It comes in an easy-squeeze bottle that simplifies the application. You just push the applicator cap and it's ready for use.
It's made in the US and offers optimal quality and performance. It doesn't spoil so it's a long-term investment.
It works amazing with different wood types and it will restore their natural glow.
2. Howard Products Cutting Board Oil
Affiliate links / Images from Amazon Product Advertising API
Highlighted Features
Inexpensive
Versatile
Tasteless & odorless
Doesn't spoil
Enriched with vitamin E
This deep-penetrating 100 percent pure USP food-safe mineral oil is a great choice for wooden utensils and cutlery in your kitchen.
It's tasteless, odorless, and doesn't spoil. It's an excellent option for those who want to rejuvenate their dried-out wooden surfaces like cutting boards, countertops, and butcher blocks.
Thanks to its specialized viscosity, it goes into the wooden pores and restores the wood's natural color. It also averts drying and cracking.
It's made in the US and it's not been in contact with any potential allergens like nuts and gluten. It's enriched with vitamin E and it meets all the USP light mineral oil requirements.
The bottle is easy-to-use and squeezable.
3. John Boos Mystery Block Oil
Affiliate links / Images from Amazon Product Advertising API
Highlighted Features
1-ounce package
Easy application
Made from natural ingredients
NSF-certified
Food-safe
This 1-ounce bottle of Mystery oil is the ideal option for maintenance and preservation of wooden surfaces including cutting boards, butcher blocks, countertops, and utensils.
It's made in the US using natural ingredients. Moreover, it's NSF-certified and food-safe too.
When regularly applied on wooden surfaces in the kitchen, it creates a protective barrier and lowers the presence of bacteria.
Leave it overnight to penetrate well and reduce the splitting, cracking, and drying.
Since the bottle is squeezable, its application is very straightforward. Spread the oil using a paper towel or a cloth evenly.
This oil will nourish the wood and restore the moisture that's been lost from excessive use and washing.
4. Ultra Source Food Grade Mineral Oil
Affiliate links / Images from Amazon Product Advertising API
Highlighted Features
1-gallon bottle
Highly versatile
Non-toxic
Flavor- & odor-free
This 1-gallon bottle of food-safe mineral oil is excellent for lubrication and protection of cutting boards, butcher's blocks, as well as stainless steel knives and tools, machines and equipment.
It's white mineral oil, also known as liquid paraffin. What's more, it's non-toxic and made from petroleum.
It's flavorless and odorless. It's one of the most versatile oils on the market- personal care, industrial, and pharmaceutical.
You can use it on wooden boards and utensils, on stainless steel surfaces like knives, but also to remove makeup, moisturize your skin or impregnate wrapping paper to maintain food's crispiness.
The oil is food-safe and NSF-certified.
Most customers described it as 'good value for money' and 'easy to use'.
5. Bayes High-Performance Mineral Oil
Affiliate links / Images from Amazon Product Advertising API
Highlighted Features
All-natural
Eco-friendly ingredients
Recyclable bottle
Leaping Bunny certification
Food-safe
This high-performance mineral oil for wood is a great way to protect and condition cutting boards and butcher's blocks.
It's a premium food-grade oil that nourishes and optimizes your wooden utensils, both bamboo, and teak.
Interestingly, the oil has a Leaping Bunny Certification or certification for being a cruelty-free product.
It's also biodegradable and free of toxins and its bottle is recyclable. Proudly made in the US, it's safe, effective, and made from all-natural ingredients.
If you want to take effective and eco-responsible care of your wooden boards, this oil is the ideal choice.
For best results, repeat the procedure every month!
6. Sanco Industries Premium Mineral Oil
Affiliate links / Images from Amazon Product Advertising API
Highlighted Features
Food-safe
Can be used on wood & stainless steel
NSF-certified
Pleasant scent
Eco-friendly
This 1-gallon mineral food-grade oil is a practical and versatile product. It's a US-made and USP- and NSF-certified.
It can be the best ally in your kitchen because it's not just ideal for wooden surface treatment, but for stainless steel ones too.
It's without taste, odor, and color. It will make sure your wooden surfaces don't dry out and crack and it will prolong their longevity.
You can also use it on stainless steel to restore and rejuvenate it. For the more conscious shoppers, you'll be glad to hear that this product is eco-friendly.
The bottle is easy to hold thanks to the handle on top.
Satisfied users praised this mineral oil mostly for its pleasant scent, straightforward application, and good value for money.
7. Walrus Oil Cutting Board Oil
Affiliate links / Images from Amazon Product Advertising API
Highlighted Features
Doesn't solidify
Optimizes wood's natural color
Contains beeswax, coconut oil & vitamin E
Food-safe
Optimal texture
If you want to preserve, protect, and condition wooden surfaces like cutting boards or countertops, this mineral oil is a great solution.
It's food-safe and complies with all FDA requirements. It's made using simple, yet potent ingredients, including beeswax, coconut oil, and vitamin E.
Proudly made in Missouri, it's the original Walrus Oil recipe.
The oil doesn't solidify and it's shelf-stable and practically odorless. It has the ideal texture and makes sure your boards are silky, rich, and shiny.
If you want to up the depth and color of the wood, apply it twice. The oil will also reduce the cracking of the wood and preserve its natural color.
8. CLARK Cutting Board Oil & Wax
Affiliate links / Images from Amazon Product Advertising API
Highlighted Features
Oil & wax included
Nourishes & protects wooden surfaces
Affordable
Pleasant scents
Easily spreadable
The Clark cutting board oil and wax are created to be a seamless combination. To ensure optimal results, the company recommends using them together.
The oil will penetrate the wood deeply and nourish it from the inside while the wax will add the needed protective lining.
This combo is affordable and smart and it's one of the safest products out there- they're made using FDA-approved ingredients for direct and indirect contact with wooden surfaces.
The oil will revive and restore the wooden board or wooden countertop while the wax will create the needed barrier between the wood and food.
The formula is the ideal blend of carnauba wax, beeswax, and mineral oil. The scent is very pleasant thanks to the balanced usage of essential oils.
9. Furniture Clinic Mineral Oil
Affiliate links / Images from Amazon Product Advertising API
Highlighted Features
Inexpensive
Good Housekeeping Seal
FDA-approved
Pure USP oil
Money-back guarantee
After testing done by expert scientists and engineers from the Good Housekeeping Institute, this mineral oil has been given the prestigious Good Housekeeping Seal.
The product was thoroughly reviewed for its effectiveness, packaging, and material claims. It's also FDA-approved and safe for use on different types of wood.
It's pure USP for safe contact with food.
The company also gives a money-back guarantee if the users aren't satisfied with the product. This amazing oil is made in the UK and it comes in a sealable bottle that enables safe and controlled application.
Prior to oiling with it, make sure your board is clean and dry before you spread it out evenly using a soft cloth or a paper towel.
10. Bluewater Chemgroup Pure Mineral Oil
Affiliate links / Images from Amazon Product Advertising API
Highlighted Features
8-ounce bottle
NSF-certified
No unpleasant odor
Restores dried & old wood
This USP certified mineral oil is easy to pour and easy to store and comes in an 8-ounce bottle.
It's a great option for oiling your wooden cutting boards and utensils, butcher's blocks, and wooden countertops.
The oil is also NSF-certified and it's practically odorless and colorless and made in the US.
Customers are really satisfied with its pleasant scent and its effectiveness. It will restore dried out and cracked wood and make it look like new.
You can also use it to maintain your new wooden boards to ensure they maintain their shine and are free-of-bacteria.
Being food-grade oil, there's no need of worrying if it comes in contact with the food you're prepping or serving.
Final Thoughts
Wooden cutting boards are an amazing addition to every kitchen, home, and restaurant, that's for sure. They're not just beneficial and practical in terms of using them for handling food, but they also make beautiful trays for serving.
But, these beautiful tools require proper care.
Luckily caring for them isn't overly demanding and time-consuming if you have the right oil in your drawer.
When you invest in a beautiful wooden board, make sure you also buy the needed substances for its maintenance, i.e. board oils and/or creams and waxes.
Today, we focused mostly on mineral oils and their role in keeping our wooden boards' longevity and beauty and preventing bacteria spreading.
With the right oil, your wooden board will always have optimal shine, its pores will be closed, bacteria won't gather in the cracks and indentations from knives and other utensils, and the board will be less prone to cracking and drying out.
But, today, there are so many different board oils available online or in stores. This can cause confusion and make it harder to choose.
The good thing about these oils is that they're not overly expensive and come in different bottle sizes, some can last for months or years and they don't spoil!
We presented our 10 best oils for cutting boards from different companies and all of them are mineral oils, food-grade safe, certified, and budget-friendly.
From our best pick that has excellent customer satisfaction and a reasonable price and properties to our budget pick which is inexpensive, cruelty-free, and versatile, you can't be wrong if you choose any of these 10!
They're all amazing and carefully selected just for you.