With hot temperatures here, there's no way watermelon doesn't appear on our menu-whether we're spending a day at the pool or need an easy and refreshing dessert after dinner, this juicy fruit is our top choice.
However, despite its amazing taste and abundance of nutrients, in terms of cutting and slicing, it's one of the most uncomfortable fruits, right?
Without a doubt, its tough external layer and large size can make the preparation messy and potentially harmful if the watermelon or knife slips.
So, it may be a great decision to invest in a watermelon slicer. These tools ease watermelon handling and help you enjoy its benefits without any hassle.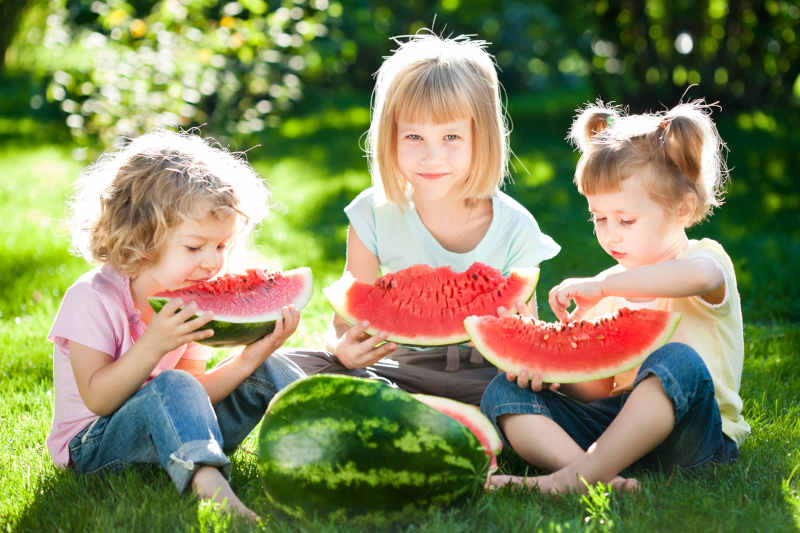 However, with so many of these tools available on the market, it can become quite confusing which one to pick. This being said, we've created a list with our top choices that you can order on Amazon.
Once you try out a watermelon slicer, watermelon preparation will become your favorite task in the kitchen!
How to Choose a Good Watermelon Slicer?
When talking about watermelon slicers, it's important to note that they're available in two main designs.
The first type is shaped in a scythe-like form and slices through the watermelon meat to make cuts and then used on the opposite side to pull out the slices.
This is an excellent option for those in need of a portable slicer to take outdoors. But, the watermelon needs to be cut first in order for the slicer to be used on the meat. So, you'll still need a knife.
The second type is one that reminds of a big apple slicer. With this design, you can make several slices at once, for example, a dozen for a shorter amount of time and less work.
This slicer demands more pressure because you need to cut through the rind too, not just through the flesh. It needs to feature highly strong and durable stainless steel that won't bend or dull and that's sharp enough to penetrate through the hard rind.
There is also the windmill type of slicer that is becoming more and more popular among users. This design features a windmill-like structure that creates adjustable uniform cubes of watermelon and it requires the least of human effort and is even child-friendly.
However, this requires the watermelon to be cut into half first and it's not as mess-free as the scythe-like options.
Another important design-related aspect is the handle because it determines the amount of control in your hands. Look for ergonomic handles made of quality, non-slip materials to prevent injuries and aches after usage.
A quality slicer for watermelons is usually made from stainless steel; however, each comes in distinct levels of quality and types. A good choice is food-safe or food-grade stainless steel and one which is prone to rust and corrosion, and of course, strong and durable.
A good watermelon slicer should also have a strong cutting wire, similar to the ones in cheese slicers. It needs to be made from premium and durable material; anything less than this can diminish the slicer's performance.
What Are the Advantages of Watermelon Slicers?
Even though you may be good at handling watermelon with a knife, believe us, you're still missing out on a lot if you don't have a watermelon slicer.
This tool definitely has a lot of advantages to offer.
Here are the major ones:
Safety
With a watermelon slicer, the slicing is automatically safer and even children can do it without risk of injury since the hands aren't directly exposed to the blade.
Plus, the blade is not as sharp as you may think-it's sharp enough to cut through watermelon, which is already soft, yet not sharp enough to harm the hands.
Cleanliness
With a watermelon slicer, you cut the fruit without getting your hands dirty and what's more, there is zero juice dripping from the watermelon on the counter, especially when the slicer is also a tong and helps you transfer the slice fast.
And, a lot of the watermelon slicers available today are dishwasher safe and consequently, ease the maintenance of the tool and prolong its durability- a clean tool is a good tool.
Convenience
With scythe-like and windmill slicers, there is no need for excessive effort because you just slice through the flesh, not the hard rind. Plus, the juices remain in the skin and there is a low mess and thus, less stress.
Time-saving
Regardless of the slicer design, you opt for, it saves you time, unlike when you use a knife. You need only half of the time needed to cut the whole watermelon with a knife when using a slicer.
Versatility
Another great property of these slicers is that they're not just beneficial for watermelon handling, but for the handling of other fruits such as melons and cantaloupes, and even cakes.
Watermelon Slicer Reviews
1. Riveira Watermelon Slicer Set
Highlighted Features
Set of 5 different tools
Ergonomic design
Generous 10-inch size
Beneficial for bigger melons
Made to last and to impress and therefore our top choice, The Riveira Set is a combination of functionality and handiness for easy watermelon preparation. But, as it's a set, you also get some other amazing tools in addition to a watermelon slicer.
That is a pineapple corer, a melon baller, a strawberry huller, and an apple corer. No matter if you're making a fruit salad or some delicious cocktails, this set is a must-have.
The watermelon slicer features a soft and curvy handle free of rubber and thus, a low risk of unwanted bacteria. Made from 304 Stainless Steel, the 10-inch slicer can help you tackle even the largest of watermelons effortlessly.
We also need to mention the ergonomic design of the whole set, not just of the watermelon slicer, which plays a pivotal role in user satisfaction.
Your hands won't feel tired and the grip will feel strong and comfortable, regardless of whether you're slicing watermelon or coring a pineapple.
2. Sleeke Watermelon Slicer & Cutter
Highlighted Features
2-in-1 model (slicer & tong)
Stainless steel blade
Silicone handle
Comfy and strong grip
With Sleeke's Watermelon Slicer & Cutter, you'll no longer "dread" the moment when you need to cut some watermelon. With this convenient tool, slicing watermelons will be easy and fun!
This portable and lightweight tool is great for when you're on the go. It's an innovative tool which can be used both as a slicer and a tong.
The sharp edge of the slicer is used for cutting slices according to the desired thickness. Then, you use the tool as a tong to lift up the slice and prepare it for serving.
There will be zero juice dripping from the watermelon because it will stay inside.
Thanks to the silicone handle, holding this gadget is comfy and strong. The stainless steel premium blades ensure the tool's durability. It's also dishwasher-safe.
3. Weetiee Watermelon Windmill Slicer
Highlighted Features
Safe cyclone blade
Child-friendly tool
Durable 18/8 stainless steel
Lightweight
Those who prefer slicers that produce the perfect cubes will love the affordable and functional Watermelon Windmill Slicer by Weetiee. In a matter of seconds, you get the perfect cubes without getting your hands dirty.
What's more, we appreciate how kid-friendly this tool is- there are no sharp blades and edges, but the design is entirely dedicated to safety and hand protection.
This durable slicer made with 18/8 stainless steel is rust-free and after each use, it only needs good water rinse to be squeaky clean and ready for next use.
The other parts are made with food-safe PP plastic.
The handle is very comfy which eases the pushing of the tool into the watermelon. Thanks to the hanging hole on the handle's tail, you can easily hang it on your kitchen rack for easy access.
4. Yueshico Watermelon Slicer
Highlighted Features
Slices uniform cubes
Food-safe stainless steel
BPA-free
Child-friendly (non-sharp blades + rounded edges)
Comes with a melon baller
If you're looking for a slicer that will help you slice watermelon, but also cut it into smaller pieces, the one by Yueshico may be the ideal choice.
The slicer features one automatic cutter blade which is pushed into the meat of the watermelon and it slices it into cubes. This is the ideal slicer for a watermelon salad or for cocktail prep.
The slicer is made from food-safe stainless steel which is BPA-free in accordance with FDA standards.
This device is also child-friendly because it has rounded edges and non-sharp blades.
For this price, you also get a melon baller to create watermelon balls for the ideal summer fruit salads!
5. Chuzy Chef Watermelon Slicer
Highlighted Features
Inexpensive
100 percent stainless steel
Rubberized handle
Safe for children
For an enjoyable summer and easy watermelon prep, make sure you have Chuzy Chef's 3-in-1 Watermelon Slicer. Thanks to this inexpensive tool, you will enjoy a steady grip and produce the ideal slices with each use.
Made from 100 percent stainless steel, this tool also has an ergonomic handle that is rubberized and has rounded edges for additional grip comfort and hand safety.
The one-of-a-kind slicing mechanism gives you the opportunity to cut the ideal size slices of watermelon but of cantaloupes, melons, and even cake too! Since it has rounded edges and non-sharp blades, it's also safe for children.
Being a 3-in-1 slicer, it first enables you to cut the desired length and then turn the slicer on the opposite side to scoop out the slice and serve it.
6. Amazing Melon Cutter Watermelon Cubes Slicer
Highlighted Features
Low-cost
Kid-friendly
Quality stainless steel
Automatic cutter blade
Simple to use
There is no better enjoyment than munching on yummy and juicy watermelon cubes and now you can prepare them at home with the Watermelon Slicer by Amazing Melon Cutter. It enables the creation of clean watermelon slices without mess and pressure.
Thanks to an innovative slicing mechanism and superior design, the automatic cutter pushes out watermelon cubes with minimal effort from your side.
And, you'll no longer have to worry about your kid getting injured while slicing some watermelon- this tool is kid-friendly- it has rounded edges and non-sharp blades.
Plus, it's so simple to use- you just push it into the watermelon and pull it out and voila, the cubes of delicious watermelon are ready.
Made with 18/8 Stainless Steel and an automatic cutter blade, this is a modern slicer that every household needs!
7. ELE-Jiaruila Windmill Watermelon Slicer
Highlighted Features
Inexpensive, yet high quality
Durable & strong
Food & child-safe
Comes with 2 specialized forks
The ingenious, practical, and durable windmill watermelon slicer by ELE-Jiaruila with 2 forks are the best choice for home and professional kitchens. Created to last a long time, even with regular use, this tool is essential for watermelon lovers.
The automatic windmill-like slicer penetrates through watermelons like a knife through butter. There is no food waste and no mess. Plus, it's FDA-certified. The plastic used is BPA-free while the stainless steel is food grade 304.
Without a doubt, this is one of our top slicers because of the affordable price and user satisfaction. It's also a children-safe because it has rounded edges and non-sharp blades.
Final Thoughts
Once you try out a specialized watermelon slicer, you'll never go back to the knife, believe us! Knives don't just make watermelon preparation messy and difficult, but also put you at a higher risk of injury.
Being a rather affordable and highly versatile tool, we see no reason why it shouldn't be a part of every modern kitchen.
A quality watermelon slicer is made of quality stainless steel, BPA-free plastic, and with comfort and easy use in mind. Moreover, it offers rounded edges and non-sharp blades and therefore, it's the ideal kid-friendly gadget.
Our comprehensive watermelon slicer review presents some great watermelon slicers and their amazing properties which customers highly appreciate. Highly rated and enriched with quality materials, all of these options are a smart and long-term investment.
We also explained the differences between the three main types of designs and their benefits and drawbacks so that you can make the best pick according to your needs.
All in all, the best slicer for watermelon enables easy slicing and cutting, but also helps you keep the kitchen clean and the preparation an enjoyable and memorable task, even for the youngest family members!