Surely, you can use a knife to cut your boiled eggs and serve them like that; however, this can sometimes be quite a messy process, right?
This is where the egg slicer device can be of great aid- light, small, and simple to use, it will help you produce uniform and beautiful slices of egg and up your serving game!
Egg slicers are very versatile and practical and are made to help you produce thin and equal egg slices for your sandwiches, salads, and other meals.
And, you needn't spend a small fortune to have this useful appliance in your kitchen- there are affordable, yet top quality egg slicers available.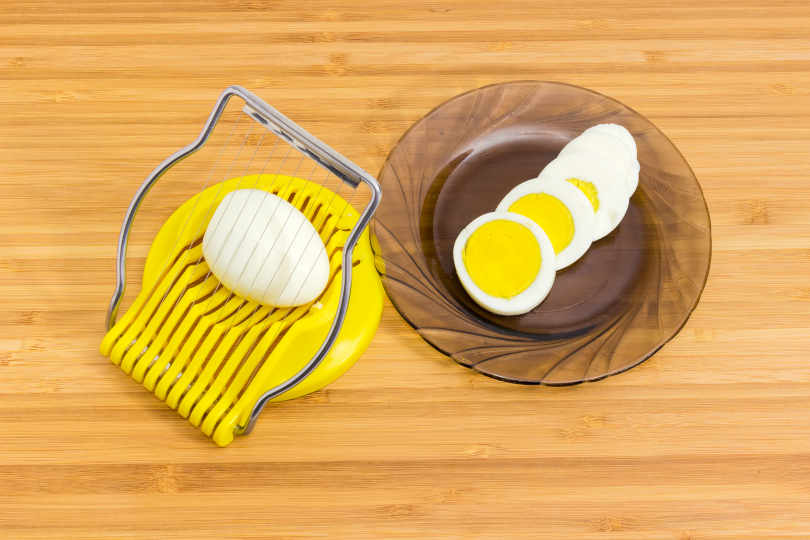 Regardless of whether you're a home or professional cook, having an adequate kitchen tool by your side is pivotal for easy and fun food prep. With the help of an egg slicer, egg preparation will become one of the most enjoyable tasks in the kitchen.
But, with the abundance of egg slicers available, making the right decision could be challenging, especially for first-time buyers. This being said, check out our 10 best egg slicer reviews and learn why they're currently the crème-de-crème in the egg slicing world!
How Do Egg Slicers Work?
This kitchen gadget is created with the aim to ease the slicing of eggs, especially hard-boiled ones. But, some egg slicers can also be used for other foods like mushrooms, kiwis, and strawberries.
The basic design of this device consists of two parts that are joined together with a hinge. The bottom part is a scoop-like container where the egg is placed. The other section is comprised of thin wires that stretch across a framework.
When the wires are brought down, they penetrate and slice the egg into slices or wedges.
In a lot of cases, the bottom part of these slicers is made from plastics; however, all-metal slicers are also available.
They're usually designed to be used on a table or a countertop; however, there are also models that are held by hand and have a clamp-like form.
How to Use an Egg Slicer?
Even if you have never used it before, you can learn pretty fast because it's relatively easy.
However, how you use the device will also depend on the model and on the type of lever, i.e. whether you hold it with your hand and press it down or place the slicer on the countertop and push the lever down.
After you peel off the hard-boiled egg, you place it on the indentation of the slicer, whether horizontally or vertically, and then you shut the device in order for the wires to press onto the egg and make cuts.
When you're done with the slicing or wedging, you can rinse the device with water and wash it with mild soap or put it in the dishwasher, depending on the manufacturer's recommendations.
What's the Best Way to Clean Egg Slicer?
Even though a lot of egg slicers are dishwasher-safe, not all of them are. A lot of experts recommend choosing one that can be washed in the dishwasher because of the advantages it offers.
Namely, it improves maintenance and doesn't take your time away. If you're washing it by hand, you can easily miss small pieces of food or juice that may end up reducing your device's functionality and durability.
Also, there's the risk of cutting fingers from the wires.
What Are the Different Types of Egg Slicers?
Nowadays, there are several distinct egg slicers available. Basic ones cut the egg in one direction and help make a round or oblong shape. Other ones allow the egg to be placed horizontally or vertically and produce round and oblong shapes.
What's more, there are those slicers that don't just produce slices, but wedges too. There are models that are made to be used with soft fruits and veggies as well as other foods such as mozzarella and even butter!
In terms of size, the one you choose depends on the egg size you usually work with and of course, the storage space you have available.
Which Materials Are the Best for Egg Slicer?
When it comes to egg slicers, the material they're made of varies and the choice is usually made by personal preference and previous experience.
The metal ones tend to be longer-lasting than the plastic ones; however, they're a bit heavier and may cause more hand fatigue than the plastic ones if used repeatedly.
And, to ensure optimal slicing and wedging, opt for slicers that feature quality stainless steel wires. Otherwise, you're risking the wires snapping and the device losing its main function.
Other Uses of Egg Slicers
Egg slicer usage are numerous. Strong and durable egg slicers can often be used for other foods too, besides eggs.
A lot of egg slicers work perfectly with strawberries that aren't too soft. And, they may also be useful for kiwis, but this could become messy if the fruit's too soft.
When it comes to kiwis, it may be effective to place the kiwi horizontally to prevent the fruit from getting mashed.
If you're working with smaller avocados, they may also be sliced on this device and used for a delicious salad or a sandwich filling.
You can also produce excellent mushroom slices for pizza topping, sandwiches, and stir-fries.
Egg Slicer Reviews
1. Westmark Germany Multipurpose Egg Slicer
Highlighted Features
Stainless steel wires
Aluminum cast
Versatile
Easy-to-clean
One thing's for sure- this affordable egg slicer was made to last. Featuring a cast aluminum body and wires from stainless steel, each of which has been separately mounted, this is a viable long-term investment.
Its smart design allows you to create oblong or round slices, very quickly.
Thanks to the ergonomic handle, there is no discomfort or pain, even after prolonged use. The grip is comfy and the lifting and pushing to slice the egg feels effortless.
What's also great about this particular slicer is its versatility- you can also use it to create beautiful mushroom, strawberry, and kiwi slices.
Being dishwasher-safe, keeping it clean is effortless and fast and injury-free.
2. Norpro Egg Slicer
Highlighted Features
Slices, wedges & pierces eggs
Versatile
Ensures fingers are protected
Thanks to this kitchen tool, you will always have the egg slicer for egg salads and other boiled egg specialties.
And, it can be used with other products like kiwis, mushrooms, strawberries, etc. It features strong stainless steel wires while the frame is made from quality ABS plastics.
With this 3-in-1 device, you needn't worry about injuring your fingers-the manufacturers thought this out and placed proper protection on the lever.
In addition to being great for slicing and wedging hard-boiled eggs, you can also use it to pierce eggshells to prevent them from cracking during boiling.
To pierce the egg, press down the button-like section on the front and it will pop out the piercing needle.
Nonetheless, though it's dishwasher-safe, the manufacturers recommend washing it by hand, so you need to be careful not to cut yourself on the wires.
3. Progressive International Compact Egg Slicer
Highlighted Features
Colorful & innovative design
Non-slip base
Dishwasher-safe
3 distinct slicing plates
This colorful egg slicer with red, white, and yellow plastic is a fun and useful egg slicer. You can use it to slice, half or wedge hard-boiled eggs fast and easy.
The wires which are made from stainless steel are sharp and durable. The three distinct removable slicer plates enable you to choose the desired size and shape for the egg, strawberry or mushroom.
Being quite compact, it can easily fit in your kitchen drawer or cabinet without taking too much space-also great for small space kitchens. We also appreciate the non-slippery base which ensures safe and steady use every time.
Without a doubt, this egg slicer has one of the best designs thanks to the thorough research done by the company which has been present on the market for 40 years.
4. Zyliss Egg Slicer
Highlighted Features
Stainless steel wires
Slices or wedges
Shell piercer included
ABS plastic frame
Non-slip base
This is certainly an excellent egg slicer because it doesn't just help produce egg slices, but wedges too. In several seconds, you get the perfect egg slices/wedges to add to your sandwich or salad and impress your guests.
The modern device offers a non-slippery base for safe and fast usage. What's more, you can also use it as a shell piercer to prevent hard-boiled eggs' shell cracking during boiling.
Made with long-lasting ABS plastics and quality stainless steel, this tool has a compact size and it's storage-friendly.
Without a doubt, this 3-in-1 kitchen gadget is a smart and inexpensive investment with a 5-year limited warranty.
5. OXO Good Grips Egg Slicer
Highlighted Features
Excellent value for money
Non-slippery bottom
Dishwasher-safe
When prepping up for a feast, this egg slicer could be your best ally! In only a few seconds, it helps you make 5mm-thick ideal oblong or round egg slices.
You can choose the desired shape by placing the egg horizontally or vertically. The smart design allows for the egg to be cradled in two separate directions.
This slicer offers a non-slippery base, which makes its use simple and harmless. Thanks to the ergonomic and raised handle, the grip is comfy and lifting and pushing the lever is effortless.
Since the egg slicer is dishwasher-safe, you don't need to worry about injuring your hands and fingers from the wires.
However, this slicer is designed for egg slicing only- avoid using it with other products.
6. Gourmia Egg Slicer & Wedger
Highlighted Features
ABS plastic base & handle
BPA-free
Dishwasher-safe
Quality stainless steel wires
Thanks to the innovative design, this tool is made to be more than your regular egg slicer- you can also use it to produce egg wedges.
The device features durable and quality ABS plastic while the cutters are premium stainless steel, making them rust-free and strong.
Moreover, the slicer is BPA-free and thus, safe for use.
The ergonomic handle allows for fast and simple operation- you just place the boiled egg on the desired section (slices or wedges) and pull the wedge down and then up.
Users will particularly appreciate the fact that this device is dishwasher-safe, making it easy for maintenance.
7. Westmark Seven Blade Multipurpose Egg Slicer
Highlighted Features
Made by reputable kitchenware brand
Premium stainless steel & aluminum
Ergonomic and large handle
Plastic-free
Though you may spend a bit more on this egg slicer, it's definitely an investment that can last for a lifetime. The device is shaped in a clamp-like form and it can be used without being placed on a table.
This innovative design allows for more control over the slicing, which isn't always offered by regular slicers.
The stainless steel wires are sturdy enough to not bend, even with prolonged use. They will maintain their sharpness for a long period of time. It's made with premium stainless steel and cast aluminum and has no plastic.
The tool is made in Germany by one of the most reputable kitchenware companies in the world.
Since the company appreciates its customers and believes in their products' quality, they offer a 5-year warranty for this tool. If you don't love their product, they can refund you the full price.
8. New Star Heavy Duty Egg Slicer
Highlighted Features
Versatile
Quick and easy for use
Slices or wedges boiled eggs
This gadget is sturdy, ergonomic, and economical. What we really like is its ability to slice the foods in different ways, i.e. horizontally or vertically or to make wedges.
Since it's a small enough device, it's perfect for storage and gives plenty of options where to place it.
It's made with several materials, including nylon and silicone for the base and quality and solid stainless steel wires framed by zinc alloy.
To keep it clean and ready for next use, just rinse it under water after use or put it in the dishwasher.
However, this may not be the perfect egg slicer option for larger eggs because of its petite size.
9. IKEA Egg Slicer
Highlighted Features
Attractive appearance
ABS plastics
Quality stainless steel
Detachable steel frame
Easy-to-clean
Without a doubt, we love the removable steel frame feature that this IKEA egg slicer boasts. This definitely eases the maintenance of the device.
This egg slicer is also BPA-free and made with ABS plastic whereas the wires and lever are premium and sturdy stainless steel.
You can place the egg horizontally or vertically, depending on your preference. Being lightweight and compact, there's no problem when it comes to storing it- you can place it in your drawer or kitchen cabinet or on the countertop- wherever you want.
Efficient and very affordable, this egg slicer is a great choice for hard-boiled eggs and maybe smaller and softer produce like kiwis and strawberries.
10. Mainstay Egg Slicer
Highlighted Features
Stainless steel blades
Dishwasher-safe
Lightweight, quality ABS plastic
Compact size
This simple and lightweight egg slicer with a beautiful yellow color will help you slice hard-boiled egg slices within seconds. You just place the egg in the indentation, horizontally or vertically, and pull down the lever.
When you pull it up, you get uniform and beautiful egg slices.
The sharpness of the wires is excellent for hard-boiled eggs and it won't mash them. The cast of the slicer is made with premium ABS plastics.
Being lightweight and small, the device is easy for storing and perfect for kitchens with low space.
However, this egg slicer is not described as dishwasher-safe so this means you need to wash it by hand and may not be the best solution for larger eggs as it's quite small.
Final Thoughts
If you consume hardboiled eggs frequently or if you're tired of those uneven and mushy egg slices you make using a knife, investing an egg slicer could be a good decision.
Thanks to an egg slicer, you can have uniform and beautiful slices or wedges that will help you prepare aesthetically beautiful sandwiches, salads, and other dishes with eggs.
What's awesome about these kitchen gadgets is their versatility- they're not just made for penetrating through hardboiled eggs, but through several other foods like mushrooms, strawberries, kiwis, and even smaller avocados.
In our comprehensive review today, we presented our favorite egg slicer models that can be found on Amazon, as well as some important factors to take into account before you make a purchase.
Egg slicers are definitely affordable and valuable kitchen tools that can help you enjoy beautiful and neatly served food and have some fun in the meantime.
Our top choice is the clamp-like egg slicer by Westmark which looks and feels sturdy, (both its wires and body) but we also appreciate the IKEA one which is much cheaper, yet boasts high customer satisfaction and some pretty awesome characteristics.