Have you ever wondered what the Julienne peeler is? Well, after reading this post, there will be little left to wonder.
Healthy living includes a healthy diet – and we all know veggies are a big part of that. That's why you need a julienne peeler to turn your healthy recipes into scrumptious dishes.
What's a julienne peeler and how does it work? Julienne peelers are simple tools used to make thin, uniform slices of vegetables or even fruits. They come with blades that do the work and can be adjusted to vary the thickness of cuts or slices.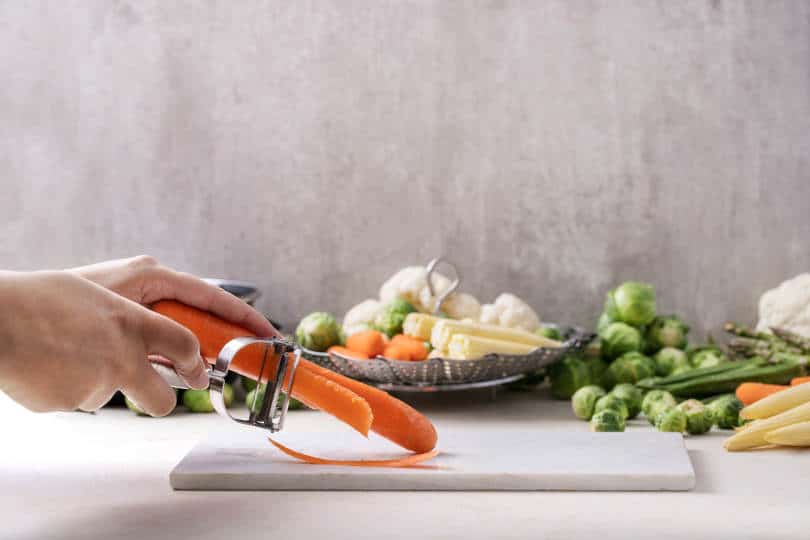 Choosing the best product comes down to a couple of factors which we are not going to spill just yet. However, we've compiled a list of 10 amazing julienne peelers – so you have enough options to pick from.
Without further ado, let's get into them!
What is a Julienne Peeler?
A julienne peeler is a simple kitchen tool that offers an efficient and quick way of making thin strips of vegetables, otherwise known as vegetable noodles. They offer multiple functions of peeling vegetables like carrots and can be used to remove the potato eye.
Julienne peeler makes use of sharp blades which are mostly made from stainless steel to julienne or peel. The design and construction of each julienne peeler varies, depending on the manufacturer.
The design generally entails compactness and ease of handling and the construction is either 100% stainless steel or plastic body with stainless steel blades.
Why do I need a Julienne Peeler?
If you're a chef, cook, or your homemade meals require julienned vegetables like carrots for maybe a salad, stir-fries, or garnishes for your favorite dish, then you definitely need a julienne peeler.
It provides you with a more efficient and consistent method of julienning your vegetables compared to knives. They are of reliable quality and the handles are well-designed for the firm and comfortable grips making them easy to use.
Some julienne peelers do more than just julienne – they come with multiple blades which serve other functions of peeling fruits and vegetables or slicing vegetables using the julienne slicer.
Whichever your cooking requirements are, be it for salad or stir-fries, julienne peelers are sure up to the task of delivering your recipes just the way you want them.
Which Factors to Consider Before Buying a Julienne Peeler?
Are you interested in buying a julienne peeler? Well, you've come to the right place. This section highlights some of the important factors you should consider before making your purchase. Here they are:
Construction
The product you're looking at must be of solid construction and that means it must be made with quality materials.
Julienne peelers made with stainless steel all through are a great choice because stainless steel has a high tensile strength which means it can withstand impact and pressure – making it have a longer lifespan. Also, stainless steel won't rust and the blades will cut smoothly and neatly. The handles are also very solid for tight and convenient grips.
The product you want to get doesn't have to be 100% stainless steel material though, the body can be made from plastic, what's most important is that the blades are made from stainless steel for sharp and precise cuts.
If you're getting a plastic product, please ensure it's an FDA-approved BPA-free plastic.
Safety
One of the reasons why you're considering a julienne peeler in the first place is because it's safer to use than knives, but that's not enough. There have to be safety measures in place to avoid domestic accidents when or not in use.
Make sure to check that the product comes with a protective guard for the blades, that way your fingers will be kept away from the blades, preventing injuries.
Some products have built-in blade guards that flip off when in use and flips back on after use. The merit of this is that you can store this type of product safely without fear of the blades hurting you when reaching out for it.
You can also check if the product has a safety carrier that holds the food for you instead of using your hands. This is also an excellent safety measure that ensures your hands are off the blade section.
Versatility
A julienne peeler that offers more than one function would be a great choice as it will save you the money of getting more products and yes, some kitchen space too.
Your cooking requirements would determine the secondary functions to look out for, but generally, some julienne peelers also serve as julienne cutter and slicer – offering additional functions of peeling, slicing, and removal of potato eyes.
If you're interested in getting a product that offers multiple functions, make sure to check it comes with multiple blades – each blade for each function.
Handle
Remember the blade section is attached to the handle; it is very important the handle is non-slip for tight and secure holds.
The implication of a slippery handle is that, when it slips off your hands, the product may land on your feet and the blades may cause severe injuries especially if the product is built with ultra-sharp stainless steel blades.
A broad handle is ideal, so you can really feel it in your hands. It could be made from stainless steel or silicone, they are excellent materials that provide you with convenient handling which in turn makes the product easy and enjoyable to use.
How to Use a Julienne Peeler?
We've established that a julienne peeler is easy to use and you're going to confirm that soon.
If you're working with vegetables or fruits make sure to wash and prepare them. For instance, if you want to julienne carrots, first peel and cut off their ends.
When your fruit or vegetable is ready, grab it firmly and then place your julienne peeler on the top at an angle of 45 degrees.
Proceed to move the julienne peeler from top to bottom and repeat the procedure until you're all done.
How to Clean a Julienne Peeler?
Some products come with cleaning brushes which can be used to remove food stuck on the blades and for a thorough cleaning, most julienne peelers can be easily washed by just placing them in the dishwasher without causing rust or corrosion to the material.
On the other hand, some products are not dishwasher-safe and have to be washed manually.
Note that some products are dishwasher-safe but hand washing is recommended like the Kuhn Rikon Julienne Peeler, so make sure to check the manufacturers' instructions on how best to wash their product.
Will a Julienne Peeler Shred Cabbage?
Yes, a julienne peeler can shred cabbage just like a mandolin slicer. To do that, cut your cabbage into a quarter in four places and then use a knife to remove the hard cores. Proceed to run each quarter through the blade to obtain your desired results.
Julienne Peeler Reviews
1. Precision Kitchenware Dual Julienne Peeler: Best Overall
Highlighted Features
Stainless steel blades
Dishwasher-safe
Blade protector
Long, firm handle
Cleaning brush
Our number one pick for the julienne peeler, the Precision Kitchenware Dual Julienne Peeler is a combination of durability and service.
This is a highly durable product with sharp blades made from quality stainless steel and a long, firm handle for comfortable grips. The frontal blades make vegetable noodles in a flash and the side can be used to peel.
One exciting feature of this product is its multiple functions. Did you know you could also use it to remove potato eyes? Well, yes you can!
It's safe to use as the sharp blades are protected by a guard to keep your fingers safe at all times. The design makes it aesthetically pleasing and will blend in with your table setup.
Its ergonomic design and hole in the handle make it super convenient to store. If you purchase this, you'd get a free brush for quick cleaning, and is dishwasher-safe for a thorough cleaning.
2. OXO Good Grips Julienne Peeler
Highlighted Features
Ergonomic design
Blade guard
Broad, non-slip handle
Dishwasher-safe
When your recipe calls for julienned vegetables, cucumber, or carrots, think OXO Good Grips Julienne Peeler!
OXO, without a single doubt, makes great kitchen products and this is no exception. The design entails sharp stainless steel blades with a transparent guide that flips off when in use and flips back on when not in use.
Its handle is broad for firm holds and has a hanging loop for easy storage. You wouldn't stress at all maintaining this product as it's dishwasher-safe.
The Y-shaped design makes it easy, convenient, and even safe to use. If you're looking for a portable julienne peeler with good grips, then you should consider this.
3. UberChef Premium Julienne Vegetable Peeler
Highlighted Features
Fully made using quality stainless steel
Sleek design
Cleaning brush
Long, firm handle
Dishwasher-safe
This julienne peeler offers more than just a sleek look that will complement your table setting. It was designed with user purpose in mind and it will get the job done effectively using its quality stainless steel blades.
You can easily peel your vegetables, carrots, or potatoes using the peeler blade or julienne using the sharp julienne blade, just below the peeler blade.
Unlike some plastic products that will fail within a week of purchase, this product boasts of a 100% stainless steel construction, providing you with high quality and rust-resistant product.
The handle is long and non-slip for firm grips while using the product. It comes with a cleaning brush and is also dishwasher-safe for fast and easy maintenance.
To show the manufacturer's confidence in the quality of this product, buyers will get a full refund or replacement if there's an issue with the product.
4. Sunkuka Julienne Peeler
Highlighted Features
Versatile
Sharp stainless steel blades
Long, firm handle
Dishwasher-safe
Safe to use
This is a multi-purpose product that comes with dual blades – one for julienning vegetables and the other to peel or slice them.
You can rely on the efficiency of the sharp stainless steel blades to deliver your desired results. The handle is non-slip for the firm and secure holds.
It's easy to use and can be stored conveniently in drawers or hung through the handle loop. This product is safe to use, thanks to the anti-cut design that makes sure your fingers never come in contact with the sharp blades.
There's a cleaning brush in the package for when food gets stuck on the blades. It works well with dishwashers for easy and fast cleaning.
This product provides quality and value and would be a great addition to your kitchen tools.
5. Kuhn Rikon Julienne Peeler
Highlighted Features
Durable
Very sharp Japanese stainless steel blade
Long, non-slip handle
Dishwasher-safe
Get down to business with the ultra-sharp blades of this julienne peeler made from Japanese stainless steel.
If your recipe calls for peeled or julienned vegetables like carrots or zucchinis, you can rely on the sharp blades to deliver smooth cuts.
Since it's made from stainless steel, it will never rust or corrode which makes it compatible with dishwashers for a quick clean-up.
The blades are solid enough to be used on potatoes also and it comes with a built-in guard for the blade to ensure safe use.
Its ergonomic design makes it easy to store. Also, there's a loop on the handle for easy hanging on your kitchen hook.
If you're interested in making stir-fry, garnishes for your dishes, or salads, you're looking at the perfect product!
6. Deiss PRO Dual Julienne & Vegetable Peeler
Highlighted Features
Multi-purpose
Quality stainless steel blades
Easy storage
Dishwasher-safe
Non-slip handle
This is the product you should get if you need a tool that does more than just julienne your vegetables. It can be used to peel, slice, and remove potato eyes.
It is 100% made from stainless steel to provide users with a durable product. The product design features the blade section attached to the handle. The julienne blade is very sharp and is capable of making restaurant-style vegetable noodles while the peeler blade is serrated to efficiently peel your veggies.
The handle is long with a rubber or plastic material on it which allows tight and comfortable grips. You could either store it in your kitchen drawers or make use of the hanging loop on the handle for easy storage.
Whenever you need to remove potato eyes, just make use of the U-shaped part on the side of the blade section. It works well with dishwashers to make cleaning easier for you.
7. Mr&Mrs White Trio Peeler Set
Highlighted Features
Set of 3
Stainless steel blades
Broad, firm handles
Dishwasher-safe
What's better than one product? Three! And that's what Mr&Mrs White Trio Peeler Set is all about.
Save space and cost with this incredible set of three peelers – there's the straight peeler, the large peeler, and the julienne peeler. The straight peeler is used to peel fruits and vegetables, the larger peeler for slicing vegetables or shredding cabbage, and the julienne peeler for making thin strips of veggies.
This set comes with one robust handle that's made from plastic and fits the other two peelers perfectly. The handle allows soft, comfortable grips and can be washed together with the stainless steel blades in the dishwasher.
This design of these products makes them convenient to use by right or left-handed people which is a nice touch to it. Also, its ergonomic design and hole in the handle make these set of products easy to store.
8. Joseph Joseph Y-shaped Julienne Peeler: Budget Pick
Highlighted Features
Stainless steel blade
Robust handle
Blade guard
Dishwasher-safe
Channel knife
This product shares a couple of similarities in design with OXO Good Grips Julienne Peeler, but the first feature you'd most likely notice about this product is its robust handle. It's soft and comfortable to give users a great holding experience while using this product.
This Y-shaped julienne peeler has stainless steel blades that make perfect tiny strips of your carrots and other veggies. That's not all. It also has a channel knife for your citrus fruits.
There's a built-in plastic blade guard that shields the blade from cutting your finger when or not in use. It doesn't have handle loops for hanging but can still be stored conveniently and safely in drawers.
When you're done using and want to wash, simply place it in your dishwasher and let it do the work for you.
9. Mueller 4 in 1 Swift Julienne Vegetable Peeler
Highlighted Features
Versatile
Compact and lightweight
Surgical-standard stainless steel blades
Firm, robust handle
This julienne peeler will win your heart quickly with its sleek design. It features four different blades, all made from surgical-standard stainless steel to ensure they serve users for a long time without rusting.
There are the rotating, serrated, straight, and julienne peeler blades to provide you with 4 different functions. Why waste money getting three other products when you can just get this, right?
The handle is made from silicone and is designed to allow tight and comfortable grips – mere looking at it, you could tell. It's compact and lightweight which makes it easy to use and store.
Lovers of cocktails shouldn't miss adding this product to their tool collection as the citrus peeler will come in handy while making cocktails.
10. Kiwi Pro Slice Peeler
Highlighted Features
Ultra-sharp stainless steel blade
Lightweight
Firm handle
Last but not least product on our list, this product is perfect for making papaya salad and decorative strips on fruits and veggies.
How does it work? It makes use of its sharp stainless steel blades with a zigzag design to deliver your desired results. It's very easy to use and is lightweight and compact for easy handling and storage respectively.
The handle is broad and non-slippery, so you can confidently hold it while working. It also has a loop, if you prefer storing your tools by hanging so you can easily reach out for them.
It shreds your papaya and carrots perfectly and in no time too. If you're into making papaya salad, then this julienne peeler is a must-have tool for you.
Final Thoughts
If you're a chef or cook, it's a no-brainer that a julienne peeler is a must-have kitchen tool for you. Looking for the right product to buy can sometimes be a mundane task and that's why we've made it easier for you to make a decision.
If you want the best julienning experience, we recommend the Precision Kitchenware Dual Julienne Peeler. It's a highly durable product with very sharp and quality stainless steel blades and it's also dishwasher-safe.
Shopping on a tight budget? No worries. Joseph Joseph Y-shaped Julienne Peeler is an affordable product with a sharp stainless steel blade for consistent precise cuts.  It comes with a blade protector ensuring safe use and it's dishwasher-safe.