Working your butter into your dry ingredients can be tedious as you can end up having uneven dough. It will be easier if you are preparing a small quantity.
Even if it is a small quantity, pastry cutters can be helpful. But having the pastry cutter will go a long way, offering better satisfaction and results.
One of the essential utensils you can purchase is a good pastry cutter for your kitchen or pastry business.
This utensil will not only save your time but help you produce excellent results that you can boast of. For your pastry business, it can ensure better customer satisfaction.
These pastry cutters, made by different brands, have several unique features. Although they appear simple, they serve the purpose of increasing your efficiency and making work more comfortable.
Excitingly, many options on the market that do not drain one's pocket.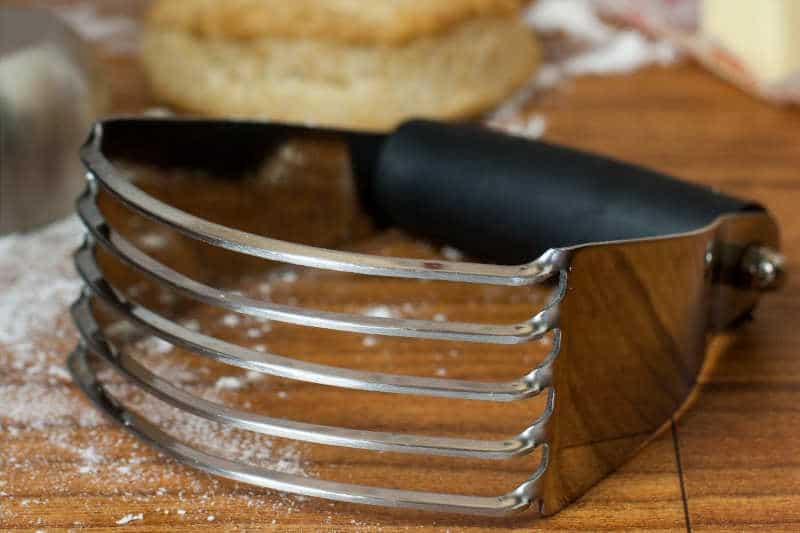 Right here are the top 10 best pastry cutters that will significantly help you in your pastry-making. Let's get started!
What is a Pastry Cutter?
Mixing dough is one of the most critical aspects of baking because it determines its taste and result. Preparing your dough includes mixing several wet ingredients, including butter, frozen, or cold, with your dry ingredients.
Pastry cutters come in as an ideal tool to make your work faster and easier. Typically, a pastry cutter is a handheld pastry utensil used to blend and mix butter with dry ingredients such as flour using its blades.
Most pastry cutters are made with quality stainless steel to withstand the rigors in dough-blending.
Pastry cutters are also referred to as dough blenders or pastry blenders. They offer multiple functions, e.g., scraper or egg separator. An amusing fact is that you can use this pastry tool without an instruction manual.
Why do I need a Pastry Cutter?
Getting an even dough done is virtually one of the most challenging aspects of baking. Having fluffy and flaky pastries depends on your dough.
Everyone wants to make the finest pastries to impress their family and friends. And if pastry-making is a business for you, you already understand why you need the finest pastries.
Pastry cutters are absolutely efficient as they quickly cut cold butter into the flour with the blades working them until they're well incorporated to form a smooth blend. With pastry cutters, you get excellent dough quality.
Potato mashers may appear like a useful option. However, using it to incorporate your cold butter or margarine into your flour might give you less fluffy results than expected. A spoon or your hand is not even a reasonable idea since it's less effective.
In terms of comfort, you are likely to strain your wrists with spoons or potato mashers. If you are commercial about pastries, you might wear out your wrist after a while.
Many good pastry cutters have a non-slip handle that is gentle on the wrists, safe to use for long hours without straining the wrists.
Another reason is that they're long-lasting and extremely reliable with the double-thick stainless steel blades. Pastry cutters are versatile, generally affordable, and can save you a lot of time and energy.
Factors To Consider Before Buying A Pastry Cutter?
Each of these products reviewed has its specificity yet serves the same purpose as a pastry cutter. Before making your choice, there are certain factors you have to consider; this will guide you in picking the right choice.
Knowing what to look out for and the one that suits your needs is essential in decision-making. And if you want to get the pastry cutter for yourself, you need to consider these factors. Below are the factors we'll discuss.
Durability
Is it long-lasting? Will it serve its purpose for a long time? Are the blades strong enough? Are the handles strong? Will it rust easily? These are some of the questions that need answers before finalizing your purchase. You don't want to visit the store after a few uses.
Apart from performing its function of mixing butter, you need to know if it is sturdy and reliable. No one wants to get stuck with a pastry cutter with its blades snapping in between mixing. Similarly, no one wants an option with rotating or loose handles.
Your choice should be rust-resistant with strong blades and reliable handles. Stainless steel pastry cutters are the best for their lightweight and resistance to rust. The handles may be made from rubber or plastic, but they should be fixed. A durable choice saves time and money.
Ease of Use
You need to know if it is easy to use, handle, and assemble if need be. Definitely, no one wants to be stuck having to deal with a complicated product. That is enough to make anyone frustrated. You don't want to get exhausted in between a pastry-making session.
The handles should be ergonomic, soft, non-slip, and non-rotating. Your choice of pastry cutter should be comfortable on the wrists and stress-free.
Safety
Your safety is important, especially when dealing with a product that has to do with food. It is necessary to know if the product you want to get is safe for use. Also, you should consider the cutters made from eco-friendly materials.
They must be made with high-quality food-grade stainless steel, rust-free, free of toxins and chemicals, and at the same time healthy for use.
More so, they should have a non-slip handle that ensures a firm grip on the handle even when wet with water. It should also gentle on the wrists, especially for those with arthritis.
Cleaning
A good pastry cutter should be easy to clean. Just a mild detergent, soft sponge, and water should make it sparkling.
However, some options can be used with dishwashers. This can save you time and stress. Also, you should be aware that rust-resistant pastry cutters are easy to clean.
Extras – Value for Money
Some pastry cutters come with extra features such as biscuit cutters, a pastry mat, a pastry brush, and a dough scraper. This has an additional advantage because it reduces the cost of having to get other pastry utensils.
How to Use a Pastry Cutter?
Getting to use a pastry cutter is uncomplicated. First, you should ensure you learn how to grip the pastry cutter.
Place your cold butter in a bowl with your dry ingredients such as flour. Pick your pastry cutter, and then grab hold of the handle firmly.
Mash the solid ingredients in a twisting motion (e.g., butter) with other ingredients. Do this gently until you get a uniform dough.
After use, you can clean and store your pastry cutter.
Maintenance of a Pastry Cutter
Even though they're made with high-quality stainless steel, they may get damaged if not maintained properly. Before use, always wash with cool water and mild detergent before drying with a clean cloth.
Similarly, after use, wash with your hands or a dishwasher immediately after use. Ensure that it's clean and free of dough. Do not scrap with hard objects.
Store in a cool, dry place to maintain its quality.
Pastry Cutters Reviews
1. Oxo Pastry Cutter
Product Information
| | |
| --- | --- |
| Package Dimensions | 12 x 6 x 5.5 inches |
| Item Weight | 2.4 ounces |
| Color | Multicolor |
| Manufacturer | OXOX9 |
Highlighted features
Dishwasher-safe.
Soft, non-slip grip.
Rugged, rust-resistant stainless steel construction.
Hard-wearing blades.
The OXO Pastry Cutter is our top pick, posing as the best one available. If you want to work your dough most efficiently and comfortably, this is a fantastic choice.
With a frame and blades made with stainless steel, it is a durable pastry cutter. Thanks to its big size, it is effortless to work bulky doughs. Its durable, soft, non-slip grip tolerates the expected rigors such that it is easy to hold and pivot.
The OXO Pastry Cutter's blades are evenly spread and slightly sharp, enough to cut frozen butter into flour for mixing quickly. These blades, numbering up to five, are stiff and reliable. They can maintain their high performance for a long while.
You don't have to worry about cleaning the pastry cutter. It is easy to clean as long as it's done immediately after use. However, it is easier if you have a dishwasher since it is dishwasher-safe.
2. Spring Chef Dough Blender
Product Information
| | |
| --- | --- |
| Package Dimensions | 4.88 x 3.9 x 0.31 inches |
| Item Weight | 5.3 ounces |
| Color | Black |
| Manufacturer | Spring Chef |
Highlighted features
Thick blades
Non-rotating handle
Durable and rust-resistant.
Lightweight.
The Spring Chef dough blender is another impressive option. Of course, this is evident from the several positive ratings it has garnered. It can do more than crushing butter; hence, it can mash avocadoes, potatoes, hard-boiled eggs, and nuts effortlessly.
Like many pastry cutters, it features five sturdy and durable stainless steel blades that are less likely to rust. These blades are thick, making the entire chomping and mixing process easy.
Besides being durable, the Spring Chef dough blender is lightweight, and its handling is convenient. Featuring a thick rubber handle, it is safe, soft, and comfortable in the hands. Therefore, those with small hands can use it perfectly.
The handle is durable as well. It is well fixed into the frame, and it should not rotate while you work your dough. It is available in different sizes such that you can select what works best for you.
3. EAGMAK Pastry Cutter Set
Product Information
| | |
| --- | --- |
| Package Dimensions | 7.4 x 5.51 x 3.39 inches |
| Item Weight | 7 ounces |
| Color | Black |
| Manufacturer | Eagmak |
Highlighted features
Food-grade stainless steel
Five blades blend.
Non-slip handle
Side blade, scale, and gauge
Dishwasher-safe
Made with food-grade stainless steel, the EAGMAK Pastry Blender is rust-resistant and free of harmful chemicals. It sports a robust construction that can withstand the rigors related to working doughs. Therefore, you shouldn't expect it to bend or break.
Although it's not too sharp, its five-blade design is slightly curved for faster blending. This attribute also allows you to work your dough in your mixing bowls evenly. Its small size and blade spacing make it best compatible with small doughs.
Its non-slip grip handle is gentle on the hands and can be used for extended periods without straining your wrists. Due to its rubber coating, it doesn't slip off even when the handle is wet.
Cleaning is more comfortable, and you can also wash it in a dishwasher. For more value, it features a scaled side blade. Should you want to get matching kitchen utensils, the EAGMAK Pastry Blender is available in three colors – black, blue, and gray.
4. Zualy Kitchen Professional Stainless Steel Pastry Cutter
Product Information
| | |
| --- | --- |
| Package Dimensions | 4.88 x 4.06 x 1.93 inches |
| Item Weight | 5.3 ounces |
| Color | Black |
| Manufacturer | Zulay Kitchen |
Highlighted features
Long-lasting polished stainless steel
Thick stainless steel wire blades
Lightweight
Spacious handle.
Dishwasher safe
You can also make the flakiest pastries and fluffiest biscuits with the Zualy Kitchen Professional Pastry Cutter. If you are concerned about quality and performance, you won't get it wrong with this pastry cutter.
Its heavy-duty attribute is dependent on its durable construction. This pastry cutter is made with 403 stainless steel (polished). Consequently, the chances of getting rust are very slim. Even if you put it in a dishwasher, it won't get damaged.
It has high-quality thick stainless steel wire blades that break down your butter or margarine into flour or sugar. You also get to mix and blend them to give a fine, soft blend of dough. There are three color options to choose from.
In terms of convenience, the Zualy Kitchen Professional Pastry Cutter ranks high. Since it has a handle width of 3 inches, it can fit any hand size, either big or small. This handle is coated with a thick rubber handle for a better grasp.
5. ALLTOP Stainless Steel Pastry Cutter
Product Information
| | |
| --- | --- |
| Package Dimensions | 6.7 x 4.5 x 2.2 inches |
| Item Weight | 11 ounces |
| Color | Black |
| Manufacturer | ALLTOP |
Highlighted features
Thick stainless steel with five blades
Bench scraper included.
Double surface ruler
Pastry measurement instructions.
Non-slip rubber handle
With the All Top Dough Blender, it is easy to make your pastries. This pastry cutter offers more value for money. Apart from the pastry cutter, you also get a bench scraper with a double surface scale and some pastry measurement instructions.
Crushing and blending your pastry ingredients are efficient, thanks to the thick five blades. These blades, including their frame, are made with corrosion-resistant stainless steel. The blades have a length of 9.7 centimeters, and they are evenly spread over 4.5 centimeters.
The non-slip rubber handle also guarantees a decent level of convenience. It does rotate during use, and it holds firm in the hands. You should not worry about straining your hands. The handle is 7.7 centimeters and grips better in small to medium hands.
6. K&S Artisan Pastry Cutter Set
Product Information
| | |
| --- | --- |
| Package Dimensions | 5 x 5 x 3.8 inches |
| Item Weight | 9.9 ounces |
| Color | Silver |
| Manufacturer | K&S Artisan |
Highlighted features
Handle with ergonomic grip design
Includes biscuit cutters (graduated), food-grade pastry brush, and bowl scraper.
Five blade design.
Easy to clean.
If you want an option that comes with other useful pastry utensils, you should consider the K & S Artisan pastry cutter. You get additional items such as the food-grade silicone high-temp pastry brush, graduated biscuit cutter, and bowl scraper on purchase.
The pastry cutter, including the additional items, are eco-friendly and safe for food processing. Thanks to its hard-wearing stainless steel build, the durability is exceptional, and the pastry cutter can last long in your kitchen. Interestingly, it is lightweight.
There are just four blades in the K & S Artisan pastry cutter, evenly spaced and thick. It may not be as effective as its five-blade counterparts, but it does a great job.
The cutter has a non-slip grip design that is easy to handle. For extra convenience, it is dishwasher-safe. Apart from dough preparation, this pastry cutter is durable enough to crush nuts and similar hard ingredients.
7. MINO ANT Pastry Cutter & Pastry Utensils (5 Pcs/Set)
Product Information
| | |
| --- | --- |
| Package Dimensions | 6.93 x 5.39 x 4.29 inches |
| Item Weight | 1.68 pounds |
| Manufacturer | MINO ANT |
Highlighted features
Non-toxic 18/8 stainless steel.
Sturdy Polypropylene handle.
Four thick blades.
Additional items: baking mats, bench scraper, and cookie cutters
You may put the MINO ANT Pastry Cutter into consideration if you are looking to purchase a good pastry cutter with other pastry utensils. A rolling mat, cookie cutters, and a bench scraper are all included when purchasing this excellent option.
All the utensils, including the pastry cutter, are made with non-toxic 18/8 stainless steel, and they have the right thickness to last long. Besides butter, the dough blender can crush your vegetables, fruits, and nuts with its four stainless steel blade design
Its ergonomically designed handle makes it convenient to handle and provides you more efficiency to mix your doughs till even. Made with Polypropylene, the handle is sturdy and contoured to fit most hand sizes. In addition, it is easy to clean and compatible with dishwashers.
8. Spring Chef Pastry Cutter Set with Dough Blender
Product Information
| | |
| --- | --- |
| Package Dimensions | 6.81 x 5.2 x 2.09 inches |
| Item Weight | 11.7 ounces |
| Color | Black-Dough Blender & Scraper |
| Manufacturer | Spring Chef |
Highlighted features
Extra thick metal blades
Lightweight.
Bench scraper (graduated) included.
Medium size.
Ergonomic handle.
Do you have a low budget but in need of a reliable, useful, medium-sized pastry cutter? You may want to consider the lightweight Spring Chef Pastry Cutter instead of blending your doughs with your hands. You also enjoy more value for your money with the included non-stick, graduated bench scraper.
From its appearance, you can deduce its sturdiness. It has a one-piece frame design; the blades are made with stainless steel. You can be sure of not going another shopping anytime soon. There are five extra thick blades on it, and they can handle small to large dough sizes.
Regarding comfort, the handle is well fixed on the frame. This handle does not rotate, nor would it get loose after a while. It has an ergonomic shape that facilitates better grip. Overall, the pastry cutter shouldn't strain the wrist when used for long.
9. Chef Pomodoro Heavy Duty Pastry Cutter
Product Information
| | |
| --- | --- |
| Package Dimensions | 4.84 x 4.41 x 2.05 inches |
| Item Weight | 5.3 ounces |
| Color | Metal |
| Manufacturer | Chef Pomodoro |
Highlighted features
Non-slip contoured handle
High-quality stainless steel
Long-lasting and lightweight
Five-blade design.
Dishwasher-safe.
If you aim to find the best choice that is budget-friendly, choosing the Chef Pomodoro multipurpose dough blender mixer is an excellent decision. Its durability cannot be belittled despite its price tag as it is made with premium-grade stainless steel.
To achieve a fine uniform dough in no time, the pastry cutter has a five-blade design with even spacing. All you need to do is mash the ingredients together by twisting the pastry cutter to blend the dough. It is lightweight in hand and easy to handle.
The non-slip contoured handle means it is easy to hold the pastry cutter firmly even if your hands are wet. However, there is not much space in its handle; hence, it suits small hands better. It is dishwasher-safe, easy to clean, and resistant to rusting.
10. EAGMAK Pastry Cutter Set
Product Information
| | |
| --- | --- |
| Package Dimensions | 9.4 x 6.3 x 2.2 inches |
| Item Weight | 1.55 pounds |
| Color | Black |
| Manufacturer | Eagmak |
Highlighted features
Consists of five baking tools, including the pastry cutter.
Made of food-grade stainless steel
Sturdy and reliable
Rubber non-slip handle is safe for handling
Here is the last option on our list. The EAGMAK Dough Blender is another worthy mention. For this option, you get more than a pastry cutter. Besides the dough blender, the package consists of five baking tools such as graduated sets of cookie/biscuit cutters, pastry brush, pastry scraper, and egg separator.
It is safe to use since all its build materials (food-grade stainless steel) are free from BPA and other toxins. With the five blades present, it is easier to achieve the desired level of consistency on time. Although the blades are efficient, they are not sharp enough to cut you.
The handle is non-slip due to its rubber coating. It can accommodate small to large hands. In case you are more concerned about colors, you'll be excited to know that there are three color options available – blue, black, and gray.
Final Thought
Having a pastry cutter doesn't only get your dough done in a jiffy; it ensures that your expectations are met. You're sure going to get beautiful pastries coming out. However, it will be reasonable to purchase the pastry cutter, and not any choice, to get these desired results.
Besides being used to blend dough, they can mix and cut fruits, chocolates, and nuts. You can use them to crush sausages as well. Hence, you have many reasons to have a pastry cutter besides making pastries.
So far, we've reviewed the ten best options to buy and included all you need to know. Regardless of your choice, you can rest assured you made the right decision.
We recommend the OXO Pastry Cutter as the best overall from our research. It has a reliable construction made with rust-resistant, non-toxic stainless steel. It is also safe in dishwashers.
If you have a tight budget, we recommend the Chef Pomodoro Multipurpose Dough Blender Mixer Pastry Cutter. It gets the job done with a minimum of fuss.
Additionally, it is lightweight and easy to clean. Its handle is non-slip and can accommodate small to big hands.