Indeed, mashed potatoes are much tastier when they're free of lumps and smooth. But, in order to make this meal perfect, we need the right tool like the electric potato masher.
This hand blender is an amazing investment; it's versatile, practical, and easy to use. It doesn't just mash potatoes to perfection, but other foods too.
It makes a great tool for soups and stews and it will create a fluffy and lovely texture.
Plus, it's so easy to use and clean, a real delight. It makes the magic happen with its bottom rotating blades which push through the food items with ease.
Lovely, light and feathery mashed foods are at your reach if you invest in this gadget.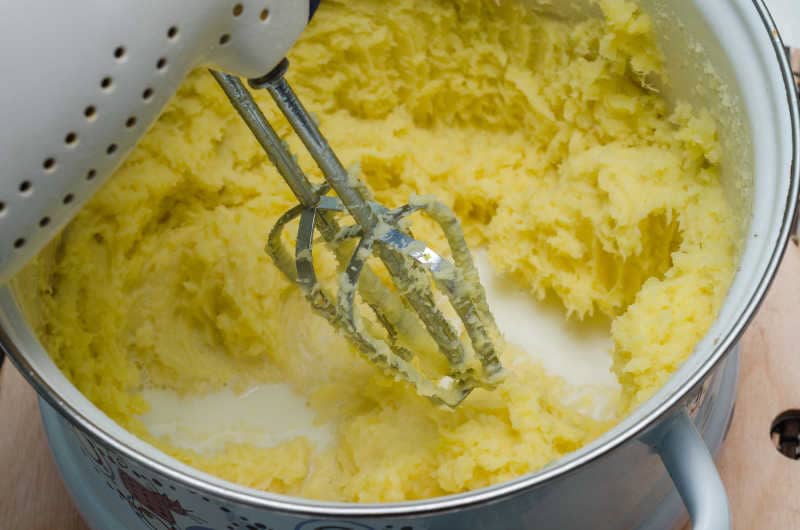 Knowing how beneficial this blender can be, check out the top options currently available, as well as some useful tips to know!
Why Do I Need An Electric Potato Masher?
If you want to make perfect potato mash straight out of a restaurant at home and with little discomfort as possible, an electric potato masher is a key.
This type of blender, also known as an immersion blender, is a hand-held blender with rotating blades on the bottom which are placed into the food and they do the pureeing, blending, mashing, or whipping.
Here's what you'll get when you choose an electric masher over a regular one:
Versatility & practicality
Immersion blenders are one of the most versatile kitchen tools.
Their motor is at one end and the blades on the other. It's awesome for mashing potatoes, pureeing soups, and blending smoothies directly into the pot.
Since you needn't transfer the content from blender to pot and vice versa, but you puree/blend directly into the container, this gadget is an awesome time-saver.
In this way, you won't just prep your meals faster and easier, but also enjoy them quicker than usual.
A stick blender is designed lightweight and slim so that you can easily store it in a cupboard or a drawer and pull it from there easily using one hand only.
And, there are both cord and cordless models to choose from, depending on your needs are, making it even more convenient!
One of the major advantages of an electric potato masher is its easy use.
It can be operated by one hand. Depending on the model (corded or cordless), you plug it into an outlet or turn it on after you set the blades into the food and you start working.
Most immersion blenders today boast a slim and lightweight design, making them easy to carry from one to another place.
This definitely eases things, especially when we want to take it with us somewhere.
Immersion blenders are praised for how easy to clean they are.
Of course, you can always rinse the blades with water and dry it with a cloth or towel paper or put this part in the dishwasher (only if it's dishwasher-safe!); however, there's another easier and fun way to clean it.
You pour warm and soapy water into a tall and wide glass and run the blender into it for 10 to 20 seconds. It will spark like new!
Unlike regular blenders or food processors, hand blenders are more silent.
Since the motor is inside the wand which turns the blades, the sounds happening is inside this casing and go into the food you're prepping, rather than into the air, making the sounds less strong.
Helps decrease food waste
If you have some bits of jam or honey on a jar's bottom, add some vinegar, oil, and seasonings and use your immersion blender to whip up a delicious dressing right into the jar.
In this way, you don't need to waste food.
What Are The Different Uses Of An Electric Masher?
Once you learn how to use it, an electric blender can help you create wonderful dishes. Here are the best meals you can prep using it:
Mash potatoes to perfection with your immersion blender-fast, easy, and delicious!
Prep yummy tomato or pumpkin thick soup in only a couple of minutes using this blender.
Delicious and creamy stews are only a blend away from you when you have this blender by your side. The thickness will be next level!
Whip up that cream for your cake easily and fast using your hand blender.
You can prep your morning smoothie directly into your cup. Just add the ingredients and take your hand blender and blend.
An immersion blender is awesome for prepping smaller batches of homemade mayo. This is awesome if we take into account that smaller amounts prepped in a regular blender tend to splash onto the sides rather than being processed by the blades on the bottom.
Manual vs. Electric Potato Masher
Usually, when we hear 'potato masher', the first thing that comes to mind is the manual masher we all know.
But there are much more convenient options like an electric masher. Each has its pros and cons and you will ultimately pick one that will fit your needs and budget the most.
Here are the main pros/cons of a manual vs. an electric potato masher.
Manual Potato Masher
Pros:
It's not expensive
It's easy to use
It's compact & easy to store
Cons:
Requires a bit more physical effort to be used
It may not provide as smooth texture as an electric one
Takes more time
Electric Potato Masher
Pros:
Saves a lot of time and effort
Helps you make fluffy and smooth mashed potatoes
Doesn't require a lot of physical effort
It's versatile
Cons:
It's more expensive
It's more complicated in terms of cleaning
Needs more space for storage
Has to be plugged in or recharged
Factors to Consider While Buying Electric Potato Masher?
Before you purchase your electric potato masher, consider these features:
Material
The construction should be sturdy and tough to perform well and to last for as long as possible.
This is why you need to check out the materials of the blades, protectors, shaft, handles, and motors.
Is it more stainless steel or plastic?
Although plastic parts can be convenient and less expensive, they can't compare with stainless steel sturdiness and longevity.
Also, pay attention to the upper part- is it extra padded with rubber for additional comfort?-This is a great feature.
Is the stainless steel reinforced?-This definitely adds to its quality!
Design
For a hand, blender to be comfy to hold, easy to operate, and lightweight, it's essential to be well designed.
Most hand-held blenders today feature a slim design, a comfy ergonomic upper part for easy grip, and compact size.
You should also be able to get your fingers or the thumb onto the speed or on/off buttons easily. Plus, it should be easy for cleaning. If you prefer the dishwasher, check to see if the model is dishwasher-safe.
Blades
In addition to the motor of the blender, the blades also matter.
They need to be sharp and sturdy enough to pulse through a variety of foods and some even through the ice without getting damaged.
Stainless steel is the most common and usually the best choice for blades.
It's also the easiest to keep clean and to maintain sharpness. What's more, metal shafts will less likely strain under pressure than other weaker materials like plastic.
Corded or Cordless
Nowadays, you can find a wide range of immersion blenders, including corded or cordless variants.
The corded variants are a safe option-you just need an electric outlet and the unit is ready to go in no time. With these models, optimal power is guaranteed.
However, when you're on the go or if you're not the biggest fan of cords, they may not be suitable for you.
In this case, a cordless model can do wonders; it's potent, compact, and portable.
Still, many users note that they can't offer as much power as corded models and there's also the charging time during which you can't use your blender.
Power & Speed
If you're going to use your hand blender infrequently, you don't need that much power/speed.
However, if you need a heavy-duty model to tackle thicker and harder foods, you should look for a higher power.
That is, anything over 200W will be just fine; and, the higher the W, the more speed options you'll have and the more potent the blender will perform.
But, remember, the higher the W, the higher the price. Generally speaking, most people stay in the 400W-800W range.
A versatile speed range can also be beneficial because you can't always prep foods using only the lowest or highest speed.
For more delicate tasks like whisking and emulsifying, a medium range would be ideal.
In the best case scenario, your immersion blender will have an easy button control speed by pressing it less or more.
Noise
No one likes their kitchen appliances to be noisy and too vibrant, especially the ones we use regularly and hold in our hands.
If loud noise is something you dislike, look for models with silent operation and reduced vibrations.
How to Use My Electric Potato Masher?
After assembling it (some models may already be assembled), you plug the cord into an electric outlet or skip this step if the model is cordless.
You then insert the bottom part with the blades into the food you plan to blend and turn it on.
When blending or pureeing, you should remember to slowly move the blender and do it up and down. This is to ensure you get a smooth and well-blended consistency.
And, don't forget to never run the motor for a prolonged time; it's best to blend in 30 to 50-second intervals. When you're done, you unplug and/or turn it off and clean it.
How to Clean My Potato Masher?
As we mentioned previously, cleaning your potato masher is quite easy. Usually, there are two ways in which you can do it.
First, you turn it off and you can rinse off the blades under a stream of water and dry it with a cloth or a towel or put it into the dishwasher.
The second, especially when there's more sticky or leftover food on the blades, is highly recommendable.
You just fill one wide glass with soapy water and run the blender into it for a couple of seconds and then dry it with a cloth or a towel.
Electric Potato Mashers to Choose
1. Mueller Austria Multipurpose Electric Potato Masher
Highlighted Features
Sturdy construction
1-year warranty
Slim & compact
Versatile
If you're looking for a heavy-duty electric potato masher, this is one amazing choice.
Featuring a sophisticated design from stainless steel and a full copper motor, the ergonomic grip ensures a non-slippery and comfy experience.
The device can withstand prolonged use and lasts three times longer than other motors.
It offers 8 speeds and slim construction.
This compact corded hand blender will help you make wonderful mashed potatoes, but soups, sauces, cake-cream, and stews too.
The detachable shaft definitely eases things and can be washed in the dishwasher. We like that the blender comes with extras, i.e. an egg whisker and a milk frother.
2. Chefman 300-Watt Electric Potato Masher
Highlighted Features
Precise control
One-touch operation
Rubberized handle
Dishwasher-safe
Easy to clean
Made of strong stainless steel, this corded multispeed immersion blender has a one-touch easy operation. Thanks to the slow trigger release, you can precisely control your blending.
The stronger the pressure you apply onto the trigger, the higher the speed. High-powered with 300W and 120V, the motor will handle any pureeing, blending, or mashing task.
However, it has a silent operation, so no worries about unpleasant noises.
We really love the cross-blade design which can be used for crushing ice or frozen fruits and veggies too!
You can easily keep it clean thanks to the detachable blade which is dishwasher-safe. The other steel exterior can be easily wiped clean with a cloth.
3. Allkey 500W Immersion Blender
Highlighted Features
Ergonomic design
Comes with extras
Heavy-duty
Versatile
Compact
This high-duty hand blender has a strong 500W all-copper motor and it works efficiently and quietly.
Made of durable stainless steel reinforced with titanium, it performs optimally and lasts long.
Its upper part features a beautiful red color while the bottom stick with the blades is tough and sharp. It's ideal for mashed potatoes, smoothies, soups, stews, marinades, juices, baby food, etc.
The more you press the trigger on the top, the higher the power you get. The design is compact and ergonomic, enabling easy use with one hand.
We love that it comes with useful additions like a frother, a mixing beaker, and a user's manual.
4. Braun Multi Quick Immersion Blender
Highlighted Features
Easy to use
Easy to clean
Versatile
2 speeds available
Featuring a 350W German-made motor, this corded model is a very durable blender featuring sharp stainless steel blades and a bell-shaped blending shaft for fine and fast results.
Easy to hold thanks to the ergonomic design, the blender is perfect for mashed potatoes, but many other foods too.
It has a one-click button for an easy start and also includes a turbo boost for extra potency.
The blender comes with extras, including a 20-ounce beaker and a whisking attachment.
5. BSTY's 4-in-1 Electric Potato Masher Set
Highlighted Features
Great value for money
Easy to use & clean
Versatile
Comes with amazing extras
Budget-friendly and multifunctional, this set comes with a 500W immersion blender, a whisker attachment, a beaker, and a food chopper.
The immersion blender is great for prepping delicious mashed potatoes, but smoothies, purees, soups, stews, creams, and more.
Featuring 16-speed levels and a turbo button, the device can tackle anything in front of it. Plus, it's quiet and comfy to hold.
The ergonomic upper part ensures your hand stays comfy throughout the whole process. Moreover, the bottom part is detachable, ensuring you can easily clean it, but also add the other attachments.
The casing is made of strong ABS plastic and brushed for a stainless steel finish. Indeed, this set seems to have it all!
6. Braun's Masher Set
Highlighted Features
Extra blade for extra power
Versatile
Optimized safety
Powerful
Featuring the first Active Blade technology, this premium blender has a 250 percent more active cutting surface. It helps you blend smoothly and much faster.
One hand use and easy operation are enabled by incorporating the Easy Smart Speed Tech and allows you to control the speed so that you can get the desired texture.
The Power Bell Plus blades have an additional milling blade that will blend whole foods within seconds. Moreover, say goodbye to splashes and mess; this immersion blender features a Splash Control Tech that prevents this from happening.
When you want to use the other extras that come in the set, you can easily remove the blades with a simple click and attach them, enabled by the Easy Click Plus system.
The extras you get are a whisker attachment, a potato masher, a container, and a food processor.
7. Philips Kitchen Appliances Electric Potato Masher
Highlighted Features
Intuitive & ergonomic design
Variable speed control
Easy to use with one hand
Potent motor
This ProMix hand blender is made using SpeedTouch technology and features a versatile potato masher accessory. You easily attach the accessory to the motor and start mashing delicious potatoes.
The two stainless steel blades are strong, sharp, and non-corrosive. You can do the mashing using one hand only and by pressing the button.
The variable speed allows you to blend faster or slower, i.e. you press lighter if you want to whip, a bit harder to mix, and the hardest for the highest blending and whipping power.
What's more, we appreciate how versatile this accessory is; it's awesome for onions, cheese, boiled eggs, etc.
After you're done using it, you remove it and clean it easily, either by hand or in the dishwasher.
8. DSY's Electric Potato Masher & Hand Blender
Highlighted Features
Practical
Easy to use & clean
Multipurpose
Ergonomic design
Create wonderful and lump-free mashed potatoes fast and easy using this hand masher.
Its rotor-cone blade tech and aerator attachment will work with so many other foods besides potatoes.
In fact, you can prep yummy meals like soups, baby food, sauces, marinades, desserts, eggs, and more. The base part is removable and can be cleaned in the dishwasher or the sink.
The upper part is ergonomic and easy to hold, even for people with arthritis. The gadget is easy to use thanks to the on/off control and a non-slippery rubberized design.
Versatile, slim, and generous length cord, it's something every kitchen should have!
9. Ovente Electric Potato Masher
Highlighted Features
Easy to attach
Suitable with Ovente immersion blenders
Sturdy blades
Versatile
If you already have an Ovente hand blender and you're looking for a potato masher attachment, this one is ideal for you.
Available in an all-black or all-white color, it's easy to set up, powerful, and versatile.
You just press the side buttons of the blender to eject and then click it into position and it's attached.
Its powerful stainless steel blades will help you tackle not just potatoes, but other fruits and veggies too.
Whether it's guacamole or mashed cauliflower, it has your back. However, this attachment is compatible with the Ovente 6 Series Hand Blenders only.
The blades are potent and sturdy, making sure the mashing and blending are ideal.
10. All-Clad Cordless Multifunctional Hand Blender
Highlighted Features
Cordless model
Fast & easy charging
Versatile
Potent
This cordless model is great for those looking for a potato masher they can use without the need for an electric outlet.
With potent 600W and 12000RPMS, this all-stainless steel model has five-speed options, ensuring the most precise blending, pureeing, and mashing.
It will ease food prep so much and help you fall in love with cooking. The battery indicator on the top also serves as a locking button.
And, when it comes to the batteries, the base charging is quick and in two hours, you'll have it full.
Powerful, cordless, and versatile, it will cover breakfast, lunch, and dinner. It offers quick and consistent blending like a corded model, but without the annoying cord.
Final Thoughts
Without a doubt, there are few meals as comforting as a tasty plate of mashed and hot potatoes with butter and black pepper. But, how to make them perfectly smooth, without lumps?
The key is to use the electric potato masher; this hand blender is comfy, efficient, and versatile. Thanks to it, you won't just make delicious mashed potatoes, but soups, stews, sauces, and marinades too.
In only a few seconds, you'll have delicious food to serve and enjoy with your family and friends. If you want a multipurpose and thick heavy-duty hand masher, our best pick will never disappoint you!
Our budget pick is awesome for those looking to spend fewer dollars, but still want a quality hand masher.