This post is for our cookie lovers out there – which when you think about it, is almost the 7 billion of us! The cookie cutter is not the one made from the best material; it's the one that suits you best!
Cookie cutters come in several designs that have been heavily influenced by geek or popular culture.
As a cookie lover, it's a no-brainer you need a cookie cutter especially if you have kids – you're going to need them all day long!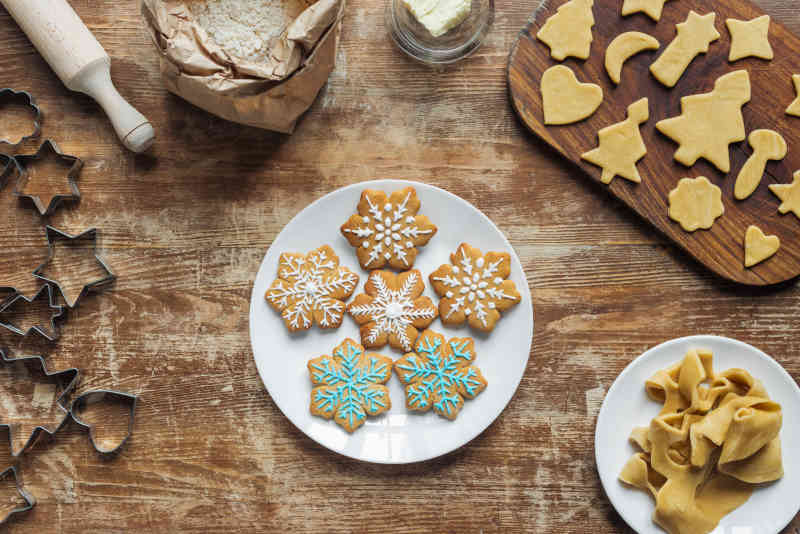 We have reviewed some of the best products you can find on the market, but first, let's dive right into our top and budget picks and then the buying guide.
What are the Advantages of a Cookie Cutter?
The advantages of cookie cutters lie in the product themselves and in the experience of using them. In terms of the product themselves, you will get a higher number of cookies from your dough using a cookie cutter as opposed to a drop cookie mix. That's because when you cut out your cookies, you do that from rolled thin dough while drop cookies are made from large volumes of dough.
Secondly, using a cookie cutter will provide you with a smooth, clean surface on the top of your cut and baked cookie which you can then easily decorate. Also, you can use them to decorate cakes. For instance, you can fill any cookie cutter shape, say a Christmas tree with colorful frosting, and place it on top of your cake. You can also do the same with numbers and place on a birthday cake.
In terms of the experience, they help you get more creative as you can play around with different shapes and numbers. And when you use them with your little ones? It helps create memories and a special kind of bond with them.
How to Use Cookie Cutters
From their designs to how they are used, nothing about cookie cutters is complicated at all. In this section, we are going to take you through how to use these simple devices.
Pick your cookie recipe: The first step is in knowing what cookie cutter to use. While cookie cutters can be used on any type of cookie dough, better results are assured if you use them with the right cookie dough. If you intend to use dough that spreads and melts in the oven, then you should use cookie cutters with simple shapes like round/circle.
Roll the dough: Before you do this, make sure to have refrigerated your cookie dough for at least an hour. This is to prevent spreading in the oven and to make cutting them with your cookie cutters easier. After refrigerating, sprinkle some flour on a flat, clean and cool surface and then roll the dough to your desired thickness.
Use your cookie cutter: Finally, you can cut out your cookies. To prevent the dough from sticking on your cookie cutters, sprinkle some flour on your cookie cutter before using. To use, press them into the dough, going as deep as you can. Next, use a floured spatula, preferably a thin one, to scoop them out and place them on a cooking sheet, keeping them 1 inch apart.
Which is Better between Plastic and Metal Cookie Cutters?
Plastic and metal cookie cutters have their merits and demerits and here are some of them:
Plastic Cookie Cutters
Pros:
Cheap
Easily flexed to remove the dough
Con:
Not so durable
Dull edges flatten the dough
Stainless Steel Cookie Cutters
Pros:
Strong and durable
Fine detail cutting
Con:
Aluminum Cookie Cutters
Pros:
Fine detail cutting
Very affordable
Cons:
Too flexible
Prone to rust
Copper Cookie Cutters
Pros:
Durable
Fine detail cutting
Con:
How to Clean Cookie Cutters
If you're making use of a metal cookie cutter such as stainless steel, you can place them in the top rack of your dishwasher as they are dishwasher friendly.
For products that are not dishwasher-safe, they can be washed manually. Start by soaking for a few minutes in warm soapy water and then rinse them completely. Ensure you completely rinse the soap off.
If you're washing plastic cookie cutters this way, simply sun dry them. For metal cookie cutters, you can put them on an unlined baking sheet and place them in your oven at about 350 degrees for 2 minutes and that's it! Your cookie cutters will be dry and sparkling clean.
What Can I Use Instead of a Cookie Cutter?
It's easier and more effective to use a cookie-cutter but what happens when you can't lay your hands on one? Not to worry, there are other cookie cutter substitutes which we are about to share with you.
Empty can: Remove both ends of an empty can but make sure to roll over any sharp edge that may hurt your hand. You can use either end to cut your dough and if it gets stuck, push it through to the other side.
Glass cup:

Grab a glass cup and line the rim with flour and then dip into the dough. Pick the glass cup depending on the cookie size you want. Glass cups with a thin rim are the best as they cut deeper into the dough.
How to Make Cookie Cutters at Home
There are a couple of ways to make cookie cutters at home using readily available materials but for the best precision, make use of a tin strip.
Get a tin strip coil, about 1" wide, and then print out your desired image so you can get an accurate measurement of the material you need. After that, use a string to map out the design and cut it out. This will help you determine how much tin you'll need.
Measure the length of the string and cut the same length out of the tin. Use a needle nose plier to shape the tin into the outline of the picture. Be careful when going round the curves and make sure to apply enough pressure. Finally, use glue to secure the ends of the cookie cutter.
Can I Use Cookie Cutters for Something Else?
Cookie cutters can be used in many other ways that don't involve dough or baking. They can be used as ornaments to decorate your Christmas tree, as a stencil to make crafts, or to make pancakes shaped interestingly.
You can even add a little twist to the shape of your cookie cutters, transforming them into something even more exciting. For instance, you can transform your star cookie cutter into Santa which can be used as a Christmas cookie cutter.
Factors to Consider before buying a Cookie Cutter
Shopping for the cookie cutter involves a very detailed process and that involves checking if it has important and necessary qualities or features. To make sure you get your money's worth, you should consider the following.
Durability
Make sure the cookie cutter product you're looking at is made from quality material that will last for a lifetime. That way, you won't have to worry about replacing them anytime soon after purchase.
You can either go for plastic or metal cookie cutters. Generally, metal cookie cutters are more durable and even more efficient than plastic ones. Some of the best metal cookie cutters are made from stainless steel, aluminum, or copper.
Shape
What type of cookies do you want to make? Do you want squares, circles, stars, or flower-shaped cookies? Or do you want them in form of numbers to decorate birthday cakes? These are the factors you consider before you decide which product to buy.
Some come in other shapes like cars, planes, birds, and so much more. Products come in different shapes and designs, so you should have an idea of what shapes you want before going shopping.
Safety
If going for a metal cookie cutter, make sure the top edges are rolled to prevent injuries to your hands. The seams should also be perfectly welded. Likewise, the materials used should be of food-grade and BPA-free.
Cookie Cutter Reviews
1. HULISEN Round Cookies Cutter with Handle
Highlighted Features
Stainless steel construction
Set of 5 in different sizes
Comfortable handle
Dishwasher-safe
Accurate measurements
It's no surprise this is our top pick considering the incredible features packed in this product. This product comes as a set of 5 cookie cutters, all in different sizes. From smallest to largest, their diameter sizes are – 1 ¾", 2″, 2 ¼", 2 ¾", and 3 ¼" while they share the same height of 1 ¾".
Like you may have guessed, they boast of a solid construction made from quality stainless steel. This means they won't rust or deform for a long time. One merit of this product is that it is marked so you can take accurate measurements.
Their designs include small, comfortable handles making them look like small, cute bags. They are dishwasher-safe so you can clean them effortlessly.
2. Wilton Cookie Cutters Set
Highlighted Features
101 pieces
Made from plastic
Comes in multiple shapes
Dishwasher-safe
With Wilton Cookie Cutters Set, you've got 101 shapes and styles of cookies! From alphabet letters to your favorite holiday numbers to shapes and animals with bright colors, there's more than enough to pick from.
They are made from plastic with a one-third inch of comfort edge. Their blades go deep to ensure efficient use and can be used not just for cookies but also for sandwiches.
Still, on versatility, they can be used to make designs on top of cakes using the numbers for a birthday cake or a star, car, or palm tree shape filled with colorful frostings.
They are a great way of spending quality time with your kids making fun projects. They are dishwasher-safe for easy cleaning.
3. KSPOWWIN 5 Pieces Stainless Steel Cookie Cutters
Highlighted Features
Great quality
5 pieces of different sizes
Multiple uses
Dishwasher-safe
Enjoy top quality from KSPOWWIN with their 5-set cookie cutters. They come in 1.7″, 2″, 2.5″, 2.9″, and 3.3″ in diameter with a general height of 1.26″. What this offers you is more than one option so you can make cookies easier and faster.
You can expect consistent results for as long as you want as they are fully constructed from heavy-duty 304-grade stainless steel. This means high strength and no rust. The edges are rolled to ensure the safety of users during handling. Also, the seams are well welded so they are safe to use.
These cookie cutters can also be used to cut or shape biscuits, mini cakes, donuts, and even fruits! They can be effortlessly maintained by using the dishwasher.
4. Homy Feel Round Cookie Biscuit Cutter
Highlighted Features
Made from 18/8 304-grade stainless steel
Set of 12
Multiple applications
Rolled edges to ensure safety
Dishwasher-safe
Cut cookies into different sizes with this product containing 12 pieces of cookie cutters. They have diameters ranging from 1 – 4.4 inches with a shared height of 1.18 inches.
They are of reliable quality as Homy, the manufacturers, made use of a commercial-grade 18/8 304 stainless steel. Since it is round in shape, its edges were perfectly rolled to keep your hands safe during use and the seams were totally welded.
The bottom edge cuts your cookies with ease and can also be used to cut scones, donuts, tarts, dough, and fondant, just to mention but a few. It is dishwasher-safe.
5. Chrider Mini Metal Cookie Cutters Set
Highlighted Features
100% 304 stainless steel construction
24 pieces
Versatile
8 different shapes
Dishwasher-safe
This product boasts sharp edges below to help you cut cookies into different shapes and sizes. If you buy this product, you get a set of 24 pieces – all of different shapes and sizes with diameters ranging from 0.39 to 1.57 inches.
They come in 8 different shapes with 3 of each to make 24 in total. They are made from 304-grade stainless steel to ensure premium quality and all have their top edges rolled to keep your fingers safe during use.
Besides cutting cookies, they can be used to cut tarts, dough, canapés, bread, and so much more. They are all dishwasher-safe.
6. YXCLIFE Mini Metal Cookie Cutters Set
Highlighted Features
Stainless steel construction
24 pieces
Comes in 8 different shapes
Hand wash
These unique cookie cutters are perfect for people with kids. It comes in 8 exciting shapes – star, triangle, oval, flower, rectangle, heart, square, and circle. Each of the shapes is in 3s making a total of 24 pieces!
These mini cookie cutters are fully made from stainless steel with the least diameter being 0.6″ and 1.6″ as the maximum diameter. They all share a common height of 0.79″.
They are easy to use and you can rely on the sharp edges below to cut out your cookies perfectly. Our research also reveals they are suitable as DIY biscuits, sugar paste, chocolate, and fondant cutters.
Hand wash is recommended.
7. MCIGICM Cookie Cutters Shapes Baking Set
Highlighted Features
Made 100% from 430 stainless steel
Set of 12
4 shapes
Dishwasher-safe
Here's another set of cookie cutters to make that fun project with your little ones. The package has 12 pieces of cookie cutters, all made from 430 stainless steel for improved strength and durability.
They come in 4 shapes – star, love, circle, and flower. Each shape is in 3 pieces and they are of different diameters. They all have the same height of 0.6″ except the circle shape which is 0.1″ taller than others.
To make sure they are safe to use, the top edges are perfectly rolled and the seams are perfectly welded. They can serve more than just cookie cutters; they can be used to cut dough, fondant, pastries, empanadas, etc. They are dishwasher-safe.
8. TAOUNOA Cookie Cutter
Highlighted Features
Highly durable
BPA-free
Set of 26
Hand wash
You're looking at a top-notch product made from stainless steel. The manufacturers made safety a top priority ensuring the material used is food-grade, BPA-free, and reusable making it safe for the environment.
It's a set of 26 cookie cutters, all in different shapes such as heart, plane, Christmas tree, star, bird, it goes on and on. The availability of different shapes makes it suitable for use during holidays, birthdays, etc.
The top edges are rolled to prevent you from hurting your hands and the sharp edges below do a terrific job cutting your cookies. Hand wash is recommended.
9. Sheeppe Basic Cookie Cutters Set
Highlighted Features
Set of 40
Made from plastic and stainless steel materials
Multiple uses
Dishwasher-safe
Sheeppe says you shouldn't compromise on quality with its whopping set of 40 pieces cookie cutters made from both plastic and stainless steel. They come in five shapes; circle, square, flower, heart, and star – all available in both plastic and stainless steel.
These cookie cutters have smooth edges for improved safety and boast a non-stick finish to make maintaining them even easier. Each shape has 8 pieces – 4 plastic and the other 4, stainless steel. They contain different sizes too.
Want to cut cheese, fondant, pancakes, or bread? You can also use them! They are dishwasher-safe but can also be cleaned manually.
10. DKBL 12 Pieces Round Cookie Biscuit Cutter Set
Highlighted Features
Stainless steel construction
Wide applications
Safe to use
Dishwasher friendly
Want to make round cookies? Make use of this great product from DKBL. It comes as a 12-piece set with different sizes ranging from 1″ to 3.8″. All 12 pieces can be fitted in a storage box that comes with the package.
This product can stay in the oven for up to 500 degrees Fahrenheit and is safe and comfortable to use. How do we know this? Its top edges are rolled and the seams are perfectly welded. They are easy to use, producing clean and sharp cuts effortlessly.
They have wide applications in being used as a pastry, bread, tart, canapés cutter. They are dishwasher-safe for fast and easy clean-ups.
Final Thoughts
There are no fun cookies without cookie cutters, the great news is; you can get them in your desired size, shape, or designs.
We have provided you with all the information you need in making the best purchase in our buying guide and the product reviews section contains detailed information on 10 of the best products in the market.
HULISEN Round Cookies Cutter with Handle is the product you should go for if you want the best results. It's made from stainless steel, comes in 5 pieces, and is dishwasher-safe.
If you don't want to spend much and still get great quality, MCIGICM Cookie Cutters Shapes Baking Set is the one for you. It comes as a set of 12; all made from stainless steel and are dishwasher-safe.