Have you ever wondered about the 'secret' of the perfect mashed potato?
One of the tools that will help you enjoy this delicious meal without it going lumpy or watery is definitely the hand potato masher.
This kitchen tool ensures mashed potatoes are fluffy, light, and tasty. But, this isn't the only advantage of this awesome tool.
It's very versatile- this simple metal tool can help you prep anything from baby food to a comforting egg salad.
Most commonly, this utensil consists of a handle that's connected to a mashing head which can be of two types.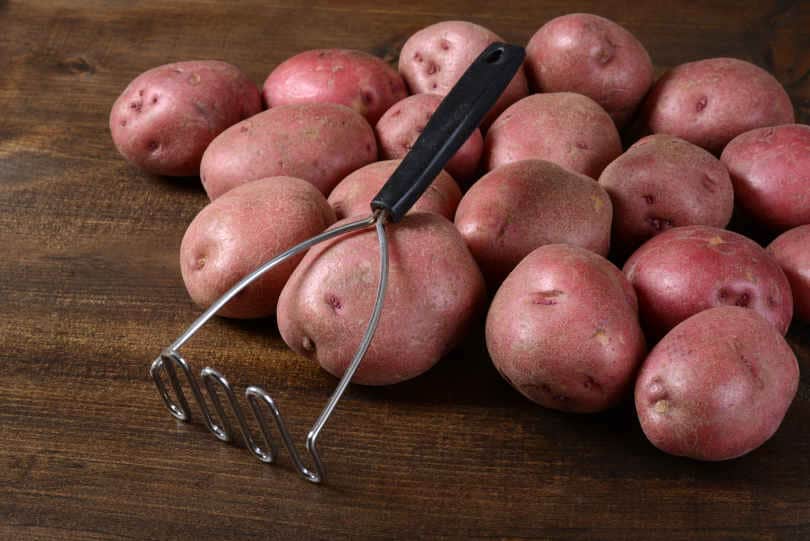 One is a large gauge wire with a zig-zag shape and the other is a plate with holes. Everyone can learn to use it because it's so simple- you just grab it by the handle and push down into the food until mashed.
To make sure you're buying nothing but the best, check out our compiled list of 10 top hand potato mashers currently on Amazon!
What is a Hand Potato Masher?
If you want creamy and smooth mashed potatoes, a hand potato masher is a great choice.
This utensil has a handle that's connected to a head that you use to push down into the potato or other food and mash it.
The key is to get into every corner well to ensure no lumps remain and add some liquid if necessary (for example more water from the boiling water of the potatoes).
The hand potato masher a to-go tool for many professional and home cooks as it delivers good results, it's not difficult to use, and it's not overly expensive.
Plus, it's versatile so you'll be making a smart shopping choice for your kitchen. In addition to yummy mashed potatoes to match with your steak, you can also use them to prep guacamole!
How to Properly Use a Hand Potato Masher?
One of the main reasons why a hand potato masher is the best choice for all kitchens is because of its simplicity. Anyone can use it and it's practically intuitive.
You grab it by the handle, hold it well, and then begin to press down the mashing head into the veggies or fruits.
Do this for several minutes until there are no lumps left and add liquid in the process if necessary. That's all-in-a few minutes, this utensil delivers excellent results.
What are the Uses of a Hand Potato Masher?
Mashed potatoes
The easiest way to get creamy and smooth mashed potatoes.
Egg salad
A fast way to prep egg salad without spending too much time on hand dicing.
Broccoli or cauliflower soup
A smart way to dissolve these veggies for your soups and leave a chunky, yet smooth texture.
Guacamole
Homemade guacamole dip in minutes thanks to this tool!
Cracker and cookie crumbs
Make the best desserts by using a hand potato masher to crush them in a plastic bag.
Baby food
A masher helps you dissolve cooked veggies into a chunkier texture to ensure your little one has an easier transition to solids.
When & How to Clean Hand Potato Masher?
Often, people find hand potato mashers to be a bit tricky when it comes to cleaning as they have larger or smaller holes in the head.
The smaller ones can be a bigger challenge. This is why it may be a good idea to opt for a dishwasher-safe model.
If it's not safe for the dishwasher, make sure you clean it with soap and warm water right away to prevent the food remains going hard and becoming more difficult to scrape off.
What Factors to Pay Attention to?
When choosing the hand potato masher for you, a lot will certainly depend on your personal preferences.
For example, you may want a model that you can hold well whereas another person will opt for a bar handle and find it great.
In addition to design, there are some other factors to take into account. Check out some of the most important ones below.
Material
Your potato masher should be one that's made to last and you can find this out through its materials.
Aluminum potato mashers are often the first choice because of their lightweight; however, they do bend easily and their durability isn't the best out there.
Plastic is also popular because it's light and strong. If you do decide the best silicone potato masher is good for you, make sure you choose one that doesn't have BPA.
Otherwise, you're risking chemical leach into the food.
Last but not least, there's stainless steel-one of the best materials.
Although a bit heavier than other models, it's essential to easing the process of mashing. Plus, stainless steel is durable, doesn't rust, and it's dishwasher-safe!
Size
If you happen to mash potatoes in bigger batches, you should ensure your hand potato masher is up to this task.
In this way, you ease and speed up the process. Still, take into account that a bigger potato masher will require more free space for storage.
Handle
Since you hold the masher by the handle, you need to pay attention to it as well. Choose one that is long enough and one that has a good and strong grip.
Nowadays, a lot of models come with horizontal instead of traditional vertical handles.
Go for a padded model that won't slip. This is pivotal as we often work in the kitchen with wet and slippery hands.
What's more, this is the smarter choice for your hands- they won't feel tired, even when you've been mashing for some time.
Hand Potato Masher Reviews
1. OXO Good Grip Nylon Hand Potato Masher
Highlighted Features
Sturdy
Easy to use
Easy to clean
Great for non-stick cookware
Slim design
Comfy handle
If you want a trusted hand potato masher, this one from OXO has the looks and the works- it helps you mash potatoes and other soft veggies and fruits effortlessly.
It's made from strong nylon and ideal for non-stick cookware.
It doesn't just deliver good results, but it also looks good with its slim design and classic black color. It will, therefore, look awesome in any kitchen when you hang it.
You can use it with hot food without a worry on your mind- it's heat-resistant up to 400 degrees F.
The handle is also amazing-it's padded and comfy on the hands and doesn't slip or cause tension, even if your hands are wet.
Moreover, it's so easy to clean-just put it in the dishwasher and you're good to go.
2. Joyoldelf Heavy Duty Hand Potato Masher
Highlighted Features
Comfy
Long-lasting
Easy to clean
Ergonomic handle
Made from sturdy stainless steel
If you're having a hard time getting lumps out of your mash, this is the masher for you. It's constructed of sturdy stainless steel and has a comfy and ergonomic handle.
With this utensil, mashing will be easy and free of pain. The mashing head is rust-resistant and it's made of 430 stainless steel. The handle is rubberized to ensure optimal comfort.
You can clean it easily using tap or lukewarm water or in the dishwasher. At the end of the handle, you have a hanging spot to fit on your rail storage.
It feels good in the hands and doesn't cause tiredness, even when you're using it for a prolonged period-great for people with arthritis!
Customers praised it the most for comfort, durability, and ease of maintenance.
3. Spring Chef Stainless Steel Hand Potato Masher
Highlighted Features
Made as a whole piece
Padded handle
Ergonomic
Constructed of durable stainless steel
Comes with a bonus peeler
This stainless steel hand potato masher made in one piece comes is an awesome tool to have in your kitchen. It comes with a stainless steel peeler.
The handle of the masher is long and padded with strong rubber to ensure maximum comfort and safety during usage.
The head is in a zig-zag shape.
The stainless steel is of high quality and lasts for long. The handle has a hanging loop for easy storage in the kitchen.
Both tools are dishwasher-safe so they're easy to maintain. It won't rust or warp and it will be your go-to utensil for long.
The customers had the best comments for the tools' ease of maintenance, ergonomic design, and simple use.
4. Zulay Kitchen Hand Potato Masher
Highlighted Features
Beautiful + effective design
Food-safe & durable silicone
Doesn't scratch pots and pans
Balanced handle
Inexpensive
This affordable potato masher's head is made of stainless steel coated with thick and protective silicone and it's suitable for non-stick cookware.
This also optimizes the mashing and makes sure your potatoes are smooth and fluffy and your pans free of scratches.
The handle is sturdy and balanced and optimizes the grip and comfort. It doesn't flex or bend.
Since the head is silicone-coated, it's so easy to clean- no food will stick to it, which is common with rubber or plastic.
Wash it by hand or in the dishwasher, both are perfectly fine. Customers praised it the most for being a sturdy tool and easy to clean.
5. Ladizio Horizontal Handle Hand Potato Masher
Highlighted Features
Inexpensive
Innovative design
Horizontal handle
Ergonomic
Easy to clean
This is a masher with an innovative design, one that we don't commonly see with these tools.
The mashing stainless steel head is broad whereas the handle is wide and padded for optimal potato mashing with ease.
The difference from traditional handles is that this one is horizontal, making the pressure application light as a breeze.
You'll love this masher for being simple to clean- you just need some dish soap and lukewarm water and it's ready for next use.
The handle features premium PP material and insulates heat and doesn't slip.
The body is made from 430 stainless steel which is long-lasting and prone to rust.
Without a doubt, ergonomics is one of the best features of this utensil, as well as its sturdiness and easy maintenance.
6. Home Hero Stainless Steel Food Masher
Highlighted Features
Great value for money
One-piece masher
Made from strong 430 stainless steel
Durable
Stylish design
If you want optimal quality and a potato masher that lasts, this one is for you.
It's made to stand the test of time and constructed in one piece using premium 430 stainless steel. It's neatly packed in a beautiful delivery box.
It's a durable, comfortable, and rust-resistant kitchen must-have. The design is stylish and elegant and it will fit perfectly in any type of kitchen.
Thanks to the hanging option on the top of the comfy handle, it will save space. It's very versatile and you can use it with many other foods, not just potatoes.
The customers praised it the most for being great value for money, sturdy, and easy to clean. When it comes to cleaning, feel free to wash it by hand or put it in the dishwasher.
7. OXO Good Grips Hand Potato Masher
Highlighted Features
Made by a renowned brand
Horizontal handle
Constructed with stainless steel
Low hand pressure
Durable
This is yet another excellent potato masher with a horizontal handle that's padded and wide enough for extra comfort and efficiency.
It's made in one whole piece from the quality and durable stainless steel. The ergonomic and soft handle won't slip or cause discomfort.
When you're done using it, wash it by hand or put it in the dishwasher.
Thanks to this masher, you'll easily mash potatoes and other veggies and fruits without any lumps left.
It can be a great choice for people with arthritis or other joint problems as it puts minimum pressure on the hands and helps you enjoy food prep rather than fret it.
Customers gave the most kudos for the product's ease of holding, ergonomic design, and simple maintenance.
8. HIC 2-in-1 Mix N'Masher
Highlighted Features
Constructed as 1 piece
Made from 18/8 stainless steel
Doesn't rust
Durable
Mashes & mixes
This stainless steel hand potato masher by Harold Import Company is constructed from FDA-approved 18/8 stainless steel. It's durable and sturdy and doesn't rust like other materials.
It will become your go-to tool for mixing and mashing foods like potatoes, pumpkin, turnips, apples, bananas, and more.
This 2-in-1 masher and mixer are easy to use- you just mash and/or mix foods by pressing the head wires into the cooked food until you achieve the consistency you want.
The handle is well-balanced, strong, and easy on the hands to ensure the best comfort and performance.
In addition to easy use, it also offers easy maintenance-you can rinse it by hand or put it in the dishwasher.
9. Cooking Light Hand Potato Masher
Highlighted Features
Good value for the money
Ergonomic design
Sturdy
Easy to clean
Looks good
This is a nylon potato masher that you can have at a quite reasonable price.
It's made using sturdy nylon and features an ergonomic handle that is good on the hands and helps you stay in control while mashing.
Plus, the handle is anti-slip. It has a classic black color and a hole on the top of the handle for easy storage in the kitchen.
With it, cleaning is smooth as a breeze- you just wash it by hand or put it in the dishwasher.
For the inexpensive price, you also get a tool that is versatile and can be used with so many other foods than just potatoes.
It's safe to use with non-stick pots and pans and it's also heat resistant so you needn't worry about melting when in contact with hot food!
10. Goctos Stainless Steel Hand Potato Masher
Highlighted Features
Sheer
Sturdy
Ergonomic
Quality stainless steel
Easy to clean
If you want a sturdy, quality, and durable masher that won't fail you, it's this one.
It's constructed using heavy-duty stainless steel and ideal for mashing a variety of cooked foods.
The head has a wire-like design.
The handle is also awesome- it offers a hanging loop and it's shaped like a barrel and sealed, practical, comfy, and waterproof.
The utensil is perfectly suitable for washing in the dishwasher or by hand. Customers claim it helps mash foods fast and that it won't clog like many nylon and hole models tend to.
Final Thoughts
Here at Knife Verge, we value good kitchen stuff and understand the importance and necessity of having quality tools in our kitchens for optimal food prep and enjoyment.
This is why we often emphasize smaller utensils, ones that people often underestimate. One such tool is definitely a hand potato masher- this is a utensil that is so versatile, yet people forget about it.
Knowing this, it's pivotal we have a quality hand potato masher in our drawers. This go-to utensil is the key to delicious and creamy mashed potatoes, as well as yummy guacamole or baby food.
To ease your decision-making process, we made a list of the 10 currently trending hand potato mashers on Amazon and there's a model for everyone.
We presented ones with various materials, different types of handles, and with different types of heads.
We're sure that our top pick will leave you speechless and make you proud of your investment.
In case you don't want to spend too much, but still want a masher that will last, our budget pick always delivers!