Freshly baked bread with butter is an undeniable enjoyment and a blissful meal after a long day.
However, bread is delicate and it can be frustrating to pull holes through the bread because the butter being too cold to spread well.
No one wants chunks of butter on their slice of bread, but an even spread. This is where the butter knife can help.
These specialized knives have serrations on one blade edge and small holes along the other edge.
When it's dragged over the butter at the proper angle, it scrapes it in little curls which melt easier and faster.
Some models also feature a long rectangular hole at the top to scoop the butter into a thicker curl that's ideal when the butter is warm, not cold.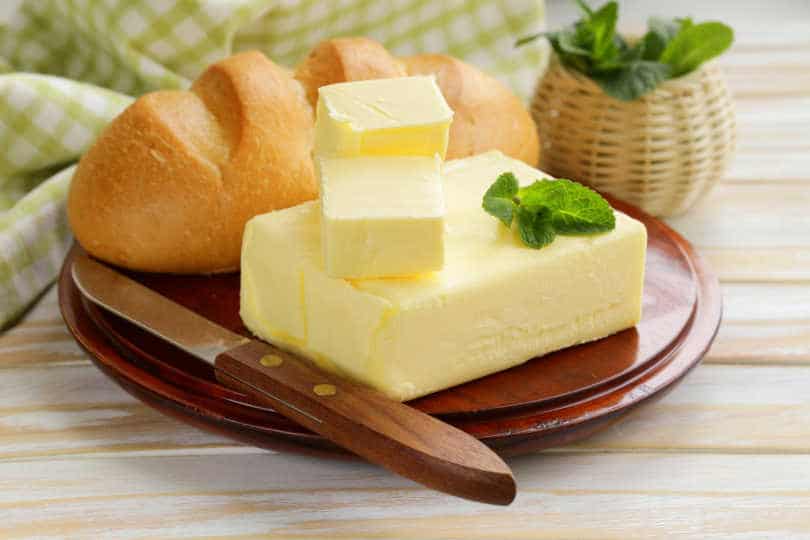 By investing in this knife, you'll have an enjoyable breakfast or dinner with the spread we all love.
Below, check out the 10 best models currently, and how to choose the best model for you!
What is a Butter Knife?
A butter knife is a type of knife used for butter slicing, curving, and scooping.
Nowadays, there is a large variety of butter knives on the market, with the ones with one row of serrations and one row of small holes being the most popular ones.
The serrations help cut through butter while the holes, when held at the best angle, scrape the butter into small curls that melt easily and spread amazingly on bread.
Some models may also have a single hole on the top that helps scrape through tougher and colder butter. And, others may only/also have a smooth blade side for the effortless spreading of butter, cheese cream, hummus, and more.
Why Do I Need a Butter Knife?
Butter knives aren't exceptionally expensive, so they're rarely a bad investment, especially if you regularly consume bread and butter or jam in the morning or afternoon.
With this knife in your collection, you'll no longer have to take out the butter hours in advance for it to melt and be good for spreading because the knife will do what it needs to be done, i.e. help soften it.
And, although you can use standard silverware for bread buttering, spreading hard butter on soft bread using the wrong knife is actually asking for trouble.
On the other hand, the small serrations or teeth on the butter knife scrape off the butter's surface and create a soft, nice, and easily spreadable butter stream.
Which Factors to Consider?
Similarly to when we're buying anything else, we should also consider some factors before we decide on a butter knife.
To ensure the best possible purchase that will satisfy all your needs, you need to consider some of the major decisive factors.
They'll directly influence how long the knife will last and how much you'll be satisfied with it. Below, check out the things you should always pay attention to when you're on the hunt for the butter knife.
Blade
The blade is the key element of a butter knife. And, one can easily get confused, especially when looking at a butter blade and its different shaped sides.
But, don't let this intimidate you; on the contrary, when you learn all of its blade types, you can easily decide on what you need and what to look for in a specific product.
The best serrated butter knife usually features a serrated edge on its blade that eases the cutting of butter pieces or scraping through it which helps melt it faster and easier.
The other side may contain smaller holes-this is to make beautiful curves and rolls out of butter which is great for serving or also for easier spreading.
Some models may also feature an entirely smooth side or a hole on the top. The former can be used for spreading already softened butter or some other food like hummus, jam, marmalade, etc.
The latter is great for when you're in a hurry and need to scoop some butter out of a tough piece.
Although you can pick one with the blade which suits your needs the most, the ones that are 3-in-1 models (serration, small holes, and big holes) are the most versatile and practical for butter serving.
Handle used in Butter Knife
As with any other knife out there, you want it to have a comfy handle that enables easy maneuvers and doesn't cause pain or discomfort.
With butter knives, you usually have three common types, i.e. stainless steel, wooden one, or a plastic handle. The stainless steel handle is considered the stronger and resistant to corrosion; however, it's not the lightest of handles out there.
Wooden handles are also amazing-they're comfy, non-slippery, and ergonomic for the best culinary experience. However, they're less durable and stable than stainless steel and are also porous and absorb moisture.
The ones with plastic handles offer lighter weight and high strength and comfort.
And, some types of plastic aren't slippery, even when wet, making them awesome for use in the kitchen. Plus, they're very easy in terms of maintenance-they can be washed in the dishwasher.
Versatility
Those who have butter on their menu on a regular basis would appreciate a more versatile butter spreader.
That is, they would like the blade to have various edges, including the serrated, one with holes, and even the hole on the top.
This enables them to cut, chop, slice, spread, and curl butter for any occasion no matter if it's soft or not-whether to enjoy a morning toast with butter and jam or to make fine décor for a celebratory dinner.
On the other hand, if you're looking for a simple butter knife that you're planning on using occasionally, you needn't have one with that many edges.
You may do just fine with a straight and a serrated edge one.
Price
When it comes to butter knives, it's good to know that they're not overly costly and are actually on the more affordable side, yet offer good quality.
You can find a good one within a range of 10 bucks or so or even a pack with several knives without damaging your budget.
Although in most cases higher prices do stand for higher quality, it's not always like that. So, make sure you research the brand and check out customer feedback.
Even though it's normal to invest a bit more in a butter knife if butter is frequently on your menu, there's no point in spending too much if it's a knife you'll use occasionally.
Maintenance of Butter Knife
This is a factor that hasn't been given the attention it deserves; when we buy a knife, we should also ensure it's one that will last long and one that we can easily keep clean.
When it comes to butter knives, we presented various models, including ones that are dishwasher-safe and others that aren't.
Generally speaking, all knives would do better when you wash them out of the dishwasher because of the risk of the harsh chemicals damaging them or reducing their functionality.
In some cases, they may be made of materials like wood that can really diminish in quality and performance because of the very hot water and the harsh detergents.
With this in mind, look for the models that will suit your preferred maintenance option, i.e. by hand or in the dishwasher, and pick accordingly.
How to Clean Butter Knife?
When it comes to knives, most users would like to know if they're dishwasher-safe or not.
Indeed, with so little free time on our hands, not all of us can wash our utensils by hand. And, we want to clean them thoroughly by turning on the dishwasher.
However, not every knife out there is dishwasher-safe.
In fact, many of them are actually not designed for the dishwasher. This could end up damaging them or reducing their quality and longevity.
With this in mind, if this is an important factor for you, don't forget to learn more about this feature: is the best butter knife spreader for your dishwasher safe or not? And, depending on the answer, ask yourself if it changes things for you and how.
Even if the butter knife isn't dishwasher-safe, its hand-washing isn't usually overly demanding and time-consuming, so you should have no bigger problem there.
Butter Knife Reviews
1. Divipal Stainless Steel Multifunction Butter Knife
Highlighted Features
Set of 2
Good value for money
Versatile
Ergonomic handle
Easy to clean
This pack of 2 butter knives offers awesome design and shape. You can use them as butter curlers, spreaders, scoopers, and bread slicers.
The elegant and thin blade easily curls butter into one delicious layer and doesn't tear apart the bread. Thanks to the serrated edge, slicing is effortless and enjoyable.
The slots on the other side of the blade enable you to transform even the coldest of butter into good-looking ribbons or curls.
Moreover, the well-balanced and ergonomic handle helps you hold the knife comfy with minimal discomfort while working.
Customers who bought this set of 2 loved them the most for their craftsmanship, sturdiness, and ease of use.
2. Wall2Wall Stainless Steel Butter Spreader Knife
Highlighted Features
Set of 4
Easy to hold
Beautiful & comfy wooden handle
Versatile
Inexpensive
Firm, easy to hold, and perfect for butter, this spreader has a silver-colored stainless steel blade. It comes in a set of 4 so it's ideal for families.
The wooden blade is comfy and helps you make the necessary maneuvers effortlessly.
And, it's quite versatile thanks to the one side which is serrated, and the other which is straight. It can therefore be used for slicing some butter or spreading cream cheese on a toast.
It will easily become your go-to in the kitchen.
To preserve the wooden handle's optimal quality, hand washing is recommendable, as well as occasional replenishing with coconut oil.
The customers who purchased this set gave it the most kudos for being easy to use, easy to clean, and thick.
3. Simple Spreading 3-in-1 Butter Spreader
Highlighted Features
Made of strong & durable steel
Larger & smaller holes
Dishwasher-safe
Doesn't corrode
3-in-1 utensil
Made with premium stainless steel, this butter spreader is durable and delivers results fast.
It's also strong and doesn't corrode. Thanks to its design, it can be used as a spreader and a curler, but also to tackle colder butter thanks to the hole on the top.
The beautiful design makes it ideally balanced and helps you spread the right amount of butter, cream, or jam on your morning toast. Or, use it to make beautiful table decorations for your get-togethers with friends and family.
Thanks to the small holes running down the edge of the blade, you'll no longer tear bread.
Moreover, the company gives a lifetime warranty for this butter spreader as well as a 100% refund in case of dissatisfaction!
4. Update International Butter Spreader Knife
Highlighted Features
Set of 2
Versatile
Two edge types
Comfy handle
Sturdy design
Simplicity, functionality, and beauty are the three key features of these butter spreaders.
Their stainless steel blade is sturdy and practical with two different edges-one is serrated and the other is straight to ensure easy butter curling and butter spreading.
You can also use it with cream cheese, hummus, etc. Cut through butter with ease, without any worry about the process failing. In a matter of seconds, you'll have thin butter rolls to spread onto your morning toast.
Their handle is attractive, durable, and easy to hold. It's made of quality wood. To preserve their optimal glow, wash them by hand.
Customers who bought this set liked it the most for its versatility, easiness of cleaning, and ease of use.
5. New Star Food Service Butter Spreader with Plastic Handle
Highlighted Features
Affordable
Versatile
Ideal for families
Non-slip handle
Dishwasher-safe
In this affordable set, you get 4 butter spreaders with a stainless steel blade and sturdy plastic handle. Thanks to its exceptional craftsmanship, it's ideal for both home and restaurant use.
The blade features one straight and one serrated side to ensure easy butter cutting and spreading without any struggles. It's perfect for families because everyone can have their butter knife.
The ergonomic quality plastic black handle ensures a steady grip every time, without worrying about slippage. Thanks to the materials used for it, it's dishwasher-safe so you needn't worry about cleaning.
The customers who've purchased it praised it the most for being easy to clean, offering great value for money, and being sturdy.
6. Mudder 3 Pack Butter Spreader Knife 3-in-1
Highlighted Features
Entire stainless steel construction
3 in a pack
Long-lasting
Suitable for children
Versatile
The set comes in a pack of three to always have one just for you-it also safe for older children to use for morning breakfast.
Made of premium and sturdy stainless steel, these butter spreaders are long-lasting, easy to use, and easy to clean.
The serrated side helps you slice butter or bread, the one with holes to make butter curls, and the hole on top to tackle even the hardest and coldest of butters.
The handle looks strong and it helps you do the maneuvers with simplicity and ease.
Customers who bought it praised the pack for being made of sturdy material, being easy to use, and easy to spread butter with it.
7. Naturally Med Olive Wood Butter Spreader
Highlighted Features
Eco-friendly choice
Looks amazing
Versatile
Easy to clean
Easy to use
If you're looking for an aesthetically pleasing and functional butter spreader, you'll love this one.
It's an eco-friendly spreader that's handmade using Mediterranean olive wood and it boasts a natural and soothing pattern.
It can be your go-to knife for spreading butter, but other foods too like cheese cream or hummus as well. It's 6 inches long and the wood grain is indeed lovely.
The handle is soft and pleasant on the hands and it won't cause any discomfort. However, to ensure it lasts for long, wash it by hand!
8. LXZ's 3-in-1 Butter Spreader Knife
Highlighted Features
One-piece construction
Sturdy
Easy to hold
Easy to use
Versatile
Inexpensive and good-looking, this 3-in-1 butter spreader is constructed with premium stainless steel. Hence, it won't rust or fade easily or react with food and detergents.
The extra thick blade will ensure it lasts long and always delivers the best results. One side of the blade has serrations for easy butter softening and spreading while the holes on the other are ideal for butter curls.
Moreover, thanks to the hole on top of it, you can also tackle harder butter too and you don't have to wait on the butter to melt. It definitely saves time!
The handle is amazing and looks comfy and pleasant for the hands. Being a one-piece construction, the risk of breakage is brought to a minimum and you needn't worry about cuts or injuries.
9. Mcomce Butter Knife
Highlighted Features
Sturdy
Dishwasher-safe
Comfy handle
One-piece construction
Unique curvature
This silver stainless steel butter knife is solid and sturdy and boasts a nice finish and an elegant and simple design, ideal for daily use.
Thanks to its unique curvature, you will slice and spread with so much ease. It's ideal with butter, but it's also suitable for other foods like hummus, cheese cream, mustard, jam, and more.
What's more, the handle is amazing; it's long, curved, and comfy.
It's great for those with not too much free time-it's made easy for maintenance and doesn't require any special steps.
To ensure it lasts for a long, always rinse it after use or wash it in the dishwasher.
Customers gave it the highest rating for being easy to clean and use and for being sturdy.
10. Crysto Set of 2 Butter Knives
Highlighted Features
Easy to use
Simple & elegant design
Made of the finest steel
Comfy handle
These 2 butter knives are constructed with the finest stainless steel.
Their simple and elegant design is amazing and mirrors polished. They're a perfect choice for slicing soft butter or spreading butter on toast.
You can also use it with other foods like hummus, cheese cream, jam, and more. It's designed as a one-piece and ensures longevity and a low risk of breakage and injuries.
Moreover, the handle is ergonomic and will fit perfectly in any hand size. You'll also love to hear that you can wash it by hand or put it in the dishwasher, it's dishwasher-safe too!
Final Thoughts
Using the best knife spreader to cut, slice or spread butter is one of the most pleasant experiences.
Although using a basic knife to spread some butter and jam on soft morning bread will do the job, the question is, 'how good'?
With this knife, you may end up dealing with chunks of butter that won't melt fast, torn bread, and an overall poor experience.
This is why here at Knife Verge we recognize the importance of using the right tool for the job. If you want nothing but the best, you'll not make a mistake if you choose our best pick.
On the other hand, if you don't want to spend too much, yet want a good quality butter knife, our budget pick is ideal for you.
Happy spreading!