Let's confess it-how many times have you been frustrated from being unable to put the salad into your plate using just a fork?
Indeed, it's a common struggle. If you want to put an end to it, this article is awesome for you; we'll help you find the utensil that will end this, i.e. the salad tongs.
This amazing utensil is one the best of all time and serving salads with them is tidy, effortless, and enjoyable.
Nowadays, you can find them in a variety of forms and shapes to suit different needs and occasions. Here at Knife Verge, we believe every kitchen, no matter if it's professional or not, needs a pair.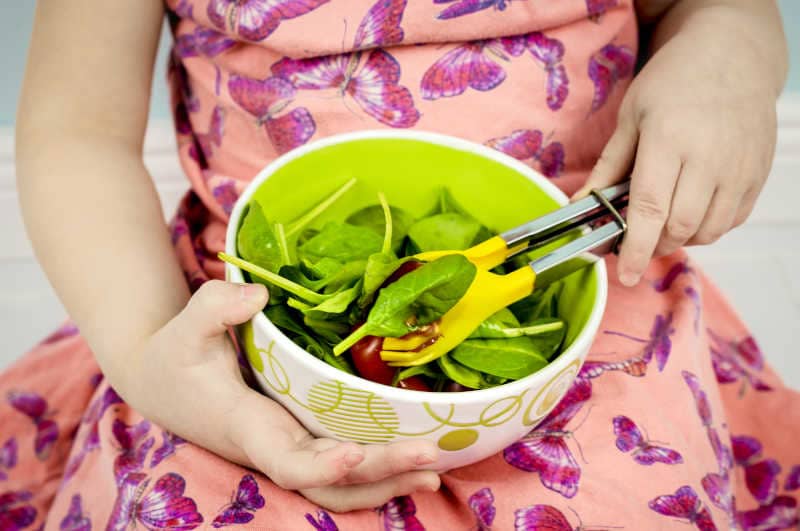 When serving salads becomes this easy, you'll enjoy them more often and add more nutrients to your diet.
Here are 10 top models you can find on Amazon!
Why do I need Salad Tongs?
If you want to toss and serve salads perfectly and easily, the salad tongs are what you need.
And, they're not just made for salads but are actually versatile utensils that can come in handy in many different tasks besides this one.
For example, flipping meat or transferring pasta from the pot to a bowl.
I think it's one of the most underrated utensils-it can make so many tasks in the kitchen enjoyable and practical.
The models vary; however, typically, they're single pieces that have flexes or hinges that allow its arms to be brought together to collect food and then to be released.
Some models are known as salad hands with two equal sides and praised for offering more control and bigger scoops at once and for their versatility.
You can also find options with one part as a spoon and the other as a fork.
Moreover, there are options made to be handled with both hands; however, most people opt for the one-piece option because they find them more convenient.
Which Factors to Consider?
Material
Salad tongs nowadays can be made from a long list of materials and each of them has its pros and cons.
Here are the most common ones you should consider when making a decision:
Salad tongs constructed of wood are a perfect choice if you don't want to scratch your utensils and damage the delicate ingredients of salads.
However, wood tends to absorb flavors and stains from the foods being used. Plus, there's the extra care factor-wood has to be washed carefully and dried entirely to prevent cracks.
These tongs are much more durable than the wooden ones; however, they'll scratch bowls and plates easier.
Plus, they can damage the delicate stuff from the salad like the greens and fruits. And, this can really become a problem if salad presentation matters to you.
Still, they're very easy to maintain; you can wash them by hand or in the dishwasher and they don't absorb flavors or develop stains.
Salad tongs made of plastic are a mixture of the two worlds; i.e. they have the softness of wood and the easy maintenance of metal.
Depending on the type of plastic, these tongs generally don't stain.
And, silicone tongs are highly popular thanks to the material's ability to resist cracks, stains, and odors.
Plus, their maintenance is easy and they're gentle on the foods and plates they come into contact with.
Type
These salad tongs are designed to be used with one hand or both, depending on your preference.
There are two finger holes or a flat rounded surface and 2 spoon-like heads for easy grasping and holding a variety of foods.
Some models don't have spoon heads but are rather flat while some are a mixture of both.
Some scissors-like tongs allow you to cut lettuce or other veggies directly into the plate and then toss it around with the spoon.
Some users prefer models that are separate and used by both hands. Usually, they're spoon and fork or spoon and spoon designs.
The Grip
Since you're going to use them with your hands, it's important to ensure they have an ergonomic design.
Optimally, they would have a non-slippery head and handles that will help you grip onto the food, without it slipping away.
In addition to enabling optimal maneuvers, salad tongs also have to be comfy on your hands so you can hold them without feeling pressure or discomfort.
This is why handle design matters, as well as padded and polished surfaces.
Safety
To optimize hygiene and food safety, make sure you choose tongs that have an antibacterial design and without hidden sections that could hold onto dirt and germs. Even better, look for detachable ones because they help you clean them more thoroughly.
And, they must be made of materials and constructions that are free of dyes, fillers, BPA, and lead.
Locking option
Some users may prefer tongs that come with a locking feature-this eases the storage part and reduces the mess.
However, you don't want complex locking mechanisms; choose the models with a simple and intuitive locking option because you don't want to get stuck opening them when you need to remove meat from burning.
One of the most popular locking mechanisms nowadays is the ring-pull one. There's a ring on the top of the handle that's pulled up when you want to open the tongs and pushed down when you want to close them.
Length
When choosing salad tongs, avoid the models with shorter handles, especially if you're going to use them mainly with salads- you don't want things to get messy and end up dipping the entire tongs into the food.
In a similar fashion, avoid ones with too long handles. This can cause reduced control when you're serving food.
Closing Style
This is another pivotal factor when choosing salad tongs. Although one can find several styles nowadays, generally speaking, there are two main ones.
That is sprung-open tongs vs. the scissor-like ones.
The sprung ones offer more adjustability in terms of the closing force because you can slide the hand towards the pivot and open them wider or get closer to the working end if you need more force.
On the other hand, although the scissor ones may seem comfier, it actually depends on the user.
If the pivot point is closer to the handles, it does help open wider, but sometimes, controlling them, that is, controlling the force you use to avert slipping depends on the pivot length over the length from the pivot to the working hand.
Hence, you won't squeeze very hard if the pivot is closer to the working end; however, the hands may get fatigued faster because of the constant need to widen to collect food.
Hanging
If you tend to hang most of the utensils in your kitchen, you may also want salad tongs that offer this option.
Look for a loop on the end or a loop elsewhere, depending on the design. The scissor-like models already have finger holes, making them easy for storage too.
How to Use Salad Tongs?
Using salad tongs is pretty intuitive and usually, it depends on the type of salad tongs you have in front of you. For example, if you have the two-hand models, things are pretty straightforward.
You take one in one hand and the other in the other hand and begin collecting the salad to transfer or toss it.
If you have a model designed for one-hand use, you open them, grab them by the top, and start collecting food by pressing the sides so the heads meet.
When to Clean My Salad Tongs?
As with any other utensil out there that regularly comes into contact with food, salad tongs also need to be washed after each use.
And, the way you're going to clean them is conditioned by the material they're made of. For example, with the plastic or metal ones, you needn't worry about it too much.
That is, you can do it by hand using soap and warm water or the dishwasher. However, in case you have wooden salad tongs, avoiding the dishwasher is a must!
Also, forget about soaking them in water and remember to dry them after washing to prevent cracks from forming.
10 Salad Tongs to Choose From
1. Oneida Stainless Steel Salad Tongs
Highlighted Features
Sturdy
Versatile
Easy to use & clean
Comfy to hold
These scissor-like salad tongs are stunning. Constructed from strong and long-lasting 18/8 stainless steel, they will help you serve and toss salads like a pro.
They're a smart investment because they're made to last and won't stain, crack or corrode. They offer amazing sturdiness and wide holes to fit the fingers perfectly and enable optimal maneuvers.
Moreover, the two heads, one a spoon and the other a fork, enable optimal grasping and holding of the foods you want to mix or transfer. When you're done using them, wash them by hand or in the dishwasher, it's suitable for both.
The customers who purchased these tongs praised them the most for their sturdiness, ease of use, and ease of maintenance.
2. Kebe 2-Pack Salad Tongs
Highlighted Features
Improved ergonomic design
Long-lasting steel
Easy to use & clean
Multipurpose
If you opt for this pack of stainless steel tongs, you'll definitely make a good choice. This is a new design that features comfy and wide handles and heads that help you grasp food effortlessly.
They have premium polished stainless steel construction and will last for a long time without rusting or cracking. They're an awesome pick for home use, but restaurants, hotels, and more.
The steel is non-toxic, resistant to heat, and resistant to stains.
You can use them with both cold and hot foods and for daily hygienic food handling. In addition to their strength and versatility, the tongs are also easy to clean.
Feel free to wash them by hand or put them in the dishwasher.
3. Star Pack Silicone Salad Tongs Pack of 2
Highlighted Features
Affordable
Long-lasting
Versatile & heat-resistant
BPA-free
Awesome lock feature
If you prefer models with silicone tips, this set is the perfect choice for you. It comes with one 9-inch pair and another 12-inch one. They're constructed of extra thick and premium stainless steel and offer optimal grip and control.
They won't melt, rust or flake into your food. The ring-pull locking mechanism is one of the easiest and comfiest out there. To unlock them, you pull the ring on the top, and to close them, you push it back down.
The holes also allow you to hang the tongs in the kitchen.
And, they have no sections which encourage bacterial growth. Thanks to being non-stick, the silicone parts will keep your cookware scratch-free.
In addition to being stylish and functional, they're also dishwasher-safe!
4. Chef Craft Premium Salad Tongs
Highlighted Features
Easy to use & clean
Sturdy plastic
Ergonomic design
Pull-apart
This is yet another awesome scissor-like pair of salad tongs. But, the material is different. These are constructed with heavy-duty and quality plastic.
They're not just durable, but also comfy on the hands. You can use them with one hand or with both, whichever is more suitable for you.
Moreover, thanks to their pull-apart feature, they make the cleaning easy and help you do it thoroughly and thus, prevent bacteria buildup.
In addition to being versatile, durable, and easy to use, they're also easy to clean. Whether you'll do it in the sink or on the top rack in the dishwasher, it's suitable for both!
5. Wexbi Salad Tongs
Highlighted Features
Premium quality
Safe & easy to use
Versatile
Comfy handles
These premium heavy-duty stainless steel scissor-like salad tongs are affordable, yet boast some pretty impressive features.
Namely, they're the perfect choice for tossing and serving salads, but also great for desserts, pasta, bread, meat, etc. They're heat-resistant and suitable for cold and hot foods.
They're 10 inches long and are amazing for everyday use and parties and get-togethers. The handles are ergonomic and comfy on the hands.
Thanks to the material used for their construction, they won't rust or corrode or lose their shine. When you're done using them, clean them in the sink or the dishwasher, it's suitable for both.
6. Hinmay Small Salad Tongs (Set of 3)
Highlighted Features
Affordable
Easy to use & clean
Sturdy design
Versatile
This set of three small salad tongs is wonderful for home and professional use. Inexpensive, yet versatile, they offer strong and corrosion-resistant stainless steel, awesome strength, and lightweight.
Plus, they're easy to use and easy to clean you can do it in the sink or the dishwasher, both are just fine.
One side of the head is made like a spoon and the other like a fork. This helps you pick and transfer food easily, but also grasp and toss salads effortlessly.
Feel free to use them with both cold and hot foods. The customers who purchased this set gave it the most kudos for being easy to clean, easy to use, and its sturdiness.
7. Tony Town Set of 2 Salad Tongs
Highlighted Features
Versatile
Long-lasting quality
Ring-lock mechanism
Easy to use
If you prefer silicone models, you'll love this amazing set of two. Its heads are constructed entirely from food-grade, premium silicone.
The handles are made using durable stainless steel and padded with extra silicone to optimize hand comfort.
Feel free to use them with both hot and cold foods, without worrying about sticking or burning the heads. Thanks to its optimized grip, it will collect food easily and it won't cause slippage and food loss.
We really love the ring-pull mechanism which is simple and easy, further maximizing storage options as you can use its hanging loop.
The red one is smaller (9 inches) and the gray one is larger (12 inches). You also get a bonus-a practical silicone brush!
8. Comfecto 10-inch Salad Tongs
Highlighted Features
Comfy design
Easy to use & clean
Thick & sturdy
Versatile
These stainless steel tongs are a superb choice for all occasions. The head is a combo of a spoon and fork, making it awesome for serving, tossing, and transferring different foods.
The handle holes are comfy and wide and the tongs aren't overly heavy to hold, making them easy to maneuver.
Thick and anti-slippery, they're a great choice to move larger batches or pieces of food without losing them. The handle holes can also serve as a loop for hanging.
As they're made of strong stainless steel and resistant to heat, you can use them with cold and hot foods. What's more, the cleaning is effortless; either in the sink or in the dishwasher, it's suitable with each.
If you buy them, you'll also get a bonus: a recipe e-book on your email!
9. Ironwood Gourmet Wooden Salad Tongs
Highlighted Features
Easy to use & clean
Made from a natural material
Versatile & eco-friendly
If you're looking for salad tongs that are eco-friendly and natural, these are an amazing choice. Made by hand using amazing acacia wood, they have a pretty and unique pattern of contrasts.
It's a practical and easy-to-use one-handed design achieved with a spring mechanism. The part where you hold the tongs is comfy and soothing on the hands, thanks to the softness of the wood.
The heads are made equal with a small curviness to ease the grasping, folding, and transferring of food and salads. It makes a beautiful serving combo with wooden salad bowls.
When you're done using them, wash them by hand using mild soap and water and dry them thoroughly before storing them. Never put them in the dishwasher.
10. Mud Pie Wooden Salad Tongs
Highlighted Features
Made of natural material
Soft on the hands
Ergonomic design
Versatile
With stunning design and beautiful aesthetics, these wooden tongs are a wonderful choice. They feature unique patterns achieved with the usage of natural wood which is soft and long-lasting.
And, we love the attention to detail with this model, that is, the stainless steel gold color handles section. This allows you to easily hold the tongs, but also presentable.
What's more, the spoon and forkhead better the grip and allow you to grasp and transfer salads and other foods effortlessly. No food will slip out.
When you're done using it, always wash it with mild dish soap and warm water and dry it before storing. Avoid the dishwasher the same as with other wooden materials!
Final Thoughts
With the right salad tongs in your kitchen, serving salads, meat, pastry, pasta, and other foods will no longer be a challenge.
When you invest in the salad tongs, you get an amazing utensil that's easy to use and that helps you toss, transfer, and serve like pros.
And, the good news is that salad tongs come in many different types, sizes, and models.
Therefore, you can make the most suitable choice for you easily. Always opt for the ones made from quality materials and those that are ergonomically designed and easy to use.
If you don't want to spend a small fortune, but still want a quality option, our budget pick would suit you ideally. On the other hand, if your budget isn't limited, our best pick has pretty stunning features to offer.
Happy tossing!