If you're one of those people for whom cooking isn't just a task, but a pleasure too, having a personalized cutting board is a must.
These cutting boards are engrained with a design that you've chosen- a name, a date, a logo, etc.
Personalized cutting boards come in various material options, including wood, plastic, bamboo, glass, and marble.
Designing your cutting board is quite an amazing experience- you participate in the making process and the result is something one-of-a-kind that no one else has.
The personalization factor of wooden cutting boards makes them the ideal way to cook in style and to add a unique touch to your home.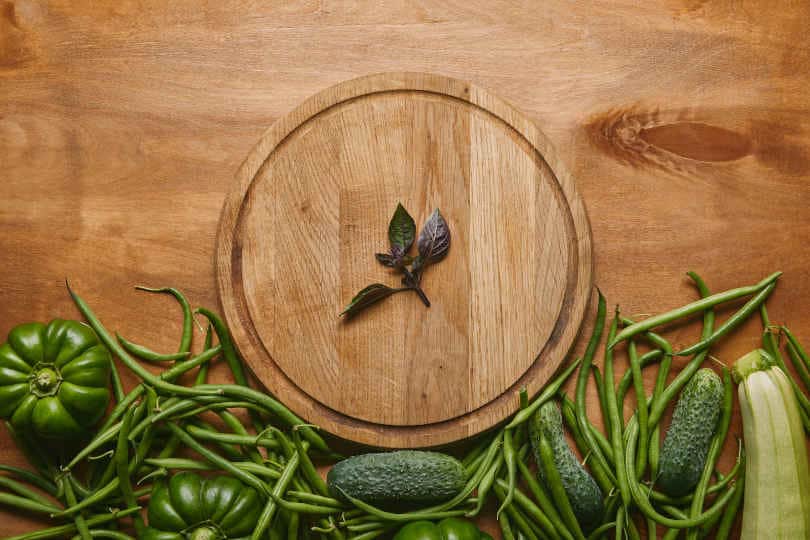 But, this amazing wooden board serves another purpose as well- a wonderful gift for special occasions like birthdays, weddings, anniversaries, and other important events in your life and that of your dearest ones.
If you think this is a product for you, don't miss out on our review of the 10 trending personalized cutting boards on Amazon!
Why Do I Need a Personalized Cutting Board?
If you love using cutting boards and looking for a unique gift for your dearest ones, a personalized cutting board is the best choice for you.
This is a cutting board that can be engraved with dates, names, quotes, logos, etc. to signify a special moment and to be used as décor in kitchens and dining rooms.
Most of these boards are multifunctional- their other side is perfectly suitable for chopping, slicing, dicing, cutting, etc., and will definitely ease food prep most stylishly.
You definitely need a personalized cutting board if you want to gift someone or yourself with a gift to remember forever!
How Do I Use a Personalized Cutting Board?
A personalized cutting board is used in the same way you would use any other wooden board, with the exception that one side is usually intended for the food prep and the other is only for display, i.e. the one with the engraving.
As with most wooden boards, it's better to wash it by hand and oil it regularly to promote its longevity and keep it shiny and smooth.
For example, you can display it in a visible area in your dining room or kitchen with the engrained side on the front and in this way add a personal touch to your space.
You can also take it out when friends come over and you want to serve them with some yummy snacks-display them worry-free on the board and place them on the table for everyone to enjoy.
Make sure you use one side only for decorative purposes and serving and the other one for knife usage. In this way, you make sure the decorative side doesn't get damaged over time.
What are the Benefits of Personalized Cutting Boards?
In terms of functionality and practicality, a custom wooden board has a lot of benefits to offer like self-healing, sturdiness, longevity, and easy maintenance.
But, in terms of decorative advantages, although wood by itself is beautiful, warm, and attractive, when it's personalized, i.e. laser-engraved with a date or a quote, it has a special touch of uniqueness.
Hence, this is a one-of-a-kind piece that's made according to your unique wishes and there's no other with the same engraving.
Another great factor is their affordable price- although you may think that a customized board may damage your budget, there are a lot of inexpensive, yet versatile and quality personalization options like the ones we presented above.
How to Choose a Good Personalized Cutting Board?
To ensure your personalized cutting board lasts for a long period and looks beautiful and modern, choose a brand that uses laser engraving because it's precise and fast, as well as an efficient and versatile method.
Laser engraving can be done on almost any type of wood; still, the success of the engraving depends on several factors, like the strength and the thickness of the board.
This is why the best woods for laser engraving are maple, birch, aider, walnut, and bamboo.
How to Take Care of Personalized Cutting Wooden Board?
No matter if it's engrained or not, a wooden cutting board should be sealed using mineral oil, olive oil or beeswax to prevent bad bacteria from penetrating it.
Always wash it by hand after each use and never fully submerge it in water or leave it to soak or in the dishwasher.
Here are some other awesome tips to keep your customized cutting board safe and clean:
Remove stains using 2 tbsp of baking soda, a tbsp of salt, and 3 tbsp of hot water
Spray it with vinegar and then leave it for a while before you wipe it away using a clean cloth
Dampen it slightly with warm water and sprinkle it with coarse salt and then use a cut lemon's flat side to rub the salt through it. Brush it out
Personalized Cutting Boards Review
1. Qualtry Personalized Wood Cutting Board
Highlighted Features
Great value for money
Numerous design options
Ready within a day for shipment
Perfect last-minute gift
Decorative & functional
Sturdy
The wooden personalized cutting board by Qualtry is made to last. It's constructed with high-quality, thick, and durable restaurant-grade bamboo.
Thanks to the unique laser engraving process, this board matches your specific instructions and they ship it within a day.
It, therefore, makes an excellent last-minute gift for a variety of special moments. Before order, you just choose your favorite type of design and then click 'customize now'.
You can select from 19 patterns to match a variety of kitchen styles.
It's not just the ideal serving tray, but a great cutting board- use the bottom side for work and the engrained one for décor.
Customers loved this cutting board the most for its durability, excellent craftsmanship, and value for money.
2. Brew City Engraving's Custom Walnut Cutting Board
Highlighted Features
Affordable
Different customizing options
Made from US & Canadian walnut
Pre-oiled
Easy to maintain
This L size cutting board comes with the ideal cutting surface for almost every type of kitchen. It's carefully constructed from wonderful and quality dark walnut from US and Canadian origin.
The wood is easy to maintain and it's an awesome choice as a gift for new homes, graduation, birthday, weddings, etc.
The manufacturer offers a 'customize now' option, i.e. you can personalize it yourself online.
The manufacturer then uses your instructions and wishes to match the design as much as possible. You'll have the special design delivered at your doorstep-whether it's a logo, crest or something else.
All of their walnut boards are pre-oiled with mineral oil- if you don't want it oiled, message them in advance.
At checkout, the company offers an option to pick some of their amazing gift wraps available in three colors- the metallic colorful bubble material comes with a bow and a note to write on.
3. Personalization Lab's Custom Cutting Board
Highlighted Features
12 design options
2 sizes
Made from quality bamboo
Easy to customize
Multifunctional
This wonderful customizable cutting board comes with 12 design options and 2 sizes.
It's made from bamboo and it's a suitable gift for weddings, anniversaries, birthdays, and other significant moments.
To choose your desired design, you just click the 'customize now' option and follow the directions.
The board is multifunctional-you can display it in your favorite kitchen spot or use it to prep delicious meals- it always provides a one-of-a-kind touch to every space.
The engraving available is done with high precision. You get a board with excellent material and a 100 percent satisfaction guarantee- if you're not satisfied with the product, they will happily assist you to replace it or fix the problem.
4. Be Burgundy Personalized Cutting Board
Highlighted Features
Sturdy
Made of bamboo

Wedding & Housewarming color

Available in different designs & sizes

Laser engraved
If you're looking for an affordable and quality customizable cutting board, this one is a great choice. It's available in 3 sizes and 11 designs.
The brand specializes in personalized cutting boards that make great gifts.
The board is made from quality bamboo and has a rich chocolate hue- when it's seasoned; it has a beautiful dark brown shade which makes it an amazing home décor piece, but also a functional board for food prep.
You can decorate it according to your needs and use it as a unique presentation element for food.
You can shop without a worry on your mind because it's a great value for money.
Customers loved the board the most for its sturdiness and craftsmanship.
5. Naked Wood Works Personalized Wooden Cutting Board
Highlighted Features
Sturdy
Great value for money
One side for slicing, other for décor
3 sizes
Wrapped & packed neatly
Comes with a stand
If you want the most unique wedding or anniversary gift for your dearest ones, this is an amazing inexpensive option.
It's made of walnut or maple wood and pre-oiled with food-safe oil for maximum strength and longevity.
One side is intended for food prep and the other for décor. You can choose between three different sizes-large, standard, and small.
And, you can also choose the engraving you want prior to checkout. You can input things like first and last names, special dates, etc.
It's really great that the manufacturer wraps the boards in thick and quality wrapping paper and places them in a protective box before shipment.
Interestingly, this board comes with its stand- they fit together nicely and allow you to easily display it in your kitchen.
6. Lara Laser Works Personalized Cutting Board
Highlighted Features
Laser-cut
10 different sizes & designs
Versatile
Inexpensive
Sturdy
Practical & decorative
This affordable customizable cutting board can be the best gift-it's ready in 2 days with laser-engraved names, quotes or dates.
You can choose your favorite between 10 different designs and sizes.
If you purchase this product, you can use it as a signboard, a kitchen sign or for beautifying your kitchen or as a serving platter.
To ensure it preserves its optimal form and shine, wash it by hand only, never in the dishwasher.
Customers praised this board the most for being strong, sturdy, and giftable. It will definitely add a cool touch to every kitchen and home without spending too much.
7. Personalized Bamboo Cutting Board by Picnic at Ascot
Highlighted Features
Organically grown bamboo
Comes with 3 ceramic bowls & bamboo spoons
Indentations for no juice slippage
Strong rubber feet
Rounded corners
For more than 25 years, this brand has been designing and manufacturing a long list of premium bamboo cutting boards.
Their bamboo is organically grown and this board comes with 3 ceramic bowls for serving and bamboo spoons.
There are indentations around the edges to ensure juices don't slip on the surface, as well as three larger indentations for the ceramic bowls to fit into.
This can be an amazing surprise for your family and friends and a very stylish way to host guests at home with appetizers and cheese.
We love the rubber strong feet underneath which ensure the board stays in place when you're working on it.
You'll also appreciate the gracefully rounded corners that reduce the risk of unwanted injuries.
8. Blue Ridge Mountain Gifts Personalized Cutting Board
Highlighted Features
3 wood types
3 sizes
Versatile-décor & kitchen use
Dozens of design options
Neatly packed
This brand offers customizable cutting boards from three different types of real wood, including cherry, maple, and walnut.
You can also choose between sizes and designs. You can choose between 3 sizes-small, standard, and large.
The dozens of designs they offer make things easier and give you great ideas to easily choose the best gift.
You can also buy it for yourself and use it for chopping, slicing, and dicing on one side and the other side for decor.
The manufacturer engraves the design with a laser and when it's dried, it's sanded with a random orbital sander to optimize the smoothness. Quality control then double checks it before they wrap it in bubble foil and pack it for shipment.
9. Amazing Items Personalized Bamboo Cutting Board
Highlighted Features
Functional & stylish
Self-healing wood
Available in various designs & sizes
Sturdy
Amaze your guests at your next get-together or add some wonderful decor to your kitchen or dining room with this board.
Whether you're slicing or presenting food, it's there for you. You just click on the 'customize now' button and choose your desired design.
It's made with premium bamboo and since it's 100 percent natural, every piece is unique for itself.
You can pick your favorite from 9 stunning designs and 3 sizes. One side is intended for decor and the other for effortless food prep.
The manufacturer sends the product in 2 business days and also offers a free return option for a full refund in case of dissatisfaction. The board is engraved with a laser and you can add a special date like the birthday or the anniversary.
We also love this product because bamboo is renewable and eco-friendly.
10. Straga Products Custom Cutting Board
Highlighted Features
Sturdy
Inexpensive
3 wood options
Wonderful design choices
Side handles
Rounded edges
This inexpensive custom board comes in three wood options-maple, walnut or sapele.
The chopping blocks are thick and have side handles for easy handling and comfy grip.
For sure, it makes an awesome gift for relatives or friends or your special one.
The engraving is done with a laser and you can choose between several designs. The board is finished with the Straga Cutting Board Butter for optimal protection and longevity.
We appreciate the well-thought-out indentations on the board that ensure no liquid spills out, as well as the rounded edges to maximize safety.
Customers praised this board the most for its packaging, craftsmanship, and sturdiness.
Final Thoughts
Having a wooden board is awesome and having an engrained wooden board is even more amazing thanks to the personalization and unique gift factors.
Whether it's for a friend or a family member for a special moment in their life like an anniversary, wedding, birthday, etc. a wooden board that's custom-made just for them will rarely go unnoticed.
Plus, it's one of the most versatile kitchen appliances ever- one side is used for décor and will always be there to remind you of the significant moment and the other side for all the chopping, dicing, slicing, and cutting while prepping meals.
With certainty, it makes a great serving tray when you have friends over and want to display snacks, cheese, and more in a stylish and practical way.
Knowing how wonderful and demanding custom cutting boards are, we decided to make the shopping easier for you by making a list of the 10 personalized cutting boards currently available on Amazon.
For shoppers not limited in terms of budget, our best pick will definitely leave an impression.
However, if you don't plan on spending too much, yet you're looking for something beautiful for your home or a gift for a dear person, we warmly recommend you to go with our budget pick.
Happy shopping!