For a deep lemony flavor of meals, there's rarely something that can beat lemon zest. Zest is the colored part of the peel without the white pith underneath it.
The benefits of using zest lemon are numerous-they don't just make a great addition either cooked or raw in terms of flavor (it's a combo of citrus and floral notes), but in terms of better health too.
We use it in savory and sweet dishes and it's rich in crucial nutrients like limonene and rutin.
But, how to extract the lemon zest ideally and get the most of it?-Sure, you can use a grater, but when you use the lemon zester tool, it will all become so much better.
It's the optimal way to get the most zest from lemons and other citruses.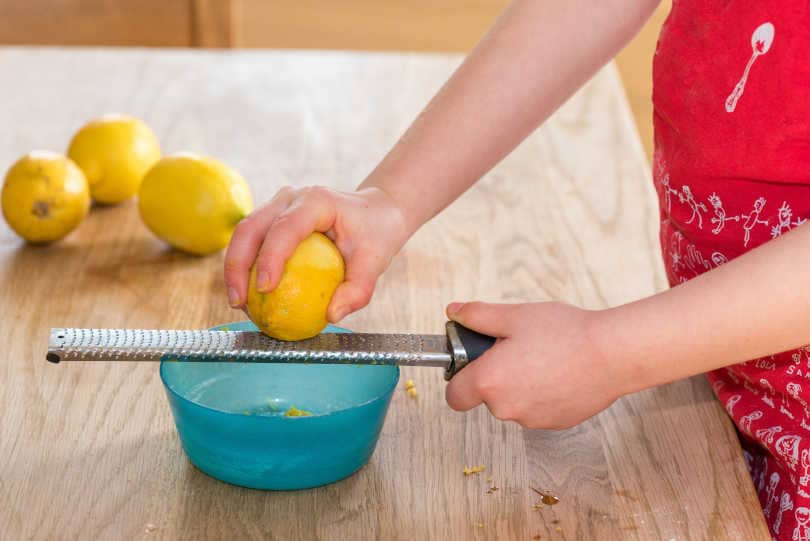 Whether it's for decoration or dishes, having this tool eases zesting and makes desserts, pies and seafood taste like heaven.
To make an easier decision and learn more about why this utensil is so important, check out the 10 best lemon zesters available.
What is a Lemon Zester?
A lemon zester is a common kitchen utensil that helps get the zest from lemons and other citruses easily and fast.
Approximately, it's a tool that's 4 inches long, has a handle and a curvy metal end and its top has numerous round holes whose rims are sharp. A lot of the models we presented above feature a bigger or a smaller cutting surface.
Most of them also have a hanging loop on the top of the handle for easy storage and access.
The utensil is constructed using premium stainless steel while the handle may be extra padded with a material such as silicone to ensure maximum comfort.
How to use a Lemon Zester?
To do its job, the zester is pressed using moderate force against the fruit or other type of food and drawn across it. The sharp rims are what separate the zest from the bitter pitch underneath.
The zest is cut into ribbons and one comes out of each hole. To begin using it, you hold the lemon or orange in one hand and the tool in another.
You begin at the top of the fruit and press the blades into the skin and moving them across it and rotate the fruit to get all of the zest possible.
Some models are also graters, not just zesters- if they have a non-slip section at the blade's bottom, you can press it down onto the surface and grate cheese, chocolate, or garlic directly on top of a bowl or into the food you want it to go.
Zesting citruses & other fruits
First, you wash the fruit well and dry it.
With minimal pressure and holding the handle well with the dominant hand, draw the fruit down on the sharp side.
You'll begin to get thin and curly, long strips. With regular practice, they'll become perfect.
Zesting chocolate or hard cheese
Rub the cheese in a down and upward movement and apply a slightly bigger pressure, but not too much-this can break the handle or injure your hand!
For chocolate shavings, run the chocolate over the zester-the blades will do the rest for you.
Which Factors to Consider First?
Every once in a while, your meals will require quality zest, and prepping ingredients in traditional ways may take too long.
In these cases, it's good to have a zester to your rescue.
But, to be able to make the best purchase possible that will suit your needs and preferences, you need to consider the decisive factors.
Check out some of the most important below.
Is it quality?
The quality of the zester you choose will determine your zesting and grating experience. So, make sure you avoid some bad deals or hyped-up products.
Checking its features is a quick way to find out if the product is worthy.
First, you need to check out the material-most manufacturers use stainless steel, but the type of stainless steel plays the most important role. Usually, the quality will go hand in hand with the cost of the zester.
Opt for the ones whose surfaces are described as 'rust-proof or ones that are additionally coated.
Is it practical & versatile?
A zester should be versatile tool-when cooking, different meals will have zest as an ingredient and it may be a struggle to have a zesting tool that limits you in terms of ingredients.
So, it's good to know in advance all of the things your zester can do. The best way to find out is to determine what you're going to use your utensil for.
If you're just looking for it to add garnish or flavor to drinks, opt for the one that will do this the best.
On the other hand, if you want a zester that can also help you grate cheese, chocolate, garlic, and more, go with one that's able to do these things.
Is the utensil's blade sharp enough?
The quality zester will have a sturdy and durable razor-sharp stainless steel blade that's rustproof and lasts long.
Another good sign of quality is a tool with resistant blades and the capacity to shear harder foods without going blunt.
Still, not every type of stainless steel will be able to zest all the things you want-this is why the manufacturer usually lists the things you can use the zester with.
To lower the risk of the utensil being damaged, make sure you don't grate or zest things it's not intended for!
Is the zesting surface enough for me?
Not all zesters have the same amount of zesting surface, so you should also take into account this factor.
Know that the bigger the surface is, the more zest you'll get faster.
Is the handle good?
A quality handle will contribute to the tool's durability, but there are also other crucial features it should offer to be worth it.
If you don't pay attention to the handle you choose, you're exposing your hands and fingers to potential injuries.
A zester's handle should be comfy, non-slippery, ergonomic, and easy to maneuver.
These properties make sure you keep up with your grip while working without causing pressure in the hands, even when working for a longer period.
What are the Different types of Zest Models Available?
As you could see from our review on the top products currently, the zesters' styles vary from person to person, so companies design them differently to help meet everyone's needs.
This is why we need to pay attention to what we're going to use our zester for the most and choose accordingly.
For example, if your goal is to also shred hard cheese like parmesan and chocolate for desserts, opt for the zester that offers this feature and has a strong and durable handle.
The curved zesters with more blades tend to be the best option for harder foods.
If you don't plan on using it too much for other foods but mostly for citruses, a regular zester will do you just fine.
When to Clean my Lemon Zester?
Here at Knife Verge, we're constantly emphasizing proper maintenance of products.
This is crucial if we want the tools to last. Moreover, this is why we always dedicate a section in our reviews to proper cleaning of your utensils.
For your zester, after you're done using it, you can put it in the dishwasher if it's safe to do so or by hand. Use warm water and mild soap. You can remove the stuck zest with a kitchen brush or scouring pad.
Then, rinse it under running water and tap-dry it with a clean towel. If the tool doesn't have a protective cover, feel free to hang it in your kitchen if it has a loop.
Otherwise, you can keep it in the drawer.
Lemon Zester Reviews
1. Microplane Premium Lemon Zester
Highlighted Features
Soft-touch handle
Multiple handle color choices
Photo-etched
Surgical grade stainless steel
Versatile
The premium zester offers a soft touch handle rather than hard plastic and allows you to choose between various handle colors.
It enables sharp and fast effective zesting. As it's photo-etched, its point is much finer and the performance is optimized.
The surgical grade stainless steel blade features small teeth that peel only the rind, without any of the bitter white pith. The blade doesn't rust and keeps its sharpness for long.
Thanks to its magnetism, you can hang the zester onto your magnetic knife strip. And, it won't damage your countertops thanks to its non-scratch end tabs.
2. Deiss Pro Citrus Lemon Zester
Highlighted Features
Razor-sharp blade
Made from durable stainless steel
Easy to use
Versatile
Lifetime warranty
Comfy and built to last, this zester features a razor-sharp stainless steel blade that doesn't rust or slip.
Thanks to the curved sides, it allows bigger force application when necessary.
You'll finally say goodbye to the bitter pith taste and amaze your loved ones with restaurant-like dishes. In addition to using it with citruses, it's also great for hard cheese. It's easy to use and the handle is comfy and ergonomic.
What's more, the loop on the handle ensures easy storage-you can hang it on your kitchen utensil rack.
If you choose this affordable zester, you get a lifetime warranty and a Healthy Cooking Tips e-book for free.
3. Jofuyu Store Lemon Zester & Cheese Grater
Highlighted Features
Long & comfy handle
Made of sturdy stainless steel
Versatile
Doesn't rust
Comes with a protective cover & cleaning brush
This lemon zester is made using premium 18/8 stainless steel which doesn't rust and it's razor-sharp. The polished blade is 10.5 inches long and it's square, doesn't clog, and doesn't dull.
It's not hard to clean it and the large and comfy silicone handle enables easy and comfy maneuvers.
The body of the zester is tough and sturdy. Thanks to the hanging hole on the top, you can easily save space in the kitchen and keep it at your hand's reach.
As it's been etched, the blade is balanced and durable. In the package, you don't just get the grater, but a protective cover and a cleaning brush as well.
4. Easy Life Stainless Steel Lemon Zester
Highlighted Features
Made from etched stainless steel
Award-winning design
Highly sharp holes
Comfy handle
Doesn't corrode
This lemon zester comes with an award-winning design and it features sharp holes in the stainless steel head that enable easy zesting of citruses.
It's a utensil that's so simple -you just run it from the top to the bottom to remove the rich zest. Thanks to the unique rounded handle, you won't feel any tiredness or cramps in your hands.
The hanging loop on the top of the handle is also very practical and eases the storage and doesn't require too much free space.
The stainless steel blade has been etched to ensure years of optimal usage and no corrosion.
5. New Spring Lemon Zester
Highlighted Features
Practical design
Made from food-safe & strong stainless steel
Non-slip, ergonomic handle
Saves space
Dishwasher-safe
This zester is easy to use and constructed of food-grade strong stainless steel and non-slip silicone. It's razor-sharp and resistant to blunting.
It's great for lemons, but for numerous other foods, including limes, parmesan, coconut, orange, ginger, garlic, and more.
We love the fact that it can be washed by hand or in the dishwasher. The non-slip silicone-padded yellow handle is comfy and easy on the hands and won't cause tiredness even after using it for a while.
Plus, it offers a hanging loop for easy storage and access.
It also comes with a protective cover and a cleaning brush.
6. Natome Upgraded Lemon Zester & Grater
Highlighted Features
Affordable
Sharp & long zesting surface
Versatile
Comfy & silicone-padded handle
Easy to clean
Easy to store
This upgraded zester and grater comes with a hard and impressive stainless steel surface (9.8 by 1.7 inches).
It's therefore long enough to work without any discomfort. The innovation is the newly added 10 secondary solder joints which lower the risk of the blade falling off from long-term use.
It's good to know that the zester is made without any BPA and that you can rinse it manually or in the dishwasher. The handle is comfy, doesn't slip, and it's padded with silicone to ensure maximum satisfaction while working.
It has a hanging loop on the top so storage is no problem with this zester.
The utensil comes with anti-cut finger covers that prevent the fingers from getting scratched while working. You also get a protective cover and a cleaning brush-definitely, the whole package!
7. Orblue Store Pro Citrus Zester
Highlighted Features
Durable
Made of quality material
Easy to hold
Easy to use
Easy to maintain
Comfy and built to last, this zester is highly sharp and made from non-rusting stainless steel.
The handle is non-slippery and comes with a hanging loop for optimal storage and easy access. The curved sides make it rigid and enable additional force when it's needed.
In addition to using it to get the zest from citrus fruits, you can also use it with harder cheeses like parmesan, chocolate or garlic.
The tool isn't just easy and simple to use, but easy to maintain too-you can wash it by hand or in the dishwasher.
You can use a kitchen brush to clean thoroughly its underside or other harder-to-reach areas. This zester comes with a plastic cover sheet to ensure optimal safety.
And, you can shop without a worry on your mind- it comes with a lifetime warranty!
8. Yibidinay Citrus Zester
Highlighted Features
Inexpensive
Easy to hold
Sturdy
Versatile
Easy to clean
This is a robust and resilient zester and grater with a sharp stainless steel blade that doesn't rust.
The handle is ergonomic and non-slippery thanks to being extra padded.
The curved sides optimize the rigidness and allow proper usage and additional pressure when necessary.
The metal teeth don't clog like they tend to do in other models and thus, it's so simple to use, you can just shower it with running water and soap.
And, thanks to this tool, grating hard cheese has never been easier-you'll have a fresh and delightful topping for your hot pasta.
The company believes in its products and they, therefore, offer a 100 percent satisfaction guarantee.
9. Haozan Multipurpose Lemon Zester & Grater
Highlighted Features
BPA-free
Made from 18/8 premium stainless steel
Wider surface
Comfy & non-slip handle
Versatile
This 2-in-1 utensil comes with a wider cutting surface made from quality stainless steel. Its handle is also amazing-comfy and padded with silicone for comfort and safety.
Since there's a non-slip foot part on the bottom of the blade, you can use it to grate directly over the desired food.
It's easy to use and it can be hanged thanks to the hanging loop on the top of the handle or in the drawer. Feel free to wash it after use by hand or in the dishwasher.
It also comes with a protective cover, so you needn't worry about accidents or damage to the utensil.
10. OXO Good Grips Zester & Grater
Highlighted Features
Easy to hold
Easy to use
Versatile
Dishwasher-safe
Comfy handle
This OXO zester and grater is ideal for citruses, chocolate, garlic, and more. Thanks to the sharp and etched stainless steel, the zesting is effortless and efficient.
The cover which is included will help keep it protected when it's not being used. The handle is padded for extra comfort and it's ergonomic and non-slippery.
When you need to clean it, you can do it in the dishwasher on the top rack or by hand.
In terms of storage, you can easily hang it on your wall rack- it has a hole on the top of the handle.
Final Thoughts
Zest is a wonderful, important detail to the perfect meals and drinks.
It's something so small, yet so important. However, to get the most of it without the bitter pith, we need the lemon zester tool.
We, therefore, presented the 10 best lemon zesters, including different types, so that everyone is able to find the best one for them.
Thanks to this information and your preferences, finding the perfect tool will be easy.
If you don't have a budget limit, you'll love our budget pick which is affordable, practical, and versatile.
Those who don't mind spending a bit more on a lemon zester should know that our best pick has all you could imagine in a zester!