If you're considering an all-purpose utensil for your kitchen, the Chinese cleaver is a must.
Each of its parts is put to use and it's a versatile tool that helps you slice, chop, dice or cut.
The sharper edge is intended for cutting and the blunter one can be used for pounding and tenderizing meat.
If you turn it on the side, it becomes an awesome tool to smash some ginger or garlic. Or, use it as a food transfer tray -from the cutting board to the wok.
Let's not forget the flat end of the handle which is a great replacement for a pestle. This tool won't just ease your food prep in your home or professional kitchen, but it will also improve your experience-the dream of every food enthusiast.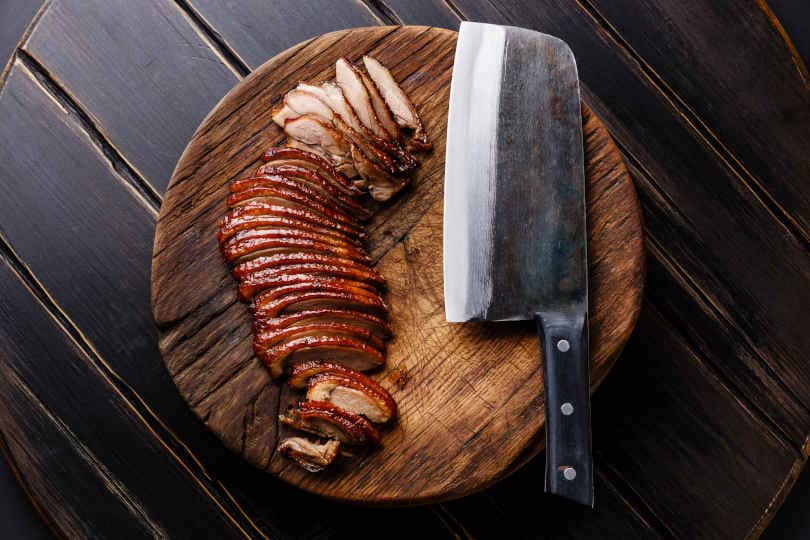 But, nowadays, considering the abundance of Chinese cleavers sold in shops and online, it can become challenging to make the best purchase.
Luckily for all of our trusted readers, we here at Knife Verge listen to your needs and write about them-we made a collection of the top Chinese cleavers available on Amazon.
What is Chinese Cleaver?
The Chuka Bocho or the Chinese Cleaver originates from China and was perfected by Japanese craftsmen in the 20th century.
They're easy to recognize with their big rectangular blades and strong handles.
They can be found in numerous weights and thickness levels. The thinner ones are ideal for fine slicing while the thicker ones are useful for fish or poultry.
No matter which one you choose, they're one of the most versatile all-purpose knives that become your go-to tools for chopping, mincing, mashing, dicing, scraping, crushing, and more.
Why Do I Need a Chinese Cleaver?
The reasons for getting your Chinese cleaver are numerous. Here are some of the best ones:
Finer Cutting
This knife is essentially a combination of all the advantages of a chef's knife with those of regular cleavers. They're sharp and thin and have slightly extra weight to enable finer cutting.
Thanks to this, it will do the most cutting with minimal human effort.
You just set the edge against the skin of a fruit or a veggie and push a bit for smooth cutting or slicing.
Longevity
Chinese cleavers are strong, but not overly weighty.
This is achieved thanks to the finest steel used in their making. Their blades tend to hold the edge long and because of the full-tang construction, they don't break or split.
Multifaceted
Whether it's boneless meat you need to tackle or mash some garlic and dice some herbs, this cleaver has your back.
You needn't switch between knives and that's an awesome benefit that saves you time and effort. What's more, you can even use its flat edge as a spatula.
Which Factors to Consider before Purchase?
Blade material
Traditionally, the blades of cleavers were made using carbon steel; however, this material is prone to rust and tends to add a metallic taste to foods.
This is why it's best to opt for a cleaver which is a combo of stainless steel and carbon or total stainless steel.
Handle
Choose a cleaver that will feel solid when you have it in the hands, but not too heavy. The hands shouldn't feel strained or pressured.
On the contrary, with the proper ergonomic handle, a knife will fit in your hand optimally, no matter if you're left- or right-handed user.
Also, choose a handle that has a sturdy, durable, and pleasant-on-the-hands material. Most commonly, manufacturers use Pakkawood, Rosewood, or some strong plastic.
How to Take Care of my Chinese Cleaver?
When it comes to the cleaning and storing of your Chinese cleaver, the pivotal thing you should focus on is keeping the blade safe. This is why a knife block or a sheath is useful.
And, to keep it clean and razor-sharp, wash it by hand using warm and soapy water and always dry it thoroughly.
Although rust-proof, stainless steel isn't 100 % resistant to it! And, don't forget to do the washing right after using the blade, especially after working with acidic ingredients.
Should I Sharpen my Chinese Cleaver?
If you have a Chinese cleaver, it's important to sharpen it regularly. A dull knife requires more pressure and a higher risk of accidents.
To sharpen it, opt for sharpening steel (honing steel) which realigns the edge without removing metal.
You hold it vertically and slide the blade along it, moving away from you. Repeat 5 to 10 times and you're good to go.
How to Properly Use a Chinese Cleaver?
Although you needn't be an expert to use a Chinese cleaver, there are some things you should know before you start using it.
The first thing is how to hold the cleaver properly.
Hold the handle close to the blade and place the thumb on one side of the handle and curl the rest of the fingers over the other handle side.
There's also another type of grip you should know.
Namely, hold the knife where it meets the blade, but with the thumb on one side of the blade and index finger on the other.
Ensure your hold is balanced on both sides and that you're distributing the pressure mostly between the thumb and index finger.
When using it to crush ginger or garlic, lay the cleaver flat with the wide side over the food.
Use the free hand to hit the top side of the blade to begin crushing. Make sure you're hitting near the blunt part, not the sharp one!
What are the Uses of the Chinese Cleaver?
Its tall blade makes this knife easily guidable with the freehand knuckles when you're tap chopping, pull cutting or push cutting.
So, bigger fruits and veggies such as cabbage aren't a challenge for this tool. You can use its heel corner to take out blemishes from fruits and veggies too.
In Chinese homes and professional kitchens, this is the knife for everything, from slicing cloves of garlic to joint chickens.
It can also be a useful tool for filleting and boning and when held at both sides and rocked left and right, it can help you crush a pile of herbs for your soups and stews.
Although you may have been using a variety of knives for various food prep purposes, discovering this multifaceted cleaver is a relieving knowledge.
Chinese Cleaver Review
1. Tuo 7-Inch Chinese Cleaver
Highlighted Features
Full-tang cleaver
Tempered for optimal strength & performance
Made from high-carbon steel
Pakkawood ergonomic handle
Versatile
This 7-inch Chinese cleaver features a highly sharp and full tang high-carbon steel blade from Germany. Its edge is hand polished at 18 degrees at each side. It's also tempered and made resistant to stains.
The Pakkawood handle is amazing-it doesn't just look luxurious and beautiful, but it also has gentle curviness for optimal comfort and functionality.
It won't cause any tiredness in the hands and it will keep its sturdiness for a long period.
It's a multi-faceted knife that you can use to chop, slice, dice, mincemeat, veggies, fruits, plants, etc.
Customers loved this cleaver the most for being easy to hold, ergonomic, and versatile.
2. Imarku 7-Inch Cleaver Knife
Highlighted Features
Multi-purpose
Rockwell hardness
Blade of durable German steel
Comfy Pakkawood handle
Money-back guarantee
This multi-purpose Chinese cleaver is ideal for mincing, slicing, chopping, and dicing. It offers Rockwell 60-62 hardness and its sharp edge ensures optimal performance and longevity.
The blade is made of German steel that's durable and resistant to rust.
We really love the ergonomic Pakkawood handle which fits perfectly in the hands and doesn't slip or cause discomfort.
If you choose this cleaver, you get a 100 percent satisfaction or a money-back guarantee, which enables you to give it a go without any risks.
Customers described it the most as easy to use, easy to hold, and ergonomic. For proper care and longevity, wash it by hand, avoid the dishwasher!
3. Winco 8-Inch Chinese Cleaver
Highlighted Features
Good value for money
Blade doesn't corrode
Comfy handle
Dishwasher-safe
This 8-inch heavy-duty Chinese cleaver is made with corrosion-resistant stainless steel and has a beautiful triple-riveted wooden handle.
We appreciate this model not just because of its versatility and sharpness, but also for its ease of maintenance-this knife is dishwasher-safe.
The blade is razor-sharp, strong, and will maintain its sharpness and edge for long. Also, we love how comfy the blade looks like. It's also smooth and good on the hands.
Customers who bought it gave it the most kudos for being easy to clean, offering good value for money, and being easy to hold.
4. Henckels Twin Signature Chinese Cleaver
Highlighted Features
Made in one piece
Stamped for lighter weight distribution
Ice-hardened blade
Dishwasher-safe
This premium Chinese cleaver is made in Germany using a special formula of high-carbon stainless steel. It's made as one piece and the blade is stamped for lighter weight and better comfort.
The blade has been ice-hardened and thus, superiorly resilient. The ergonomic polymer handle is ideally bonded to the full tang and it's curved to ensure good grip and extra comfort while working.
It's suitable for both left- and right-handed users. It's a useful cleaver for diagonal cuts, but not for bone breakage.
The edge angle is 15 degrees per side. Although dishwasher-safe, the manufacturer recommends hand washing for optimal durability.
Customers gave the most stars for its durability, versatility, and making a great gift idea for cook enthusiasts.
5. Shi Ba Zi Zuo 9-Inch Chinese Cleaver
Highlighted Features
Full-tang
Rosewood handle
Versatile
Razor-sharp blade
Durable
This full-tang cleaver offers 3-layer premium high-carbon stainless steel and it's durable, sharp, and hard. It's tempered to be corrosion-free, resistant, and tough.
The vacuum heat treatment optimizes the mechanical properties of the steel while the non-stick coating prevents food from sticking onto the blade.
The rosewood handle is amazing-ergonomic, anti-slip, and firm enough for steady and comfy maneuvers.
The whole cleaver is balanced and easy to control. Without a doubt, the gift box package makes it a great gift idea too but also keeps the cleaver safe transport. The box makes a great storage box as well.
6. Shi Ba Zi Zuo 6.7-Inch Chinese Cleaver
Highlighted Features
Strong & thick blade
Finger guard
Stable & balanced weight
Easy to hold
This heavy-duty Chinese cleaver can be your go-to knife for slicing, chopping, mincing, and more.
The company makes its own steel and each of their knives ensures premium quality. Also, it has an extended finger guard for optimal safety and enjoyment while prepping food.
The cleaver is full-tang construction and the handle is triple-riveted, doesn't slip, and it's extra comfy. It's rosewood. Thanks to the wide blade, you can use it as a transfer tool for food from board to pan.
You can also use it to mash garlic with it.
Thanks to the additional blade coating, the food won't stick on the blade.
7. Aroma House 7-Inch Chinese Cleaver
Highlighted Features
Great value for money
Extra-sharp German steel
Comfy and beautiful Pakkawood handle
Optimized cutting angle
Lifetime warranty
Looking for German quality Chinese cleaver?-If yes, this one could be the best choice for you.
It's constructed using high-carbon stainless steel and it's extremely hard. Thanks to the chromium, vanadium, and molybdenum, the knife is further made stronger, harder, and resistant to rust.
Moreover, its double-sided blade will retain its edge for a long time.
The ergonomic Pakkawood handle is full-tang and the grip and weight are optimized fully. Plus, it doesn't slip, no matter if your hands are wet or not.
It's a multifunctional cleaver that can be used for cleaving and deboning meat, for opening coconuts, chopping and dicing veggies, and more.
8. Kyoku Chinese Cleaver from the Samurai Series
Highlighted Features
Sharp blade & hollow edge design
Hard & flexible blade
Ergonomic pakkawood handle
Full-tang
This cleaver is constructed using Japanese high-carbon steel which is ultra-sharp and cryogenically treated for best performance and amazing edge retention possible.
It comes packed in a nice and strong case and also has blade sheath protective cover.
The ergonomic and durable handle is triple-riveted and made of Pakkawood. It has been treated for resistance to cold, moisture, and heat and it's emphasized with a mosaic pin.
Since they believe in what they create, the company gives a lifetime warranty for this knife.
Customers who bought it gave it the most positive feedback for the cleaver's versatility, material quality, and value for money.
9. Wusthof 7-Inch Forged Chinese Cleaver
Highlighted Features
Premium product
Versatile
Made from top-quality high-carbon steel
Tempered for additional strength
Comfy handle
This Chinese cleaver is forged from a single piece of alloyed, high-carbon, and tempered stainless steel for improved strength and sharpness.
It's constructed with precision edge tech which helps keep the sharpness for long and optimizes the cutting performance.
The attractive and ergonomic black handle is ideal for those that want control and comfort from their knives.
It's made using a seamless synthetic material. It's hygienic and triple-riveted for extra durability.
Thanks to the full bolster, you needn't worry about the fingers slipping or any other finger injuries.
Although it's on the higher end of the budget, it's an investment worth considering, especially if we take into account the renowned cutlery brand it's offered.
Final Thoughts
Even though you may have been used to several types of knives in the kitchen for different tasks, considering a Chinese cleaver may be an awesome decision.
The best Chinese cleaver will be your go-to tool for everything from chopping and dicing to slicing and transferring food from board to pan.
It's made of strong steel and comfy and durable handle materials and it can last for a lifetime when properly taken care of.
You can find models with reasonable prices, yet amazing quality and customer satisfaction.
Since it will be replacing most of your other knives, you save up on time and you don't need to wash a bunch of knives-you need to wash only one.
Indeed, this is a knife that can ease so many things for you, teach you a few, and make you fall in love with food prep all over again.
For those who don't want to spend too much, but want quality and comfy sharp Chinese cleaver, our budget pick is the ideal fit.
Those who don't mind spending a bit more for a premium cleaver, our best pick will amaze you!