Since you may have heard a lot of conflicting information on the debate for the best cutting board material, making a decision can be challenging.
However, a quality cutting board is a must for every kitchen and an essential element for safe and enjoyable chopping, cutting, kneading, etc.
Here at Knife Verge, we believe that there's no 'bad' solution when it comes to a cutting board's material- but each of them (wood, plastic, glass, etc.) has its pros and cons.
When we get to know them better, we can make an easier decision according to our preferences and needs.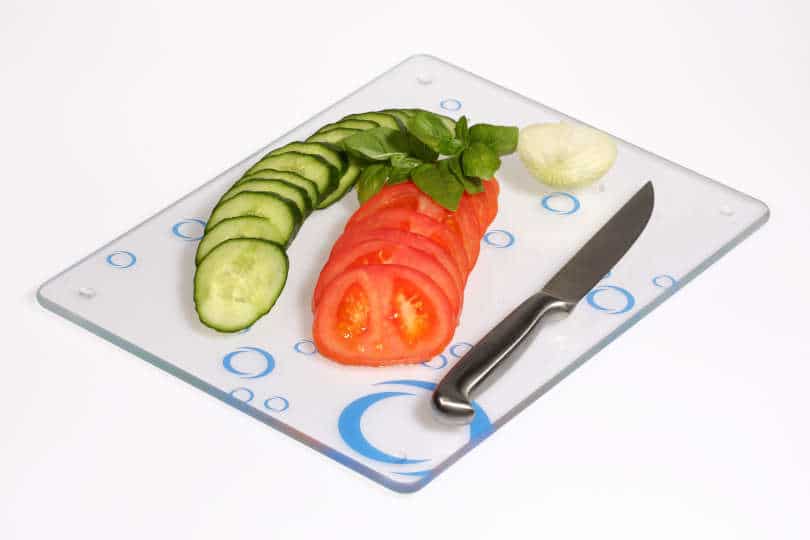 How to know if a glass cutting board is a suitable choice for you? If you want a neat, clean, and odor-free kitchen with an elegant touch to it, it can be an awesome solution.
Below, check out the glass cutting boards currently and how to choose a good one for you!
Let's go.
What is Tempered Glass?
Glass cutting boards are made from tempered glass- the difference between this type of glass and regular glass is their production.
Tempered one, which is how these cutting boards are made, is constructed by heating and then quickly cooling off the material. This results in a distinct structure.
Also, there's a difference in how these glass breaks- normally, glass breaks into big and uneven pieces whereas the tempered one shatters into smaller, equal pieces.
This minimizes the chance for sharp edges and makes glass safer in case of breakage. This glass is also shock- and scratch-resistant thanks to its heat treatment.
Is a Glass Cutting Board a Good Choice?
One thing's for sure- a cutting board in the kitchen is an indispensable tool- without it and without a suitable knife, how can food preparation be a quality one?
However, not all boards are made in the same way-some may look stylish and modern, yet cause immense havoc on your working surfaces and knives.
Others may seem hygienic but are actually the ideal environment for bad bacteria.
This is why you should choose a cutting board according to the tasks you do the most- for example, avoid the porous ones for raw meat and fish since they absorb bacteria.
Glass cutting boards are excellent for those looking for a non-porous board that's hygienic and easy to maintain- all of them are dishwasher-safe or can be cleaned with water and soap by hand.
Since they don't need to be oiled like the wooden ones, they have no additional upkeep costs.
And, you needn't worry about any potential damage on your knives- today; the tempered glass they're made of is adjusted to ensure low impact.
These boards are many professionals' first choice for a cutting board because they're light, thin, and compact.
Plus, many of them are versatile- you can use them for more than cutting and slicing. For example, they can be great cheese and cracker trays!
What are the Benefits of Glass Cutting Boards?
Non-porous
Unlike plastic or wooden cutting boards, glass ones don't allow water, bacteria, or other substances to pass through it.
So, there's a low risk of mold and bacterial growth!
Easy to maintain
A glass board can be washed in the dishwasher or in the sink, both are great for it.
It doesn't crack or scratch when water-treated since most of them have been treated for thermal shock.
Versatile
The glass cutting board is great for slicing, dicing, mincing, and other cooking-related tasks in the kitchen, but, it also has other functions to offer!
It makes an awesome serving tray for those relaxed weekend nights with your closest ones or a heat or condensation barrier.
Modern design
Glass cutting boards look and feel modern- they come in different shapes and sizes.
Moreover, a lot of them are transparent, which adds an elegant touch to your table or countertop.
Affordable
Unlike some cutting boards, for example, wooden bamboo ones which may be quite costly, these boards have a lower price, yet multiple advantages to offer.
Do Glass Cutting Boards have some Disadvantages?
Same as other board materials, glass ones aren't without drawbacks.
Some argue that they may be damaging to the knives' blades. Namely, as glass is hard, there's worry about the higher possibility of dulling our knives.
Plus, people who're sensitive to harsh noises may not find this cutting board a good option for them- the noise produced from the contact of the blade and the glass can be quite unpleasant.
Safety is another feature- many are concerned about the possibility of sliding, breakage, and injuries.
However, nowadays, almost 100 percent of these boards have rubber feet that ensure the board stays in place and doesn't cause hazards.
How to Clean Glass Cutting Board?
Since easy maintenance is one of the major and best benefits of glass cutting boards, keeping them clean is effortless and easy.
Being additionally strengthened, they won't get damaged by repeated water treatment.
This being said, you can either wash your board in the sink with water and soap or put it into the dishwasher.
Glass vs. Wooden Cutting Boards
Wood is, without doubt, one of the most beautiful materials in the world, and therefore, cutting board from quality wood such as acacia or maple, does have a high aesthetic attractiveness.
For a lot of cooks, this is the most important part of the kitchen and is often placed on display and ready to be used frequently.
In terms of cutting, wood is an amazing surface that doesn't dull knives and it also inhibits bacterial growth.
Renewable, non-porous, modern, strong, and attractive, there are definitely a lot of good reasons that make the wooden cutting board a smart choice.
But, they can be quite pricey and a lot of them are a bit more complicated in terms of upkeep- you may need to oil them occasionally and a lot of them will be ruined if put in the dishwasher!
On the other hand, glass cutting boards seem to be the leaders in the low-maintenance sector- they're dishwasher-safe and don't get ruined by water.
Plus, they don't require any demanding upkeep like it's the case with wooden boards and oiling.
These boards are the most hygienic and durable option. Plus, they're heat-resistant and make excellent trivets.
Glass Cutting Board Review
1. Surface Saver Vance Clear Cutting Board
Highlighted Features
Durable
Sturdy
Made from tempered glass
Non-slippery bottom
Versatile
Easy to maintain
Indeed, if you're looking for a long-lasting, sturdy, and impact-resistant glass cutting board, this 20×16 one could be the perfect match.
Thanks to the non-slippery bottom, you can chop and slice without worrying about injuries or slippage.
In addition to using it for rolling or cutting purposes, you can also use it as a trivet.
We really appreciate the fact that the board can be built-in on a countertop with a stainless steel frame which is sold separately.
On one side, the board is slightly patterned whereas the other (bottom) side is smooth.
The features that customers loved the most are the board's durability, strength, and ease of maintenance.
2. Clever Chef Glass Cutting Board
Highlighted Features
4 pieces in a set
Made from quality, impact-resistant glass
Functional & beautiful
Rubber feet
Easy-to-clean
This is an amazing set consisted of four rectangle-shaped glass cutting boards. The company is known for making the finest home and kitchen goods, including this set.
Their glass cutting boards are constructed from top quality, impact-resistant, and tempered glass.
Functional and beautiful, it's an excellent choice to add some elegance to your kitchen.
Plus, you needn't worry about slippage during usage- they're padded on the bottom side with rubber feet.
Cleaning them is effortless as they're made to be resistant to cracks and shattering.
Unlike plastic, bamboo, or wood, these glass boards are non-porous. Shop worry-free with the 100 percent satisfaction guarantee!
3. Farberware Glass Utility Cutting Board
Highlighted Features
Strong
Doesn't break
Resistant to stains
Doesn't absorb bad smells
Dishwasher-safe
This wonderful glass board is constructed from tempered glass resistant to breakage and stains,
It won't absorb any unpleasant odors as may be the case with other cutting board materials.
It features anti-slip rubber feet on the bottom that will keep it in place and ensure it doesn't slide while you're using it.
It also serves another purpose- it can be used as a heat-resistant surface. Just place it on the counter when trying to protect surfaces safe from heat, scratches, or condensation.
We love the fact that the board is dishwasher-safe and easy to maintain.
4. Counter Art Vintage Glass Cutting Board
Highlighted Features
Artistic visual design
Strong & durable
Non-slippery
Dishwasher-safe
If you're the kind of person who wants their kitchen to be unique, this is a wonderful choice of a cutting board.
It's made from strong tempered glass and features a one-of-a-kind artistic design on its cutting surface.
This being said, it's the ideal multipurpose board- you can use it to chop, cut, and slice, but also use it as a serving tray- it will amaze all your guests!
It can also be used as a trivet. The rubber feet on the bottom ensure the board stays in place and your countertop doesn't get scratched.
Since it's safe for the dishwasher, the maintenance is easy and effortless. Thanks to its inspiring design, you can display it in your kitchen or dining room!
5. Chop's Glass Cutting Board
Highlighted Features
Strong
Durable
Effortless maintenance
Versatile
Non-slippery
When you see this board, you realize that beauty lies in simplicity. Made from tempered glass, it won't break, stain, or get scratches.
It's one of the most hygienic cutting board materials because it's non-porous.
Each of the bottom corners of the board has rubber round feet to ensure the board attaches to the surface underneath and remains like that all the time.
This will further minimize unwanted accidents and maximize your experience.
It's also a good choice for a serving tray- for example, some cheese and nuts for a relaxed Friday night with some wine and good friends.
Durable, easy-to-clean, and easy-to-use, this is definitely a glass cutting board you shouldn't be missing out on!
6. Chef Captain Glass Cutting Board
Highlighted Features
Non-porous
Tempered glass
Easy to clean
Great gift idea
Durable
This glass cutting board is amazing for fruits and veggies. It's resistant to scratch, boasts a non-porous surface, and it will keep your countertops safe.
Made from tempered clear glass, the board is practically unbreakable. The surface is also resistant to impact, so it won't show tear and wear.
The upper surface intended for working is textured while the bottom one is smooth and features rubber feet for support.
To clean it and have it ready for the next task, you just need water and a bit of soap and you're good to go.
Thanks to its design, this glass board won't absorb unpleasant smells and stains.
For the customers who purchased it, its best features are its strength, easy maintenance, and longevity.
7. Light in the Dark Tempered Glass Cutting Board
Highlighted Features
Affordable
Durable
Easy to clean
Sturdy
Non-slippery
Versatile
Looking for a larger cutting board? This one can be an amazing solution- it's elegant and constructed of tempered glass. It boasts a 12 by 16-inch size.
Once you put it onto the countertop, the board doesn't move or slide thanks to the rubber feet on the bottom corners.
This board is so easy to maintain- the glass is resistant to odors and stains.
Plus, it's dishwasher-safe and very versatile- you can use it for so many other things than chopping and slicing.
For example, it's a great solution for a serving cheese plate, a stand for hot pots, or an elegant décor for your home parties.
Customers loved it the most for being easy to maintain, strong, and durable!
8. Murrey Home Glass Cutting Board 4-Pcs Set
Highlighted Features
Great value for money
Modern look
Easy to maintain
Non-porous
Hygienic
Made from tempered glass, this board has a non-porous surface that is hygienic, antibacterial, and antiseptic.
The glass is also resistant to impact and breakage. Being non-porous, you needn't worry about it absorbing unpleasant smells.
Moreover, the board can withstand temperatures up to 518 degrees F! So, it makes a great trivet too!
It won't scratch or damage your countertops by moving around all the time- it features 4 rubber feet that keep it firmly in place. You also get extra feet in the package.
You can use it to brighten up your table décor as well- it can be a beautiful cheese, fruit or veggie tray.
9. Counterart 15×12 Glass Cutting Board
Highlighted Features
Colorful design
Excellent gift idea
Modern & functional
Versatile
Doesn't slip
Non-porous
This tempered glass cutting board is a real piece of art- it's super functional and has a colorful artistic design that will add a modern touch to every home.
It's, therefore, the ideal choice for serving food- it won't go unnoticed, that's for sure. Or, a great idea for a gift for someone special!
Since it has a non-slippery bottom, it won't move around and scratch your countertops or injure you.
It's non-porous, easy to clean (put it in the dishwasher or clean it with soap and water), and doesn't scratch or stain.
The upper cutting surface is minimally textured to maximize the cutting, chopping, and dicing.
10. U Home Glass Cutting Board
Highlighted Features
Stunning marble design
Polished edges
Versatile
Non-slippery
This artistic glass board boasts a pretty marble design that will impress even the pickiest of users. Thanks to the polished edges, it's safe to use and the risk of injuries is brought to a minimum.
You can use it as both a cutting board and a serving tray.
The premium quality tempered glass ensures the board is resistant to heat and shattering. It can withstand temperatures up to 700 degrees F!
When you're using it, you don't need to worry about slippage- the bottom rubber pads keep it firmly in place.
Non-porous, inexpensive, and hygienic, this board is an excellent investment.
Plus, you can choose between different marble color designs, including white, navy blue, black and white, black, and gold or black.
Final Thoughts
Indeed, cutting boards are indispensable and one of the most versatile kitchen tools.
Every kitchen, no matter if it's in a home or in a restaurant, needs this board to be able to perform cutting, slicing, dicing, chopping, etc. properly and efficiently and maximize the food prep.
But, with so many different board materials available, choosing the best one for you can be challenging.
This is why here at Knife Verge we regularly write about different cutting board materials and the advantages of each.
Through our glass cutting board review, we found that in addition to wooden boards, the glass ones can be a really great choice too.
From being strong, durable, and inexpensive to being versatile, modern, and stain-resistant, they have a lot to offer so they shouldn't be dismissed.
Oftentimes, people believe that these boards may damage their knives and end up missing out on all they have to offer.
Today, the manufacturing of these boards is optimized to reduce the chances of knife damage.
In our review we talked about 10 trending cutting boards on Amazon, including some with transparent design, others with colorful drawings, yet all with high customer satisfaction.
Those with no budget limitations will adore our best pick whereas those shopping on a budget will make no mistake going with the budget choice!
* Affiliate links/Images/Price from Amazon Product Advertising API