Lobster meat can be a decadent meal; however, if you buy or catch your crab or lobster and prep it yourself, you're well aware of the role of the cracking tools in getting the meat out of the shells.
Successful lobster prep means that you're using the right tools and that you're wasting as little meat as possible and you're not straining yourself in the process.
Cookouts and long beach days aren't perfect without a lobster feast. But, to enjoy it to the fullest, you need to make this smart investment.
You needn't spend a small fortune to get the best lobster crackers-there are some amazing inexpensive models available on Amazon.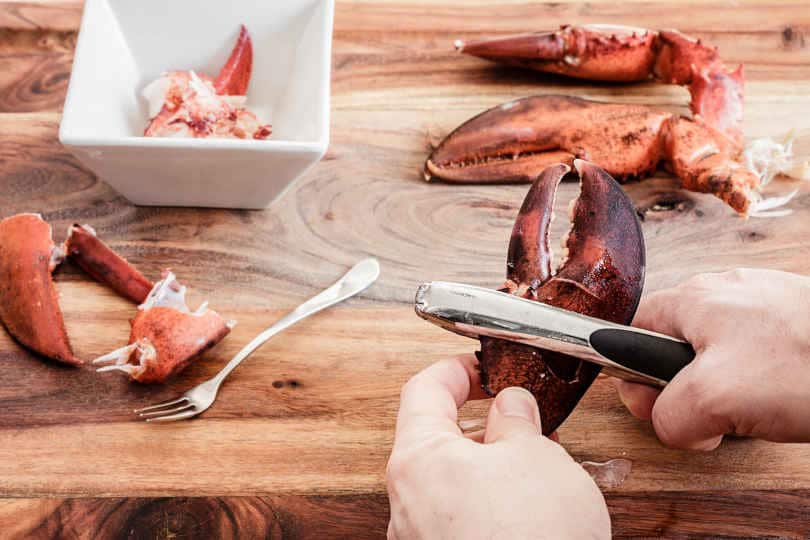 This specialized utensil has a structure that reminds of a nutcracker. You pull the two handles together to get to the flesh inside by cracking the tough shelling.
It's a tool everyone can use with a few simple instructions and have a worry-free crab or lobster prep.
Let's check out the best models and how to choose the right one for you!
What is a Lobster Cracker?
Who doesn't love a succulent lobster served with fresh lemon and butter?
Without a doubt, lobster is one of the most popular delights in the culinary world; however, serving a whole lobster can be challenging and for some even intimidating.
But, with the right tools in your kitchen, prepping your lobster can become the easiest and most enjoyable task.
The first rule of thumb when choosing lobster is to opt for the one with a harder shell- its meat is firmer and more flavourful than the one with softer shells.
Why do I Need a Lobster Cracker?
How will you be able to handle the sturdy shell to reach the precious meat? – A lobster cracker is the answer.
Also, when eating a whole lobster, it's important to have the remaining proper tools like a lobster pick.
Lobster crackers are very similar to nutcrackers and can be used interchangeably. You can use them to crack open claws or tails of lobsters.
But, this isn't the only commonly used tool when serving lobster- you need the whole combo, i.e. a cracker, a lobster pick for the crevices, a bone dish, and wipes.
How to Use a Lobster Cracker?
The cracker is used to remove the claws of the lobster and to get out the meat.
First, you twist off the tail from the rest of the body-then you stab the fork firmly into the meat in the tail and pull it out.
Now, it's time to divide the claw from the knuckles and crack it to get out the meat- you'll need the toughness of the crackers for this step, which is also considered the most challenging one.
Be patient and careful and use the fork again to get out all of the meat. You can do the same with the legs and the pockets (joints).
With this in mind, it's a good thing that most seafood sets contain both a cracker and a fork!
How to Choose the Best Model?
Before you decide on the best lobster crackers for your seafood, you need to take into account a couple of important elements.
This is how you'll be able to measure the durability, maintenance, and performance of the cracker.
Most of the crackers we presented come in sets, so it's beneficial to consider the other items included.
Always check if the properties the cracker and the other tools offer are what you need and if the price is okay with you.
Even though most cracker designs are simple and repetitive because they work well, some small details can make all the difference. So, pay attention to them as well!
Below, check out the major features you should consider before you decide:
Material
The material of the crackers will make all the difference in the tool's longevity.
Most of them are constructed with zinc alloy. It's a material that doesn't rust and it's lightweight and strong, even though it's not as strong as steel.
The forks that are often in a set with the crackers can be made from aluminum or steel. Aluminum is known to be very durable and lightweight, as well as anti-rust and resistant to heat.
Steel is the best in terms of weight and strength- it's robust and makes the cracking and penetration easy and effortless. But, as they're less lightweight, some people may find them harder to use.
Size
Some crackers can be bigger and some larger. The larger ones may be good, but they may be more difficult to hold, especially for individuals with smaller hands.
They do provide leverage when squeezing and this eases the pressuring of the shells so that they crack.
With the smaller ones, although the comfort is better, the leverage's lower.
The Hinge
This is one of the important details we talked about at the beginning of this section.
Namely, it can be detrimental to how the cracker feels when you take it in your hands. It's usually made from a small aluminum river or pin.
The hinge's tightness will directly influence the stability of the crackers. In the more modern designs, there are bolts instead of rivets.
The Final Touch
The finish of most lobster crackers is zinc alloy which looks like stainless steel. It coats the whole surface and it minimizes the risk of rust.
Other options are stainless steel and aluminum finishes. In these cases, the whole cracker is probably made of the same material.
When to Clean My Lobster Cracker and How?
Although a lot of models are dishwasher-safe, the safest and best way remains hand washing and drying right after use.
This is because the salt and other liquids from seafood may lead to corrosion of the protective layer and encourage rusting in some of the materials.
Best Lobster Crackers on Amazon
1. Hiware Lobster Crackers & Picks 10-Piece Set
Highlighted Features
2 seafood tools
10 piece set (good for get-togethers)
Durable materials
Easy to clean
Versatile
This 10-piece set is amazing-offers 2 crab crackers from zinc alloy and 8 stainless steel crab leg forks. It's a must for professional and amateur kitchens where lobster is regularly on the menu.
It's also the ideal choice for a gift to people who enjoy seafood. It's a durable and heavy-duty set thanks to its solid zinc alloy crackers with jagged teeth, as well as the strong hinges for the necessary pressure.
The stainless steel crab leg forks are hard and durable and enable effortlessly and enable easy and efficient picking of lobster and crab meat, as well as other smaller parts.
Both tools are very easy to use and clean- you just place it in the dishwasher when you're in a hurry and they're ready for the next use. Or, clean it with warm water and dish soap, both are fine!
2. Ajmyonsp 12-Pcs Seafood Tool Set
Highlighted Features
12 utensils
3 types of seafood tools
Strong & sturdy lobster crackers
Easy to clean
Easy to use
With this set of 12 seafood utensils, your lobster dinners will be light as a breeze. Everyone will have an enjoyable time, for sure.
In this affordable set, you get 2 zinc alloy crab crackers, 4 lobster knives, and 6 stainless steel picks for crab legs to ensure a complete seafood feast!
The optimized and renewed crackers are made of sturdy zinc alloy and are stronger and more durable. The stainless steel picks are hard enough to penetrate deep into the hard shells.
In addition to using it for seafood, the utensils are suitable for nuts or beer opening. This set is perfect for you if you're a seafood lover, but also for people in your life for special moments like weddings, birthdays, holidays, etc.
All of the utensils are dishwasher-safe and come in a beautiful canvas bag, which makes them easy for carrying and storing.
3. Artcome Seafood Tool Set
Highlighted Features
Easy to clean
Easy to use
Strong materials
Durable tools
Great value for money
This great set has you need for optimal seafood prep- 6 zinc alloy crackers and 7 stainless steel forks.
It's ideal for lobsters, shellfish, crabs, oysters, and nuts. Thanks to the ergonomic and stylish design, it's the ideal set for homes and restaurants.
We love how durable and strong the materials are and the fact that they're dishwasher-safe. Great for when you're in a hurry and don't have time to wash them by hand.
It's a great set for yourself or as a gift for the dear people in your life who love seafood. The crackers' durable hinge, strong grip, and jagged teeth are ideal for the hardest of shells.
They will crush them fast and effectively. The 7-inch long stainless steel forks have one v-shaped end and the other is a long spoon. You just slide the pointy end through the veins of prawns or shrimps easily.
4. New Star Food Service 8-Piece Seafood Kit
Highlighted Features
Easy to hold
Easy to clean
Durable
Sturdy
Set of 10 tools
For less than 10 bucks, you can get this essential seafood set delivered at your doorstep and start prepping and enjoying delicious seafood.
The set will provide you with 2 lobster crackers made from hard zinc alloy and 6 lobster picks made from durable stainless steel.
With these tools, there's no wasted time- you can enjoy your whole lobster and easily access the hard-to-reach areas of meat without wasting any.
It's a versatile tool kit suitable for a variety of seafood, including lobsters, crabs, oysters, as well as for nuts.
In addition to the crackers, the forks are a beneficial addition-you can effortlessly pick out the meat from the shells.
When you're done using them, just put them in the dishwasher or wash them by hand, both are perfectly fine.
5. Tezzorio 12-Pack Seafood Cracker
Highlighted Features
Ergonomic design
12 crackers in a set
5 different sizes
Double jaws
In this set, you get 12 seafood crackers and you can choose between 5 different sizes. It can be used to crack tough shells of lobsters, crabs, and you can also use it for nuts.
The good news is that the tool has a double jaw- ideal for all sizes of seafood. There's no hard task for this cracker!
The design is great-it's ergonomic and elegant and simple to use and keep clean.
The grip is optimized and doesn't cause any pressure or discomfort while holding it, even if it's used for longer.
Thanks to the material's durability, zinc alloy plated with chrome alloy, it will last for a long time.
When you're done using it, put it in the dishwasher or wash it by hand, both methods will do!
6. CoZroom Seafood Kit of 12 Pcs
Highlighted Features
2 great seafood tools
Made from premium materials
Durable
Easy to clean
Sturdy
Ergonomic design
If you're looking for a full seafood toolkit, this is the one. It offers 6 lobster crackers made from premium zinc alloy and 6 picks from stainless steel.
The crackers are durable and resistant to rust thanks to their material whereas the stainless steel forks are durable and easy to clean.
Both tools are versatile and easy to use-you can crack lobsters and other seafood with them and reach the complex areas to get out the meat with the picks.
Thanks to the serrated edge design of the crackers, the seafood or nuts won't slide away.
Their ergonomic handle is comfy and easy to maneuver. Because of the various jaw teeth sizes, you can use it for numerous food sizes and shapes.
The forks are also great-their dual needle design makes picking out meat an effortless task.
7. Angela & Alex 14 Pcs Seafood Toolkit
Highlighted Features
Easy to use
14 tools
Quality materials
Long-lasting
Easy to clean
Feast on seafood without a worry on your mind with this amazing toolkit!
For an affordable price, you get 2 seafood crackers, 6 blue forks, and 6 stainless steel sheller forks.
This upgraded version is strengthened with powerful zinc alloy and the crackers are made strong and long-lasting.
The stainless steel picks are convenient and will penetrate through inaccessible areas with ease. Their stylish and ergonomic design makes them the ideal gift for your seafood-loving relative or friend.
These tools are very easy when it comes to maintenance- you can choose between handwashing, the dishwasher, or cloth wiping.
8. Limer Love 9-Pcs Seafood Tool Set
Highlighted Features
A set of 9 utensils
Made from food-safe, sturdy materials
Easy to use
Good value for money
Long-lasting
In this seafood set, you get 2 lobster crackers, 4 shellers, 2 forks, 2 scissors, and 1 storage bag.
The picks are constructed of food-safe stainless steel and they're convenient, heavy-duty and easy to wash.
The red shellers are made of food-safe and sturdy plastic while the crackers boast premium zinc alloy, which makes them long-lasting, strong, and corrosion-resistant.
You can use them with a variety of seafood, not just for lobsters.
The storage bag is indeed a wonderful addition- it helps you keep all the tools in one place and safe from damage.
With this company, you can shop worry-free thanks to their 100 percent money-back guarantee in case of dissatisfaction.
9. Bernie Ansel Seafood Set of 18 Tools
Highlighted Features
Great value for money
Versatile
18 utensils
Packed in a bag
Durable & long-lasting
In this wonderful seafood prep toolkit, you'll get 18 utensils, i.e. an essential trio when it comes to lobster and crab preparation.
That is, you get 6 crackers, 6 forks, and 6 shellers. They're packed in a black practical and durable bag that has the brand's logo on the front.
In this way, you can easily store them in one place or take them with you when you're on the go.
To keep the tools clean, wash them with warm soap and water. Customers praised this set the most for being easy to use, offering a great value for money, and strength.
These tools are stylish, versatile, and ergonomic. They have to offer a lot, including premium stainless steel, beautiful curve, high glow, low risk of slippage, and no corrosion.
10. FFNIU Lobster Crackers and Picks Set
Highlighted Features
Made from premium materials
Aesthetically pleasing
Sturdy
Comfy to hold
Good value for money
It appears that this set has everything a seafood lover should have- 2 lobster crackers, 2 shellers, 2 forks, 1 pair of scissors, and a carry bag.
The crackers boast premium die-cast zinc alloy whereas the blue shellers are made using food-safe plastic which is durable, prone to corrosion, and easy to wash.
The storage bag is a really useful addition- it helps you store all of your tools in one place and of course, keep them clean and safe.
With this toolkit, you needn't worry about getting all the precious meat from lobsters and crabs-you'll always do it.
The utensils don't just look beautiful, but also deliver results. They're comfy to hold and also make the perfect gift for seafood lovers.
Customers loved it the most for its simplicity of use, strength, and value for money.
Final Thoughts
One thing's for sure, lobster and other seafood can be real enjoyment; however, a lot of people 'fear' if they'll be able to handle a whole lobster.
But, with the right tools and tricks of the trade, you can become a pro at it very soon. One of the essentials when it comes to hard shell seafood is a good cracker.
However, despite its importance in seafood handling, finding the most suitable one for you can be a consuming task as there are plenty of products to choose from.
This is why we decided to compile a list of the 10 trending crackers currently that you can easily have delivered on your doorstep with only a click.
To choose the right one for you, consider the important decision-making factors that we discussed and it will all become clearer and easier.
By doing this, you're in for a real treat-seafood can be really fun and exciting with the right equipment.
If you don't mind spending a bit more on this utensil, you won't make a mistake choosing our best pick; those who want a less expensive, but a quality cracker will do just fine with our budget pick.
Lobster parties here we come!
* Affiliate links/Images/Price from Amazon Product Advertising API