The saying "tough nut to crack" isn't a coincidence, nuts are pretty hard to crack and that's why you need to get the nutcracker tool to make it easier for you to crack nuts.
Nutcrackers perform the simple task of cracking nuts open but their design and function can range from simple to versatile.
Purchasing the right nutcracker involves understanding the physical properties of the nuts you're dealing with.
Are they soft or hard-shelled? How about the sizes; how big are they? These and more will help you select the perfect nutcracker.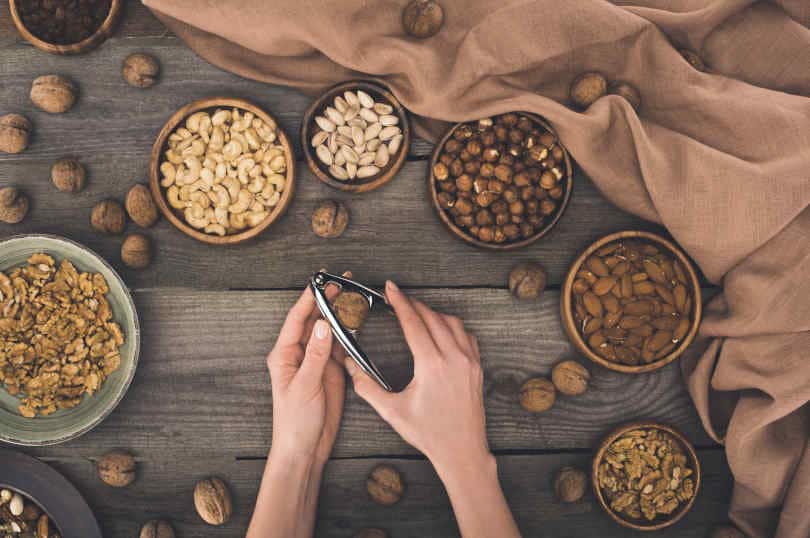 Whether you want freshly cracked nuts or you want to roast, toast, or sugar them. You have to crack them first and don't think of using a hammer, there's a right tool out there for you and we've taken the liberty to compile a list of some of the best products from top manufacturers.
Sit back and enjoy.
What is a Nutcracker?
Nuts are delightful fruits that can be enjoyed in so many ways but before that can happen, their hard shells have to be removed to reveal the edible seeds inside them.
Now, there are several ways to crack a nut, but trust us when we say there's no better way than a tool that was specifically designed for such purpose – a nutcracker.
Nutcrackers are used to crack nuts and they come in different designs. Some are made from metals and some from wood. There are ones with lever designs, screws, plier-like, or sawtooth designs.
Some nutcracker designs are sleek with nice finishing which makes them useful as kitchen décor or gift choices.
Why do I need a Nutcracker?
Some nuts can actually be cracked open by hand but if that's not the case for you, then you're going to need a nutcracker to make the work easier for you. There you go, the first two reasons – easier and faster.
They are made from reliable materials such as zinc alloy or wood so they are of great quality and will last long. In terms of versatility you'd find them extremely useful as some products can be used to break seafood shells like crab or lobsters – just to mention but a few.
How does Nutcracker work?
The operating mechanism of a nutcracker depends on the category of nutcrackers it belongs to. There are three broad categories; lever, screw, and percussion.
Lever nutcrackers are the most used and can either work based on direct or indirect pressure. They make use of what we call a fulcrum which joins two metal or wooden parts together. A lever nutcracker works on direct pressure if the nut is placed between the fulcrum and your hand. A good example is Fani Nut Crackers.
On the other hand, a lever nutcracker that works based on indirect pressure has the fulcrum between the load and effort (your hands). Texan Nut Sheller is a good example of this.
The screw-type nutcrackers make use of a screw to crack the nuts open. The nuts are placed below the screw and the screws are tightened. This type of nutcracker gives users greater control of the cracking process.
Percussion nutcrackers are traditional ways of nut-cracking and that involves hitting the nuts with a hammer, mallet, or any heavy object until the shells break away.
How to Use a Nutcracker
Using nutcrackers is as easy as it sounds but how you use each product depends on the type of nutcracker it is.
If you intend to use a tabletop lever-type nutcracker like Hiware Good Heavy Duty Pecan Nut Cracker Tool, simply place the product on a flat surface and then place the nut in the nut holder. To initiate cracking, proceed to pull the lever down, by doing this, the pressure is created which in turn cracks the nut open.
Another lever nutcracker that's common in households is the plier-type ones such as Winco Nut Cracker and Lobster Opener. To use this, place the nut in the jaw and then press the handles together. The sharp teeth of the jaw will break the hard shell of the nut.
As for screw nutcrackers, loosen the screw to reveal space to place the nut in. Once the nut is in, start to tighten the screw. The shells will be cracked as the screw gets tightened.
Is it Possible to Crack Nuts without Using a Nutcracker?
Yes, you can and there are several ways to achieve this – although not as effective as a nutcracker but can still get the job done.
Use your hands: That sounds insane but it could work. To do this, place the hardest sides of two nuts side by side and then press hard together in your palm. Support your palm with your other hand, applying pressure until the nuts crack open.
Use a blunt knife: First of all, make sure you're not using a

sharp knife

. The last thing you want to do is hurt yourself. So place the tip of a blunt knife into the seam of the nut with one hand and hold the nut with the other. Use the tip of the knife to loosen the lip of the nut until it cracks open.
Use a hammer: Wrap the nut in a clean towel or cloth and then place it on a hard surface. Hit the hammer on the nut repeatedly till the shell cracks. Open the cloth and separate the broken shell from the seed.
How do I dispose of the Broken Nut Shells?
After cracking, make sure to gather all broken shells and put them in a disposable nylon or trash bag. However, they can be useful in making compost and can be used as fuel in a wood stove. The shells can also be used in potted plants as drainage material.
Will Nutcrackers be able to Crack all types of Nuts?
Not all but most. Most manufacturers usually list the type of nuts their products can work with and the ones it won't work with so you should check before making a purchase.
How to Clean a Nutcracker
This can be done by hand washing or using a dishwasher. If your nutcracker is dishwasher-safe, simply place it in the top rack.
However, not all products are dishwasher-safe so in that case, you have to clean manually using a damp cloth to wipe the metal or wooden parts clean. You would require little or no detergent/soap as there will hardly be hard stains.
Factors to Consider before Buying Nutcracker Tools?
If you're interested in buying the nutcracker tools you should have at the back of your mind some of the important factors you should always consider. Here they are:
Construction material
The material used for constructing the nutcracker you're considering is very important as it determines the durability of the product.
Nutcrackers can either be made from metals, wood, or a combination of both. Metals and wood are both quality materials that have high strength and will withstand deformation. Some quality metals used are zinc alloy, die-cast aluminum, and steel. As for wooden products, natural beech is a good material choice.
Ease of handling
Since nutcrackers are handheld products, it only makes sense to ensure handling them will be easy and comfortable for you especially if you have arthritis.
The handles should be soft grip and non-slip. Also, the product should be well designed and shouldn't require much pressure to crack the nuts. Less pressure means less stress for you – a gentle squeeze of the handle, tightening of the screw, or pull of the lever can get the job done.
Operating mechanism
There are three basic types of nutcrackers; screw, lever, and percussion. Each of them has its method of operation which we explained earlier on.
So, before you make a purchase ensure the operating method of the product is one you're familiar with or what you prefer to use.
Nutcracker Tools Review
1. Drosselmeyer Nutcracker Tool
Highlighted Features
Works well with different nut sizes
Easily detachable for cleaning
Dual-lever action
Container to receive nutshells
It's no surprise this product comes first on our list. We mean, Oprah had good words to say about this particular product.
This nutcracker is like no other, it's a long cylindrical handheld nutcracker with dual-lever action. It can hold different sizes of nuts and has a container that helps to hold the shells once removed.
Besides successfully cracking your nuts, one thing you'd like about this product is how neatly it does that – no shells or nuts will be left flying or lying around. To make cleaning more convenient and thorough, you can also easily detach the parts.
It comes in three bright colors to make your tabletop more beautiful.
2. WAFJAMF Nut Crackers Tool
Highlighted Features
Aluminum alloy construction
Soft plastic handle
Works with all sizes of nuts
Cracks crab legs
WAFJAMF Nut Crackers is a durable product made using reinforced aluminum alloy which means it's resistant to rust and deformation. This plier-type nutcracker does an excellent job cracking nuts and its use can also be extended to cracking crab legs or just any other seafood.
The double sawtooth slots are designed to hold different nut sizes and it holds them tightly during cracking. To make using this nutcracker super comfortable, the handles are covered in plastic.
It's 6.7 inches long and comes with a nut needle about the same length; 6.6 inches to be precise. The nut needle is useful in removing the pulp. Its ergonomic design makes it easy to store. It can also be cleaned easily.
3. Hiware Good Heavy Duty Pecan Nut Cracker Tool
Highlighted Features
Can crack all kinds of nuts
Steel construction
Wooden base
Non-slip handle
Comes with 4 picks
You're looking at a solid product made from steel construction and mounted on quality wood. The steel is nickel plated to ensure long-lasting use and the wooden base improves its sturdiness.
The package includes four picks which will be useful in removing stuck nuts. As you may have guessed, there's a handle made from steel with its end covered in wood to ensure firm grips when using this product.
It's very easy to use – works on the principle of leverage, so all you have to do is pull the handle down. It works perfectly with a wide range of types of nuts and the adjustable thread cone fits any length of the nut.
4. Duke Nut Cracker Tool
Highlighted Features
Working parts made from steel
Hardwood base
Adjustable
Easy to assemble
Here's another steel construction with a hardwood base for those in love with this type of nutcracker. The steel is plated with nickel to improve its durability and the working parts are mounted on a hardwood base to ensure stability.
You have to assemble this product yourself but you'd find that really easy; just fix the threaded handle into the nutcracker by screwing and voila, you're all set.
It works well with several types of nuts and can be adjusted to fit various sizes. It can be maintained easily and can be kept in drawers for storage.
5. Texan Nut Sheller Tool
Highlighted Features
Durable
Simple design
Efficient
A simple tool for a simple task, that's what makes this nutcracker befitting. While it may look simple, it's very durable. How do we know this? The manufacturers made use of tempered steel.
This product is more than up to the task of helping you crack nuts and the handles? They are non-slip to ensure a secure hold during use.
This handheld nutcracker is easy to use; all you have to do is apply a little force in pulling the handle together. It is very easy to maintain and can be stored conveniently in drawers.
6. OXO Good Grips Slim Nut and Seafood Cracker
Highlighted Features
Made from zinc
Soft grip handles
Dishwasher-safe
You can always count on OXO when it comes to quality and impeccable design and this nutcracker is no exception. This product is 6 ¼ inches long and is made from zinc to ensure its durability.
Its nice, sleek design will add more elegance to your tabletop setup, but there's more to this product. It is easy to use and offers an extra function besides cracking nuts – it can be used to break crab legs!
There are soft grip rubbers on both sides to absorb some pressure when you press the handles together and it's dishwasher-safe for fast and convenient cleaning.
7. Winco Nut Cracker and Lobster Opener
Highlighted Features
6 pieces
Zinc alloy construction
Soft grip
Dishwasher-safe
This product is perfect if you have a large number of nuts to crack as it comes as a set of 6 – all of the same size. It's a top-quality product made from zinc alloy and coated with chrome for improved quality.
It works perfectly with all types of nuts and guesses what? – It can also be used on seafood like lobster, oyster, shellfish, etc. It's a dual jaw device and fits all nut sizes.
The handles are soft and easy to grip and use. Maintaining this set won't be a problem as they are all dishwasher-safe.
8. Anwenk Heavy Duty Nutcracker Tool
Highlighted Features
Made from die-cast aluminum
Wooden handles
Doubles as a bottle opener
Cup-like holder
Crack almonds, pecan, Brazil nuts, hazelnuts, walnuts and so much more with Anwenk Heavy Duty Nutcracker. Although you should know it may not work with hard shell nuts like macadamia or black walnut.
The part that does the cracking is made from die-cast aluminum and the handles are made from quality wood. The plier hole, which does the cracking has ridges inside which grip and cracks the nuts. It is 2" in diameter.
This product comes with a cup-like holder that houses the plier hole and prevents shells from flying out. It is about 6.89" long and can double as a bottle opener.
9. EFO Wooden Nutcracker Tool
Highlighted Features
Natural beechwood construction
Eco-friendly
Compatible with all kinds of nuts
This wooden nutcracker is made from natural beech wood, hence, eco-friendly. That's not all; it's also as effective as metal nutcrackers in cracking nuts. Although it makes use of a metal piece attached to the bottom of the wooden screw to crack the nuts.
It stands at 3.5" tall and is 2.4" wide with the nuts going into the 1.6" by 1.6" cracking slot.
Its compact design makes it easy to use as it fits perfectly in your hands. The design is also stylish and can be added to your décor setup or gifted to family and friends.
It works well with hazelnuts, pecans, walnuts, and many others except macadamia.
10. Fani Nut Crackers Tool
Highlighted Features
Made from zinc alloy
Sawtooth-like design
Firm handle
Dishwasher-safe
Made from high hardness zinc alloy which is strong and resists deformation, this nutcracker will be in your service for a long time. It features a sawtooth design that slots to hold small and medium-large nuts.
It is capable of cracking hard-shell nuts and has a non-slip handle for easy grips without fatigue building up in your hands. In terms of flexibility, it can expand up to 180 degrees.
Fani Nut Crackers are 6.1" long with double sawtooth slots of 0.51" and 0.79" respectively. It is easy and safe to use. You can also clean them conveniently as they are dishwasher-safe.
Final Thoughts
Always find yourself having to break nuts because it's part of your recipe or you just love eating them raw? Whichever your answer is, you need a nutcracker to crack those shells for you.
There are thousands of products out there to pick from and that can be tricky. So we took it upon ourselves to research and narrow them down to the 10 best products which you can conveniently pick from. If you're still having a hard time deciding, here are a couple of recommendations for you.
Drosselmeyer Nutcracker is the best choice ever (even Oprah put in the good word) and will give you the best nut-cracking experience. It's a handheld product with dual-lever action and a container to receive the nutshells, hereby less messy.
Fani Nut Crackers would be a great choice if you're working with a strict budget. This plier-type device is made from zinc alloy to provide you with top quality and guess what? It's dishwasher-safe!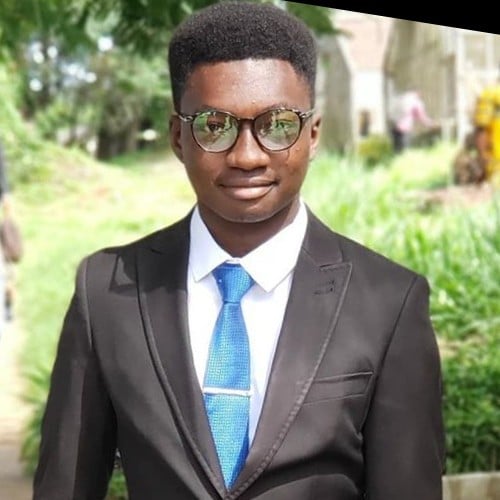 Emmanuel Ojodun is a professional content writer and reviewer. He describes his writing style as informative and engaging and has scores of product reviews under his belt.  During his leisure time, he enjoys listening to music and FaceTiming his nieces.
You can follow him on LinkedIn.