Hey guys, today we bring you one of the most utilitarian kitchen utensils.
Can you take a guess what it is? Ha! You already know, don't you? Shredding vegetables don't get better with the cabbage shredder!
If you enjoy a good plate of coleslaw, sauerkraut, or salad, then you know cabbage is an essential part of the recipe. That's why owning a cabbage shredder is inevitable.
There are several designs and types to pick from. There are basic home models for those who make their meals at home and there are models that suit restaurants better.
This review is on manual cabbage shredders but there are also electric cabbage shredders.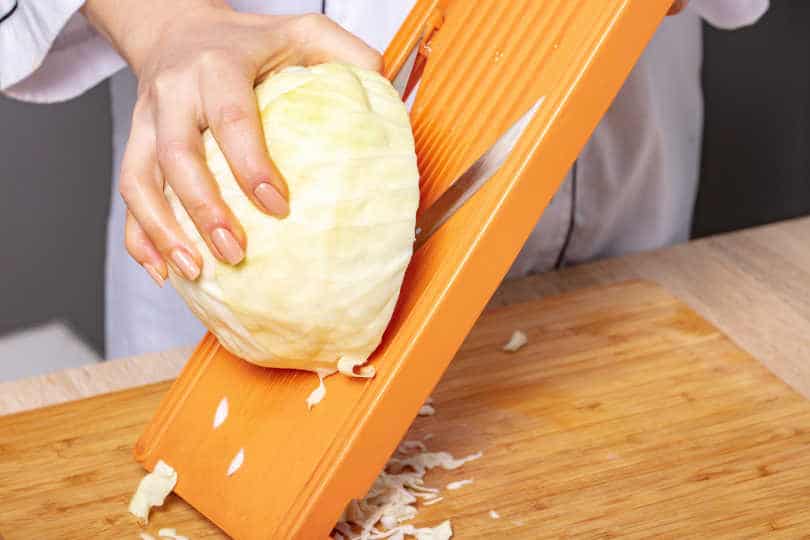 First, we are going to introduce you to our top and budget picks and then we will get into the buying guide and reviews.
Let's go!
What are the Benefits of Using a Cabbage Shredder?
Let's start with capacity. Cabbage shredders are spacious, offering you an opportunity to shred large sizes of cabbage heads at once!
They are also fast and convenient as opposed to other methods of shredding cabbage. Within a couple of minutes, you can effortlessly convert solid cabbage into tiny shreds – as tiny as 1mm!
That leads us to another merit – they are super easy to use. You don't need any prior knowledge or assistance from technical know-how. Anything you may find confusing has been set straight by the user's manual.
We all know when it comes to kitchen utensils, safety comes first, especially those that have sharp blades and that's another advantage of owning a cabbage shredder. They are safe to use – most of them come with safety holders to help slide the cabbage over the blades, preventing direct contact with the sharp blades.
Perhaps, the biggest merit of all lies in their versatility. You can use them to slice or shred fruits and veggies like tomatoes, carrots, cucumbers, and so on.
How to Shred Cabbage Using A Cabbage Shredder
Whether you're using a traditional or modern cabbage shredder, they both follow almost the same style of operation.
If you're using a traditional product, that is one with a wooden frame and stainless steel blades. To use, core and cut the cabbage head and place it in the slide box. To shred the cabbage, slide the box back and forth on the sharp stainless steel blades until it's all shredded.
To use a modern cabbage shredder, repeat the steps above. The only difference is that you're going to push the food holder into the cabbage instead of placing it in the slide box as done for traditional cabbage shredders. Also, you'd have to set the thickness before shredding and can decide to adjust it in-between operations.
Which Is Better Between Traditional And Modern Cabbage Shredders?
The traditional and modern types of cabbage shredders share a couple of similarities and differences. One major thing they share in common is that they both make use of stainless steel blades.
Speaking of blades, the traditional cabbage shredders have blades already designed to give a particular shred thickness while for modern cabbage shredders, the thickness of the shred can be varied by making use of the adjustable knob or screw. This might be the biggest advantage of modern cabbage shredders over the traditional ones.
In the aspect of construction, traditional cabbage shredders are usually made using quality wood of different origins for the body and stainless steel for the blades. On the other hand, modern cabbage shredders are either 100% stainless steel construction or a combination of ABS plastic body and stainless steel blades.
Modern and traditional cabbage shredders both have a safety holder – a plastic holder with tines for the former and a wooden slide box for the latter.
Another difference is that traditional cabbage shredders are placed flat on surfaces while modern types have foldable non-slip legs.
Overall, both are great but we would have to go with the modern types because of their adjustable blades.
How to Shred Cabbage without A Cabbage Shredder
Can't get hold of a cabbage shredder for sauerkraut? No problem still. In this section, we're going to put you through how to efficiently shred cabbage without using a cabbage shredder.
To use this method, you'll need a sharp knife and a cutting board. If your knife is blunt, you can sharpen it with a knife sharpener.
Before you start, rinse the cabbage and then core and cut the stem bottom off. Place the end of the stem flat on a chopping board and slice from top to bottom into two. Proceed to slice each half again into quarters. Now cut each quarter across diagonally to get rid of stems.
You're getting closer. Place the flat side of the quarter on the chopping board and then use a sharp knife to thinly slice the cabbage. Flip the quarter over to reveal the side that's not shredded. Keep slicing until each quarter is totally shredded.
Cut through the shredded cabbage horizontally to make them shorter and finally cut them vertically into even thinner shreds.
How to Clean A Cabbage Slicer
Since most cabbage shredders are not dishwasher-safe, maintaining your cabbage shredder will have to be done manually.
To clean products with wood and stainless steel construction, use a thick towel to wipe the wooden body and add a little soapy water to clean the stainless steel blades. While some wood types are resistant to water for a certain period of time, it's still advisable not to expose the wooden body to water.
As for 100% stainless steel products or a combination of plastic and stainless steel, dip a clean towel or soft sponge in warm soapy water and wash all parts. If the parts can be disassembled, do so to make washing easier for you. After washing, rinse thoroughly and allow to completely dry before using again.
What's The Difference between Shredded and Grated Cabbage?
Shredded cabbages are tiny strips of cabbage with smooth textures and are made by rubbing cabbage on the blades of a cabbage shredder. They take a longer time to cook.
On the other hand, grated cabbages are extremely tiny pieces that are almost in powdery form. They are not as smooth as shredded cabbages and are made using a food processor. They melt faster hence take less time to cook.
Factors to Consider In Buying the Cabbage Shredder
Have you decided to add a cabbage shredder to your collection of kitchen utensils? If yes, great decision! To make sure you get the most value for your money, here are a couple of factors you should consider.
Quality
This is the first step in getting great value for your money. Remember, high prices don't necessarily mean great quality. Instead, check the materials used in constructing the product to make sure you're investing in the right product.
Some of the best materials used are wood, stainless steel, and plastic. Most products are a combination of two of these materials – wood and stainless steel or plastic and stainless steel.
Beech or pine wood is a quality wood material. If the product you're considering is made with either then you're good. The blades should always be made from stainless steel to ensure consistent performance. ABS resin is another good material for the blades.
ABS plastic is another good material choice for the construction of the body.
Safety holder
To ensure your safety, make sure the product comes with a handguard or safety holder. This helps to prevent direct contact with the sharp stainless steel blades. Not just that, they also serve as a means of holding the cabbage as you slide it over the sharp blades.
Depending on the product, it can either be a wooden slide box or a plastic food holder with tines.
Adjustable blades
Not all products have this feature but if you prefer to have several thicknesses of shredded cabbage then you should consider getting a product with adjustable blades. The blades can either be controlled by a knob a screw system. They are used to set the blades to the thicknesses you desire and can be varied from time to time as the user pleases.
Cabbage Shredder Reviews
1. Weston Cabbage Shredder
Highlighted Features
Pinewood construction
Spacious
Triple stainless steel blades
Thumb guard
Handle
The first and the best, nothing more describes this product best. This cabbage shredder will be perfect for restaurants because it's very spacious. In terms of quality, it's also number one. The frame is made from quality pine wood and it comes with not one or two, but three blades made from stainless steel.
Its design entails a handguard coupled with a pusher. Using it as quite easy to grasp, simply place the cabbage head in the handguard and slide back and forth over the blades using the pusher.
There's also a handle at the other end of the handguard for firm handling during use. Whenever you want to clean, you can disassemble the product to make it easier.
This cabbage shredder produces strips of 1-7mm and can also be used to slice other fruits and vegetables like apples and carrots.
2. Cabbage Shredder & Slicer
Highlighted Features
Solid beech wood construction
3 stainless steel blades
Comes with thick gloves
Multi-purpose
Here's another top-notch product made from hard and durable European beechwood with three super-sharp blades made from stainless steel. The wooden frame is sturdy and natural – no polish or oil used.
In other words, this product is safe to use as it is chemical-free. It has a handle that looks like the tail of a comb with a loop in it for quick storage.
You're going to enjoy using this product as it's noiseless, easy to use, and resistant to water. A cut-resistant glove is included in the package to protect your hands and aid convenient use of the cabbage shredder.
It can be used to shred other vegetables and can be cleaned easily.
3. Shimomura Cabbage Shredder
Highlighted Features
Stainless steel construction
ABS resin blade
Food pusher
Great quality shipped to you all the way from Tokyo, Japan. Shimomura Japanese Cabbage Shredder is a durable product made from a quality stainless steel material with an ABS resin blade positioned in a slanted way across the shredding surface.
It's really simple to use. It comes with a food pusher which hooks into the cabbage head and then you push back on forth over the blade.
The blade shreds your cabbage super thin and you can exploit its versatility, using it to shred or slice carrots or cucumbers.
16.54" and 7.13" – those are its length and breadth respectively. One cool feature it has is resistance to heat and cold.
4. SunCraft Cabbage Slicer
Highlighted Features
Large
Stainless steel blade
Safety holder
Weighing 12.3 ounces, this is one of the lightest cabbage shredders out there. What makes it even more convenient to use is the safety holder. It helps protect your hands and at the same time helps you navigate your cabbage through the blade surface until it's all converted into tiny shreds.
The blade does the shredding and it's made from stainless steel which implies it is sharp and rust-resistant. This product is large and is suitable for large sizes of cabbage heads. It's about 15.6 inches in length and 5.9 inches in breadth.
It's not dishwasher safe because of its low heat resistance but can be cleaned by placing it under running water. 
5. SHSH Trade Group Fine Cabbage Shredder
Highlighted Features
Beech wood frame
Stainless steel blades
Thick gloves
Safe to use
This is a great cabbage shredder if you're looking to shred small to medium-sized cabbage. It's 13″ in length and 5.9″ wide. The makers combined quality, natural European beech wood for the frame and premium stainless steel for the blades.
Want fine, thin cuts? No problem! All 3 blades were designed to provide that. You should know the wooden surface is free from any form of chemicals, hence safe to use.
Included in the package is a thick glove to protect your hands from cuts. It is not dishwasher-safe but can be disassembled for manual maintenance. This product comes with a lifetime warranty.
6. K&K Keramik Compact Beech Wood Cabbage Shredder
Highlighted Features
Natural Slovenian beech wood body
3 sharp stainless steel blades
Hand guard
Construction nails underneath
This 22″ long K&K Keramik Compact Beech Wood Cabbage Shredder is an efficient and fast way of shredding cabbage into tiny bits for salad, sauerkraut, or coleslaw. It is made using the traditional style of wood and stainless steel.
The wood used for constructing the body is Slovenian beech wood while stainless steel was used for all 3 blades spanning across a width of 7.5″. It features a box that holds the cabbage and slides over the sharp blades for shredding and also doubles as a hand guard.
To prevent buildup in the screw holes while shredding, the makers included construction nails underneath the product. Hand wash is recommended.
7. K&K Keramik Standard Size Beech Wood Cabbage Shredder
Highlighted Features
Slovenian beech wood construction
Sharp stainless steel blades
Slide box
Side space serves as handles
With a length of 25.5 inches and a breadth of 9 inches, this standard size version of cabbage shredder from K&K provides you with more shredding space.
Just like its compact size counterpart, it is made from quality Slovenian beech wood for the whole body except the blades which are made from stainless steel.
All three blades are sharp and will efficiently shred your cabbage. It doesn't end there; you can extend the use of this product in shredding other fruits and veggies.
It's safe to use this product as the slide box holds the cabbage for shredding and prevents your hands from coming in contact with the sharp blades.
8. DIKO Adjustable Cabbage Shredder
Highlighted Features
Stainless steel and ABS plastic construction
Knob control
Safety holder
Non-slip base
This product boasts of an exceptional design with outstanding features to deliver quality service and ensure ease of use.
One of those features is the adjustable knob which lets you vary the thickness of shredded cabbage you want from 1mm – 5mm. For its construction, ABS plastic was used for the body and stainless steel for the blades.
To ensure safety, there's a bracket and non-slip feet underneath. The safety holder is also another protective feature and also helps you conveniently slide cabbage over the sharp blades.
It works well with tomatoes, onions, oranges and so much more. It is about 15.31 inches in length but can still be stored in drawers. After use, maintenance can be carried out by hand washing.
9. 1000 Melochey Cabbage Chopper
Highlighted Features
Stainless steel blades
Non-slip, plastic handle
Versatile
This product is for those who prefer something a little more handy. It comes in a simple design similar to a knife with large stainless steel blades and a plastic handle.
Although more suited for right-handed people, it's also effective in producing cabbage shreds. It works perfectly as a carrot slicer, vegetable cutter, and cheese grater.
Its compact design makes it easy to store and handle. Maintenance can be carried out whenever intended by washing manually.
10. Harvest Fiesta Cabbage Shredder
Highlighted Features
Stainless steel construction
Brilliant hand guard design
Adjustable screw
Foldable legs with rubber base
Need a cabbage shredder for coleslaw? This cabbage shredder offers one of the most interesting and easy ways of shredding cabbage. Although, a bit pricey, it's simply worth every penny.
It features a 100% stainless steel construction with 3 ultra-sharp blades. The blades can be adjusted to vary the thickness of the shred courtesy of the built-in screw system.
The hand guard takes on a new design different from others. It's also built-in and is effective in holding the cabbage in place as it slides over the sharp blades.
It's spacious so if you're looking to shred lots of cabbage, you're looking at the one. Supporting the product on both ends are foldable legs with a rubber base to increase stability.
Final Thoughts
A cabbage shredder will come in handy whenever you want to make coleslaw or sauerkraut. It is fast and you can rely on it to consistently provide you with tiny shredded pieces.
Now that you've decided to get one, we have provided you with a buying guide and product reviews on 10 carefully selected products. In addition to those, here are two recommendations you might find useful.
If you want the best product and have the purchasing power, Weston Cabbage Shredder is what you should get. It is constructed by combining quality pine wood and stainless steel. It offers multiple functions.
If you prefer a low-price product instead, go for 1000 Melochey Cabbage Chopper. It boasts stainless steel blades with a non-slip handle. It is easy to use.